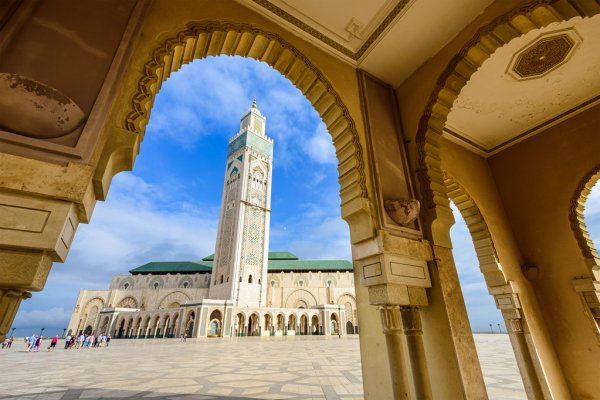 Casablanca is the first place you will explore with our Morocco itinerary 7 days tour. Therefore, we will take you to visit the mosque of Hassan II. Here, none Muslims are able to enter and visit inside. Also, it's considered the II largest mosque in Africa after Djamaa El Djazair in Algeria and the 7th worldwide. Moreover, it's the second mosque that has the tallest minaret, about 689 feet. 
Furthermore, although the mosque was designed by Michel Pinseau,  the Bouygues has built-in 1993. 
The mosque is on the tip of the Atlantic ocean. Therefore, it's a  should visit place when traveling to Casablanca, Morocco.
Moreover, Casablanca is also famous for the Cornish side of the sea. It's where most of the touristic restaurants and Cafes. Also, it's where people come to swim and relax to the view of the sea.