Tours From Agadir – Private and Shared Trips
Tours from Agadir - Shared and private tours
To customize your own itinerary
Customized Morocco tours from Agadir
Based on feedback from our valued clients, we have crafted exclusive tours departing from Agadir that cater to your specific interests. No trip to Morocco is complete without a visit to the Sahara Desert, which is why we have thoughtfully included Merzouga in all of our itineraries. Some of our tours even venture out to the Zagora desert for a unique experience. We also offer customized Agadir tours that cater to your cultural, economic, and touristic preferences.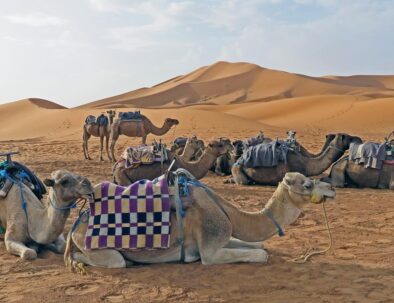 20% Off
5 days tour from Agadir
Affordable 5 days tour from Agadir to
Erg Chebbi
sand dunes (Merzouga).
Our tours from Agadir will take you to Rabat, Morocco's capital city. There are numerous attractions to see here. To begin, the Hassan tower, also known as the Tour, is the minaret of an unfinished mosque that was supposed to be the world's largest. Yusuf Yaqub Al Mansur wanted it to reach 86 meters, but because it's still incomplete, it's only 44 meters now. After that, we'll go to Les Oudayas, a Kasbah near the old Medina. We'll also visit Chellah or Shalla, a fortified Muslim necropolis from the Middle Ages.
Tangier is also one of our most popular destinations for tours departing from Agadir. As a result, there will be numerous attractions that we will discover. First, we'll visit the Hercules resting cave, which is located in Cape Spartel and has an opening shaped like an African map. Tangier is also known for the American Legation Museum, which commemorates Morocco's strong relationship with the United States. It's also the United States' first property outside of the country. Finally, we'll drive along the coast to see the mosque of Cape Spartel, a promontory about 12 kilometers from Tangier's city center. Finally, we'll take a stroll through the old Medina's souq.
Our customized tours from Agadir will take you to Chefchaouen, Morocco's blue pearl. As a result, there are many things to do here for a short period of time. To begin, there is the Kasbah at Wetat El Hmam, which was Moulay Ali Ben Moussa Ben Rached El Alami's first structure. Rass El Ma, which translates to "head of the water," is the second best thing we'll see in Chaouen. Small waterfalls cascade down from the Rif Mountains here. We'll also hike up to Jebel El Kalaa for a panoramic view of the city. The best waterfalls in the Rif mountains, the Akchour waterfalls, are 14 kilometers from Chaouen. This attraction is only included in our 2-week Morocco itinerary.
You will be able to discover the charming city of Meknes with our tour itineraries departing from Agadir. To begin, on our tours from Chaouen to Meknes, we will visit Volubilis. It is necessary to have a ticket here. These Roman ruins, which were built by the Berbers, are protected by Unesco. Meknes is about 20 kilometers away. You'll go to a lot of different places there. For example, the Bab El Mansour gate is occasionally opened to host exhibitions. There's also Shrij Swani, the Norias' Basin, which is a small lake. It is said that Moulay Ismail had many wives, one of whom requested that they relocate to a city near the sea. As a result, he drew the sea to her.
In addition, not far from Bab El Mansour's gate is the most mysterious prison known as Qara. It was built in the 18th century by Moulay Ismail and is the only prison in the world without doors. Its corridors also lead to other corridors, making it difficult to return once there. Some say it goes beneath the entire city of Meknes, while others say it only goes for ten kilometers.
There are also holes in the ceiling, which are where the prisoners were thrown and fed. It's also been reported that Moulay Ismail has created a director, and that if the inmates find it, they will be set free. Not to mention a group of French explorers who attempted to enter the prisoner and unravel its mystery, but were unable to do so. Many theories exist about the prison; some claim that it is hunted by sparrows and genies, but no one knows for sure.
Our Sahara desert tours will take you to Fes, one of Morocco's cultural and imperial cities, from the economical city of Agadir. There are numerous things to do and places to see and visit here.
To begin, the most visited part of the medina has many gates, the most important of which is known as the blue gates and serves as the entrance to the medina. There are two main streets as you enter the gate, and this is where people shop. It's also where the main sights to see in Fes are located.
The University of Al Qarawiyyin must be the first stop because it is the world's oldest and still operational university. Fatima Al Fihri constructed it in 859. Second, the leather tanneries of Chaouara are a popular tourist attraction. People come to see how leather is made as well as get a glimpse of Fes. Finally, the king has 12 palaces, one of which is in Fes, which is also a worthwhile destination. The Bor Nord, the fourth, is for hikers, but it's also a great place to get a panoramic view of Fes and watch the sunset.
You will visit Al Qarawiyyin University on one of our Agadir tours. It is the world's oldest and still operational Madrassa. It was also built in 859 as a Madrassa "school" to teach the Quran by Fatima Al Fihri.
Other attractions in Fes include Mellah, Attarine, and the Garden of Jnan Sbil.
Morocco's Switzerland is Ifrane. People come here to snowboard and have fun on weekends. The city has been French colonial since the 16th century, and there is an Atlas Lion statue in the center. A German prisoner carved this lion in order to gain his freedom. It is Morocco's cleanest city and the world's seventh cleanest city.
The cedar forest in Azrou will serve as a camping area as well as a place to learn about Moroccan wildlife. Many animals can be found here, including Barbary Macaque monkeys, who enjoy being fed and played with. There are also deers, but we can't see them because they are afraid of humans, and we can't go any further into the forest because there is a fence.
Our Agadir, Fes, Marrakech, and Tangier tours must include a visit to Merzouga. Camels can be ridden and Berber tents are available for camping. Merzouga is a small town in the southeast of Morocco known for the Erg Chebbi sand dunes and Gnawa people. This is a must-see attraction for anyone visiting Morocco. You will be able to spend one day here if you join our Morocco two-week itinerary and other tours. As a result, you will have a comprehensive experience in which we will take you to meet nomads who live in tents. We'll also take you to see the flamingos at Srij Lake. There's also a salt mine and a Mascara factory, which are both worth seeing.
The capital of the Tafilalet region is Rissani. To trade goods like salt and mascara, the Touaregs used to travel 52 days from Tombouctou. Also, this is now the souq, or market, for the nearby towns, such as Merzouga. Before moving to the big cities, the Alaouiet dynasty was originally from here. Furthermore, Rissani is the only place where donkeys can be parked. Rissani is also known for its pita bread, which they call Madfouna.
The city has a gate similar to the blue gate in Fes, but with a slightly different architectural style.
Tissedrine's curves in the Dades gorges are depicted in this image. The American Cadillac car set a record here by climbing up and down three times in only 03:19 seconds. Because it is halfway between Merzouga and Marrakech, this is where most tourists spend the night. Also not far from Dades are the Todgha Gorges canyons, which are about 300 meters high and could only be traversed by the power of nature.
The rose valley in Kalaat Mgouna is well-known, as is its international festival. Every year in May, they hold an international festival of rose flowers, and they select the queen of Magouna based on her intelligence and beauty. You can also find a variety of cosmetics here.
Ouarzazate is Africa's Hollywood. Because there are so many Atlas studios there, it's dubbed Ouallywood. Because actors can't drive from Marrakech across the High Atlas Mountains, they land at this international airport. Furthermore, the name Ouarzazate comes from two words: Ouar, which means "without," and Zazate, which means "noise." This large town is also known for the Kasbah of Taourirt, which is derived from the word Ksab, which means bamboo. That is to say, the bamboo is used to construct the roofs of the castle Kasbah. In the Kasbah of Ait Benhaddou, Ouarzazate has four studios where they make movies and rent out equipment to make others. Parts of The Living Daylights and Lawrence of Arabia were also filmed here. In addition, there are the films Asterix and Mission Cleopatra.
The Kasbah of Ait Benhaddou is Morocco's largest and most impressive Kasbah. Many visitors come here to hike up to the top of the Castle for a panoramic view. They also come to learn about it and how it is constructed.
To begin with, this stunning structure served as a rest stop for Berber Touaregs traveling from Tombouctou to trade salt. Furthermore, there is a river or valley called Ouad El Maleh there. That is to say, salt or a salt river. It's where they exchange salt and other items such as mascara. Furthermore, the Kasbah has about seven floors, with a room at the top where they store all of the valuables for future travelers. Not to mention that the actors rent equipment from Ouarzazate studios in order to film here. For example, they shot Gladiator and Lawrence of Arabia, two well-known films. They also created some parts of
In 1963, the city of Sodom and Gomorrah was destroyed.
In 1967, Oedipus Rex was released.
In 1975, The Man Who Would Be King was released.
In 1976, the Message
In 1977, Jesus of Nazareth was born.
In 1982, Marco Polo was born.
They also made a number of other films in this location. It's a must-see attraction for anyone visiting the Kasbah.
Our customized tours from Agadir can take you there and allow you to hike for about an hour with a local guide.
There are three types of Atlas Mountains. The antique, the hight, and the middle. The middle ones are located between Fes and the Merzouga desert, while the high ones are located between Marrakech and Ouarzazate, as well as Fes and Merzouga. The antique then travels further south, from Agadir to Ouarzazate. Furthermore, Toubkal, the highest point in the High Atlas mountains, is located there.
These mountains are the reason why the Sahara is dry and the west is wet and green. That is, they prevent the clouds from moving eastward. As a result, rain falls late in the Sahara desert. Not to mention that on your way to the desert from Marrakech, you'll pass through Tizi n Tichka, the quickest way to cross the mountains. A cooperative of argan oil is one of the admired attractions to discover on our tours from Marrakech, about a 30-minute drive in the Atlas mountains.
Marrakech is one of Morocco's imperial cities. That is to say, it used to be a capital. Our Casablanca tours also include visits to the other imperial cities of Fes, Meknes, and Rabat, the Moroccan capital. Marrakech is made up of two words: Amur and Kush, which means "God's Berber Land." It is also Morocco's third largest city, after the economically important Casablanca and the culturally significant Fes.
There's a lot to see and do here. First, there's Majorelle's famous garden, which took 40 years to design and is named after the French artist Jacques Majorelle. Then he opened it up to the public, charging a fee to enter. Second, the Menara garden is another lovely garden with a pool. To put it another way, it's a lighthouse. However, there is no lighthouse here; the name was given to it. Not to mention that this garden in Marrakech's south was constructed in the 12th century.
Third, the king has 12 palaces throughout Morocco, including one in Marrakech. He does not, however, live here; instead, he is usually found in Rabat. It's also a worthwhile location to visit.
Fourth, there is this lovely mosque, the Koutoubia mosque, which you can see in the photo. Jami 'al-Kutubiyah is one of its many names. It was also built by the Almohad dynasty in the 12th century. Furthermore, it is the largest mosque in Marrakech, with a height of about 70 meters, and it is forbidden to construct a mosque that is taller. Furthermore, Jamaa El Fna has to be Marrakech's best square for wandering around. People come here to shop, attend concerts, and watch people play with snakes and monkeys.
Essaouira is another destination to visit on our Agadir desert tours. People come here in the summer to enjoy the beach, which is warm at around 24°C=75°F. Essaouira is also a great place to visit in the winter, with many people coming to enjoy the seafood. In addition, Essaouira is also known as the Moroccan Wind City. Furthermore, there are numerous activities available. For example, a trip to the Citadel and Sqala ports. People also come here to see the old Medina, which is protected by Unesco.
When speaking of Essaouira, you may hear the word Mogador, which roughly translates to Magdol. In Hebrew, this translates to "small fortress."
Our Morocco tours will take you to the Merzouga and Zagora deserts in the Sahara. It's a desert without sand dunes in the latter. Many tourists, however, who do not have much time to travel to Merzouga, visit here. Zagora is also a good place to go camel trekking and camping in Berber tents. The Ergs of the sand dunes are the only difference between the two towns. We don't usually customize tours from Casablanca to Zagora; instead, we do so with our Marrakech tours. You can, however, contact us to tailor your Casablanca desert tour to Zagora.
The curves of Ait Saouen and Morocco's largest river of dates fruits can be seen on the way from Marrakech to Zagora. As a result, they are also worthwhile destinations to visit.
Morocco is also famous for the valleys
Ourika Valley is located about 40 kilometers from Marrakech. Many people go on a one-day trip from Marrakech to get some fresh air and get away from the city's noise.
One of Morocco's largest valleys of dates palm trees is Ziz Valley. It's about a two-hour drive from Erfoud and Merzouga deserts. In addition, Errachidia, not far from the valley, has a national airport.
Daraa Valley: The Daraa Valley is Morocco's largest date valley. We usually drive through ait Saouen on our way from Merzouga to Marrakech. When traveling from Marrakech to the desert of Zagora.