Spanning a wide area of North Africa, the Atlas Mountains are a mountain range that stretches through Morocco, Algeria, and Tunisia. This enchanting landscape is full of captivating beauty, inviting visitors to explore its many wonders. With its numerous peaks and valleys, the Atlas Mountains offer breathtaking views of the surrounding land as well as unique opportunities for adventure and discovery. From hiking trails to cultural hotspots, this region provides an unforgettable experience for anyone looking to explore the great outdoors and learn more about North African culture.
The Atlas Mountains in Morocco can be divided into three parts:
1. The High Atlas Mountains
The High Atlas Mountains are a remarkable mountain range in Morocco, extending for over 1,500 kilometers and reaching its highest peak at Mount Toubkal. The mountains can be divided into three distinct parts: the Western High Atlas, the Central High Atlas, and the Eastern High Atlas. Each part offers unique experiences and opportunities to explore traditional Berber culture as well as partake in exciting activities like hiking, camping, skiing, and mountaineering.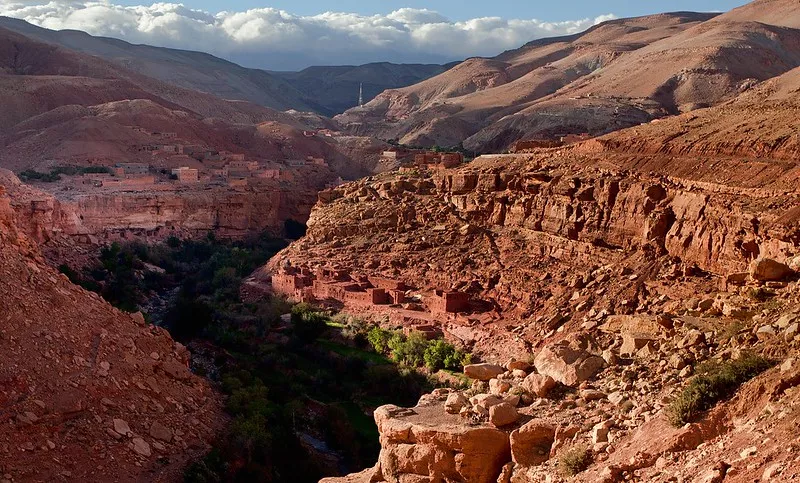 The Western High Atlas
Situated in Morocco, the Western High Atlas is a popular destination for tour companies and tourists alike. It offers an incredible 4,167-meter peak that requires trekking in the snow during the months from November through June. Local guides and travel companies provide a variety of services such as eco-tours that use low-impact tourism methods to help maintain the fragile ecosystem and local life of this area. Developers have plans for continued growth in tourism but it is essential to ensure that these plans are balanced with protecting the unique beauty of this region.
With its spectacular scenery and great potential for adventure, the Western High Atlas continues to be a favorite destination for those seeking something more than just another sightseeing opportunity. From its natural wonders to its cultural richness, there is much to explore and experience here. As such, it provides an excellent gateway into understanding Morocco's diverse landscape. Moving on from here we find ourselves heading east towards Central High Atlas Mountains.
The Central High Atlas
Located in Morocco, the Central High Atlas is renowned for its gorges, valleys, and canyons that offer opportunities for rock climbing and trekking. From the breathtakingly beautiful Todra Gorge to the majestic Dades Gorge, these destinations are perfect for those looking to explore a unique natural landscape. An adventurous spirit will be rewarded with stunning views and exciting challenges. The region's altitude provides a cool respite from the dry season heat, although sparse vegetation reveals how harsh conditions can be.
The Central High Atlas also offers an opportunity to escape the everyday hustle and bustle of life. Whether it's taking a leisurely stroll through one of the picturesque valleys or tackling an ambitious climb up one of the many peaks, adventurers can indulge their desire for freedom while discovering something new about themselves along the way. As they move eastward into the Eastern High Atlas region, travelers will find even more surprises awaiting them!
The Eastern High Atlas
Rugged terrain, spectacular views, and a unique discovery make the Eastern High Atlas a top destination for adventurers. This region is characterized by its steep slopes and high peaks, including Jbel Ayachi and Jbel Saghro that offer challenging routes to experienced mountaineers. In addition to magnificent views of the surrounding countryside, visitors can also explore the area in winter when extreme skiers come to take advantage of the difficult terrain. The key discovery of Atlasaurus has further added to its fame, creating a missing link between dinosaurs from across Africa and the Americas. Thus, the Eastern High Atlas provides an ideal opportunity for adventurers who seek thrilling experiences amongst nature's beauty. With these features combined, it is easy to see why this region remains popular with explorers seeking freedom and adventure. As such, it serves as an important gateway to discovering more about Morocco's Middle Atlas Mountains.
2. The Middle Atlas Mountains
The Middle Atlas Mountains extend across a distance of 800 kilometers, providing an important geographical barrier between the Mediterranean and the Sahara Desert. This mountainous range is home to many unique species of flora and fauna, including:
The Barbary apes and sheep,
The red fox
The Atlas cedar trees
Numerous Berber villages.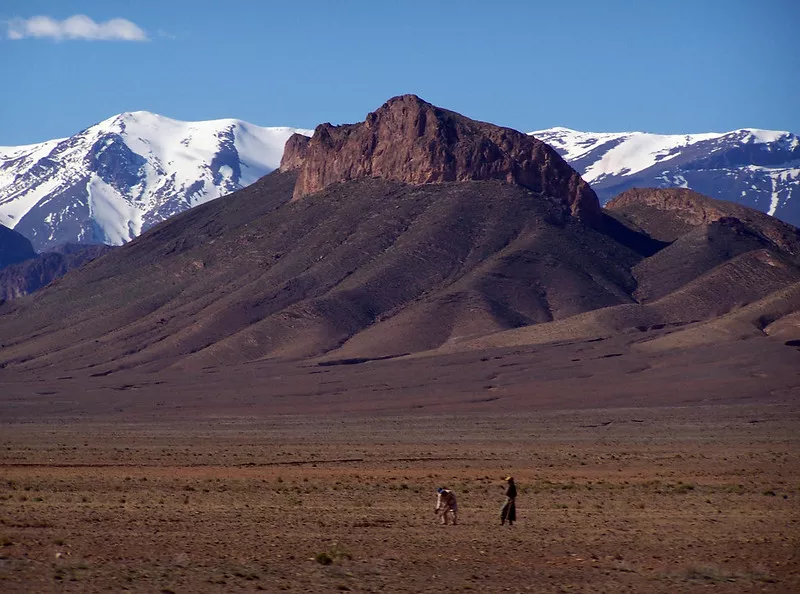 The Middle Atlas Mountains offer an adventure like no other; from its sweeping views of rugged mountains to its diverse wildlife and culture there is something for everyone here. Explorers can find a wealth of opportunities to explore the wonders of nature while discovering new cultures in this captivating region. Visitors can take in breathtaking scenery and connect with locals in their own traditional ways as they move through these spectacular lands. It's an experience that will leave travelers feeling invigorated and inspired by the beauty of Morocco's wild landscape.
3. The Anti-Atlas Mountains
Stretching over 600 kilometers (370 miles) from east to west, the Anti-Atlas Mountains provide a picturesque backdrop of dramatic terrain. From soaring peaks and glistening snowcapped summits to canyons and deep gorges, the landscape is awe-inspiring.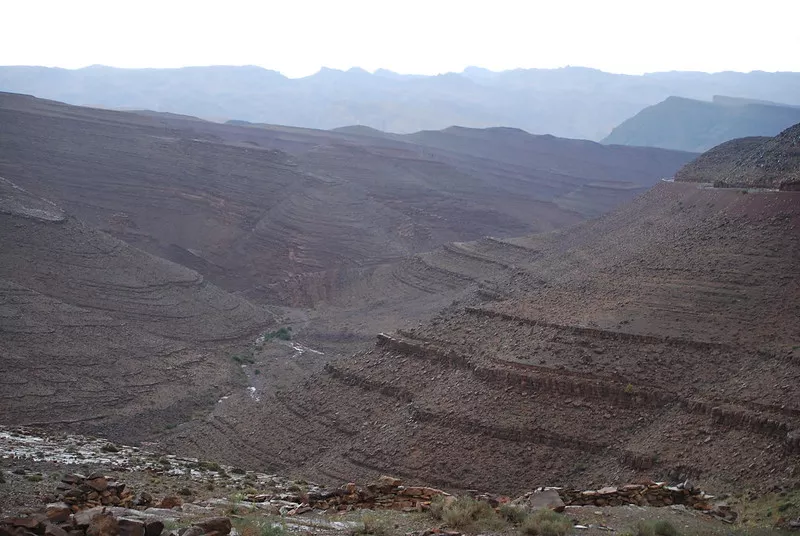 The mountains are also home to numerous Berber villages, offering visitors an authentic glimpse into traditional Moroccan culture. Hiking, camping, and sandboarding are popular activities in this region for travelers looking for adventure – making it easy to understand why the Anti-Atlas Mountains are such a popular destination. With its stunning vistas and plentiful opportunities for exploration, these majestic mountains offer something unique that will delight even the most experienced traveler. As one takes in the majestic scenery of this wild corner of Morocco, one will be captivated by its beauty and discover why it is such an enchanting place to visit.
The Best Time To Visit The Atlas Mountains in Morocco
Visiting the region in spring and autumn provides visitors with an excellent opportunity to witness its beauty at its peak while avoiding the stifling heat of summer and impassable roads of winter. Mid-April to late May is ideal for a visit as the valley floors are lined with flowers and crops are bright green, providing a stunning sight. Moreover, rainfall is less likely to wash away important rock support from roads.
The temperatures drop again in September to October making it another great time to explore the Atlas Mountains since there may still be some snow on tops of the mountains adding to their picturesque nature. However, colors are not as vibrant compared to springtime. Winter months should be avoided due to potential road blockages due to heavy snowfall. Taking all this into account, those seeking an adventurous yet refreshing experience should consider visiting the Atlas Mountains during the spring or autumn months. With that said, let us now turn our attention toward exploring hiking opportunities in the region.
Hiking in the Atlas Mountains of Morocco
Exploring the region on foot provides a wide range of opportunities for hikers of all levels, from moderate walks to intense multi-day treks. One of the most rewarding hikes is up the slopes of Mount Toubkal, the highest point in North Africa. The three-day climb to its soaring summit (4,167 m or 13,671 ft) requires a good level of fitness but no technical expertise and offers an unparalleled view from the wind-scoured top. It is an opportunity for adventurers seeking a unique experience that blends challenge with reward, exploring unknown vistas while testing their physical and mental endurance.
With such breathtaking sights as far as the eye can see, it's easy to understand why hiking in Morocco's Atlas Mountains continues to draw travelers from around the world. Looking forward to what lies ahead, a journey through this rugged terrain reveals not just natural beauty but also stories untold by its indigenous people.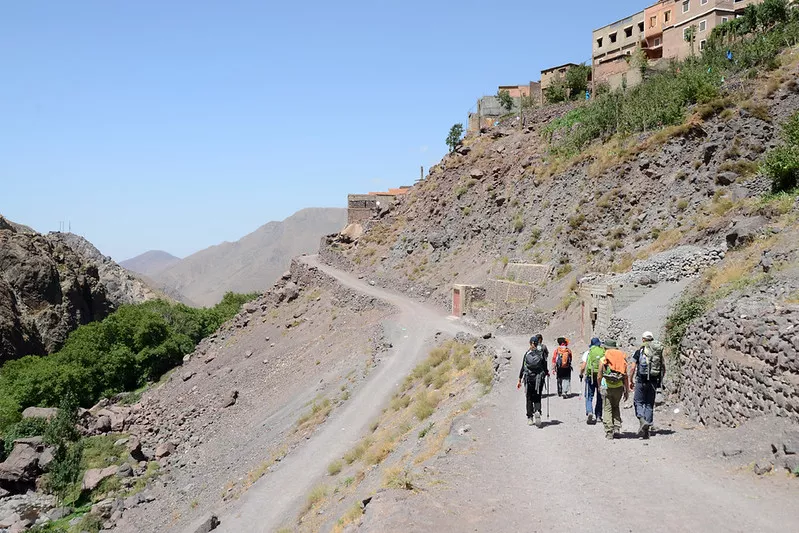 The indigenous people of the Atlas Mountains
The indigenous people of this region have been living in these lands for millennia, their traditional customs and way of life did not change much. The Amazigh are the original inhabitants of the Atlas Mountains, whose civilization reaches back more than eight thousand years. Characterized by a respect for their land and a warm welcome to visitors, they make a living through farming and herding livestock using age-old techniques. Visitors may find themselves welcomed into an Amazigh home for tea or invited to spend a day learning baking, cooking, or pottery making. Notable features of the Amazigh culture include: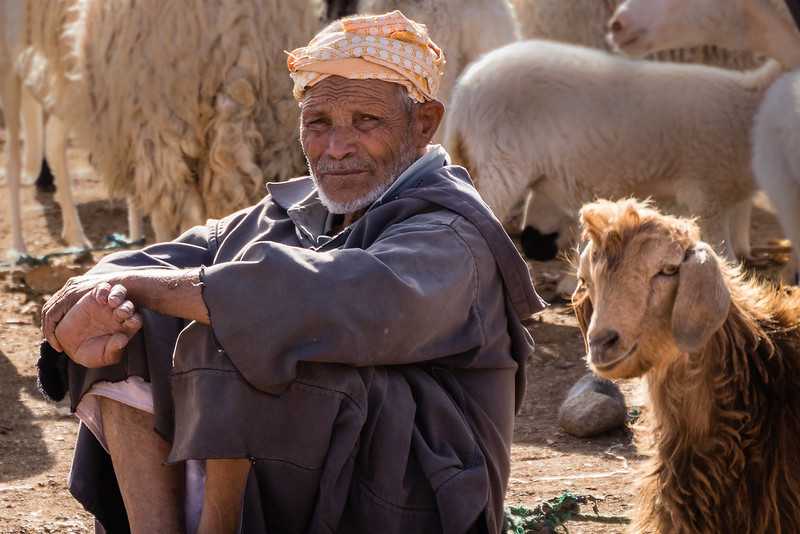 Their flat-roofed homes are made from packed stone and mud
Sustainable attitude toward their environment
Traditional methods used to live in the fertile valleys between forbidding slopes
Warm hospitality extended to visitors
Crafts such as pottery made from red-brown clay. As an exploration into this ancient culture reveals hidden secrets about its past, it also allows us to discover even more precious gems hidden among the Atlas Mountains.
Hidden Gems To Visit In The Atlas Mountains
Exploring the Atlas Mountains is an adventure like no other. From Imlil and Toubkal mountains to Ait Benhaddou and Ounila Valley, one can discover hidden gems never before imagined. Further discoveries await at Ouzoud waterfalls, Todra Gorges, Dades Valley – and Monkey Toes Mountains; any traveler would be remiss not to experience these remarkable places.
1. Imlil And Toubkal mountain
Perched atop the majestic Mount Toubkal, Imlil serves as a gateway to marvels of nature and adventure that captivate all who visit. Located in the High Atlas Mountains of Morocco, Imlil provides incredible views of the surrounding valleys and snow-capped peaks, with Mount Toubkal being the highest in North Africa at 4167 meters. Those interested in trekking can choose from several short-day hikes around the valley or multi-day treks to reach its summit.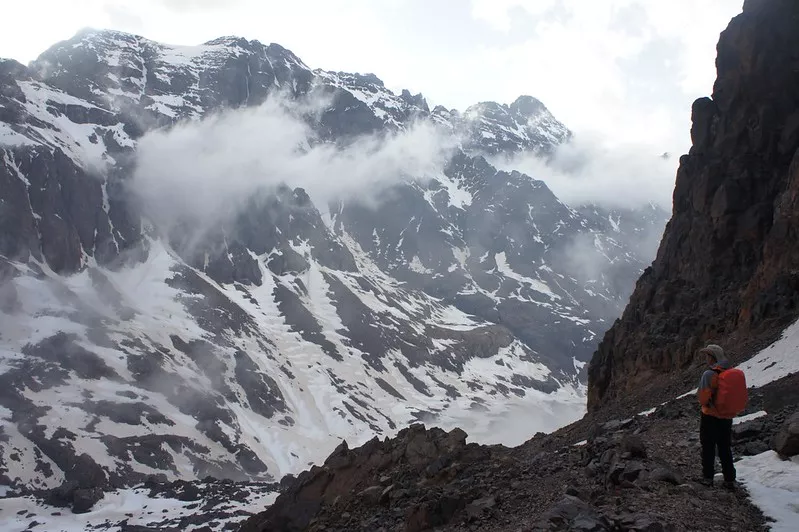 The Azzadene Valley and Ouirgane are also nearby for those wanting to explore traditional Berber villages. With such an abundance of natural beauty and possibilities for exploration, it is no wonder why the Imlil and Toubkal mountains remain popular destinations for outdoor enthusiasts looking to escape everyday life. From here visitors can take their next step into discovering more hidden gems in the magnificent Atlas Mountains.
2. Ait Benhaddou & Ounila Valley
Nestled in the majestic Ounila Valley, Ait Benhaddou is a fortified town that stands as a testament to bygone eras of trade and power. Its grand red walls and imposing architecture evoke feelings of awe and admiration from those who visit. Within its walls lies an entire city made up of houses, Kasbahs, mosques, and even granaries for storing grain. Exploring this ancient city gives visitors the chance to discover a unique history that dates back centuries:
Stroll through narrow alleys lined with traditional buildings
Visit the impressive ruins of Telouet Kasbah which was once home to Pasha Glaoui
Capture breathtaking views of the Atlas Mountains on camera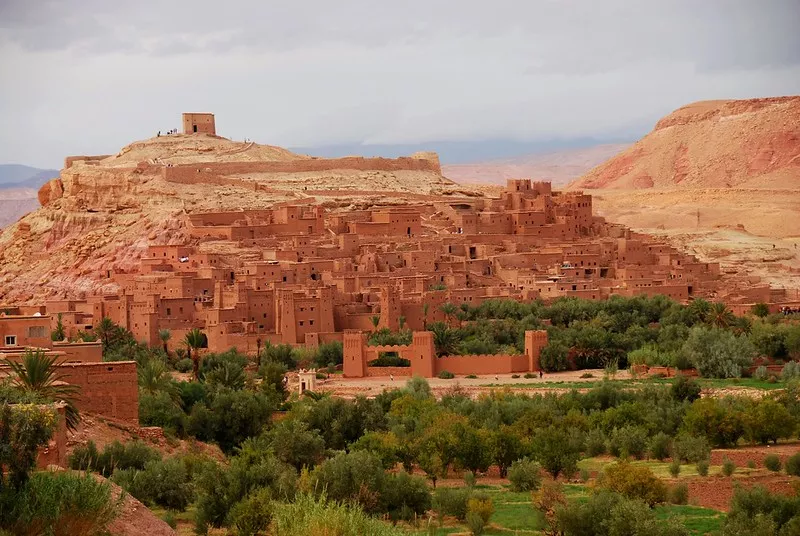 The amazing beauty of Ait Benhaddou also extends beyond its walls into the great expanse of Ounila Valley. Here, travelers can witness dramatic landscapes filled with rocky canyons, grand ruins, and stunning vistas – all framed by the mighty Atlas Mountains in the distance. With its wealth of natural wonders and historic sites, it's no wonder why this valley has been featured in so many films throughout the years. As you explore this magical place further, you will be transported to another world entirely – one that beckons you to continue your journey toward the next destination: Ouzoud Waterfalls.
3. Ouzoud Waterfalls
The Ouzoud Waterfalls offer a spectacular sight of cascading water tumbling 110 meters across three separate drops, surrounded by lush vegetation and stunning views of the surrounding landscape. With many paths to explore through the canyon, visitors can take in all the beauty that this natural wonder has to offer. A variety of restaurants are scattered along the path for an enjoyable meal as one takes in the sights. Swimming is also allowed. Not to mention, boat rides from which one can admire the falls from a very close and unique vantage point. An ideal day trip, Ouzoud Waterfalls provides a cool and relaxing respite from Marrakech's heat while allowing visitors to fully experience its beauty. Moving on from this charming destination, it's time to discover the adventure awaiting at Todra Gorges.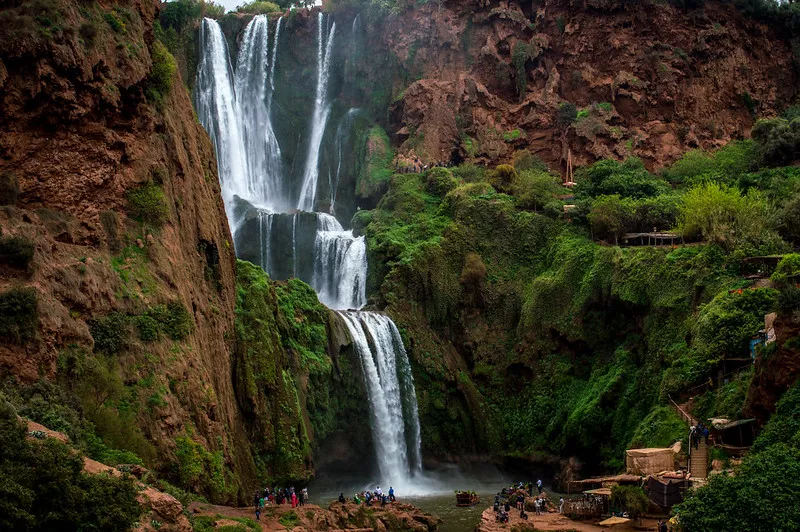 4. Todra Gorges
Situated just a couple of hours east of the Dadès Valley, Todra Gorges is an incredible display of red rock canyons and towering heights. The most dramatic of these in Morocco, it stands almost 200 meters high at its tallest point and only 10 meters wide at its narrowest. It opens out into the Tinghir Oasis, a lush green contrast to the desert that surrounds it. Here visitors can find plentiful hiking opportunities and signed footpaths along with guides who will help explore this remarkable landscape.
Adventure seekers will be rewarded with stunning views of cliffs above and below them as they make their way through this unique canyon. This is a place for those looking for exploration, freedom, and adventure; an opportunity to experience something truly special in one of Morocco's hidden gems. From here you can continue south or north on your journey to discover even more wonders of Morocco's natural beauty.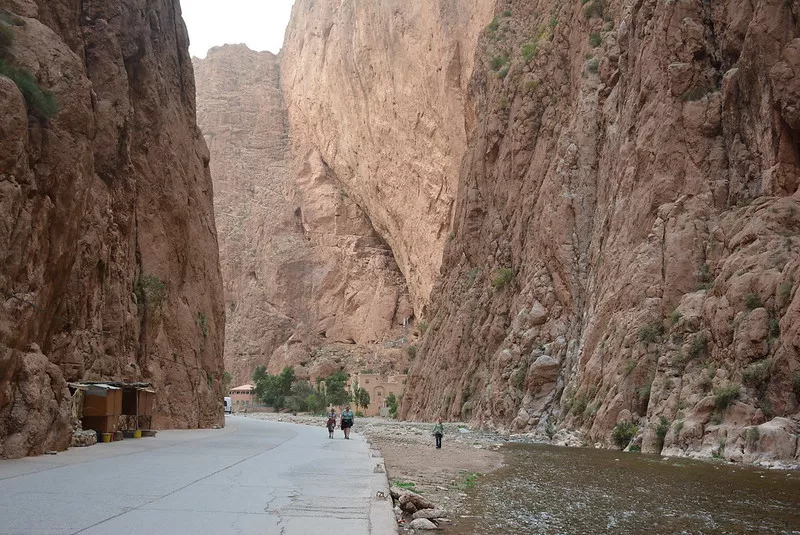 5. Dades Valley – Monkey Toes Mountains – Tissdrine Curves
Surrounded by massive red rock formations, the Monkey Toes Mountains provide a dramatic backdrop to the Dades Valley. From the drive in from the south, this red rock valley gradually narrows until it is a little wider than the road as it twists and turns, rising higher and higher. The slot canyons and rivulets of Monkey Fingers offer an amazing opportunity for adventure:
Explore beautiful villages
Meet friendly people
Wander nomadic camps
Enjoy stunning scenery
Delight in Moroccan cooking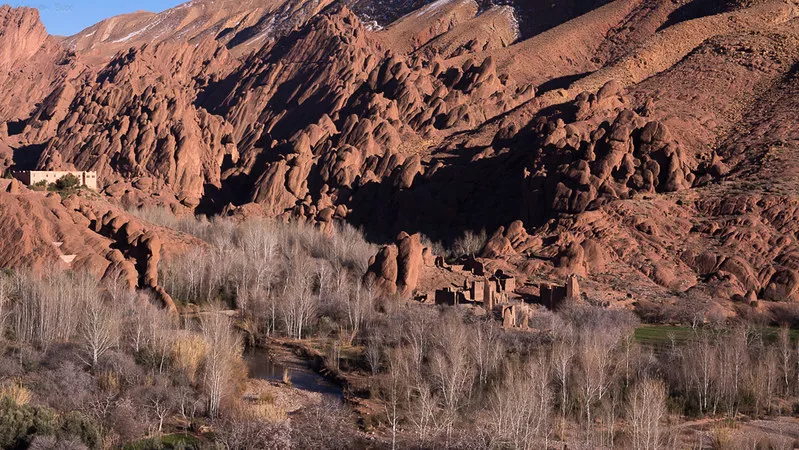 The Dadès Valley is a captivating place that captures one's imagination with its rugged beauty and sense of freedom. Taking in all that this magnificent place has to offer leaves visitors with an unforgettable experience and anticipation for what lies ahead in Ourika Valley.
Nestled in Dades Valley, Tissdrine curves are a set of sharp turns in Morocco's High Atlas Mountains. They are on the road between Ouarzazate and Merzouga, which is a famous place for tourists to go.
The Tissdrine curves were named after the nearby town of Tissdrine. People say that the shapes were made by French colonial rulers at the beginning of the 20th century. They were made to slow down cars and keep crashes from happening.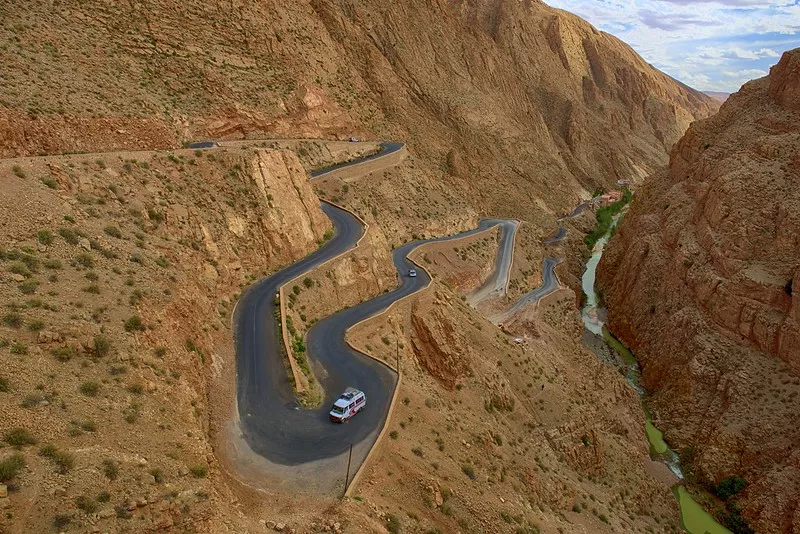 Photographers and drivers like to stop at the Tissdrine turns. The Dades Gorges look beautiful from the top of the bends, and the road is hard to drive on.
6. Ourika Valley
Lying in the foothills of majestic peaks, Ourika Valley is a tranquil oasis away from the bustle of city life. Just over an hour's drive from Marrakech, visitors to this natural paradise can take in its dramatic landscape of terraced fields and winding waterfalls. The valley is particularly beautiful in March and April when it blooms with cherry and almond orchards as well as wildflowers along the riverside. It is also popular for day hikes into the Atlas Mountains, including one that takes you to seven different waterfalls.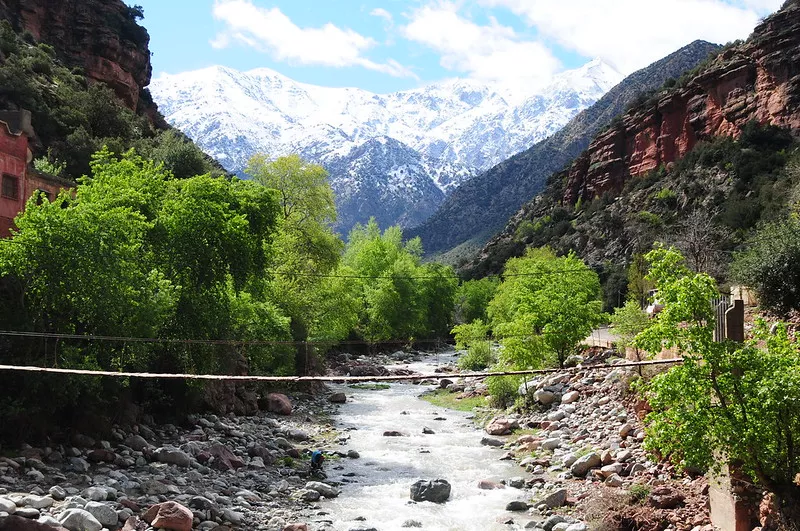 Restaurants are available to enjoy a meal while taking in views of the river below. With its cooler climate compared to Marrakech's scorching heat, Ourika Valley provides an ideal escape for locals and tourists alike. For those short on time yet wanting a unique experience, this could be the perfect day trip destination. Taking all this into account, it is easy to see why Ourika Valley remains such a beloved spot among Moroccans and travelers alike – offering up a peaceful taste of nature amidst towering mountainscapes.
7. Ait Bouguemez
Coming from the Ourika Valley to Aït Bouguemez is like taking a step back in time. This rural valley of Morocco boasts a traditional life that can be seen and experienced in its Berber villages. From men tending goats to women scything crops, it's easy to get lost in the old-fashioned culture here. The views of the M'Goun massif provide an awe-inspiring backdrop as you explore the patchwork fields of barley and wheat fed by terraced hills and irrigation channels. Accommodation and meals are available at local riads and hotels, making this a great destination for adventurers looking for unique experiences off the beaten path. With its breathtaking scenery, Aït Bouguemez is truly one of Morocco's most beautiful valleys.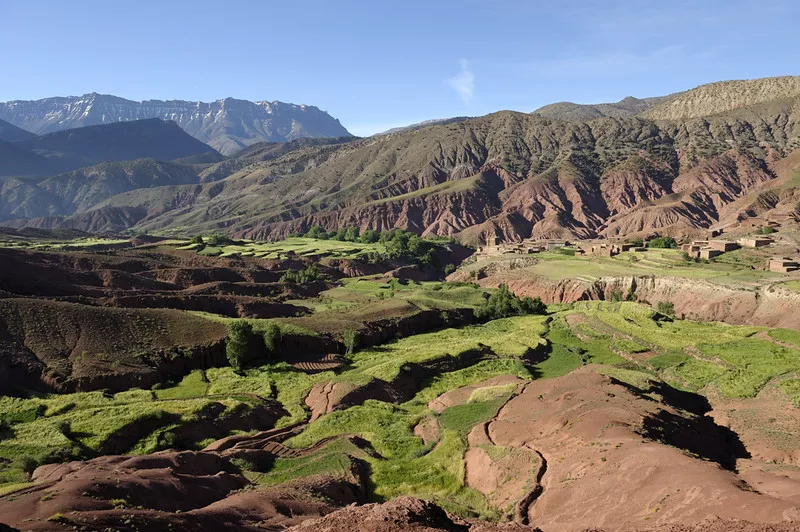 As we leave Aït Bouguemez behind us, our next stop brings us to Ouirgane Valley, another stunning destination situated among the Atlas Mountains in northern Morocco.
8. Ouirgane Valley
Situated in northern Morocco, Ouirgane Valley is a picturesque destination with rolling hills and terraced fields rich in agriculture. The valley floor near the riverbanks is enriched with plums, blackberries, olives, figs, and almond trees while up in the hills onions, potato, alfalfa wheat, and barley sustain a very rural way of life.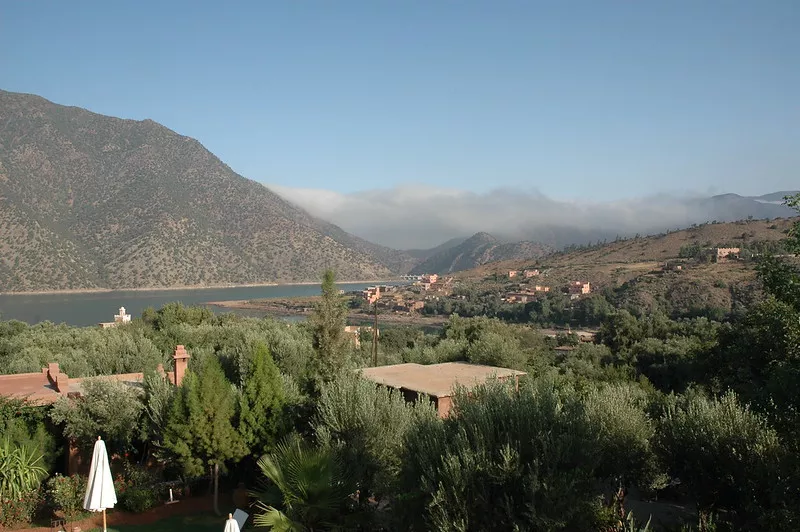 Those looking to get off the beaten track can enjoy quality authentic accommodation close to traditional Berber living and be mesmerized by local villages while lazing by the pool or going for hikes to Azzadene Valley or driving 4x4s across gravel tracks to Assif Zagawari where magnificent snow-capped mountains are visible. For those seeking an adventure full of exploration and discovery that will quench their thirst for freedom, Ouirgane Valley should definitely not be missed. Continuing on from this beautiful valley experience awaits another thrilling journey – exploring how to get around the Atlas Mountains in Morocco.
How To Get Around The Atlas Mountains In Morocco
The Atlas Mountains in Morocco offer a variety of transport options for those wishing to explore the region. Tourists can opt for public buses, which travel through several cities and towns, or grand taxis, which offer more private rides over longer distances. Alternatively, for the adventurous traveler, driving is also an option with many roads available for navigating the mountainous terrain.
1. Public Bus Through The Atlas Mountains
Traveling through the Atlas Mountains via public bus offers an opportunity to experience the stunning beauty of Morocco. The journey is often exhilarating, passing by rolling hills and dramatic landscapes. These buses are offered by two main companies – CTM and Supratours – that run regular services between Marrakech and Ouarzazate with a 25-minute break included in the 4-hour and 30-minute trip. In addition, Supratours also offers infrequent services to Kalaat M'Gouna at the bottom of the Roses Valley and Tinghir at the bottom of the Todra Gorge Valley. This allows travelers to explore some of Morocco's most spectacular sights without having to invest in costly transportation or accommodations. As such, taking a public bus through these mountains can provide an enjoyable, yet affordable way to explore this stunning region. With its jaw-dropping scenery and welcoming locals, it is no wonder why so many choose this route for their Moroccan adventure.
2. Grand Taxis Through The Atlas Mountains
Grand Taxis offers an alternative way of exploring the rugged terrain and picturesque landscapes of Morocco. They provide passengers with a unique experience, allowing them to travel between cities and more remote destinations such as Aït Bougmez, Ouirgane, and Imlil at a fixed price. Passengers are likely to find themselves in an older model car when traveling in more rural areas, but they can still expect an enjoyable journey as Grand Taxis allows for social interaction between passengers. Although patience is required for this mode of transport, it presents an opportunity to get off the beaten track and enjoy some of Morocco's lesser-known corners. With these experiences comes a newfound appreciation for the country's remarkable beauty that can only be found by navigating its winding roads through the Atlas Mountains.
3. Driving in The Atlas Mountains
After exploring the possibilities of Grand Taxis through the Atlas Mountains, a more adventurous and open-minded approach to this captivating region is to explore it by driving. The roads are well maintained, petrol stations are plentiful, and traffic is light. This makes navigating through the area stress-free and allows for an exploratory journey that can't be replicated with public transportation. Here are some benefits of driving in the Atlas Mountains:
Navigating is simplified due to few road choices – Google Maps can easily guide you along your route.
Self-driving gives you control over your journey, allowing you to go at your own pace or make stops along the way.
Being able to drive off-road lets you explore even further into nature's beauty without relying on public transport routes.
Driving in the Atlas Mountains offers an opportunity for adventure that cannot be found elsewhere, and it's an experience that should not be missed!
Frequently Asked Questions
What type of wildlife can be found in the Atlas Mountains?
A variety of wildlife can be found in regions with mountainous terrains. From ibex, mouflon, barbary Apes, and sheep to raptors such as eagles and vultures, there is a diverse selection of animals to explore. Adventurous travelers have the opportunity to observe these creatures in their natural habitats and experience an exciting journey.
Are there any cultural festivals or events in the Atlas Mountains?
Events and festivals celebrating local culture occur in many mountain ranges, and the Atlas Mountains are no exception. From music to dance, locals come together to enjoy their heritage while embracing a sense of adventure. Visitors are always welcome to join in the festivities, allowing them an insight into the culture of this majestic region.
What is the weather like in the Atlas Mountains?
The Atlas Mountains climate is highly varied, ranging from warm and dry along the coast to cold and snowy in the higher elevations. Rainfall can vary widely between regions, with some areas receiving no rain for years at a time. Summers are generally hot, while winters are cool with frequent snowfall in the highest areas. Altitude plays a major role in determining temperatures, which can drop dramatically as you ascend.
Is it safe to travel through the Atlas Mountains?
In general, traveling to mountainous regions can present safety concerns, and the Atlas Mountains are no exception. Before embarking on a journey, research the area for potential hazards such as terrain difficulty, wildlife encounters, and weather conditions to ensure an enjoyable experience.
Are there any nearby attractions outside of the Atlas Mountains?
Travelers seeking adventure and exploring attractions outside of the Atlas Mountains may find an array of cultural experiences, historical sites, and natural wonders. From ancient Roman ruins to Sahara Desert excursions, there is much to explore in Morocco.
Conclusion
The Atlas Mountains are an awe-inspiring sight, offering travelers a chance to explore the rugged beauty of Morocco. With its many peaks and valleys, the mountain range offers a wealth of possibilities for hikers and adventurers alike. From exploring traditional Berber villages to discovering hidden gems along the way, there is something for everyone in this vast area of North Africa. The best time to visit the Atlas Mountains is during spring or autumn when temperatures are milder and storms less likely. For those looking to experience more remote regions, hiking in the Anti-Atlas region is highly recommended. By learning about the culture and customs of Morocco's indigenous people, visitors can gain valuable insights into this unique part of the world. Whether seeking adventure or simply soaking up breathtaking views, it is clear that this remarkable mountain range has something to offer all who make their way here.