Honeymoon in Morocco:
When most couples envision their honeymoon, they imagine white beaches with palm trees sloping into the water and cute thatched bungalows right on the beach. We want to break free from this stereotype and invite you to spend your honeymoon in Morocco, a true oriental fairy tale.
A honeymoon in Morocco, or why not visit a country sometimes neglected by Europeans, the land of French cafés on the beach serving authentic Arabic coffee?
Morocco, the undiscovered kingdom, is the real portal to a world of African and Islamic culture, which mixes with European culture at every stop, whether you're strolling through the market square in the red city of Marrakech or walking along the sun-drenched beach in Morocco's capital, Rabat.
All lovers of multicultural architecture, welcoming people, mild weather and humid breezes, harmonious suburbs, and diverse cuisine will find much to enjoy in this African nation bathed in the Atlantic and dubbed the "westernmost corner."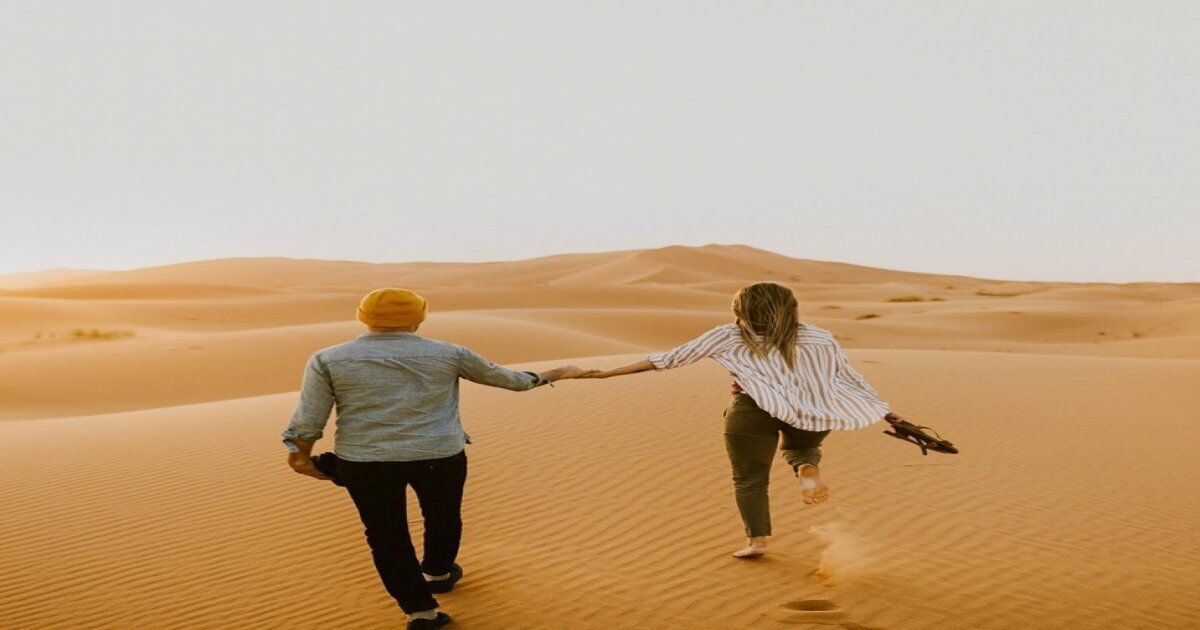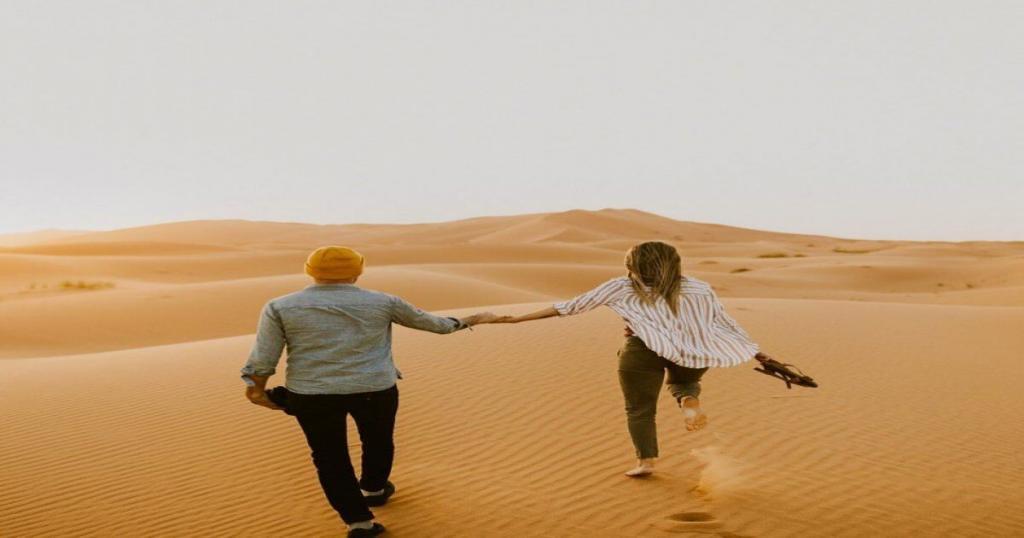 Planning your honeymoon in Morocco?
We are a local travel agency who is specialized in making any type of tour around Morocco, all you need to do is just contact us and we will set our team under your needs, we are here to make your honeymoon tour in Morocco as romantic as possible.
General information:
The Atlantic coast of Morocco was once thought to be the westernmost territory, beyond which lay the world of darkness. Morocco is also known as the "Pearl of the Maghreb," which translates as "Land of the Setting Sun."
When to go for a honeymoon in Morocco?
You can not visit Morocco in the summer unless you plan on spending 24 hours on the beaches of the Atlantic and Mediterranean. The cities are unbearably hot, and the Moroccans joke that in the desert, you don't even need a fire to cook food. You shouldn't go in the winter either unless you want to go skiing or snowboarding on the Atlas Mountains' snowy slopes. The temperature in the cities remains about +20°C, but it rains.
The best months in Morocco are April and October.
After the winter rains, the valleys turn green and the flowers bloom in the spring. By late fall, the trees bent under the weight of ripe pomegranates, oranges, and tangerines, but the area surrounding the plantations is so parched that it resembles a "crossroads of stone rivers."
Travel not just in space, but also in the time when you research the country's past. In Morocco, the lunar Muslim calendar is currently 1435, and the solar Berber calendar is 2964. Consider Islamic holidays while arranging a journey. Do not, for example, spend your honeymoon during Ramadan.
Read the best time to travel to Morocco.
Travel routes:
Morocco's reigning dynasties have replaced each other since ancient times, and the sultans have transferred the throne and harem to new cities, giving the region the nickname "country of five capitals." It is simple to plan an itinerary: there aren't many cities on the globe, almost all of them are protected by UNESCO, and each one has something unique to offer. "Red" Marrakech, "blue" Chefchaouen, and "white" Essaouira – bring vibrant colors to the palette of your Moroccan honeymoon journey!
Fes:
Fans of historical films and Oriental fairy tales should start their exploration of Morocco with a visit to the city of Fez. Time seems to have stopped in its old section, the medina. Except for horses and donkeys, all modes of transportation are prohibited in this region. You will spend hours walking along the narrow streets, admiring the closely packed houses and shopping in the merchants' shops.
Almost every house in the medina serves many purposes. A workshop on the first floor is where they make pots, weave clothing, and bake bread. Anything is for sale right there. You can buy something nice for your family nests, such as a hand-forged lamp or a decorative painted plate that will symbolize your love and remind you of your time here.
Meknes:
After Fez, visit Meknes, a fancy city for your honeymoon in Morocco, which is known for its stunning gates and the remains of the formidable Sultan Molyai Ismail's fortress. A massive underground jail was uncovered here in the 1980s. According to the legend, a couple in love went there to tickle their nerves but never returned. A unique shrine to a water carrier can be found near the Sultan's stables. In the past, he was a well-regarded man because only he had keys to all of the city's buildings, and he was always asked for matchmaking.
It is said that in those days, water carriers were responsible for the formation of many young families. The Volubilis necropolis is not far from Meknes. The city was built during the Roman Empire and was nearly totally devastated in the 1811 Lisbon earthquake.
You can be here at least an hour before sunset. The setting sun casts warm golden hues on the remains of the ancient city, which will look stunning in your pictures together.
Merzouga:
Merzouga is another location where you can see the most romantic sunset of your life. It is the only city in northeastern Morocco that is next to the world's highest desert, the Sahara. Many hotels are situated on the outskirts of town. At sunrise or sunset, you can stroll out of your room and see the light orange sand dunes. But be cautious not to go too far on your own. After all, it's easy to get carried away with each other and forget your way back.
The desert offers a variety of activities, including ATV races, buggies, and sandboarding. The most romantic choice, of all, is a camel ride in which you are alone with the desert and silence. Furthermore, almost every hotel owner has his own camel caravan, and we will happily assist you on this trip.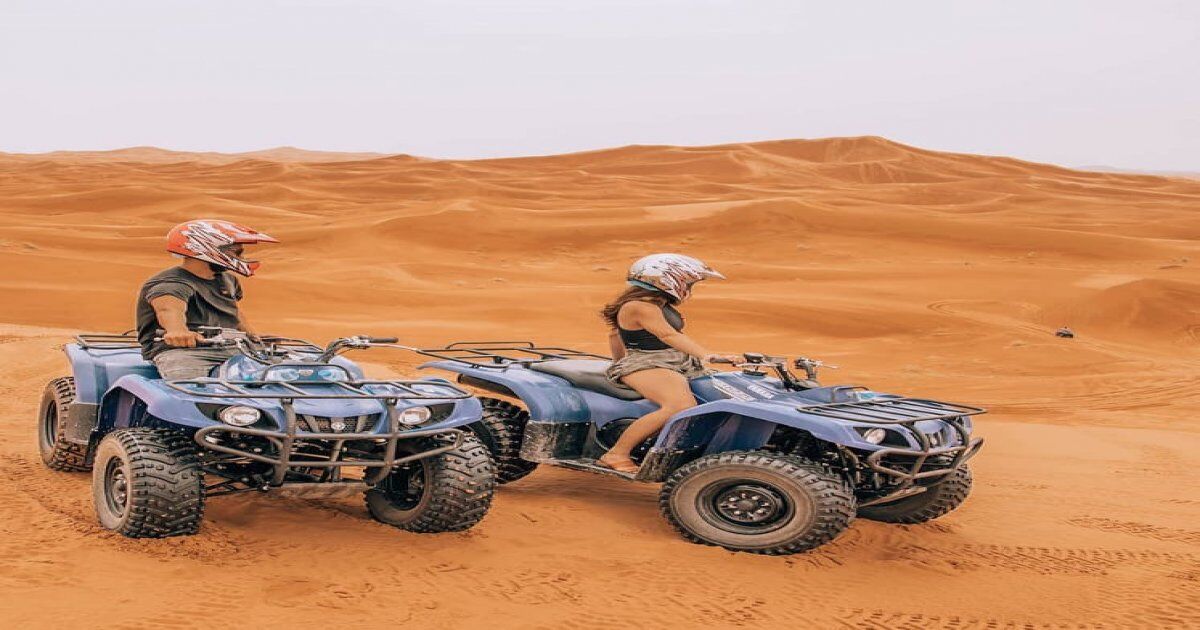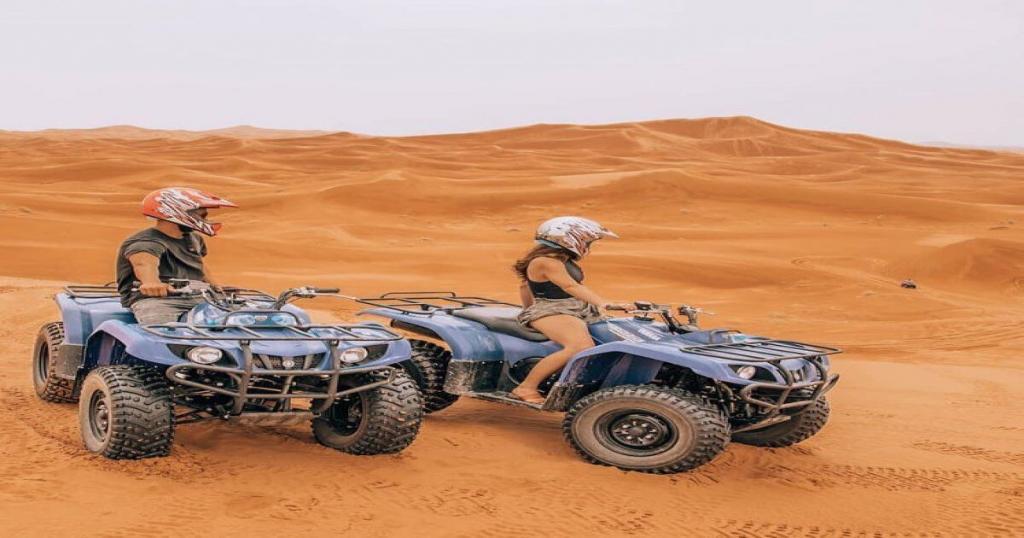 Ouarzazate:
Ouarzazate is well-known for its Atlas Studios, which have produced many popular films and television shows such as Gladiator and Game of Thrones. This is a must-see for those interested in cinematography. You will take a guided tour of the pavilions, where the shooting sets are still intact, and also discover the secrets of Hollywood celebrities. Ouarzazate has a population of about 70,000 inhabitants, nearly half of whom were participating in the filming of numerous historical films.
The ksar of Ait-Ben-Haddou is just 30 kilometers from the film studio. Ksar is a fortified village that looks like a castle. Nowadays, almost no one lives here, but it is notable for being the location of Game of Thrones' wedding of Daenerys and Khal Drogo, and this ksar became the prototype of Khalasar's capital in the popular story. The location is extremely photogenic, so plan any fun scenes involving you ahead of time to film your own short film here.
Marrakech:
Marrakech is Morocco's version of Las Vegas. The city seems to have been built with entertainment in mind. There are several clubs and bars for those who enjoy the nightlife. But keep in mind that since this is a Muslim republic, you will have to pay a hefty amount for alcohol in the pub.
Marrakech is well-known for more than just its nightlife. Make a point of visiting the Majorelle Garden. This is most likely the greenest area of the city. It was designed by Jacques Majorelle, a French designer. This location was once a favorite of designer Yves Saint Laurent. He was influenced by the garden and chose to live and work here. There is a small space here where the designer displays the original flyers he designed by hand every year to welcome his clients and friends for the New Year.
There is also a salon where he sells luxury pieces and perfumes. A few meters from the garden is the Yves Saint Laurent Museum, which would appeal to all fashionistas. It is a huge show hall where the designer's most prominent creations are displayed: clothes, jewelry, accessories, and hats. Only the exhibits are lit in the hall, which is dark. It appears to be very trendy, but photography is not permitted.
This is just a short trip across Morocco. There are coastal towns with scenic promenades, ski resorts, and vast metropolitan areas, to name a few. However, we suggest that you visit the areas where Aladdin and "1000 and One Night" come to life, where the streets recall the sultans, and the old medinas are always bustling with vendors and permeated with the scent of oriental sweets.
The beauty of Moroccan nature:
Romantic locations such as the Cascades d'Ouzoud will become the setting for a genuine declaration of love, where the flowing water, lukewarm wind, and rainbow hovering over you will imply tender words that will make your Moroccan honeymoon a fairy tale.
If you like thrills, we suggest a visit to Marrakech's Djemaa el-Fna Square, which is popular for its snake charmers.
It's worth spending at least four days in this royal city to immerse yourself in its history, allowing yourself to be pulled into the streets where the presence of Roman culture can be seen in both small houses and majestic temples.
If you're planning a romantic honeymoon to Morocco, don't forget to stop by Casablanca, the shooting site for the film of the same name. This city will charm you and leave you with vivid memories of hot evenings on the beach. The locals are polite and helpful, and you might be shocked by how acquainted they are with your culture. The French romance of an African port city, an enticing chance to go on a honeymoon that you would cherish for a lifetime, and the memories of days spent in Casablanca will warm you on freezing days.
Honeymoon in Morocco: go scuba diving:
Taking a honeymoon trip to Morocco allows you to totally immerse yourself in scuba diving. This charming destination invites lovers to explore its sea beds. Furthermore, in this sense, Morocco offers a number of scuba diving locations. One of them is in Belyounech, a fishing village 16 kilometers from Findeq. Its tiny beach, which is bordered by the Mediterranean Sea, is especially well-known for its beauty. Brides and grooms would have no problem immersing themselves in its clear waters and leisurely wandering its seabed.
During this romantic adventure, you can also visit the beach of Jebha. The access to this tourist attraction is a little complicated, but the elegance is worth the detour. The natural environment is made up of rocks and green trees. This beach is not only great for swimming, but it is also great for windsurfing. A stay at this location would provide the lovebirds with the opportunity to embark on an incredible journey together.
A desert tour on a camelback, a must on a honeymoon in Morocco:
To spice up a romantic trip to Morocco, it is imperative to discover its vast deserts. On the back of their camels, the lovers will be able to criss-cross the Sahara. Close to Marrakech, this desert is a strong tourist attraction in the country. Every year, it attracts millions of visitors. Note that Marrakech is the main point of departure to go to this desert. After their excursion on this site, the lovebirds will certainly leave dazzled as well by its immensity as its landscapes.
To close in beauty the expedition in the heart of Morocco, the desert of Merzouga is also to be surveyed. This one is without any doubt the most impressive part of the Moroccan desert. One can admire the typical image that one has of the desert in one's imagination.
The desert of Zagora is also to be crossed in Morocco. This tourist attraction is particularly ideal for a two-day and one-night romantic getaway.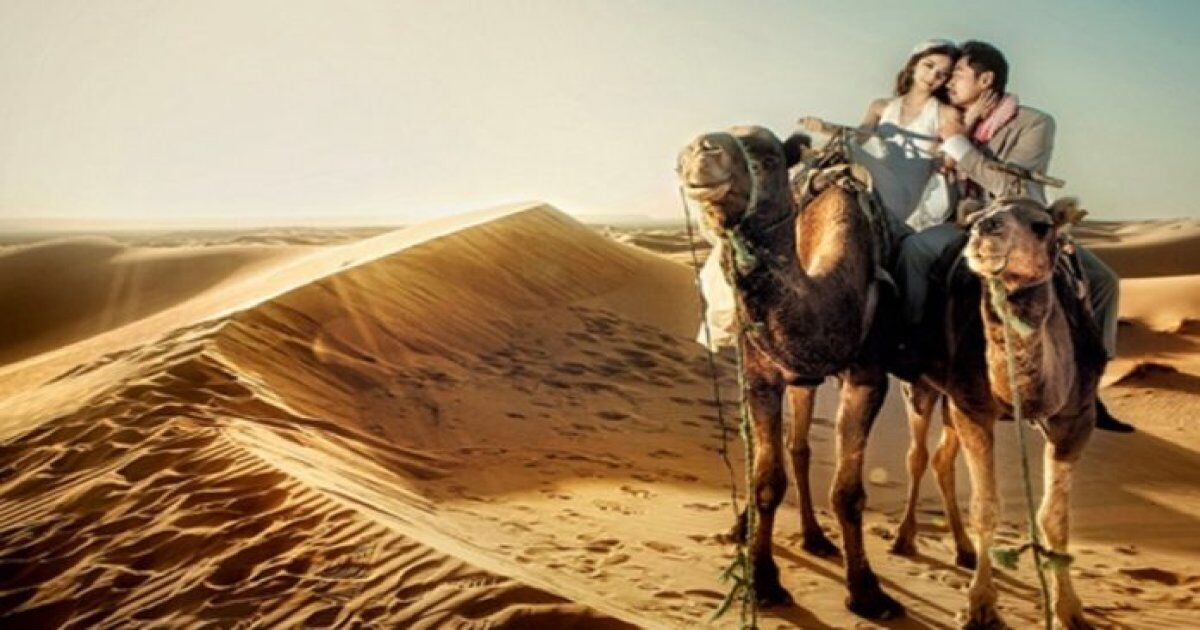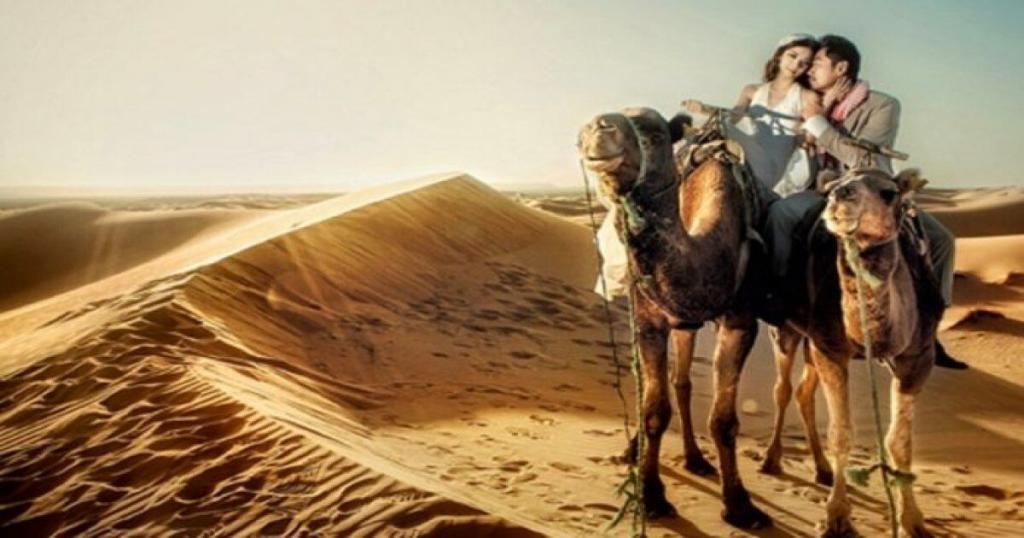 Morocco for active individuals:
If you want a more adventurous vacation, Morocco's Atlantic beaches have an ideal setting for learning to surf or windsurf. This will help you fall in love with Essaouira and its three kilometers of beach. The gems of this region, however, are not only the recreational facilities, but also the exotic buildings amongst the ubiquitous European architecture; here you will see how these two diverse cultures have come together in a harmony that will charm you, and you can find calm, tranquillity, and serenity that you will appreciate for a few days.
Moroccan cuisine:
Moroccan cuisine is as diverse and varied as the country itself, full of aromas and flavors. Trust us, Moroccan food is a true experience not to be missed. Moreover, when you combine the friendly atmosphere of the local people with the smell of saffron, coriander, and cumin, you get a harmony that you will remember for a long time. What you must try is the traditional and very popular couscous, which is served with meat and vegetables.
The pastilla is the crown jewel of Moroccan cuisine, a cake made of finely diced poultry beef, parsley, hard-boiled eggs, almonds, and honey.
Almost every Moroccan dish is a symphony of aromas and flavors. When you relax in a café, have a mint tea, a pastilla, and listen to the sounds of the city and the sea, it will be the most perfect punctuation to your honeymoon in peaceful Morocco, where we suggest spending at least two weeks, which will become an amazing journey that you will remember for the rest of your life.
You should try argan oil, which is commonly used in Moroccan cooking. It's also one of the priciest oils found in the beauty industry.
Romantic resorts for your honeymoon in Morocco: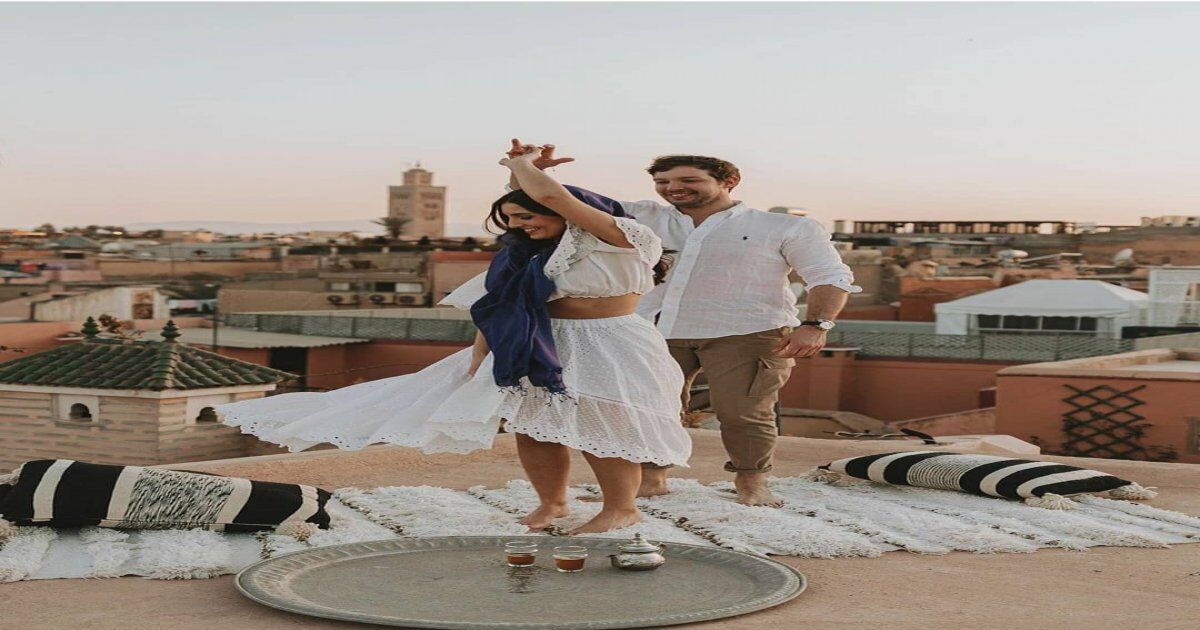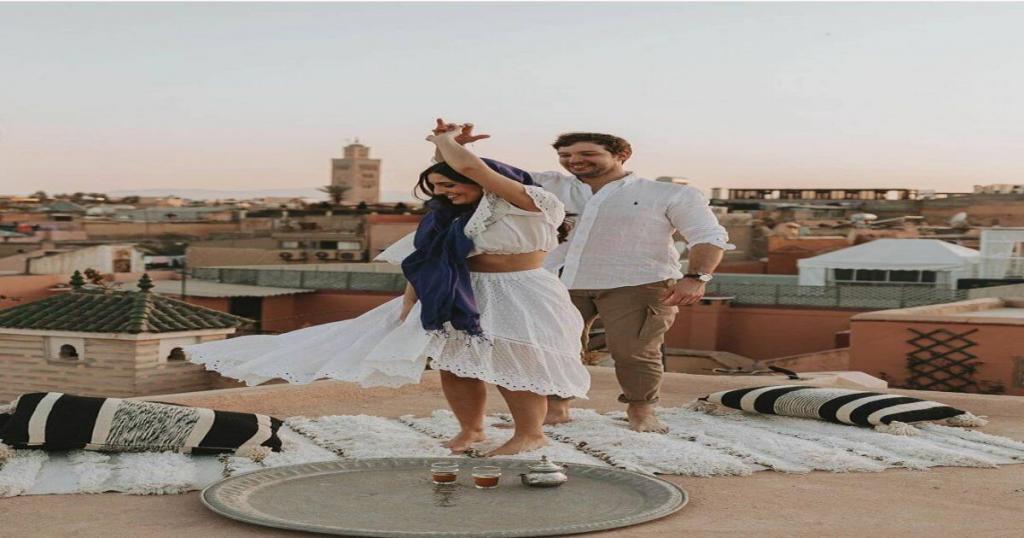 Beldi Country Club, Marrakech:
The Beldi Country Club is only a short walk from the heart of Marrakech. The hotel's architecture, which combines exotic Moroccan style with elegant French elements, is reminiscent of a typical Moroccan village, complete with beautiful alleyways, narrow streets, and courtyards. Enjoy the view of the Atlas Mountains while strolling through fragrant rose gardens and olive groves, cooling off in the clearest tub, watching a movie in the tiny on-site theater, dining at the upscale hotel, and pampering yourself in the spa. Tennis courts, a bazaar where you can buy high-quality pieces, restaurants, cooking lessons, petanque, golf, horseback riding, pottery, and ATV riding are all available.
Royal Mansour Marrakech:
The Royal Mansour Hotel, located in the majestic Red City of Marrakech, blends fine tradition, wealth, and modern facilities for an unforgettable stay. The five-star luxury hotel has a variety of well-appointed and luxurious rooms furnished in beautiful Moroccan architecture. There are a huge swimming pool and beautiful grounds, as well as many restaurants serving delicious cuisine. Dine on standard Moroccan fare, delectable French fare, or other foreign fares. Relax with a drink in one of the pubs, pamper yourself in the fabulous pool, soak in a relaxing hammam, and cherish many magical memories.
La Mamounia:
The five-star La Mamounia Hotel, situated next to the famed Koutoubia Mosque, will be an excellent base for exploring Marrakech's magnificent medina. This is one of the city's most opulent hotels. This luxury hotel is housed in a former palace and is furnished with typical Moroccan tiles, stucco, and other architectural features.
The resort is one of the country's most famous spas. Check into a charming bed, suite, or riad and enjoy the hotel's amenities, which include restaurants and cafes, a fitness center, a beauty salon, boutiques, and a pool. Since its inception in 1923, the hotel has welcomed guests such as Winston Churchill, Yves Saint Laurent, Edith Piaf, and Paul McCartney.
Mazagan Beach Resort, El Jadida:
Mazagan Beach and Golf Resort have all of the top-notch facilities you'll need for an unforgettable honeymoon in Morocco. This five-star resort is widely regarded as one of the best in the world. The exquisite rooms and suites have typical Moroccan designs, high comfort levels, and stunning views. Relax by the pools or on the pristine sand, play a round of golf, dine at one of the on-site restaurants, gamble in the casino, or dance the night away in the nightclub. The spa has a range of services, as well as exclusive couples' packages. Horseback riding, ATV trips, excursions, go-karting, and yoga are some more enjoyable sports. Since the hotel is near to the coastal town of El Jadida, guests can walk there.
Riad Maison Bleue and Spa, Fes:
The spa hotel Riad Maison Bleue is located near the lively center of Fes. In this luxury hotel, honeymooners can enjoy the energy and iconic sights of the city, visit many historical and cultural sites and return each evening to their classic and traditional abode. Rooms and suites feature antique furniture, soft fabrics, polished cedarwood furniture, and other luxurious elements. Top-notch amenities include a spa with hammam and massage rooms, an indoor pool, fitness center, terrace, bar, and two restaurants. Breakfast is served every morning. This stately riad was once the private home of a prominent local judge and theology professor.
Kasbah Tamadot, Asni:
Kasbah Tamadot Hotel is an oasis of harmony and tranquility in the foothills of Morocco's breathtaking High Atlas Mountains. This hotel's beautiful walkways, excellent service, and outstanding services await honeymooners. The award-winning resort features 30 charming rooms that are built for private stays. There are also several charming Berber tents for a one-of-a-kind honeymoon in Morocco.
Hotel Sofitel Agadir Thalassa Sea & Spa, Agadir:
The Sofitel Agadir Thalassa Sea & Spa is part of the multinational Accor hotel chain and is situated by the beach. The five-star resort provides the best of what the hotel has to offer, from luxurious rooms with modern facilities and outstanding on-site restaurants serving a full range of food to a stunning spa with a hammam, sauna, massage lounge, and a huge outdoor pool. The rooftop terrace is ideal for seeing sunsets, and the art gallery can appeal to artistic types. Camel or horseback riding, golfing, fishing, boating, swimming, and tennis are all available in the local area.
Paradis Plage Surf Yoga & Spa Resort :
Paradis Plage is an eco-resort located near the famous seaside resort of Agadir and the surfing destination of Taghazout. It is perfect for surf-obsessed lovers looking to mix beach time with thrilling water sports. It is also simple to visit natural wonders and ancient Berber villages from the resort.
This tranquil resort also offers yoga sessions for those who wish to relax and enjoy real harmony, and the on-site spa offers a plethora of blissful options. The resort has a large range of restaurants and bars. Taste nutritious and organic food that is not only delicious but also beneficial to your body. Choose from a suite, a villa, a bungalow, or a luxurious flat.
Dar Ahlam, Kusheit:
Hotel Dar Ahlam is located on the edge of the Sahara Desert, near the Moroccan city of Skoura. It has a tradition that goes back 200 years. The hotel, which overlooks the majestic Atlas Mountains, is surrounded by lush gardens and expansive palm groves. Local walks and trips to Berber towns will be organized for guests, who will also have access to a salon, massage parlor, hammam, and delectable cuisine. The hotel's owners also own a luxury camp in the Erg Chebbi Desert, where you can spend an incredible trip wandering the high dunes, sleeping under the stars, and interacting with camels.
Dar Nour, Tangier:
Dar Nour is a charming hotel in the middle of Tangier's ancient medina. It is perfect for couples who want to combine local customs with comfort on their honeymoon. The hotel's rooms are spacious and have a distinct feel. Matt Damon, Rashid Taha, and Yasmina Reza were among the celebrities who stayed at this warm hotel.
Dar Nour is Tangier's oldest resort, and it is furnished in traditional Moroccan architecture. The Moroccan lounges welcome you to unwind, and the rooftop terrace promises spectacular views of the old city and the harbour. The hotel's restaurant serves delectable dishes made with new local ingredients. Every morning, a typical breakfast is served. You will use the spa room for added pleasure.
What to do in Morocco during a romantic honeymoon:
Live in a riad, a mansion with a garden and a courtyard fountain, watching sunrises and sunsets on the roof – together with storks.
See the work of the tanners, go to the hammam and stroll through the artisanal streets of the medina, where they will create a work of art in front of your eyes.
Taste salted camel meat in Fez.
Taste fish in the port of Essaouira and ride horses outside the city to see goats on the branches of the iron tree, the argania.
Walk under the ginger arches of the "Martian" beach of Legzira.
Feed the monkeys next to the "lovers' veil" – the "olive" waterfall of Uzud.
Spend the night in the desert. Camels, buggies, jeeps and ATVs are at your service in Erg Shebbi and Merzouga.
Take pictures against the backdrop of the Blue Stones in Tafraut or drive into the legendary Dades and Todra Gorges.
Conquer the top of North Africa Jebel Toubkal (4167m). Or go trekking in the Paradise Valley. In winter, the multicolored Atlas Mountains and the bizarrely shaped cliffs are covered in snow and turned into a ski resort.
Catch a wave at one of the surfing schools near Agadir.
Souvenirs back from your honeymoon in Morocco:
These are traditional Moroccan shoes. At home they can serve us as comfortable slippers. It is also a great idea for a gift for loved ones.
Arab countries are famous for their water pipes. You can buy them at any market. When buying them, pay attention to where they were made. The Moroccan ones are of course of better quality, but also more expensive. If the shisha is to serve only as decoration, you can buy a simple one sold for as little as 5 euros.
Morocco is famous for its colorful and aromatic spices. They are sold by weight or in decorative packaging (ideal for a gift). Also in supermarkets, we can get them.
Moroccan ceramics delight with originality and quality. It is characterized by rich, oriental decorations. At the fair, we can buy plates, jugs, and of course tajine – a dish which is made and served a delicious dish of the same name.
Morocco is also famous for its delicious food products, which can be used when cooking in Poland. Apart from spices, it is worth trying argan oil, mint tea, harissa paste, sweets, or couscous.
Moroccans love to drink mint tea. They usually do it with traditional, richly decorated glasses. We can buy them both in bazaars and markets.
An obligatory purchase in Morocco is argan oil. Other cosmetics, such as soaps, hair shampoos, and conditioners are also worth mentioning.
The stalls are overflowing with clothes. Most are, however, fakes of popular brands. However, it is worth looking around for traditional Moroccan clothes, e.g. richly decorated headscarves (hijab), jellaba (outer robe), or takhlila, which is a traditional costume of Berber women. Berber jewelry is also worth mentioning.
The most frequently purchased souvenir in any place in the world is magnets. They may have various shapes (e.g. eye of the prophet or babushka) and inscriptions. They will be a great decoration for our fridge.
Articles you might want to read: