Morocco tours travel agency, holidays touring & customized desert trips.
Touring In Morocco travel agency for customized holidays tours and desert trips
Touring In Morocco is a travel agency that customizes holidays' tours from Marrakech, Fes, Casablanca, and Tangier. If you are willing to travel to Morocco soon, this is surely your path. Join our Morocco tours and enjoy the beauty of our country.
We are a Berber family that used to live the nomadic life. That is to say, we traveled with our tent from a place to another looking for a better life for us and our herd. Therefore, we have the addiction to traveling and we feel the true meaning of discovering new things. The saddest story began when some of the herds left to Algeria before the borders, and we couldn't get them back. After that, we sold the rest of them. Then, our elder parents have decided to move and live in the Sahara desert of Merzouga. However, we have never lost our passion for traveling. It was hard for us to live the modern life without traveling. Fortunately, Merzouga is the most admired attraction in Morocco, it receives a huge amount of tourists all year round.
We were lucky to attend school and learn to speak English. On our holidays, we used to work as camel leaders trekking tourists on the dunes of Erg Chebbi. Since then, we discovered tourism and we created Touring In Morocco as a travel agency. Fortunately, our country Morocco is rich in landscapes and landmarks to explore. For that reason, We invite you to join the best customized Morocco tours by pure Berber locals. 
Why to choose TIM as your travel agency for Morocco tours:
Our team of drivers and tour guides is real experts in traveling. With years of experience, they have a rich background in Morocco. Therefore, they will try their best to make your holiday trip to Morocco unique, joyful, and unforgettable. Our main goal is to share the Moroccan traditions.
Join our holidays Morocco tours and travel like a Moroccan local. Our tours are designed to allow you to discover the country like a Moroccan. In other words, you will be traveling with pure locals that offer you a chance to live the everyday life of a Moroccan. What makes our country unique is having many different cultures. Yet, with our tours, you will be able to discover them and even more, explore their traditions and values.
With Touring In Morocco be sure that all the tours and accommodations are of high quality. We are a well-experienced team that knows every good and decent place in Morocco to relax. Our tours are suitable for any kind of people, families, couples, and solo travelers. Even more, with us, you can plan your tour itinerary and customize it to fit your needs.
Our aim of creating this website is to help you enjoy the best holidays Morocco tours. For this reason, our support is 24/7 available in need. We will be glad to answer and help you enjoy the best of Morocco. Above all, your happiness and entertainment are one of our priorities.
We are highly recommended on TripAdvisor!
What our Touring in Morocco travel agency offers: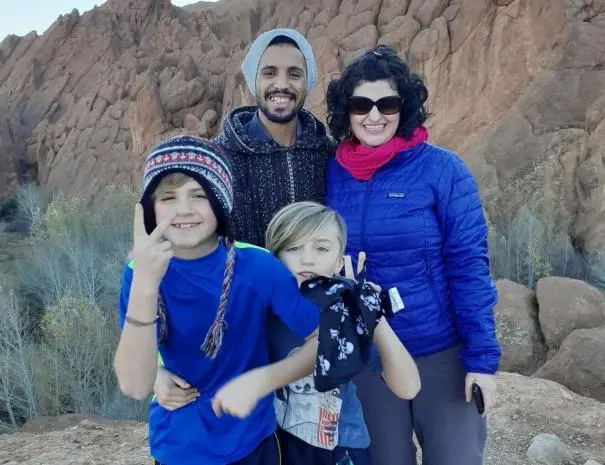 If you are a family who is traveling to Morocco. Our Touring in Morocco travel agency will make sure your members have the best experience.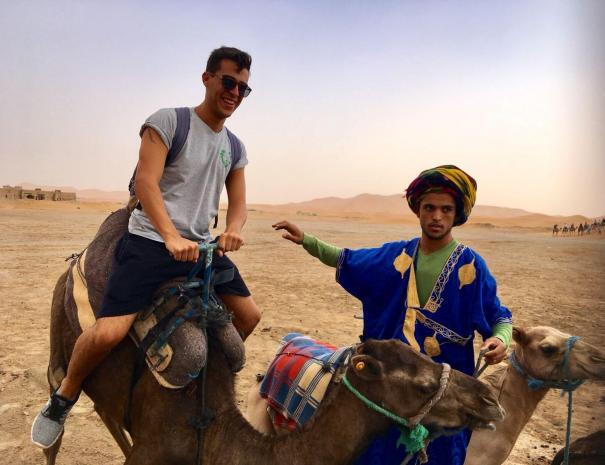 With our Morocco holidays' tours agency, you can travel as a solo male and female traveler with confidence.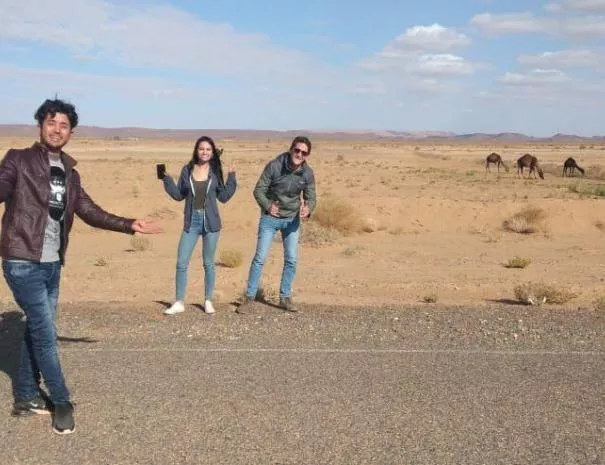 Our Morocco tours are suitable for couples. We can offer honeymooon and universary services…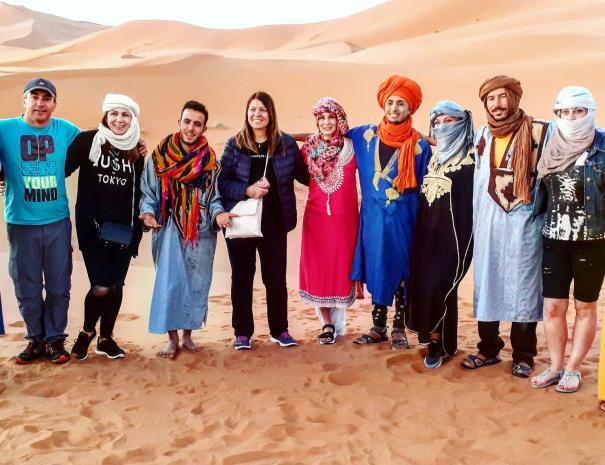 If you are a group of friends and looking for a travel agency in Morocco, look no more, we can set our team under your orders.
There are many cities in Morocco where you can start your desert tour. For instance, the cities where there are international airports are Marrakech, Fes, Casablanca, and Tangier. Therefore, we have customized some itineraries from those below. However, with Touring In Morocco, you can plan your own.
From the beginning everything was perfect! My boyfriend and I chose the 3-day tour in the Sahara and yet it was an unforgettable experience! Our guide Mohamed, punctual, accurate, professional, open, and willing to answer any question has ensured at all times that we enjoy to the fullest! We 100% recommend Touring In Morocco! Thank you so much, Moja… Now we have a friend in Morocco!
Amazing Morocco trip from Fes!
As it was better suited to our route, we booked the private 3-day tour from Fes to Marrakech, instead of going the other way. Youssef the owner of Touring In Morocco reacted flexibly to our wishes and adapted the trip accordingly. More importantly, we had a comfortable car with a very friendly driver who had the breaks individually adapted to our wishes. The night in the desert was excellent, we felt totally comfortable and the food was excellent too. Also, the camp in Erg Chebbi was very fancy with the toilet and shower included in the tent. It was better than most of the hotels we stayed at! You sit a lot in the car but on the other hand, you also see a lot of the country. Everything was absolutely serious and we were never dragged into any business and forced to buy anything. The e-mail contact with Youssef was a bit slow at times, but probably had quite a lot to do during this period. I would definitely recommend this Morocco holidays' tours!
Merzouga is a must visit!
We spent 6 days and 5 Nights 3 friends. Touring In Morocco holidays organization and the team cannot be asked for more, they have made it an unforgettable trip. We knew it was OK because we were recommended by other people but everything was way above what we expected. We'LL be back!!
We love Touring In Morocco!
We booked a tour of 3 nights visiting Fez, Chefchauen, and Assilah a group of 5 women. Everything went very well. In particular, I want to highlight the work of Ahmed, who was our driver. Further, He was always answering our questions with a smile, funny, very cordial, and attentive to every situation that could happen. During the trip, he told us many aspects of the culture of his country. He cares about every detail both en route and in arrivals and departures to the hotel! Thanks, Ahmed! It was a pleasure to do this trip with you!
Undoubtedly, it has been one of the best trips of my life. From the first minute to the last it was an unforgettable adventure. In addition, the sites we visited during the tour are very beautiful and the desert experience amazing. Also, thanks Addi, the driver, for making the trip more enjoyable and never lose the smile. Additionally, Thanks Amou our guide, for being so attentive and make this trip unforgettable. Thanks to all the travel team in Touring In Morocco and we will be back soon!! 🙂
Recommended Moroccan travel agency!
I recommend this travel agency for Morocco holidays' tours. We arrived from our route crossing the High Atlas until we reach the desert of Merzouga passing through the Valley of Dades, of the Roses, through the Gorges of Todra until Erg Chebbi. We only have so many compliments for our guide, Said. The trip has been super serious and safe since the minute one we left the hotel. Even more, It has been very funny, different. thanks to the guides and everything we have seen with them. Furthermore, the stay in Erg Chebbi was amazing, it was very hot but it is normal as it was a night in early July. They have provided us with knowledge about the Berber culture that we did not have and that has been the best of the Moroccan desert trip. The sites we have visited have been incredible and without a doubt, we would do this trip again willing to get the same guides! Many thanks to this travel agency in Morocco!
Don't get scared it's safe!!
I was a little scared on my desert trip to Marrakech, but since we arrived at the airport we contacted the organizer and they picked us up. They were one of the best and first listed Morocco desert tour providers. Very friendly and gave us all the tips to know the first day of the place. The full tour of 5 days exhausting because the distances are long but worth it. We went in a group by Minibus with air conditioning and wifi. We surely recommend our guide who speaks very good English, explaining things about the very nice places. To sum up, the desert of Merzouga was very nice all views and landscapes. We had a dromedary ride to the camp. It was very safe for the whole tour. Recommended for anyone who is looking for a travel agency in Morocco and interested in Booking a Morocco holiday desert trip.
Morocco desert tours are the highlights!!
I did with a friend the 4-day tour from Marrakech to the desert with Touring In Morocco's holidays from Merzouga. We passed through impressive places like the Atlas mountains, Ait ben Haddou, the Dades Valley, and the Todra Gorges. Our guide Moha was amazing with us and with all our group what made the long hours of travel will be spent flying. In addition, the hotels were quite good, the minibus was comfortable and the guides from the view to the Kasbah Ait Ben Haddou and the city of Marrakech were also very nice. In addition to that, they spoke very good English. Without a doubt, one of the highlights in the evening we spent in the desert of Merzouga where we reached the camp in dromedaries. With the sandboard and we could see both the sunset and the sunrise in the incredible dunes. In other words, it is one of the best nights of my life! The staff of the camp offered in the evening traditional Berber music and songs. 100% recommended and excellent value for money! Shukran Youssef and his travel agency in Morocco!
Berber music under the starry sky!
We booked a 5-day tour through Ait Ben Haddou, the Dades Valley, the desert and ended up in Marrakech... I can only say that it was the best thing we've ever done. Then we stayed 4 more days in Marrakech on our own and we regret very much not having taken the 8 days with them. Youssef was our guide, super attentive, kind, explaining the customs there, generally a 10. On Desert day we slept in a nomad tent and enjoyed a Berber party, which for me was the best experience of the trip. And seeing what the excursions cost if you hired them from Marrakech, the price of this one is spectacular. Really do not hesitate to hire this Moroccan travel agency for any Morocco desert tour.
What's Morocco's official language?
The two official languages of Morocco are Berber and Arabic. In the south, the majority speaks Berber. However, they speak Arabic in the north. Although, most of them are Arabized Berbers.
What is Morocco's official religion?
Morocco is a Muslim country. However, one percent are Jews and Christian.
Will I have internet access in Morocco?
Yes, in our country, you can get access to the net either if you buy a local SIM card or using a WIFI at accommodations or cafes.
Can I drink tap water in Morocco?, is it safe?
No, it is not recommended for tourists to drink tap water as they are not used to it. Though, it is drinkable when it is filtered.
Where is Morocco on the map?
Morocco is situated in the Northwestern of Africa. It is bordered by the Atlantic Ocean and the Alboran Sea. Also, it faces Algeria to the east, Ceuta and Melilla to the north, and Mauritania to the south.
What clothing is appropriate in Morocco?
Morocco is a Muslim country. Therefore, Moroccan women wear what is called Hijab. That is to say, It is not recommended to wear shorts especially for women.
What kind of foods do Moroccans eat?
The main meals and foods Moroccans eat are Tagine, Couscous, broth, and also pitta bread for the south.
Do I need to speak Arabic?
It is not necessary to speak Arabic because the majority can speak French, English, and Spanish.
Are local people whose villages and homes visited happy about tourism?
Moroccans are known for their hospitality, they welcome and share what they can. Small poor villages are happy to be visited as they get helps from tourists.
Do they cater for vegetarians in Morocco?
Food in Morocco is one of the best to try, there are multiple choices for vegetarians like Couscous and Tagines.
What is the best time to travel to Morocco?
The best time to travel to Morocco is sure during the seasons of Autumns and Spring. The weather is warm but still a good time for camel trekking in the desert and visiting the seaside.
Can you buy and drink alcohol in Morocco?
Alcohol is forbidden to drink in public. However, at the hotels or Bars, you are allowed to buy Alcohol and drink it.
Can I negotiate the price of everything in Morocco?
In Morocco's Souks(markets) negotiation is a common thing. Therefore, you may do that but not at Mineral stores or supermarkets.
Can couples kiss in public?
Kissing is not allowed in public as the Kingdom of Morocco is a Muslim country. In some tourist parts, it is normal. Holding hands is the most common and it does not mean anything between Men.
Can you use Euros or Dollars in Morocco?
Yes, in some parts, you can pay using Dollars or Euros. However, it is recommended to get change as it is preffered to pay with MAD.
Morocco's currency is Dirham, it is also written as MAD.
What Morocco is known for?
Morocco is known as a country of paradox. You may visit different landscapes like deserts, seaside… It is also famous for many other landscapes like valleys, Atlas mountains…
FAQ about Touring In Morocco:
Are there any Morocco tours for solo travellers?
In Touring In Morocco travel agency, we offer private and group tours. In other words, Solo travelers have the chance to discover this beautiful country using our trips.
How much and who should I tip?
With Touring In Morocco, tipping is not included, you can tip according to the service provided by the staff.
What kind of transportation is used when touring in Morocco?
While Touring Morocco, you can have a 4WD as transportation for private tours, and a Minivan for more than six people.
What can I expect while touring Morocco?
When Touring Morocco, expect to visit the Sahara desert, try the camel rides, and spend nights at Berber camps glamping. Also, expect visiting monuments and historical places.
What about touring in Morocco with babies?
If you are a family who is willing to book a tour with us, bring your babies. We have comfortable vehicles with babies' seats. Your family comfort is our responsibility.
Is it easy to get around without a guide?
A local guide knows the best and main places to visit. Therefore, it's recommended to hire one.
Can you use Euros or Dollars for Paying Touring In Morocco?
Yes, with Touring In Morocco, you are able to pay in Euros or Dollars besides the local currency MAD.
Will I receive a refund if I have to cancel my participation in the tour?
Yes, you can receive a refund if you cancel two days in advance, which allows us to cancel the booked accommodation or activities.
Is tipping appropriate with Touring In Morocco travel agency?
Yes, you can tip with Touring In Morocco, it's not included in our tours because the tip is given according to the service provided.
Are ATMs available while Touring Morocco?
Yes, if you run out of credits or you want to change, you can ask our tours team to guide you to ATMs in Morocco during your trip. There are many types of Banks where you can change or withdraw money.
What should I expect in terms of the weather in Morocco?
The kingdom of Morocco is the country of paradox, and our tours will cross you from the green to the Sahara. Therefore, expect any sudden changes in the weather.
Will I need to pay to use public toilets?
At the accommodations booked by the agency, you will not need to pay for the toilets. However, while touring, you may need to pay small changes for the toilets.
What should I bring on a camel trek with Touring In Morocco travel agency?
You will be riding the camels for about an hour and a half. Therefore, it is recommended to take water with you. Also, do not forget to bring your camera for stunning photos of the Erg Chebbi sand dunes.
Touring in Morocco travel agency Deserts:
The best and most visited place with Touring In Morocco is the Sahara desert of Merzouga. This beautiful town is located in the southeast, famous for its beautiful Erg Chebbi Sand dunes. That is to say, about 500 feet in height, golden to reddish in color, changes from a season to another. The wind blows during the summertime which makes the shape of the Ergs change every year.
Merzouga sand dunes are the attraction for tourists. Therefore, they come to do the camel trekking experiment. Some people like to do it to watch only the sunset or sunrise, others like to do it camping at Berber tents. I mean, to experience the lifestyle of the Berber nomads who travel with their tents and herd in the Sahara. Also, tourists like to do quad biking or safari adventures on the sand dunes. Not to mention, visitors who have more time visit the nomads for a full experience. Furthermore, the lake of Srij is also a worthy place to discover, it is a home for the Immigrate flamingo birds.
Overall, the best adventure is a circuit with the camels for days. That is to say, you take camels and tents, travel the Sahara for a week or two. This experience would let you fully understand the meaning of living the nomadic life of the indigenous people in Morocco.
The team of Touring In Morocco is originally from Merzouga, we welcome you to our travel agency to enjoy holidays, we can offer Merzouga desert tours of all kinds.
Luckily, with our Touring in Morocco travel agency itineraries, you will discover this beautiful Morocco attraction.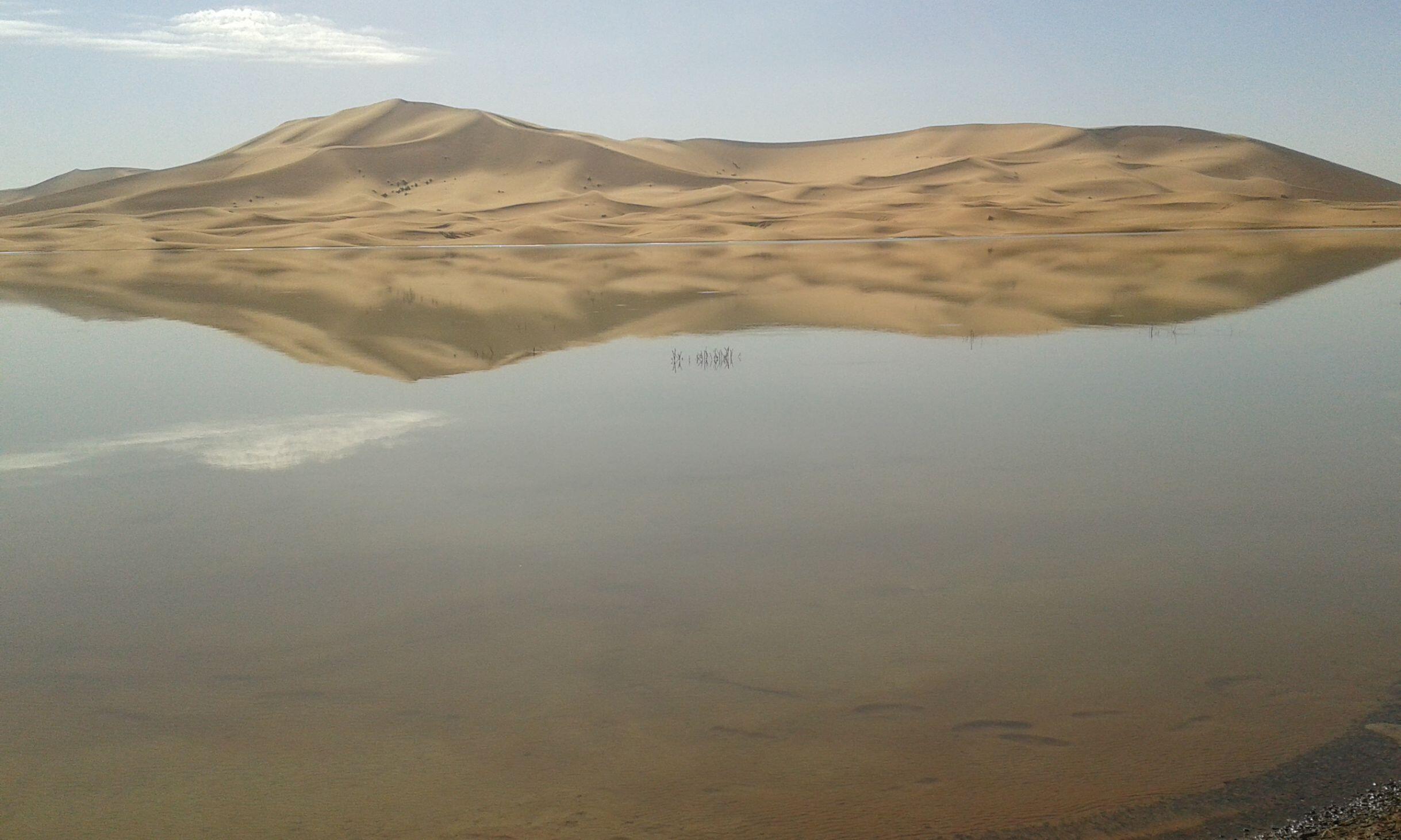 Among our Touring In Morocco travel agency holidays' trips, the camel ride, a night at the desert camp in Zagora is a highlight. Not to mention, Zagora is very famous for its tall palm trees, they are one of the tallest in the country. Dates as known need a hot climate to give good quality. Zagora is a good source of good quality dates in Morocco and the region of Draa Tafilalet in general.
What makes Zagora a should visit desert :
• Views of rivers and valleys: there are many rivers that cross Zagora. For instance, the Draa River. The latter is the longest in Morocco. It crosses Zagora and its a very common thing for tourists to ride camels close to that area. Also, sometimes in the summertime, you can see Zagora kids swimming and playing around.
• Zagora Souk: Morocco's south is famous for its big Souks or markets. One exists in Zagora, where you can see people trading camels, lather and so many things.
• Green agricultural lands: Zagora is considered a desert but still has many large agricultural lands. Also, it has many oases where camp owners set.
• Parks: This city is very famous for touristic parks. There are dinosaur and camel parks, so consider a visit to one of them.
"If Zagora is on your bucket list, book the 2 day trip from Marrakech".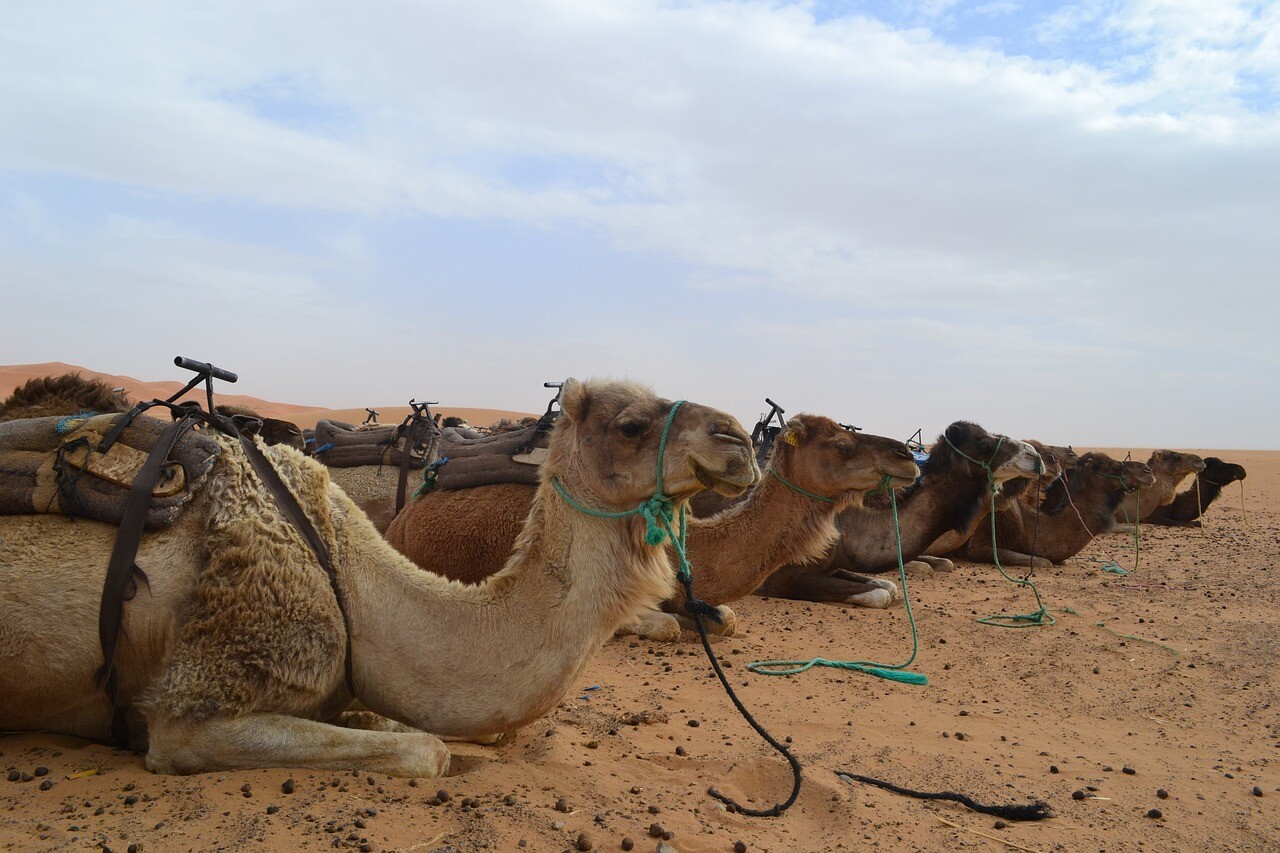 With Touring In Morocco travel agency, you will discover Morocco's imperial cities:
The cultural city of Morocco is one of the visited sites in our organized Morocco tours. The second-largest city in Morocco offers a set of beautiful spots to explore. Firstly, in Fes there are about three tanneries, the famous of all is Chaoura Tannery. In general, it was built in the 11th century not only as a place where to make leather products but also to paint them using spices.
Fes, historically was known for being a place of religious schools in all the Islamic world, as a result many Madrassas, schools, and universities were constructed in its areas. For instance, al-Qarawiyyin university is seen as the oldest university in the world. The amazing fact about this latter is that it was built by a woman, Fatima al-Fihri. However, our Moroccan travel agency will take you to see many other starting from small Madrassas to huge landmarks.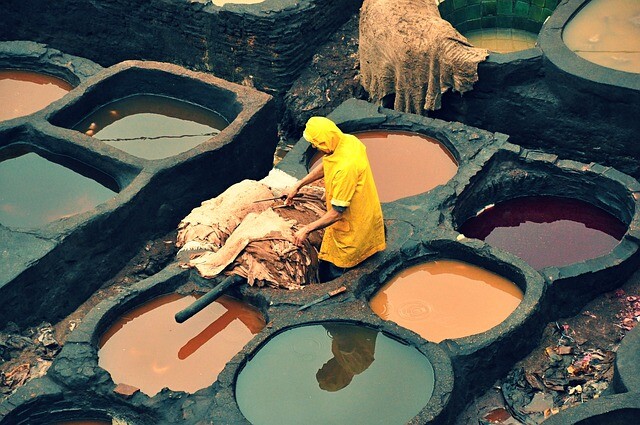 Without any doubt, the red city is the most famous city in Morocco for tourists. Even, some people call it the capital of Moroccan tourism. In other words, it is to say that there is no tourist visiting Morocco without passing by this fascinating destination. With Touring In Morocco travel agency, we offer you the best holidays Morocco tours to visit this city that never sleeps.
Among the attractions that we will take you to, there is the famous Jamma El-Fna Square, a place where most people of the city gather, telling stories, showing their skills, or selling unique stuff. Moreover, we will take you to visit some of the popular gardens such as Koutoubia, Menara, and Majorelle. Besides of Koutoubia Mosque, one of the tallest towers in Morocco. Furthermore, we allow you to discover the Saadian Tombs, a historic royal necropolis. We will also take you to explore the Mellah, the Jewish quarters of Marrakech.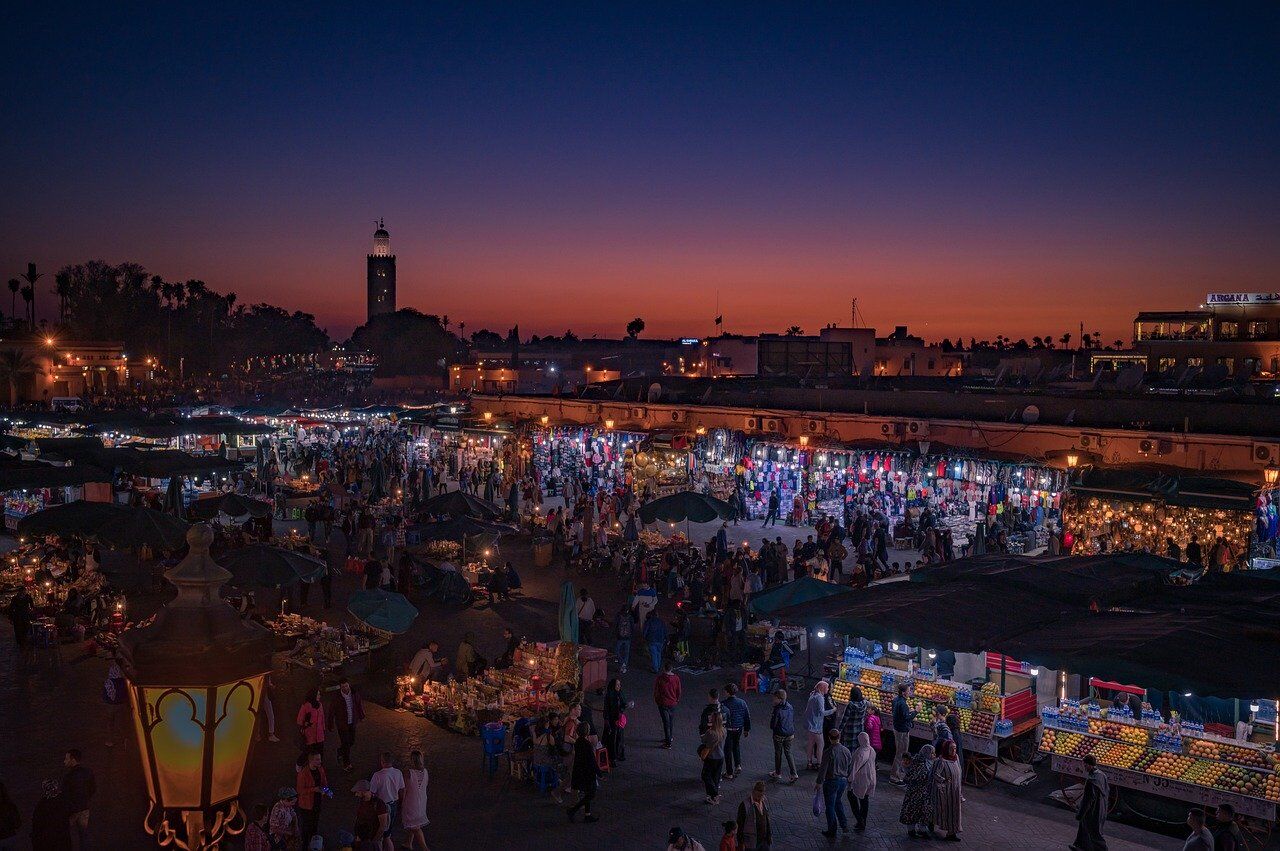 Meknes or Amknes was announced the capital of Morocco in the 17th century. In general, our holidays' tours in Morocco provides you with unique chances to discover this destination in many ways. Usually, Morocco trips begin with visiting the Roman ruins of Volubilis, the ancient capital of the Mauretanian kingdom. After that, we head to visit the attractions that are in the city. Starting from The small square of Lhdim to the famous gate of Bab Mansour. Another unique place that Meknes has is the Qara subterranean Prison, it was built in the 18th-century in the shape of a maze. Many say that people who enter it get lost and never come back. Moreover, in Meknes, you will go to discover many other places such as Lhri and Shrij Souani.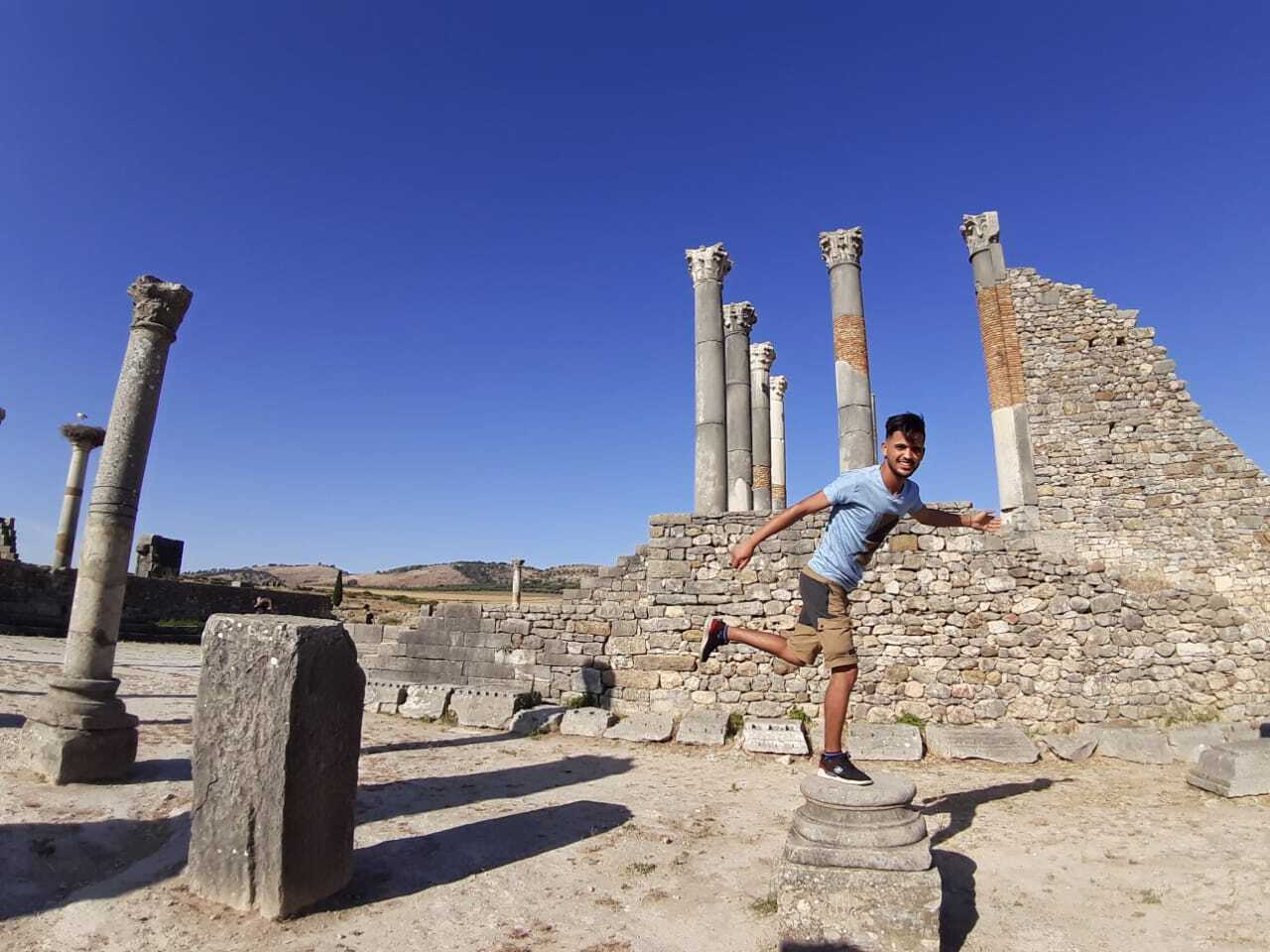 Rabat, Anfa or the current capital of Morocco and the cultural capital of Africa is one of our holidays Morocco trips' destinations. When Morocco achieved its independence Rabat become the central capital of the country. Touring In Morocco travel agency offers you the best tours in Morocco to discover the main attractions in this city. Starting from the Hassan Tower to Mausoleum of Mohammad V. Hassan Tower is the famous place in Rabat, however, it is a minaret of an incomplete mosque although it was intended to be the largest in the world. Mausoleum of Mohammad V is a place where the tombs of King Hassan II and his two sons are located in. Furthermore, one of the best destination to visit in Rabat is the kasbahs of the Udayas, another Unesco world heritage site that Morocco has.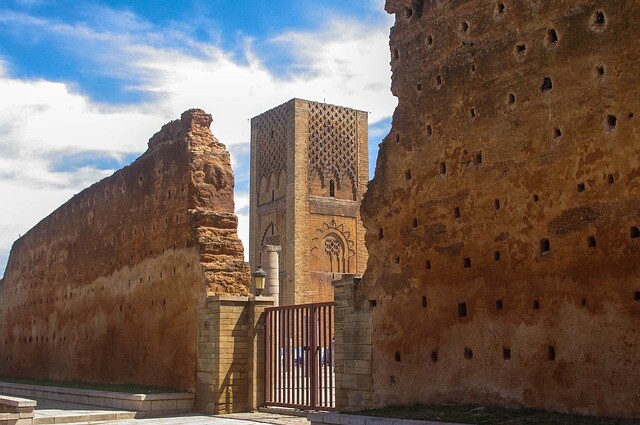 Other destinations with Touring In Morocco:
Essaouira is a small city located on the west coast of Morocco. It has many names like Taros or Alizee. Also, some people call it the city of the wind. This city is famous for its old part of the Medina and the seafood. Therefore, many people go there to visit Sqala and Citadel port. Also, to wander around the sea, it's warm all year-round. You can do a one day trip from Marrakech by a bus or you can book our travel agency Touring In Morocco.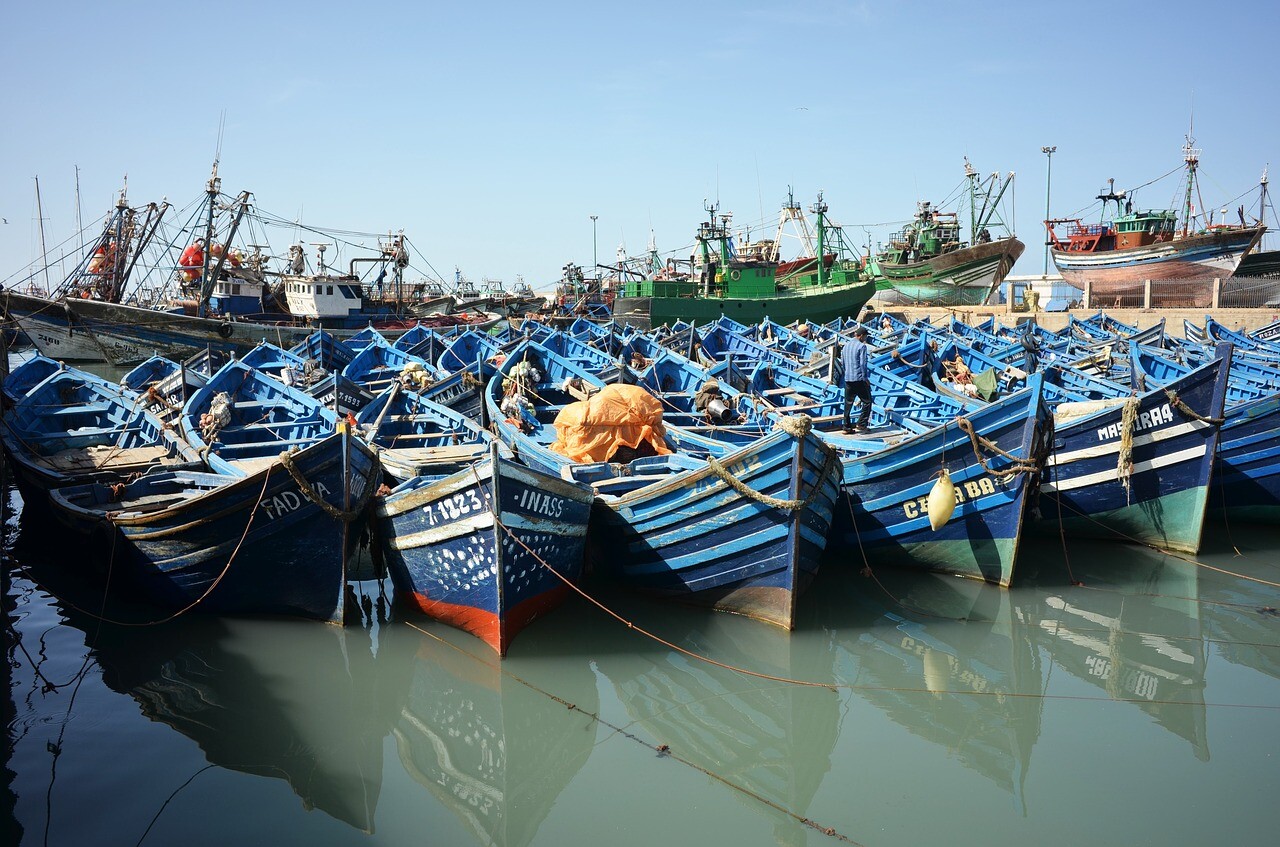 The blue pearl of Morocco Chaouen. This city is located in the north of Morocco, the meaning of its name came from the Berber word Iskaouen. That is to say, two horns of a goat, and that represents two mountains shape like that. It was found in 1471 as a Kasbah by Moulay Ali ibn Rashid al-Alami. Then, it became a small town with its blue and white walls. There many things to see and do in Chefchaouen. To start with, you can visit the square of Wtat Lahmam, where the locals entertain with music. Also, you can hike up to the church that became now a mosque to see an amazing sunset. Moreover, you can drive for 30m to the waterfalls of Akchour, a beautiful place to do a picnic. Not to mention, Chefchaouen is a famous place for garments of wool and blankets that are woven.
Luckily, with our Touring in Morocco travel agency itineraries, you will discover this beautiful Morocco attraction.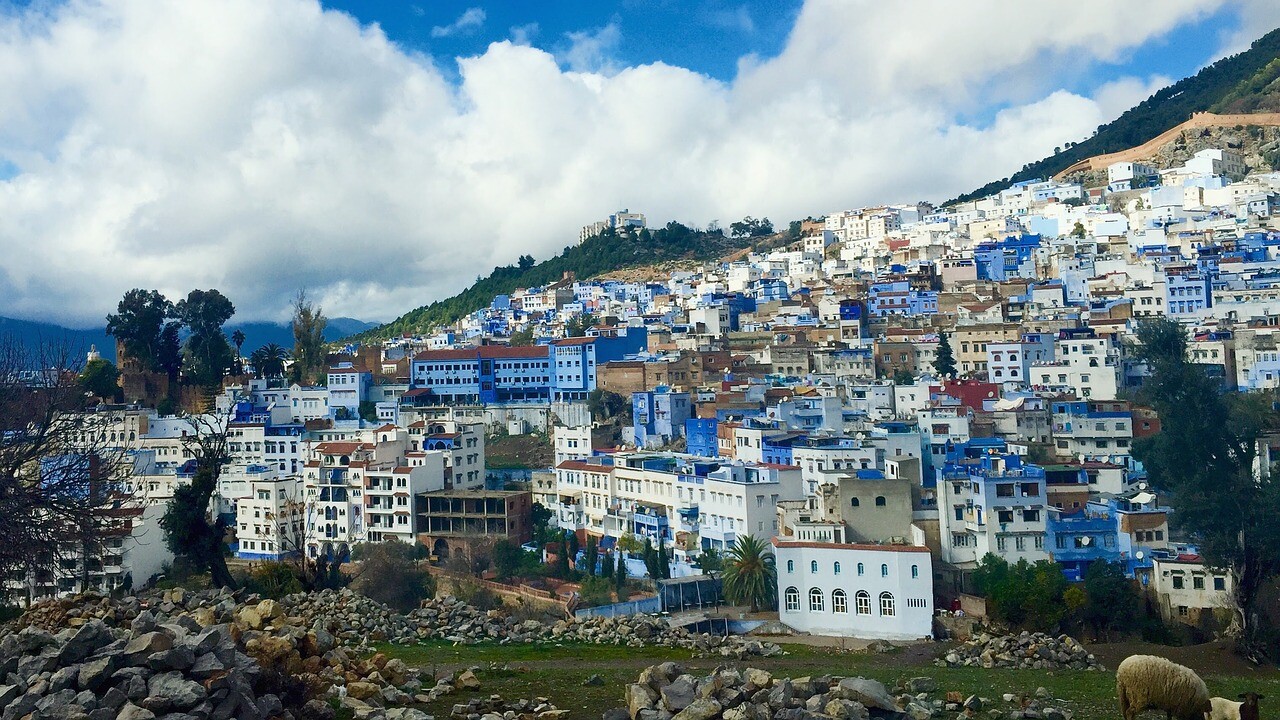 Morocco is a rich country when it comes to Kasbahs, Ait-Ben-Haddou or the fortress of the Glaoua is the most famous and visited one. The latter is a Unesco world heritage site since 1987 and it is near Ounila valley. Furthermore, It was built in the eleventh century by the Glaoui. These people were a tribe that lived in Morocco's south in the past. Besides, they were a mix of Arabs and Berbers.
Even so they had different cultures, languages… They were all one force against any enemy from other tribes. Therefore, they made this Kasbah as a fortress to protect themselves and their leader or king. Not to mention, they used to mix Klay and hay bales as a material to build walls.
The Kasbah is situated on a hill, when talking about exploring it, you need to hike all the way to the top to see such a beautiful panoramic view of the village. On the way, you will see
Recently, Ait Ben Haddou was a film studios area, many movies are shot there such as the Gladiator and the Tv series Game of thrones.
Ait Ben Haddou(the villages) is known as it is a fortified village since the eleventh century and the era of Almoravids. It is now a full Berber village as it was mixed in the past. In addition, Between the latter and the Kasbah, there is a river called Ounila which is about 20km long.
The best way to visit this Kasbah is with Touring In Morocco holidays tours and day trips from Marrakech.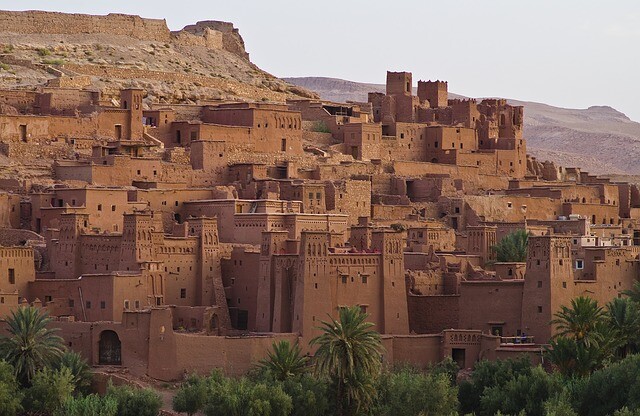 Tangier is a city in the northwest of Morocco. It's the main gate from Europe, and it's famous for the Legation Museum of America. Moreover, the city has many beautiful places to discover. Such as, the Caves of Hercules, about 30m in width, there are many stories about it among the the Greece ones. Some parts of the cave are closed now. Also, the cave is famous for the hole that looks like the map of Africa if you look at it from the sea.
Another place to visit in Tangier is Cape Spartel, it's situated about 14km west from the center of Tangier. Not to mention, the American ligation museum, the oldest and the only American government outside of its country.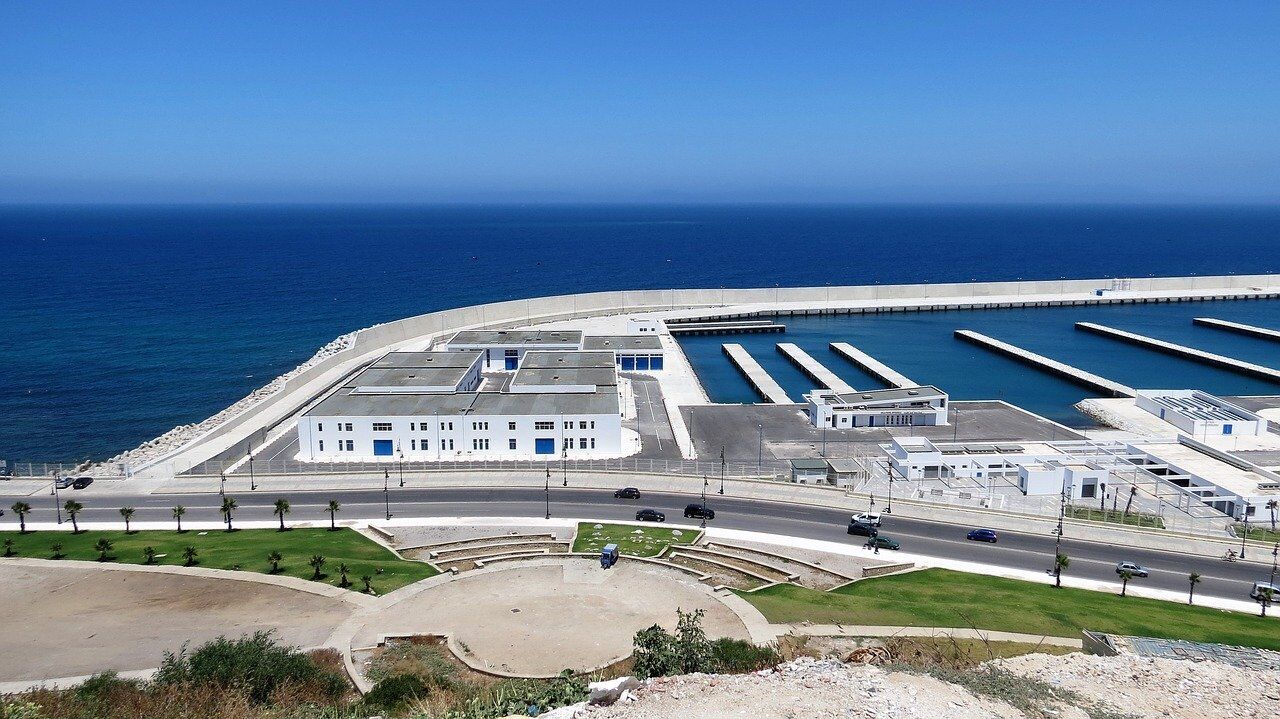 Morocco is very famous for its Gorges when holidays touring Morocco from Marrakech to the south, you pass through Dades and Todgha Gorges.
Dades Gorges: this is a very special destination in the south of Morocco. Further, it is located close to the city of Kalaat M'egouna and its valley. Once you enter the city of Boumalne Dades, you will get amazed by the beautiful different colors of hills. Besides, there are some ones there with the name of Monkey fingers. The latter is visited by tourists for that reason. Another famous thing in that area is the Tisdrine Curves. It lies in the Gorges for about 18km after the valley of the Figs. In addition, when hiking all the way to the top, there is a restaurant with panoramic views for the snake road, valleys, and other restaurants/hotels.
Todgha Gorges: Located in the eastern part of the High Atlas mountains. These are a series of limestone river canyons, it's visited also by most of the tourists. Besides, they do climbing, picnics and so many activities at these Gorges.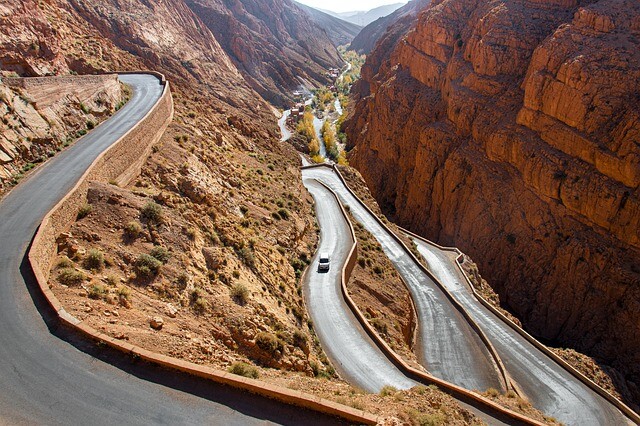 With Touring In Morocco travel agency, you can start your holiday trip from Casablanca. However, It is the largest city in Morocco and it's in the central-western part. Casablanca means the white house and it's Morocco's economical capital.
When talking about the tourist attractions in this city, the mosque is definitely the first. It is called Hassan 2 and it is one of the largest mosque towers in Africa.
In addition, there is a place called The Cornish, 5 mins from the mosque. It's a great place to see the luxury life of Casablanca. From the hotels to the restaurants and bars.