Welcome to Ourika Valley, a haven of beauty and adventure just outside of Marrakech! This magnificent valley in the Atlas Mountains is full of gorgeous vistas and fantastic activities. Ourika Valley has something for everyone, whether you're searching for a tranquil holiday or an exhilarating escape into nature. There's much to do here, from touring historic Berber settlements to trekking through beautiful woods to river rafting down the rapids. Come come on an experience with us in Ourika Valley – you won't be sorry!
Where Is Ourika Valley?
Ourika Valley, an incredible place hidden in the foothills of Morocco's breathtaking Western High Atlas Mountains, is just a short drive away! This location, located approximately 30 to 40 kilometers southeast of Marrakech and accessible in 40 to 50 minutes, provides a range of activities for all sorts of explorers. Ourika Valley will keep you delighted and inspired with its mountain hikes and discovery of distinctive Berber communities, as well as its winter snow skiing. If you're fortunate, you could even see the endangered monkey known as the Barbary macaque, which is only found in this region. Come experience unrivaled beauty and adventure in Ourika Valley, and let your soul soar! What are you still waiting for? Let's see what more this amazing location has to offer!
What to Do in Ourika Valley
Ourika Valley, with its colorful eateries, Berber settlements, and seven waterfalls, provides a range of things to enjoy. Begin your adventure by viewing the spectacular waterfalls behind Setti Fatma's eateries. Each waterfall will grow more magnificent as you go up the mountain; take time to notice how high you are as you glance out at the surrounding mountains. Don't forget to stop by some of the local Berber communities with rich history and culture as you make your way through shady and bright places equally. August is a particularly good month to come since a four-day market and fair adds even more color and vitality to this corner of Morocco. There is no lack of things to do in Ourika Valley, from hiking to markets. Now that we've discussed things to do in Ourika Valley, let's look at where you may stay during your vacation.
Places to Stay
Ourika Valley features a variety of hotel alternatives set amid stunning alpine scenery. Every sort of tourist will find something to meet their requirements, from the family-style Auberge du Maquis with eight large rooms to the pet-friendly Dar Ikalimo Ourika. There's something for everyone here, whether you're seeking a hotel with onsite eateries and internet or want to explore the outdoors with mule treks for kids and excursions of the Yaggour Plateau's petroglyphs. Moreover, each location has its own distinct ambiance – tiny guesthouses and flats give seclusion, whilst bigger villas provide plenty of room for groups and families. So, why delay? Make your way to this magnificent region of Morocco and see it all for yourself! With so many options for lodging in Ourika Valley, you're sure to discover the ideal choice for your next holiday. Let's look at someplace to eat now!
Where to Eat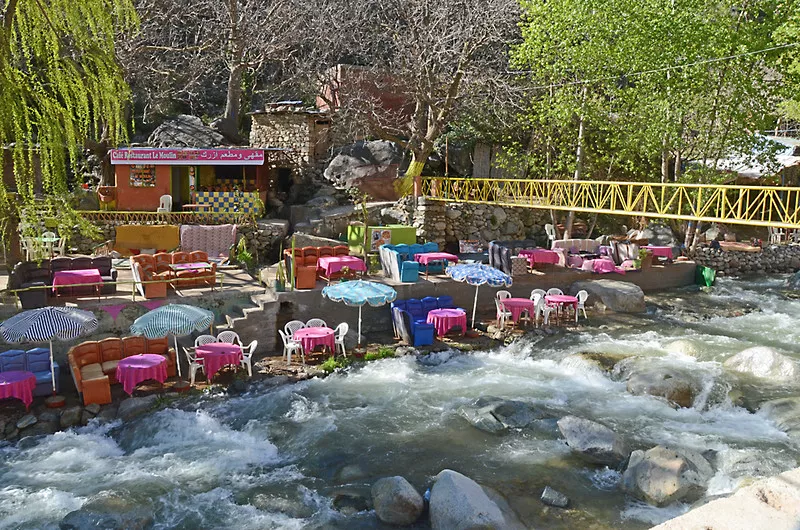 Enjoy the flavors of Morocco by trying some delectable local food at one of Ourika Valley's numerous eateries. Azrrabzou Cafe-Restaurant serves traditional Moroccan cuisine under almond trees for a one-of-a-kind eating experience. Kasbah Bab Ourika is set on a hill, offering stunning views of the valley and mountains while serving locally produced and organic cuisine. Try the French-inspired Chez Juju or the Restaurant-Hotal Azilal, which offers authentic Moroccan food. Lastly, Timichi offers a variety of Moroccan cuisine. With so many incredible alternatives to choose from, you're bound to discover something that tickles your taste buds! Why not learn how to get there and visit Ourika Valley to make your stay even more memorable?
How to Get There to Ourika Valley
Book this experience:
To visit the gorgeous Ourika Valley, you may take a guided tour, a local minivan, rent a vehicle, or hire a cab from Marrakech. A guided tour is a simple method to get there since it includes hotel pickup and drop-off as well as an English-speaking guide for $25-$50 per person. For a more inexpensive route, take one of the numerous minivans leaving from Marrakech's main square. If you're feeling daring, renting a vehicle is another excellent choice – just make sure you have a GPS with you! Finally, renting a cab for the day will cost you about $80-$100; although this may seem to be a lot, it is really pretty cheap when compared to other modes of transportation. Regardless of how you get there, visiting Ourika Valley will be a wonderful experience! To make the most of your visit to Ourika Valley read on for information on getting around.
Getting Around
Now that you know how to get there, let's talk about getting around the Ourika Valley. From Marrakech, there are several ways to explore and experience this unique destination:
Take a guided tour – Guided tours provide a great overview of the valley and allow you to see all the popular sights in one day.
Rent a car or taxi – For those who want more freedom to explore on their own time, renting a car or taking a taxi can be convenient options.
Go by foot – The best way to get around the Ourika Valley is on foot! There are plenty of trails for hiking and exploring, so don't forget your walking shoes.
Use local transportation – Local buses and minibusses run frequently between Marrakech and many parts of the valley; just make sure you know where you're going before hopping on!
Take a mule ride – For those looking for an, even more, novel way to travel, take a ride on one of the mules available for hire at certain points along the route.
No matter how you decide to explore the Ourika Valley, it is sure to be an unforgettable experience. With its stunning views, fascinating culture, and unique wildlife – there is something here for everyone! Now that we've discussed getting around, let's move on to when is the best time to visit…
When to Go
Experience the full splendor of the Ourika Valley by coming at the proper time of year. To properly appreciate this Moroccan mountain beauty, you must know when to visit. February and April are ideal months since they provide cooler temperatures as well as a beautiful environment with flowering cherry and almond orchards and wildflowers that can only be seen at this time of year. Summer is sweltering, yet people hoping to escape the heat of Marrakech flock here. For those who prefer snow skiing, January has cooler temps and lots of ski slopes to choose from. Whichever season you choose, you will not be disappointed with your visit to Ourika Valley!
Frequently Asked Questions
What is the cost of admission to Ourika Valley?
Admission to Ourika Valley is free! Come explore the stunning natural beauty and enjoy a sense of freedom that will make you feel alive.
Is there a guided tour available?
Yes! Ourika Valley offers a guided tour of its beautiful landscape and amazing wildlife. Join us for an exciting adventure and learn about the area's unique history, culture, and ecology. You'll be sure to enjoy a memorable experience that will leave you feeling inspired and free!
Are there any restrictions on what activities can be done in the Valley?
Yes, there are some restrictions on activities in the valley. For safety, swimming and climbing are not allowed. Overnight camping is also prohibited. But you can still enjoy breathtaking views, explore the trails, and take part in other outdoor activities!
Are there any safety concerns I should be aware of?
Yes, you should be aware of safety concerns when exploring Ourika Valley. Always check the weather and stay away from rough waters. Wear appropriate clothing and footwear for the terrain. Bring plenty of water and sunscreen to protect yourself from the sun's rays. Be aware of your surroundings at all times!
Are dogs allowed in the Valley?
Yes! Dogs are welcome in Ourika Valley. Bring them along for the adventure and explore the stunning landscape with your furry friend! Enjoy the freedom to roam this magical place, knowing your pup is safe and having fun too.
Conclusion
You've made it to the end of this amazing travel guide to Ourika Valley. It's truly a special place and you can now confidently plan your trip. With so many things to do, places to stay, and delicious cuisine, you're sure to have an unforgettable experience in this beautiful valley. So what are you waiting for? Pack your bags and get ready for a journey of a lifetime! You won't regret it – Ourika Valley is waiting for you!