Ouzoud Waterfalls, located in the pristine Middle Atlas Mountains of Morocco, are one of the most spectacular natural attractions in the country. Flowing from a height of 110m (360ft), they are considered the second tallest waterfalls in Africa. These majestic waterfalls offer breathtaking views and an unforgettable experience. The site is also home to diverse wildlife, including numerous species of birds and other animals. Visitors can enjoy a variety of activities at Ouzoud Waterfalls, such as swimming in the naturally formed pools or hiking trails through lush green forests and picturesque landscapes. With its captivating beauty, interesting activities, and ample opportunities to explore nature's wonders, Ouzoud Waterfalls have become a popular destination for travelers seeking adventure and relaxation.
Is it safe to visit the Ouzoud waterfalls?
Visiting the Ouzoud waterfalls is generally safe, although caution should be taken when approaching areas with a 110-meter drop. The well-marked path and stunning scenery make it a great spot to explore for any adventure enthusiast. Despite its relative safety, there are some areas that could be dangerous, especially near the top of the great cascade not too far from the entrance. I couldn't help but notice teenagers taking risky selfies while leaning above the 110-meter drop! Therefore, visitors should keep in mind to stay away from these edges when visiting the Ouzoud waterfalls. With this in mind, they can explore all that this awe-inspiring site has to offer without feeling concerned about their safety.
The best time to visit the Ouzoud Waterfalls
The optimal time for visiting the cascades is dependent on whether swimming in the pools at the bottom of the falls is desired or not. Summertime offers an ideal opportunity for those that wish to partake in a dip, though it can get busy due to its popularity. On the other hand, winter provides a less crowded experience with more water flow and an overall serene atmosphere, although swimming may be too cold to consider. Regardless of what season one visits, Ouzoud Waterfalls will provide an adventurous journey through nature that will delight those who seek insight and quirkiness into Morocco's natural beauty and freedom-filled spirit. Moving on from this exploration of when to visit Ouzoud Waterfalls, we now turn our attention to whether it is free or not.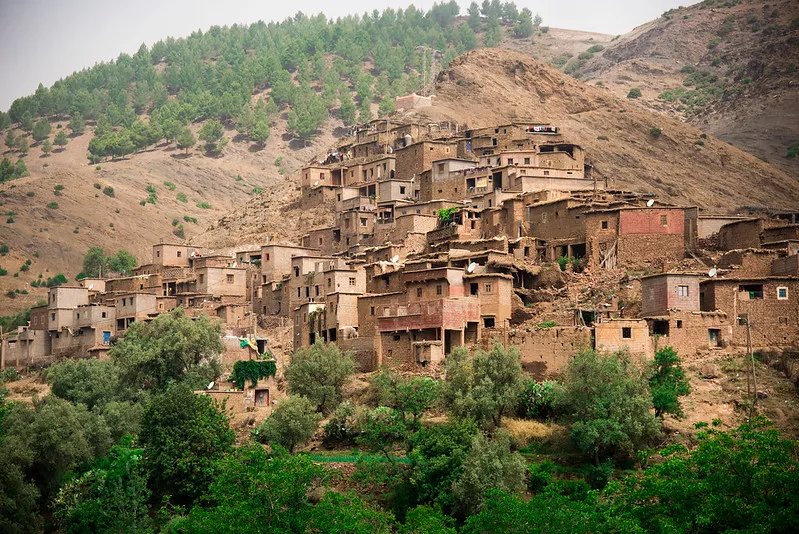 Are Ouzoud waterfalls free to visit?
Exploring the waterfalls is a unique experience that offers visitors an opportunity to witness nature's beauty and grandeur. Visiting Ouzoud waterfalls is free of charge, yet those wishing to experience a more guided tour may elect to hire a local guide for an additional fee. Prices typically range from 30 MAD per person if visited in a group or 100-150 MAD if traveling alone. Enjoying the views and taking part in activities like swimming, trekking, or even just simply relaxing are all possible with no entrance fee required. After visiting these majestic falls, travelers can continue on their journey with an adventurous spirit and newfound appreciation for Mother Nature's wonders. With this knowledge of the cost of admission now secured, adventurers can plan their trip accordingly and set out towards discovering what lies beyond the Ouzoud waterfalls.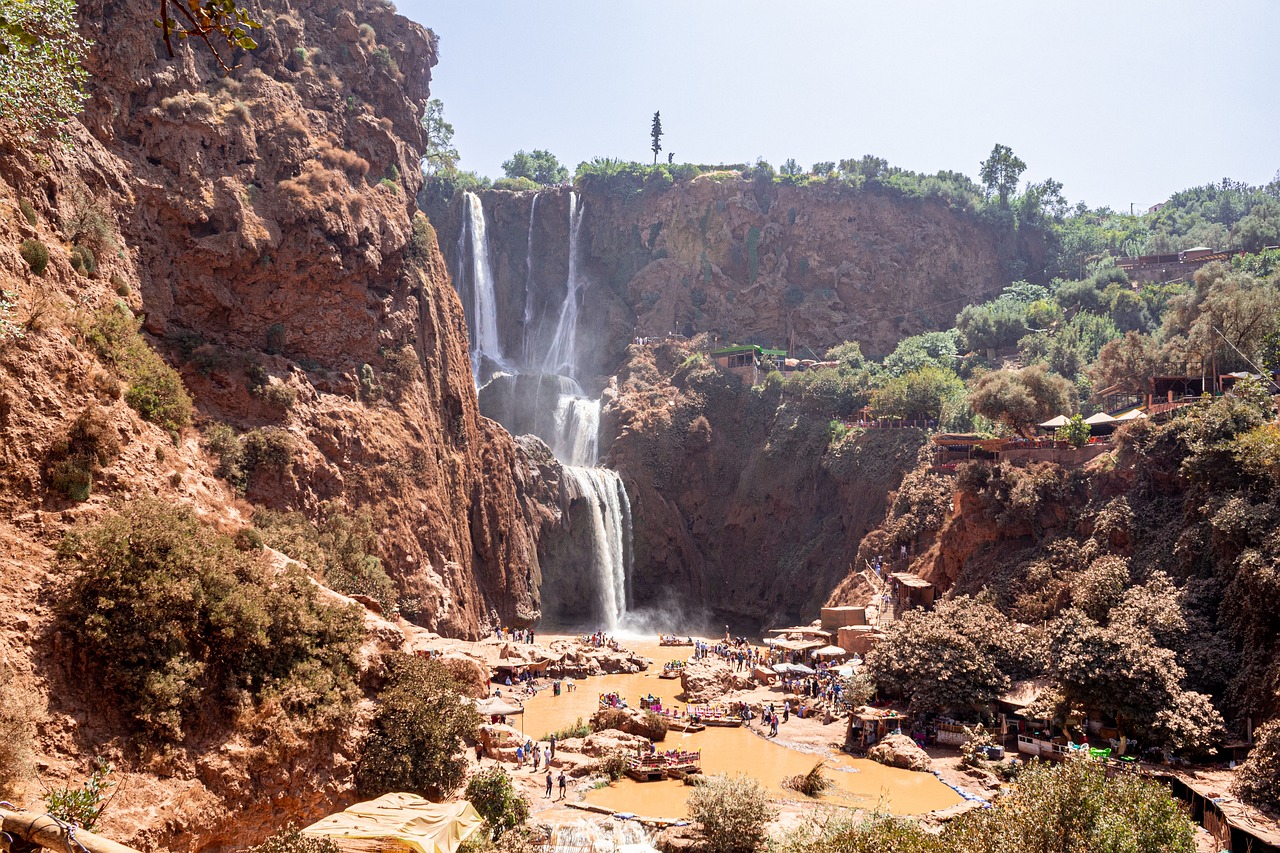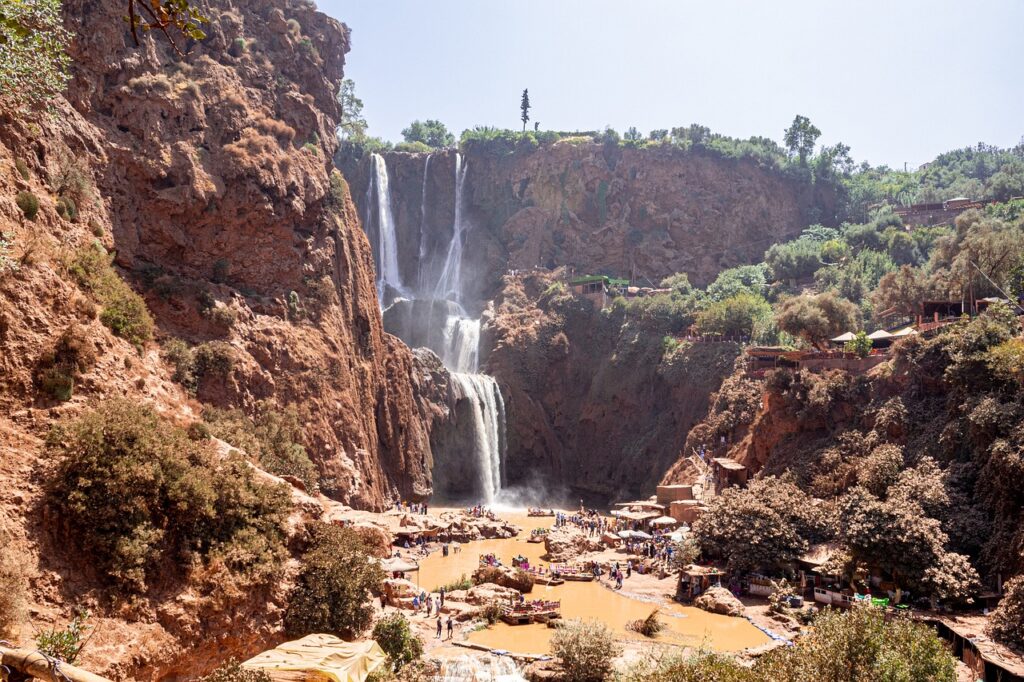 How to get to Ouzoud waterfalls from Marrakech?
Visiting the Ouzoud Waterfalls from Marrakech is possible in several ways, including by shared taxi, public bus, hitchhiking, or driving oneself. A shared taxi from Marrakech to Azilal and then on to Ouzoud is a convenient way of traveling from the city. Alternatively, it is possible to catch a public bus from Marrakech which takes you to Beni Mellal before continuing on to Ouzoud. For those looking for an adventure, hitchhiking can be a great way of getting around Morocco cheaply although it may take longer than other transportation options. Finally, for those who are comfortable with self-driving in Morocco and have their own vehicle, exploring the sights along the route can make this journey even more enjoyable.
1. By Shared Taxi: Marrakech – Azilal – Ouzoud
Many travelers find it cost-effective to take a shared taxi from Marrakesh to Azilal and then onto Ouzoud, offering the opportunity to experience the rural landscape of Morocco en route. Along the way, riders can expect majestic views of mountains and Berber villages that are sure to mesmerize. As the journey progresses, travelers will be able to witness local life in action as they pass through small villages and observe traditional Moroccan culture.
The trip is an ideal choice for those looking for an unforgettable adventure while enjoying a budget-friendly option. From Azilal onwards, you can take another Taxi directly to Ouzoud Waterfalls where one can marvel at its thunderous beauty and tranquility. With this economical option, travelers can enjoy a unique experience without breaking their wallets. Moving on from here, there is also the possibility of taking a public bus from Marrakech all the way to Beni Mellal before reaching Ouzoud Waterfalls by a shared Taxi.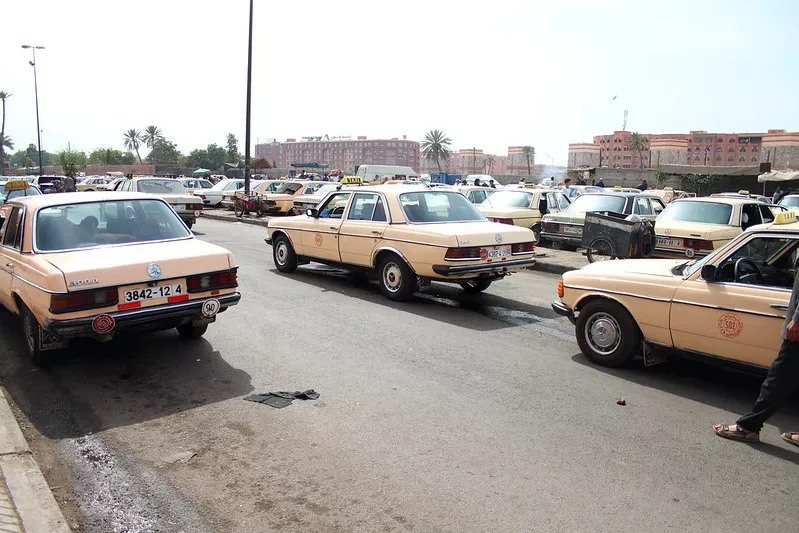 2. By Public Bus: Marrakech – Beni Mellal – Ouzoud
Taking a public bus is an affordable way to reach the Ouzoud waterfalls from Marrakesh, taking passengers through Beni-Mellal with views of rural Morocco along the journey. When arriving, you can take a shared Taxi to Ouzoud. With this option, you get to experience some of the best sights of Morocco without breaking your budget. The journey offers plenty of opportunities for adventure and insightfulness as you pass by ancient cities, rolling hills, and stunning landscapes. As you travel on a public bus: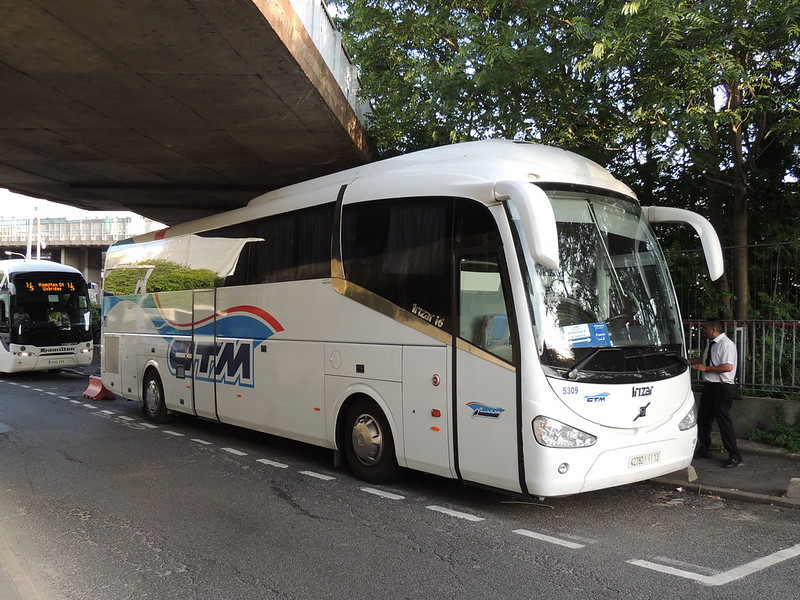 Discover untouched terrains with lush greenery and snow-capped mountains
Enjoy local cuisine as well as traditional music and dance performances in authentic Moroccan villages
Soak in the vibrant culture and customs of rural Morocco that has been passed down through generations
Recharge yourself with peace and tranquility away from bustling city life
The public bus journey to Ouzoud provides travelers a chance to explore the hidden gems of this majestic country while connecting with its people in unique ways.
3. Hitchhiking to Ouzoud Waterfalls
Hitchhiking is a popular way to experience the beauty of Morocco, offering an adventure to discover untouched landscapes and vibrant culture. In general, hitchhiking in Morocco can be a great way to get to Ouzoud Waterfalls from Marrakesh. The journey along the N28 highway can take more than a day as traffic is sparse. But for many people, this adds to the sense of adventure and allows them to explore new places. People who take up hitchhiking often gain insight into local culture, as most drivers that pick up hitchhikers are friendly and sometimes invite them into their homes or restaurants for meals. Camping along the route is also an option, with stunning mountain views providing an unforgettable backdrop. Taking such journeys by car gives travelers a unique opportunity to venture off the beaten track and explore some of Morocco's hidden attractions.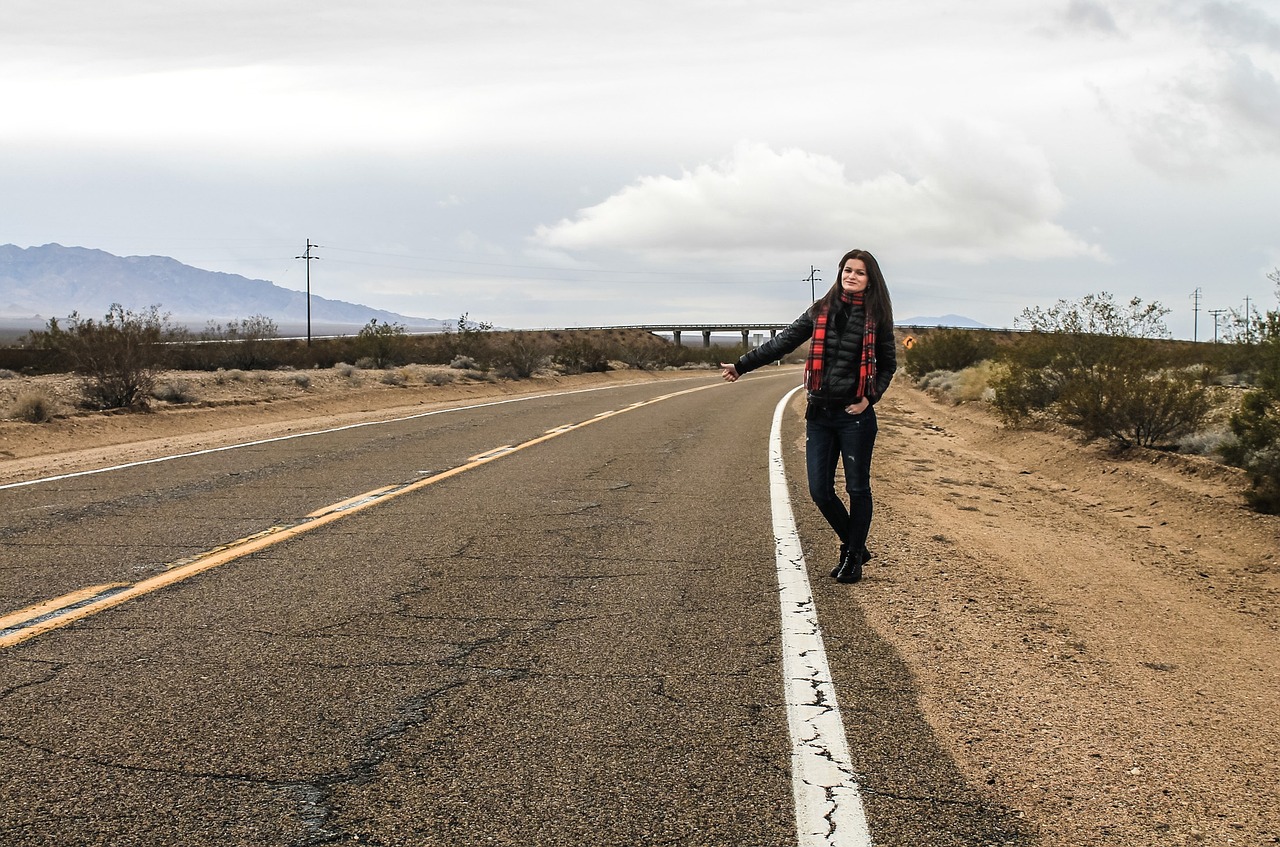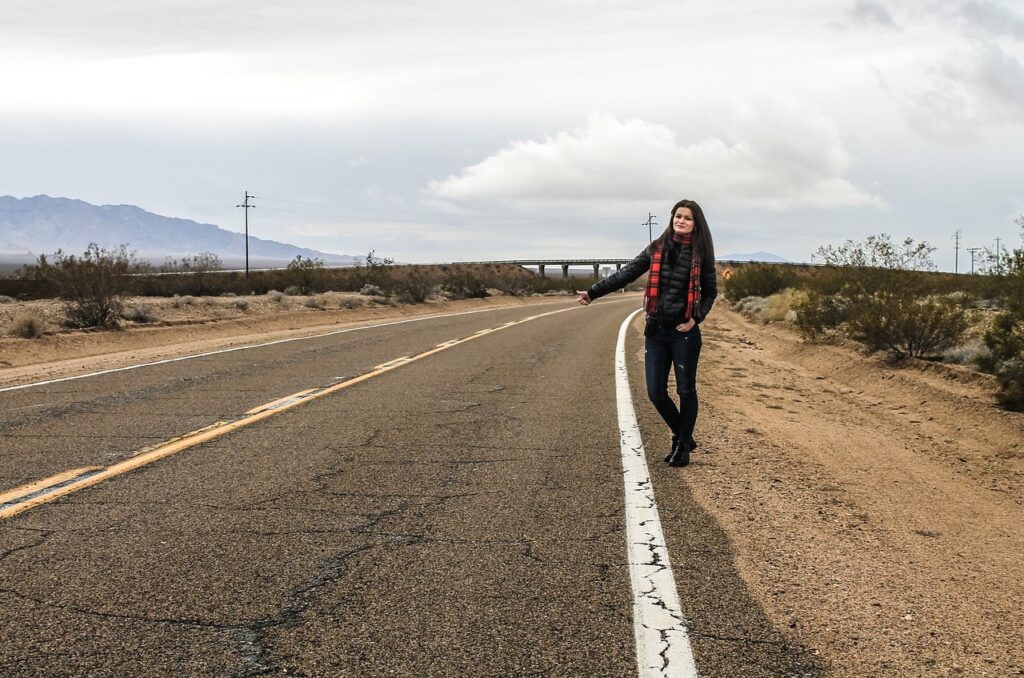 4. Driving by yourself to Ouzoud Waterfalls
Visiting the Ouzoud waterfalls by car is a great way to explore the beautiful landscapes of Morocco. People traveling to this picturesque spot should be aware that parking at the falls can be limited, so it is advisable to leave plenty of time for finding a suitable space. For those who are looking for an adventurous day out, driving yourself to Ouzoud waterfalls can prove to be an enriching and rewarding experience.
Parking at the Ouzoud Waterfalls
Parking at the Ouzoud waterfalls is available for a nominal fee, allowing visitors to conveniently access the cascades directly from their vehicle. To make the most of this opportunity, it's important to take into account that there are several places where one can park nearby and the cost typically ranges between 10 and 20 MAD. Although paying this small fee may seem like an additional expense, it may be worth considering, as it helps guarantee direct access to these stunning cascades without having to walk too far or worry about being late. Moreover, parking here is often quite safe and secure, ensuring that you can enjoy your time in nature with no worries. With all this in mind, let's explore how to properly hike the Ouzoud waterfalls!
How to properly hike the Ouzoud waterfalls?
Hiking down the waterfalls of Ouzoud is an adventure that will leave you with a sense of awe and admiration. At the foot of the falls, visitors can take in the sights and sounds that come from being so close to a powerful natural force. Hiking back up is no less rewarding, as it offers an opportunity to appreciate nature from a different point of view.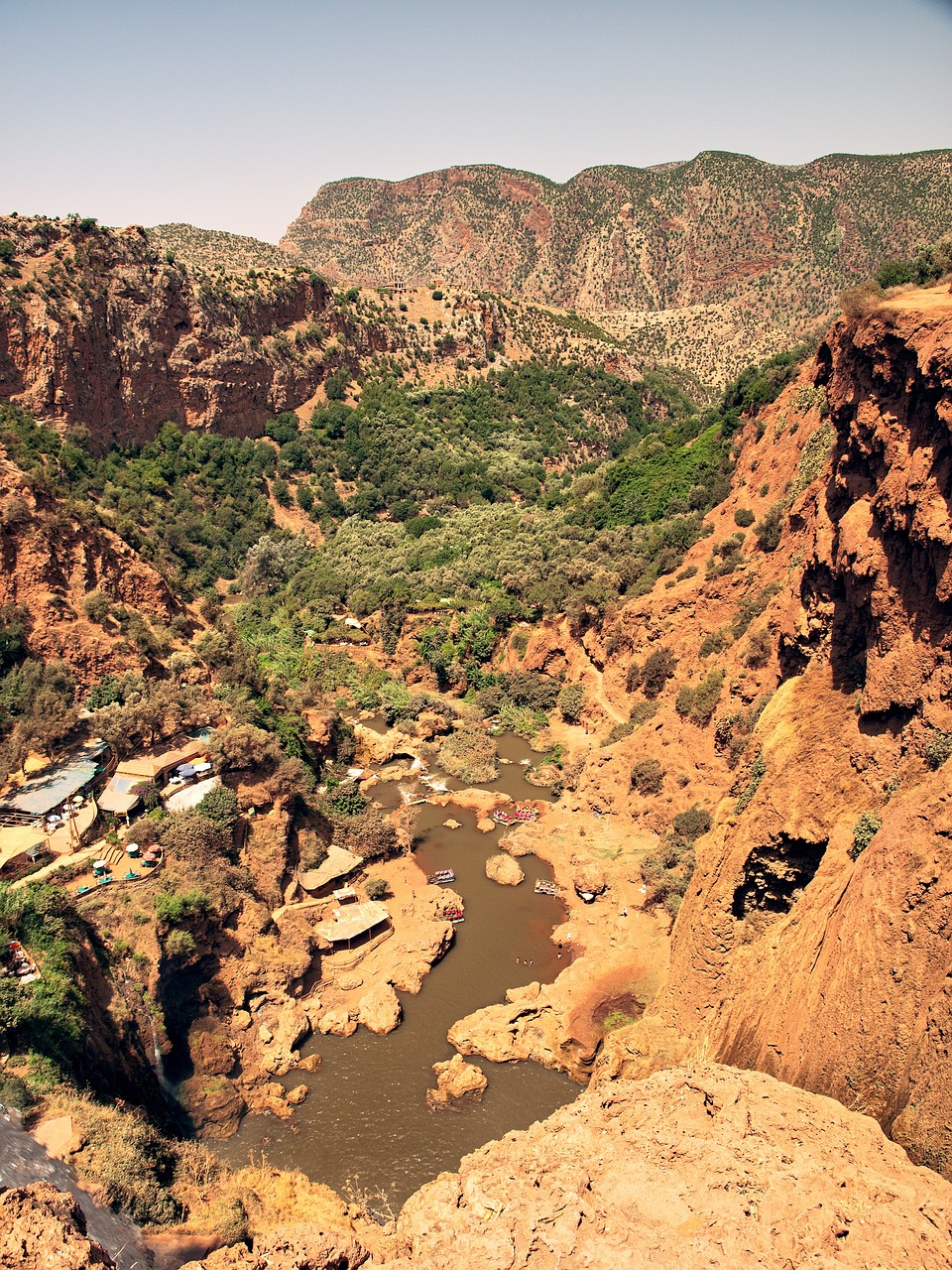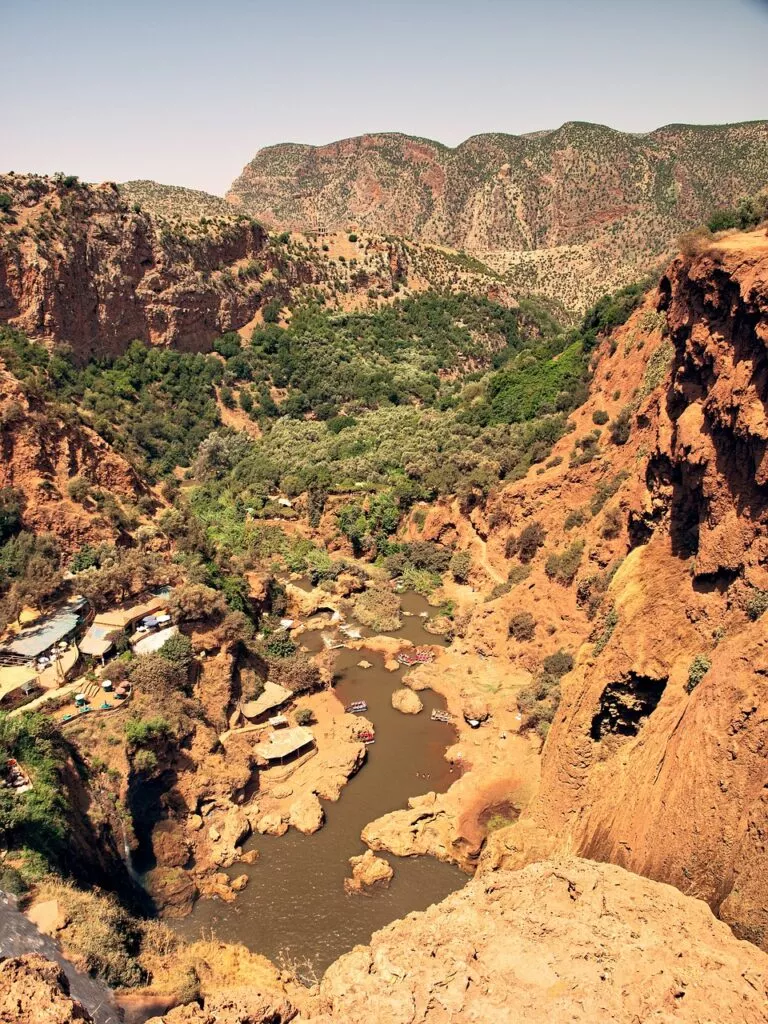 1. Hiking down the waterfalls of Ouzoud
Descending the Ouzoud Waterfalls offers a unique opportunity to observe Barbary macaque monkeys in their natural habitat, surrounded by lush vegetation and small lakes and waterfalls. The path down is not particularly difficult, with only a few steep spots but it provides a great view of the waterfall and its surroundings. Olive trees are abundant, creating an idyllic atmosphere of peace and tranquility.
As you make your way down the trail, you may catch sight of local people grazing their flocks or buildings that have weathered the test of time. More importantly, however, you will get to observe these amazing primates as they swing from tree branches or just sit peacefully on rocks or logs. It is important to remember to keep your distance as this is their home and we are merely visitors here. Along the way, there are also numerous small lakes and waterfalls that provide picturesque stops worthy of capturing on camera before continuing your journey toward the bottom of the falls.
2. At the Foot of the Falls
Arriving at the foot of the Ouzoud Waterfalls is an awe-inspiring experience. The cascading water creates a thunderous roar, while the lake below is filled with small boats bobbing in the wake of its powerful flow. One can hire a rower to take them on a brief tour around the lake, getting very close to where the waterfall breaks. Alternatively, those looking for an adventure can take a dip in its cool waters, if weather permits.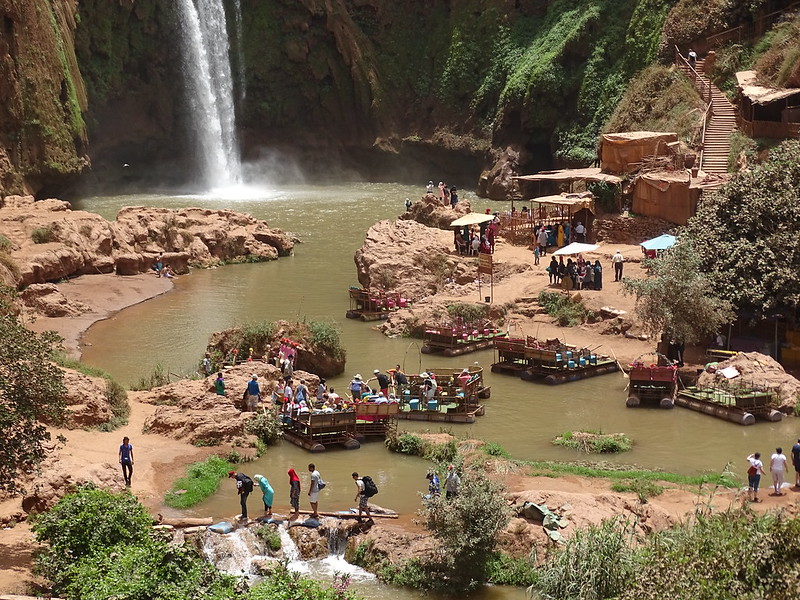 The remarkable resourcefulness of Morocco's people is on full display: all manner of materials are collected and repurposed as parts of these unique boats. From discarded wooden pallets and planks to plastic drums and upcycled dining chairs – each boat has been carefully constructed and decked out with vibrant fabrics in shades of blue, pink, orange, or whatever color takes their fancy! With this scene set before us, it's time to begin our hike back up from whence we came.
3. Hiking back
Climbing the staircase back, one can observe a variety of shops and restaurants alongside the path, offering glimpses into Morocco's bustling life. It is likely to be lunchtime, so for those in search of an affordable meal with an unbeatable view, haggling should be done until a set meal for 90-100 dirhams or less is obtained. About two-thirds of the way up lies a lookout point with a huge stone; this spot has become popular among tourists as they take their last pictures before leaving. The route then becomes flat once more as macaques appear again along the path. Here locals have taken advantage of the situation by selling peanuts to visitors, which attracts even more monkeys looking for food. With these experiences and sights from hiking back from Ouzoud Waterfalls, it will be hard not to feel inspired and brave enough to explore what else Morocco has to offer.
Things to do in Ouzoud Waterfalls
Visiting Ouzoud waterfalls offers a variety of activities and experiences for visitors. During the warmer months, swimming in the falls is a popular activity, while boat rides to get closer to the falls are also available. For those looking for something more special, keeping an eye out for the Barbary apes that inhabit the area can be exciting.
1. Swimming in Ouzoud waterfalls
The crystal-clear waters of the Al Abid River provide a refreshing and inviting experience for those seeking to swim in the Ouzoud waterfalls. Swimming here is an ideal way to beat the heat of summer while taking in the beauty of nature that surrounds this majestic site. If one is brave enough, they can venture farther away from the falls and into areas where the current isn't too strong and enjoy a calmer swimming experience away from the crowds.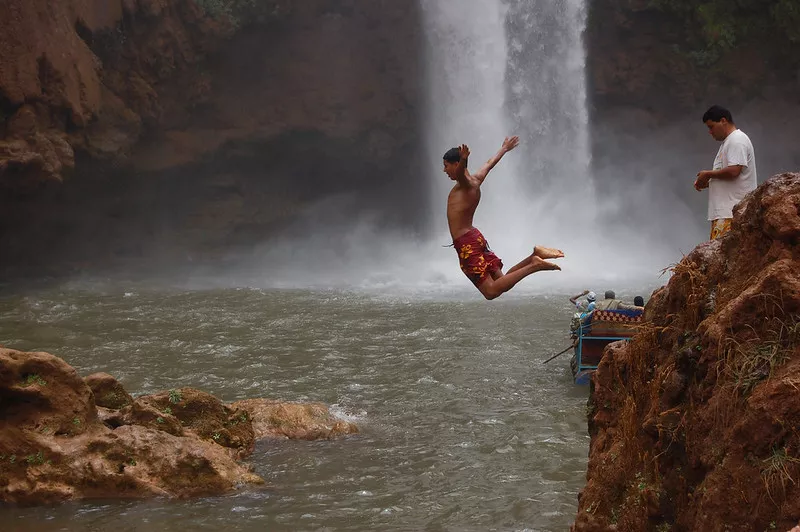 2. Taking a boat ride to the falls
Exploring the cascades via boat ride offers an adventurous experience of taking in the natural beauty of the area. An excursion to the Ouzoud waterfalls is not complete without a trip on one of these small boats, which can take you remarkably close to the cascades. The fee is relatively cheap and it's worth it – just make sure you're prepared for a splash. Bring a rain jacket and a water-resistant camera so that you can capture this special moment in all its glory. Taking this boat ride will allow you to witness firsthand the majesty and power of nature, while also enjoying some much-needed serenity and relaxation. Next up, look for the Barbary apes that inhabit the area!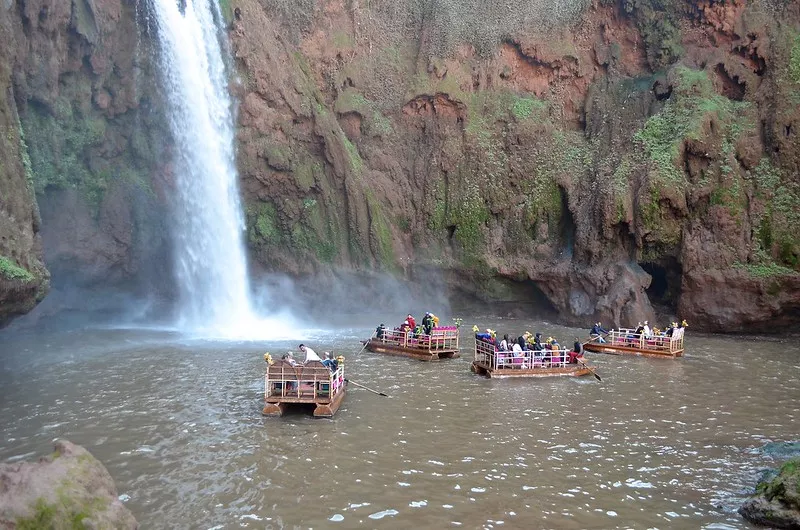 3. Look for the Barbary apes
After taking a boat ride to the Ouzoud Waterfalls, visitors can look for the Barbary apes. These primates are known to inhabit the area and offer an exciting sight. With their brown fur and long tails, these monkeys can be spotted playing in trees and hanging out around the river or cascades.
As one of the main attractions of this site, there is much to explore regarding these unique creatures. Visitors should take caution when approaching them as they can become aggressive if provoked; however, viewing them from a distance is a thrilling experience that will not soon be forgotten. With their distinctive features and playful nature, seeing these animals up close is truly remarkable. As you observe them from afar, keep in mind that the next step is finding the best viewpoint for pictures in Ouzoud Waterfalls!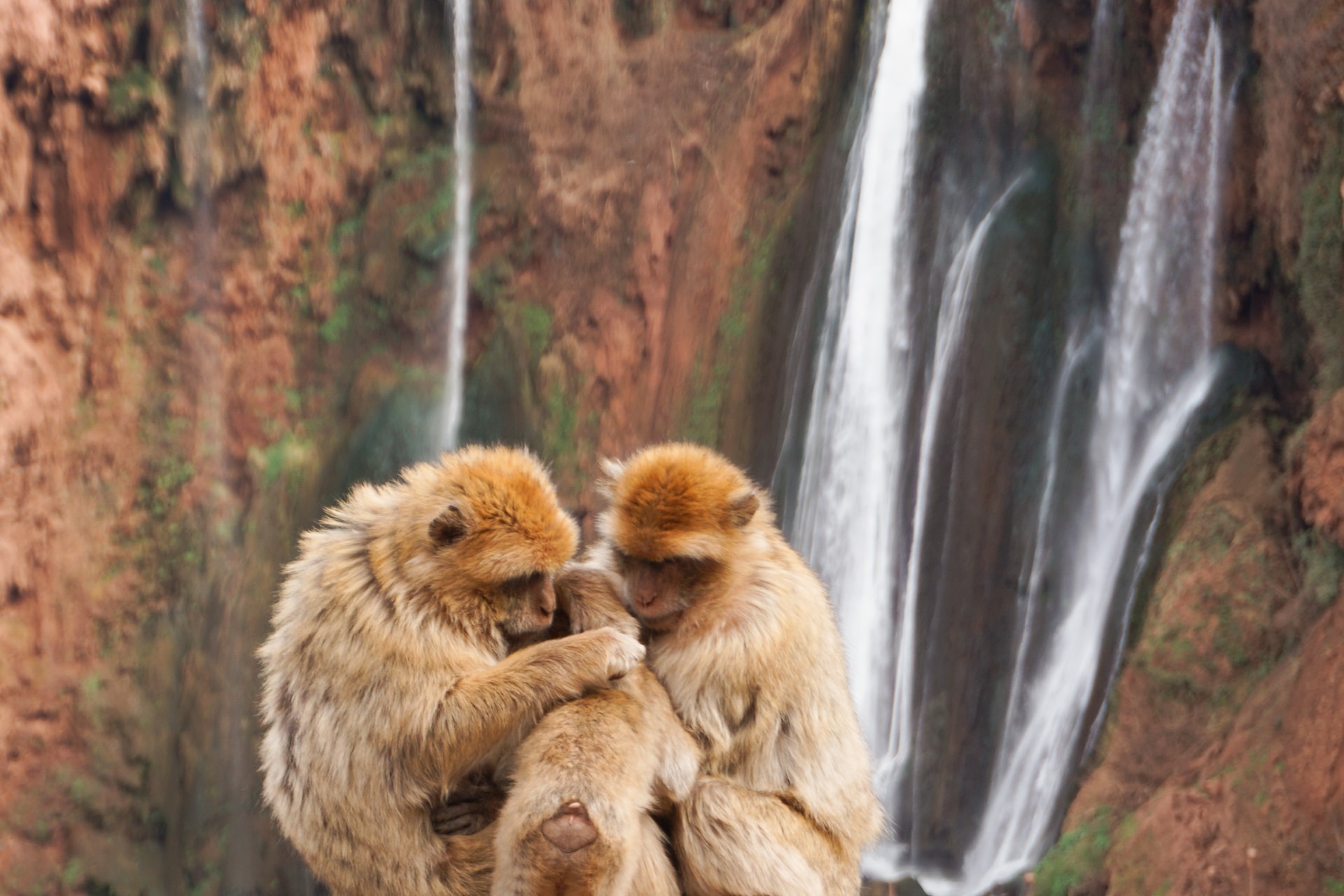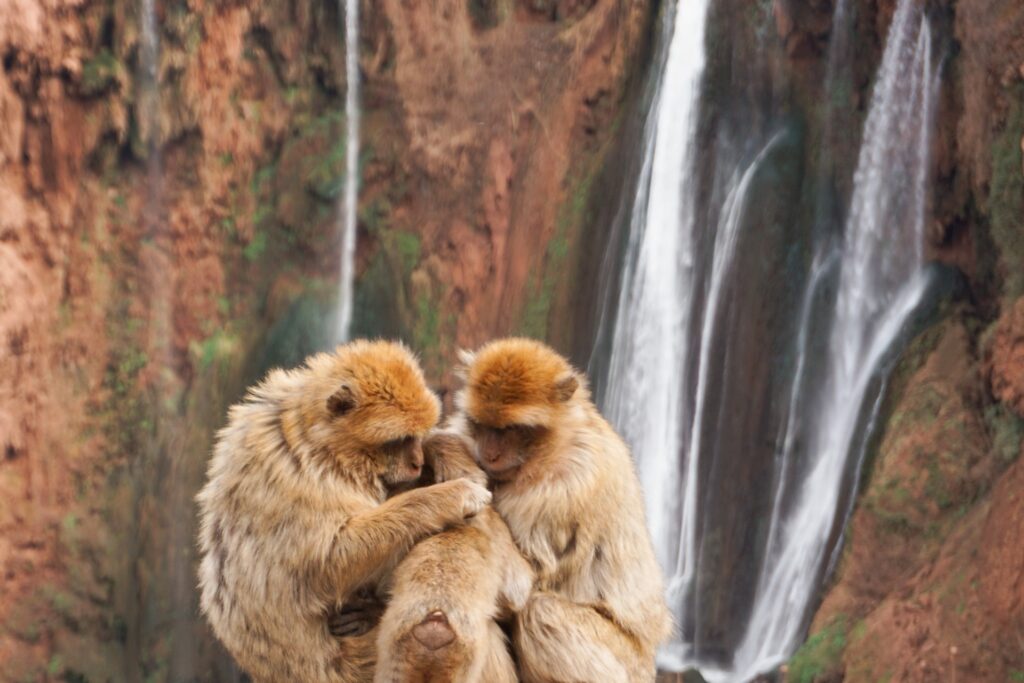 The best viewpoint for pictures in Ouzoud waterfalls
The best viewpoint for capturing the grandeur of the Ouzoud waterfalls is positioned next to a large hotel called Riad Cascades D'Ouzoud (on the right side). Perched atop a hill and overlooking the cascading waters, this spot offers an unrivaled view of the area. At this spot, one can take in the breathtaking beauty of nature with its lush greenery and gushing waters that creates an atmosphere of tranquility and serenity. This is truly an adventurer's paradise where visitors can explore their wildest dreams as they observe the mesmerizing scenery before them. From here, you can capture magnificent panoramic shots that will be sure to amaze your audience back home. So make sure to take full advantage of this unique opportunity to bask in nature's glory at its finest.
Things you should be ready with before the journey
Before embarking on a journey to Ouzoud Falls, it is essential to be prepared with the necessary items. A passport, driver's license, and proof of identity are all important documents that must be brought along in order to establish one's identity when required. Furthermore, a Morocco map and an Ouzoud Falls map should also be kept handy for navigation throughout the journey. An easy-to-carry backpack is essential for carrying other essentials such as a water bottle, first aid kit, GPS navigator device, extra clothing, and food. It is advisable to carry lightweight items so that the backpack does not become too heavy during the journey. With these items packed safely in a bag and ready for use during the trip, travelers can enjoy their adventure without any worries or hassle.
Frequently Asked Questions
What does the word Ouzoud mean?
Ouzoud is a Berber name that refers to the act of grinding, specifically grinding wheat grains.
Are there restaurants near the Ouzoud Waterfalls?
Yes, there are plenty of restaurants on the way downstairs near the waterfalls.
Is there a tour guide available to show visitors around the Ouzoud Waterfalls?
Visitors can find experienced tour guides to show them around the breathtaking natural wonder. Guides offer engaging insights, quirky anecdotes, and a sense of freedom for guests to truly appreciate the grandeur of the location.
How long can visitors expect to stay at the Ouzoud Waterfalls?
Exploring the majestic beauty of nature can be an adventure like no other. Visitors to this magical location can expect to stay for hours, if not days, mesmerized by the wondrous cascading waterfalls that seem to go on forever. A sublime experience that will leave you feeling energized and inspired!
Are there any special safety precautions to take when visiting the Ouzoud Waterfalls?
Visiting any waterfall can be dangerous, and it is important to take special safety precautions. Respect the power of the water by keeping a safe distance from the edge, and always wear sturdy shoes with non-slip soles.
Are there any hotels or hostels near the Ouzoud Waterfalls?
Visitors to the region may find a variety of accommodations, including hotels and hostels, close to the area's natural attractions. Many offer breathtaking views of nearby waterfalls in an environment that promotes the exploration of nature's wonders. A perfect place for those seeking adventure and freedom!
Conclusion
Visiting the Ouzoud waterfalls is an unforgettable experience. It offers an amazing array of sights and sounds, from breathtaking views to thundering cascades of water. The best time to visit is in the spring when the falls are at their fullest. Admission is free but it's important to be properly prepared with appropriate clothing and footwear for a safe hike. Once you reach the top, you can enjoy spectacular panoramic views while taking pictures or exploring some of the nearby attractions. As they say, a picture is worth a thousand words – so don't forget your camera! So, take a leap of faith and embark on this exhilarating journey; with its majestic beauty, it will make your heart soar like an eagle!