Is Couscous Moroccan only? Who invented it?
The couscous is not just Moroccan, but one of the emblematic dishes of the Maghreb countries. It is composed of several foods: hard wheat semolina, meat or fish, vegetables, and spices.
An oriental origin:
The term couscous can refer to the semolina itself or to the whole dish. It is difficult to know where the dish couscous comes from, since different cultures of the Maghreb have different ways of preparing and describing it. And everyone is arguing about the origin of this traditional dish from different cultures. However, historians mostly agree that it is a dish of Berber origin.
Berber couscous
The Berber people are an indigenous ethnic group from North Africa. They draw their conclusion from the fact that the oldest couscoussier (used to prepare couscous) was found in the Kabylie region in the 11th century when it was occupied by the Berber people. Also, the word couscous comes from the Berber language "k'seksu".
Couscous is such an emblematic dish of the Maghreb that it is officially part of the "Common Maghreb Heritage". It can be eaten as an everyday dish in Maghrebi families, but it can also be served on special occasions such as births, funerals, weddings, or other religious ceremonies. Couscous is a dish that lends itself well to family or community gatherings since it is a dish of sharing, so the food cooks all at once and can delight the stomachs of many guests. Moreover, there is a set of couscoussier of many different sizes according to the needs.
Couscous through the ages
The first trace of couscous in the western culture is found in Rabelais' 1532 novel Pantagruel. It is however during the colonization of Algeria in the XIXth century that the couscous becomes known to a greater part of the population. It is in the XXth century, with the wave of massive immigration of the "Pieds-noirs" (the French of Algeria) that the couscous took a more important place in the western and especially in the French kitchen. Moreover, today, one does not need to be Moroccan or of North African origin to eat couscous, a dish that has become one of the top three favorite dishes of the French.
Couscous has not changed much through the ages, and we find the same composition of vegetable stews, durum wheat semolina and meat or fish such as Merguez, chicken, meatballs, etc. On the other hand, there are different versions depending on the wealth and accessibility of the food of the family that prepares it. For example, in the desert, couscous is often prepared with salted and dried meat, as meat is hard to find in this area. In the Mediterranean basin, one likes to serve couscous with fish. For those who have little money, it is not uncommon to eat couscous only with vegetables since meat is an expensive commodity.
Couscous is traditionally presented in an earthenware dish, a tajine. It is cooked in a couscoussier which can take several forms. To make a good couscous, choose a good couscoussier.
Looking forward to trying the Moroccan couscous?
If you are willing to try the Moroccan couscous besides other Moroccan foods, there is no better way than visiting Morocco. Touring In Morocco is a travel agency that is specialized in organizing affordable Morocco tours. Join us for an unforgettable experience to taste the Moroccan traditional food. Contact us now!
The Original Recipe of Couscous:
The couscous as we know it today with its different types of meat and sometimes even fish is rather a modern interpretation of couscous.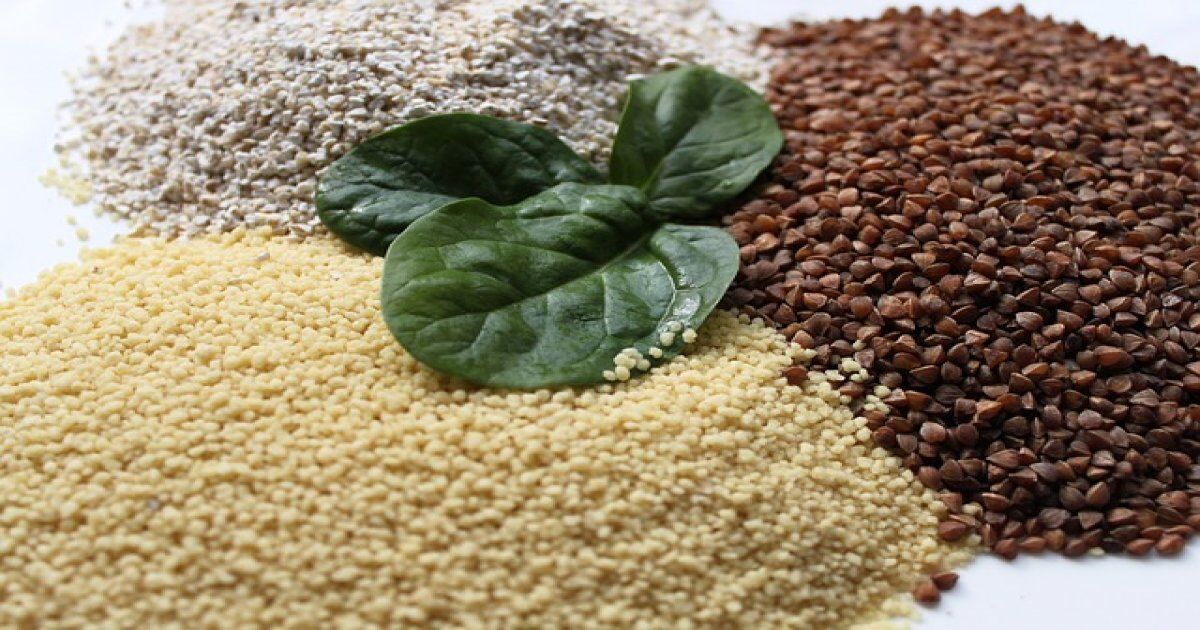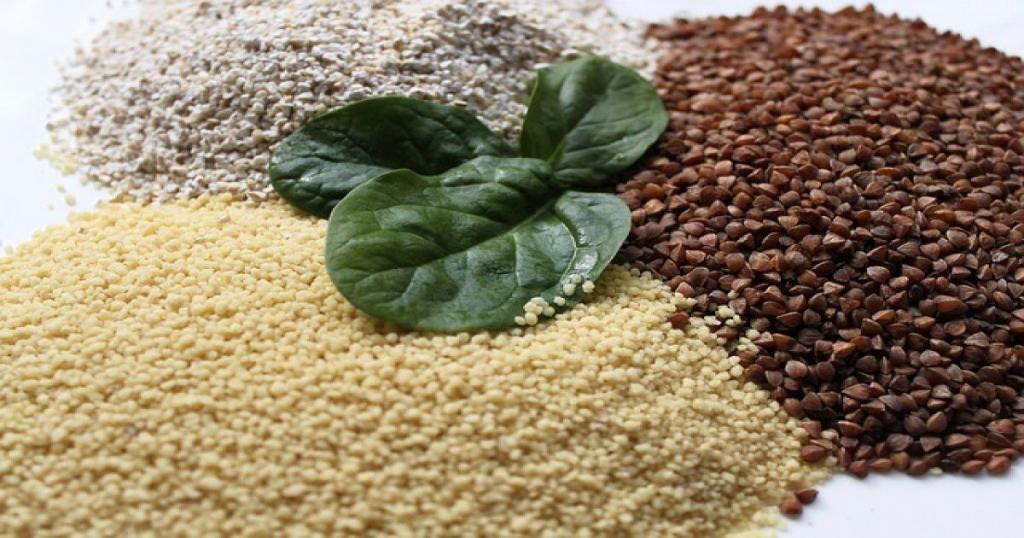 Couscous recipe:
Originally, Couscous was served with only one type of meat. Indeed, since the purpose of cooking couscous is that the semolina on the basket takes on the flavor of the meat cooking underneath. That's why we make a couscous with lamb, chicken, etc.
The Origin and traditional of Couscous:
Traditionally, couscous was made with mutton, camel, fish, chicken… depending on what was available, and the pieces to be simmered were mostly used. As for the vegetables, we used those that are in the season since couscous is a dish that can be prepared all year round.
For the semolina, traditionally we used to mix thin and thick semolina, flour, and water. Sometimes chickpeas were added to this mixture.
As far as spices are concerned, traditionally the main spices of couscous were ras-el-Hanout and harissa. Depending on the type of meat used, one could add ginger, various peppers, or cinnamon. You could also find caramelized onions or raisins for a sweet/salty touch.
You can see that apart from the use of a single meat and a pre-cooked semolina, the recipe of couscous has not changed much through the ages.
The traditional recipe:
To make a traditional version of Moroccan( North African) couscous, make sure you use a traditional couscoussier! Although today stainless steel is the norm, you can still find couscoussiers made of clay, the material that was originally used to cook couscous. Terracotta has the advantage of being traditional and pretty, but it is a heavy material and difficult to handle. It also takes longer to conduct heat than newer materials, and it can wear out easily if not cared for. It is also often more expensive because it is more beautiful and elaborate.
Couscoussier:
If you prefer to use a modern couscoussier to prepare your couscous, you can always present it in a traditional tagine dish, that will do the trick.
Regarding the preparation of the raw semolina, you have to work it in a particular way to follow the original recipe of couscous. You need a large dish, not too deep but rather wide.
Pour a trickle of olive oil on the semolina and crumble it with your fingers. Then add cold water and roll the grains between your palms. Let the semolina rest for a while before cooking it for about 15 minutes in the steam basket.
Take the Couscous out and rub the semolina between your hands again, adding a little water. Put the couscous back in the steamer basket for another 15 minutes. You can repeat this process until you are satisfied with the couscous. When it is the case, take out the semolina and add a kind of rancid butter called the "smen" before shelling the semolina one last time.
The Recipe of the Moroccan Couscous:
To prepare Moroccan couscous, several rules are to be respected. In particular, it is advisable to use only one kind of meat. Choose the one you prefer. It can be mutton, chicken, lamb… Do as you like! If you want a Moroccan couscous with more than one type of meat, then it is more like a Royal Moroccan couscous. After the traditional couscous recipe, we will tell you what to add to make your Moroccan couscous a royal couscous! The recipe takes at least 2 hours. The goal is that all the food cooks at the same time, so if you don't have that much time, you'd better make the recipe for another meal!
Here we will give you the recipe for Moroccan couscous for about 6 people. First of all, you will need a couscoussier of about 4 to 6 L capacity. Find below the couscoussier tests to compare models and choose the one that suits you.
The ingredients:
1.5kg of mutton shoulder cut into large pieces.
2 white onions cut into strips.
1 bunch of parsley.
1 large glass of dried chickpeas.
4 tbsp. odorless oil (sunflower type).
4L of water.
1 bouillon cube.
Vegetables: This is what you have in season! 2 zucchinis, 4 turnips, 2 potatoes, 4 carrots, 1 tomato… choose the number of vegetables that suit you.
Spices: 1 tsp. Rass el Hanout, ginger, black pepper.
1/2 tsp. saffron.
1 sweet pepper.
salt.
Semolina: 1 kg of medium couscous.
2 to 4 tbsp. olive oil.
1/2 glass of tempered water.
Smen.
The various stages:
Heat the oil in the pot of the couscoussier, then add the meat. Add the onions, the bunch of parsley as such and the spices, then mix. The meat should be slightly colored.
Add the chickpeas and the sweet pepper. Mix and add the water, covering everything. Let it cook covered while you prepare the vegetables.
Peel and cut the vegetables into large pieces. Add the toughest vegetables when the meat comes off the bone and cook for 15 minutes before adding the rest of the vegetables for another 15 minutes.
Meanwhile, prepare the semolina. Put it in a bowl with the olive oil. Mix with your fingers and sprinkle with water little by little. Then, put the semolina in the couscous basket. After about 15 minutes of cooking, put the couscous in a dish and mix with a wooden spoon or with your hands. Put the semolina back into the couscous basket and repeat the process. Taste the couscous to know when it is cooked. When it is, add a little Smen.
And it's all good! Enjoy with Harissa, and don't hesitate to put the couscous in a tagine dish for presentation.
For a royal couscous, you can for example use for 6 people 6 merguez, 6 chicken legs, 600g of lamb neck.
How to cook well its Semolina?
If you have ever been invited to eat in a Moroccan family that has the habit of making couscous or semolina, or unfortunately that it is you who invited them to eat semolina, you need to know that there is a good and a bad way to cook its semolina.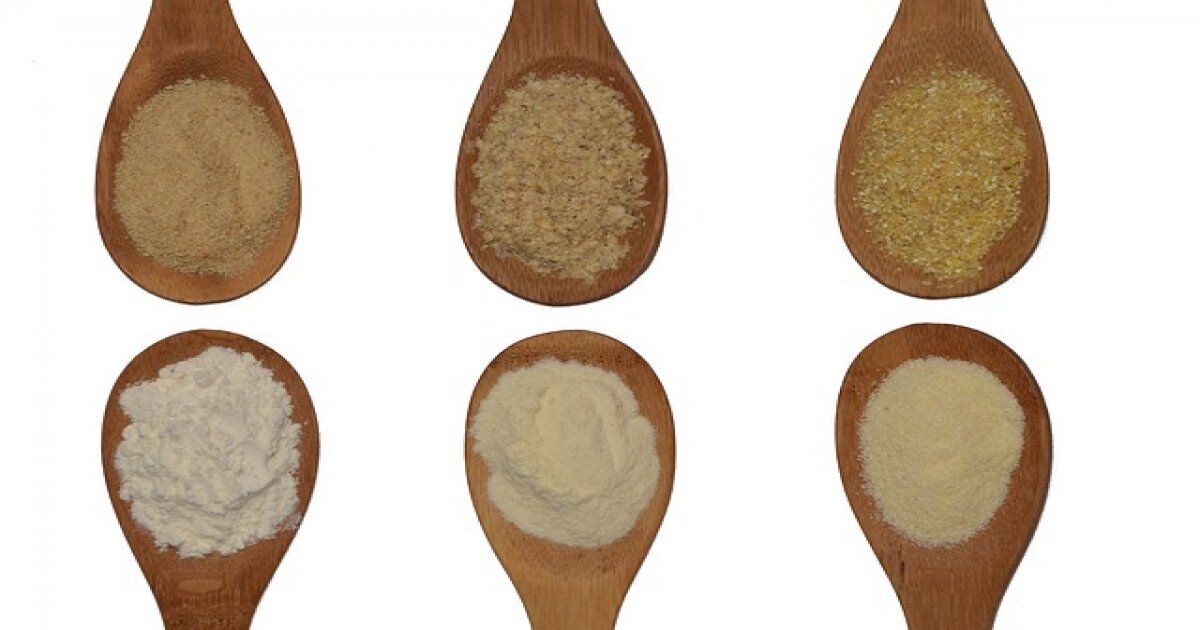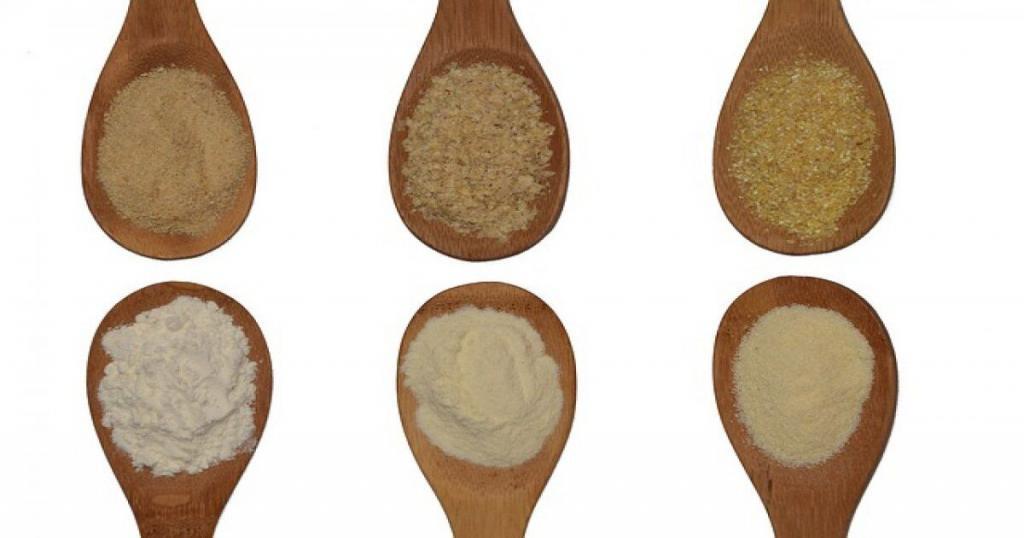 There are two ways to cook couscous semolina: with or without couscoussier.
How to cook semolina without couscoussier?
Ingredients:
400g of semolina
700ml of water
1 teaspoon of salt
30g of butter or 4 tablespoons of olive oil
The different steps:
Put the semolina in a large bowl.
Boil some water with salt (be careful with evaporation, you need 700ml of boiling water so add a little more).
Pour 2/3 of the boiling water on the semolina. Do not touch and let swell 5 minutes under a wet cloth. Then, crumble the semolina with a fork. Pour the rest of the water (1/3) and cook for 2 minutes in the microwave.
At the end of the cooking time, add the butter or olive oil and finish crumbling with a fork.
Don't hesitate to add spices to the water to flavour the semolina, or add raisins that you will have soaked in tea beforehand to add taste.
How to cook semolina with a couscoussier?
A couscoussier is a top kitchen accessory to cook several foods at the same time. It is composed of a pot and a pierced basket. In the pot, you can cook broth, meat, vegetables… And in the basket, you can put semolina, rice, etc. And in the basket, you can put semolina, rice, etc., which then take the taste of the broth. You can remove the basket during the cooking, even if you lose steam.
To cook semolina with a couscoussier:
First, put the semolina in a large bowl. Moisten the semolina with 4-5 tablespoons of broth and mix.
Add 1 tablespoon of olive oil and toss to moisten the semolina.
Put the grains in the steam basket of the couscoussier and cook for about 5 minutes.
Take out the semolina in the dish, it will have slightly swollen. Moisten again with broth and mix with fingers to drain.
Add another tablespoon of olive oil and remove the seeds.
Put back in the couscous-maker and cook for another 5 minutes.
Repeat until you are satisfied with the cooking. Also worth looking at Induction Couscoussiers
Serve the couscous hot. If you are making a complete couscous, use a tagine dish for the presentation. Put the semolina, then the broth, meats, and vegetables.
Accompany with harissa. You can add raisins or spices to the semolina to give it more flavor. The raisins add freshness, as the couscous is served hot to give it more flavor.
Enjoy!
Recipe for Traditional Moroccan Couscous( North African)
For a dinner with family or friends, the traditional couscous is a very balanced dish that you can make quickly and without much trouble.
There are more than a hundred and forty recipes of couscous. Nevertheless, we will focus on the traditional couscous which requires less effort and is more economical.
What is traditional couscous?
The traditional couscous is a balanced dish of Berber origin. Composed of starchy foods, it can be 100% vegetarian or accompanied by meat/fish. No matter which one you make, you will certainly make your taste buds travel. The preparation time is 45 minutes, the cooking time is about 1 hour and 30 minutes and you will have to take a break for 25 minutes.
What is the ideal accessory for cooking your traditional couscous?
For the preparation of traditional couscous, the couscoussier is what you need. It is composed of a large pot where you will cook your filling in the broth and another upper part whose bottom is pierced. This last part is intended for the cooking of the semolina which will be slightly impregnated with the taste of the filling by the steam. Nevertheless, if you do not have a couscoussier, you can use a simple casserole.
Ingredients for the realization of the traditional Moroccan couscous?
For a recipe for 4 people:
800 grams of semolina
01 bunch of coriander and a small box of chickpeas
04 carrots and 04 potatoes
03 zucchinis and a stick of celery
03 turnips
01 large onion
01 red bell pepper and 01 green bell pepper
04 chicken legs, 04 merguez sausages and lamb neck
01 chicken stock cube
03 tablespoons of tomato paste and 5 of olive oil
02 teaspoons of salt, ras-el-hanout ginger and ½ of black pepper
02 cups of water
Steps for preparing the broth:
In the couscoussier or casserole dish, brown the previously cut lamb collar and the chicken legs.
Rinse the carrots, zucchini, turnips, peppers and celery.
Peel the turnips, carrots and celery and remove the seeds from the peppers.
Then cut all the fresh vegetables into pieces.
After peeling the onion, chop it and sweat it in the casserole/couscoussier with a tablespoon of olive oil.
Add the vegetables and let heat for a few minutes.
Add the ras-el-hanout, the concentrated tomato and the chicken stock. Next, add the pieces of lamb and the chicken legs.
Then, add salt, stir and cover the pieces of meat with water.
Bring to a boil for 45 minutes on low heat.
35 minutes later, rinse the chickpeas and add them to the pot.
Let it cook.
Adjust the seasoning if necessary and sprinkle the sauce with coriander.
Before the end of cooking, grill the merguez in a hot pan without oil.
The steps to prepare the couscous:
Pour the couscous semolina in a large bowl
Add the salt and three tablespoons of olive oil and stir with a fork to avoid large balls.
Add the two cups of boiling water, cover and let stand for 5 minutes. Alternatively, you can steam the semolina.
Again, with a fork, remove the seeds from the couscous.
Dressing:
To prepare the traditional couscous, you have to:
First, put the semolina on a plate.
Then arrange the pieces of meat and the merguez sausages.
Finally sprinkle with the vegetable broth.
You can go to the table!
Your day will end in the most beautiful way if you take for dinner the traditional couscous. A convivial, complete, and full-flavored meal that you are free to accompany with fresh milk or rosé wine served chilled. Sometimes, some prefer it with mint tea and pine nuts. Whatever the accompaniment, the main thing is to enjoy yourself.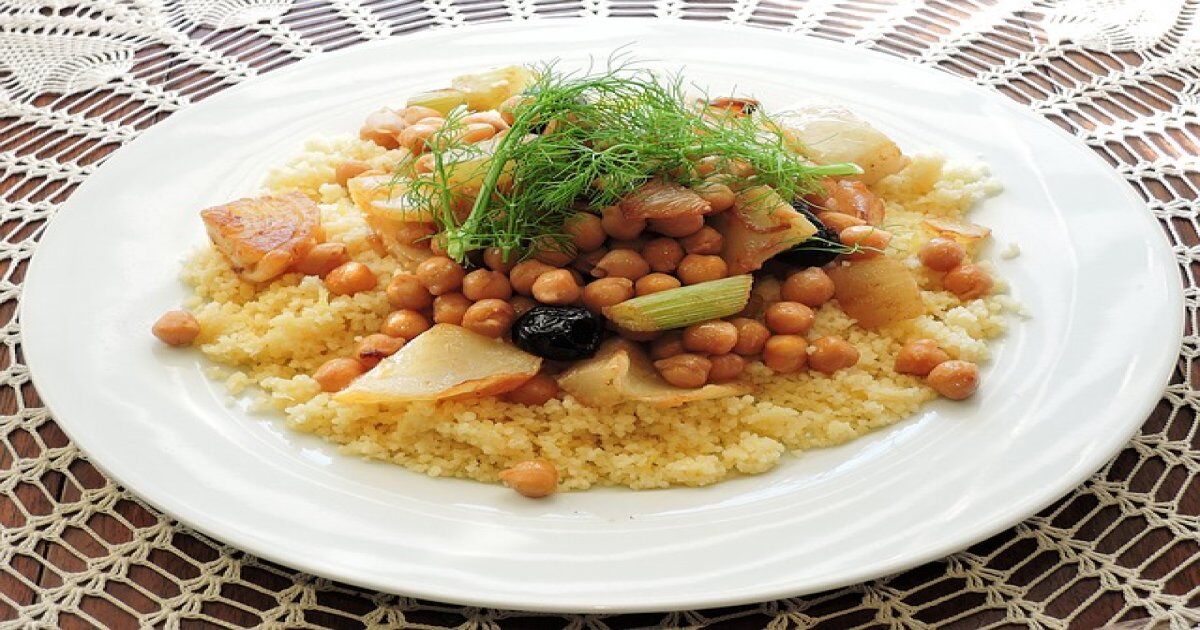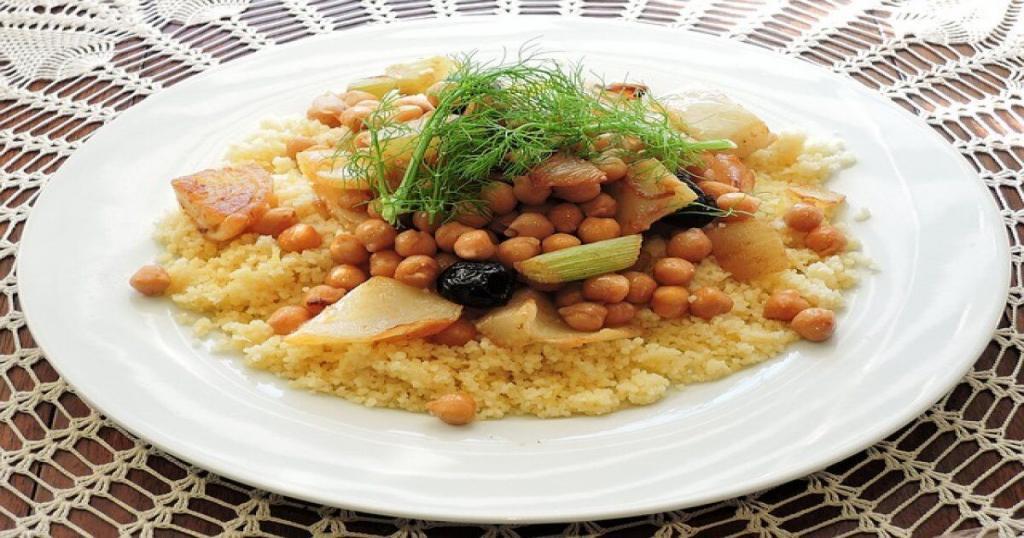 Which spices for Moroccan Couscous?
There are many variations of couscous not only according to regions but also according to cultures or even families. It is the same for the spices that we put in the couscous, even if some are common to all.
Ras-el Hanout is a spice borrowed from the tagine but essential for couscous in some versions. Ras-el-Hanout is a mixture of spices (about twenty). Pamis them: cinnamon, black pepper, turmeric, ginger or coriander. Even if these spices are already present in the ras-el-hanout, you can choose to add them. It all depends on your taste!
The main spices:
Paprika
Cumin
Coriander (seeds)
The four spices
Ginger is present in the Moroccan version of couscous.
Nutmeg
Cinnamon
Pepper
Sweet pepper
How to proceed?
You can choose to put the spices with the meat which cooks in the broth, or in the water which you add to the couscous (or both!). It will depend on the cooking method. If you have a couscoussier, it is preferable to put the spices in the pot because the semolina will take the spray of it. However, if you don't have a couscoussier, you can choose to put the spices in the water that you add to the semolina to make it swell.
If you are not very good with spices, or you are a little cold, or you don't want to buy spices for 1 couscous, you can also buy a ready-made couscous mix.
However, you can make many dishes with couscous spices. For example, a tagine lends itself very well, vegetable curries can also have a similar mixture of spices, but also simply to spice up rice, vegetables, meats, fish …
The conservation of your spices:
Spices keep well… as long as you store them well! Here are a few tips for storing your spices:
Keep your spices away from moisture: To avoid the spread of bacteria. Therefore, do not store your spices above your cooking area or next to your oven.
Keep your spices away from light: Indeed, UV rays and heat in general can promote oxidation of spices. Spices with bright colors are very sensitive to light. So keep your spices in a dark place, in a place where the temperature is stable.
Keep your spices away from the air: There is humidity in the air, that's why it is important to keep spices in closed bags or jars.
When it comes to the type of container to store your spices, you can choose the plastic bag or the jar in which it was sold to you. Hermetically sealed glass jars are also very good for storage. Metal also works. Don't forget to label the jar with the name of the spice as it is sometimes difficult to tell them apart by smell or color.
Induction Moroccan Couscoussiers( couscous maker):
You have an induction cooktop and you are looking for a couscous maker? Are you wondering if the two are compatible? You are not the only one to ask yourself this question. This is the case for all those who have this type of hob and who like to make their own couscous. It's always a struggle to find suitable utensils. Especially since some manufacturers claim that their product can go on induction and this is not always the case!
So I'll give you some advice and I'll also give you the name of some couscoussiers (I tested them) that go on a cooking plate of this type.
Induction hob and Couscoussier: My Advice
If your cooktop is induction, you have no other choice than to find utensils that are adapted. This is important and essential because if you put on your induction cooker a couscoussier that is not made for it, it will not work so no cooking will start.
In most cases, a stainless steel couscoussier is perfectly suitable for this type of induction cooking. On the other hand, and this is good to know for pots and pans etc, aluminum, copper or glass utensils cannot be heated by induction.
I'll give you a tip that you can use if you buy a couscous cooker in the store. Take a magnet and place it under the couscous cooker. If the magnet sticks, it means that the appliance contains iron and is therefore suitable for induction cooking.
Choosing an induction couscous cooker:
When you find a model that you like and that is induction, look carefully at its diameter. It is always indicated by the manufacturer. It must correspond to the round of your plate so that it recognizes the couscoussier and heats it.
When you order on the internet, it is always indicated by the manufacturer if his product goes on an induction plate. Generally speaking, this type of plate is very successful and is being used in more and more kitchens. Most of the models are designed to be used on all types of fires, including induction of course.
I advise you to check the reviews of users who have bought the couscoussier you want. You will see that there is always one or more reviews that confirm or not that the couscoussier is designed to go on induction. This will reassure you and avoid bad surprises.
My induction couscoussier models:
You don't have the time to look at all the models to check if they are all fires or you simply don't feel like it and you prefer to trust me? You're right. Here are 4 different couscoussier models that I tested but that are all compatible with an induction cooktop:
Crealys 50228: it has a diameter of 28 cm and a capacity of 10 liters
Beka: 12030244: it has a capacity of 8,5 l and a diameter of 24 cm
Hora: it has a capacity of 9 liters and a diameter of 24 cm
Beka 12230024: a capacity of 15 l and a diameter of 24 cm for this Beka model!
Stainless Steel Couscousiers:
Stainless steel is a well-known material when it comes to kitchen utensils. It is therefore quite natural that I recommend you to choose this material in your quest for the best couscoussier that meets your needs.
Personally, I only use stainless steel couscoussiers and therefore I only buy this type of model. Why? For all the advantages that this material provides and they are numerous. What are they? I tell you everything in this complete article dedicated to the stainless steel couscoussier. And to avoid you searching all over the web for quality stainless steel couscoussiers, I have chosen 4 models among several that I had in my hands.
Stainless steel in detail:
To begin, here is some info about stainless steel. It is in fact an iron alloy to which chrome is added. The stainless steel couscoussier can be used on induction because it contains iron. That's it for the small precision.
You will see on some descriptions written "stainless steel 18/10". In this case, the alloy is composed of 72% iron, 18% chrome and 10% nickel. I advise you to choose this type of alloy because it is strong, more resistant and offers a healthy cooking.
You will often see in the description: stainless steel couscoussier. Don't worry, it's stainless steel!
The advantages of a stainless steel couscoussier:
If I advise you to choose a stainless steel couscoussier, it is because its advantages are numerous and they seduced me.
For example, I can guarantee you that stainless steel is a very resistant material in time. Its lifespan? About 25 years. Not bad, right? Most manufacturers even offer a lifetime warranty. That's how much confidence they have in stainless steel.
Stainless steel ensures even heat distribution. So not only is the food well cooked and stays soft, but cooking is much faster with this type of material. And since the cooking is fast, you save energy. Great!
Stainless steel is a non-stick material. So your food won't stick to your couscous maker. And as you can imagine, it makes cleaning much easier. Since it doesn't stick, you don't need to use any fat. Personally, I don't use any as it is a steamer but maybe you do.
Stainless steel is aesthetic material. This point is not essential for some people but I like my couscoussier to be beautiful in addition to being efficient and of great quality.
My stainless steel couscoussiers:
As I already told you, stainless steel is an excellent material for me and that's why I don't hesitate to recommend stainless steel couscoussier. Among those I tested, 4 stand out and not only because they are made of stainless steel.
In my favorites, I present you the Crealys 502280 couscoussier, the Beka 12030244 model, its colleague the Beka 12230024 and finally, the Hora couscoussier.
To summarize:
Choosing a stainless steel couscoussier is the guarantee to have a high-quality model, robust and durable over time, which offers homogeneous cooking and which is aesthetically top! Now that this material has no more secrets for you, all you have to do is buy the couscoussier that will make you and your guests happy.
My opinion on the Couscoussier Electric Couscook:
When we want and look for a couscoussier, we mostly see those big grey pots that we put on our cooking plate. But recently, a new kind of couscous cooker has arrived on the market: the electric couscous cooker. Thomson offers us the first model of this type: the Couscook.
As a fan of classic stainless steel couscous cookers, I admit that I was quite intrigued by this couscous cooker. I first inquired about it, but there are different opinions about this Thomson Couscook. And as you are never better served than by yourself and I like to make my own idea, I bought this Thomson electric couscoussier. After a few weeks of intensive use, it's time for me to give you my impressions on this Thomson Couscook model.
The Thomson Couscook electric couscoussier in details:
This couscous cooker is equipped with a power of 1600 watts and thus offers a fast cooking. Its capacity is 5.2 liters and it has in addition an accessory of steam cooking of 4.5 liters. It allows you to cook for 6 to 8 people.
This couscoussier Thomson Couscook has a timer that allows you to program the cooking time up to 120 minutes and a thermostat with 3 possible cooking levels depending on the food you are cooking. Its keep warm function is very practical to enjoy your couscous or tagine at the right temperature.
A sound signal tells you when the cooking is finished. Don't worry about overcooking your food with this appliance because it has an automatic stop at the end of cooking. It is made of aluminum and has a non-stick coating for fat-free cooking. It comes with a recipe book which is very practical as you are not used to cooking couscous or other dishes with this type of appliance.
What I think of this Thomson Couscooker:
So like everyone else I am quite divided on this model. It has some advantages and some disadvantages that it's best to know about before jumping into buying the Thomson Couscook.
On the plus side, I like its versatility. You can make a whole bunch of preparations other than couscous. You can make tagines, cook rice, simmer meat or steam vegetables. And the recipe book that comes with it is very practical to innovate.
Its thermostat, its timer and its hot hold is something new in the couscoussiers and personally I like these features because they are very practical.
As for the disadvantages, I would say that it is a rather imposing appliance whether on the work surface or on a table. I also regret that its electric wire does not have a storage.
The price is also quite high, especially compared to the classic couscoussiers. Its advantages probably justify this price.
To summarize, I would say that this electric couscoussier is suitable for those who are looking for a multifunctional device that does everything by itself. It is powerful and efficient and the food is cooked perfectly!