Argan oil in Morocco:
Morocco is not only one of the homelands of the hammam. It is also the land of the Argan oil tree, a tree with thorny branches that can reach up to 10 meters. And whose foliage is much appreciated by camels and goats (who do not hesitate to climb on its branches to feed themselves!). The particularity of the Argan tree? Its fruit, a kind of nut that contains two or three "almonds" that are cold-pressed to obtain an oil with multiple cosmetic virtues. On the other hand, it is the subject of an additional stage which gives it this delicately amber color, the roasting of the almonds. Nicknamed "liquid gold", the Argan bears as well. To make a single liter of Argan oil in Morocco, it takes 6 to 7 trees (knowing that a tree produces on average 6 to 8 kilos of nuts) and 8 hours of work!
How to use Argan oil:
Argan Oil of Morocco is particularly rich in unsaturated fatty acids omega 6 (36%) and omega 9 (43%). It also contains vitamin E with antioxidant properties. It can be applied directly to the skin, nails, or hair. In addition, It can be found in the composition of cosmetic care products.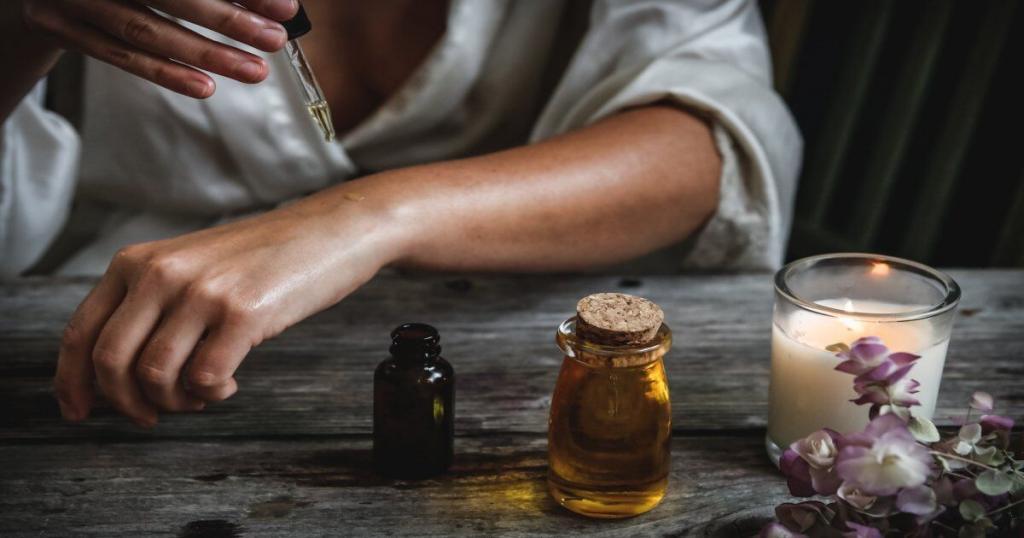 The benefits of Argan oil:
Argan oil has many virtues especially on the skin, scalp, dull and brittle hair and on split or soft nails:
nourishing.
fabric softeners.
moisturizers.
revitalizing.
The application of the oil restores the skin's hydrolipidic layer and increases the nutrient content of skin cells. In traditional medicine, the oil is used to fight acne, minor irritations, eczema, and burns.
The argan tree in Morocco is not only praised for its cosmetic virtues. Its lightly roasted almonds produce an oil with a fine hazelnut taste that is consumed by the local population. It can be found today in the kitchens of great chefs. The richness of Argan oil in omega 6 and 9, gives it recognized dietetic qualities.
Its very hardwood, the famous "ironwood", is used as firewood. As for its leaves, they make the happiness of camels and goats.
While the tree is today strongly threatened with extinction, the rehabilitation of the Argan forest (Arganeraie) and the valorization of its products are solutions to fight against its extinction and desertification. In Morocco, the exploitation of the fruit of the Argan tree is carried out exclusively by women. They are in charge of the delicate and meticulous manual work of pulping and crushing the fruit to obtain the precious oil.
The benefits of Argan oil for the skin:
The extreme environmental conditions of Berber women (heat, wind …) led them to use Argan oil in beauty cream and body lotion to fight against dry skin. Because it is naturally antioxidant and full of fatty acids, this "liquid gold" not only activates cell regeneration. But also hydrates the epidermis in depth and restores its hydrolipidic film (a mixture of water and fat that helps maintain the level of hydration). As a result, the skin of the face and body is softened, regains its firmness and elasticity and wrinkles are reduced. These properties make it a wonderful ally for dry, atopic (predisposed to allergies), and mature skin… Even more, it is best for women looking to delay skin aging!
Despite its high-fat content, this oil also helps to rebalance the hydrolipidic film while allowing the epidermis to breathe. Therefore, it is recommended for treating acne-prone skin. Calming and restorative, Argan oil is finally an excellent remedy against eczema and chickenpox, scars (especially acne or chickenpox), chapped skin, stretch marks, and of course sunburn. So many reasons to adopt it!
The benefits of Argan oil for the hair:
To regain the shine, brilliance, and silkiness of their hair, Berber women are also accustomed to coating their hair fibers with it. Ideal for repairing split ends, preventing brittle hair or taming (very) curly mugs. Argan oil for hair should be applied as a mask, all night long. If the prospect of sleeping with a towel on the pillow repels you, let it rest for a little hour before rinsing. Or simpler, add a few drops of oil in your usual shampoo.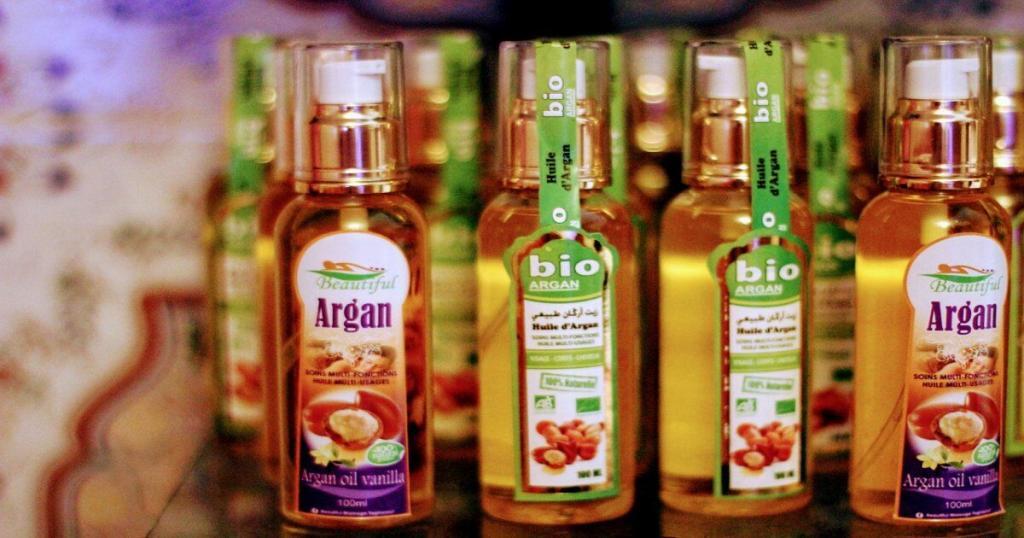 Other magical uses of Argan oil in Morocco:
This miracle product is finally very appreciated by soft, brittle or splitting nails. To find pretty hands, nothing like a "bath of phalanges" in a bowl filled with Argan oil to which a few drops of lemon are added. Let soak about fifteen minutes and observe the result!
Argan oil, a dietary treasure:
Argan is a traditional oil from Morocco with a taste of almond and hazelnut. It has been used in European cuisine for about 15 years. It is tasted like butter, on a slice of bread, in the composition of seasonings or in the preparation of typical dishes. For instance, Amlou (a supposedly aphrodisiac spread based on honey and almonds). Beyond its gustatory interest, Argan oil in Morocco is also highly appreciated for its dietary qualities. Rich in vitamin E (known for its antioxidant action) and omega 6 and 9, it contains 80% unsaturated fatty acids.
Be careful however not to heat it at too high a temperature. Further, it would immediately lose an important part of its properties. To benefit from all its benefits, it is better to eat it raw. Finally, avoid buying oil that is too dark, the brown color is a sign that the almonds have been over-roasted during the roasting phase. The quality of the oil will be poorer.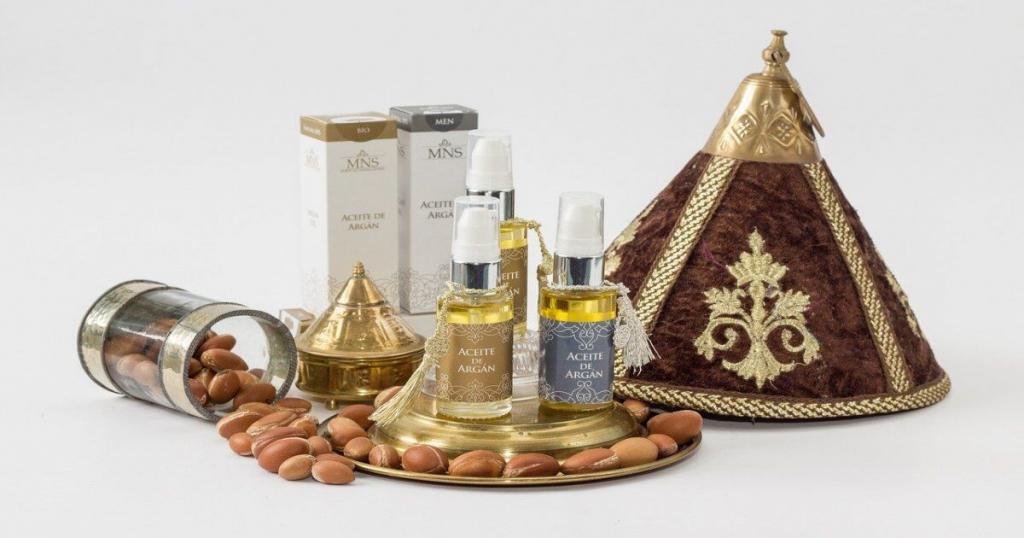 Main Features of Argan Oil:
– Antioxidant:
the presence of natural anti-radical compounds such as tocopherols (including vitamin E). Squalene or carotenoids make this oil an excellent anti-aging remedy. This property associated with that of skin repair and protection allows this oil to fight effectively against the signs of dryness and aging of the skin. Additionally, it is is very effective in the prevention of stretch marks in pregnant women.
– Softening:
Argan oil has a composition similar to that of skin lipids, so it quickly penetrates the skin for a moisturizing and nourishing effect. The contributions of omega-3, 6 and 9 also help to restore good skin elasticity. Argan oil can also be used as a hair care product to nourish dry hair in depth and obtain shiny and supple hair. Schotténol, a sterol present in this vegetable oil softens the skin.
– Hypocholesterolemic, protective of the cardiovascular system:
the oil from the Argan kernels is rich in vitamin E and phenolic compounds (ferulic acid), substances that contribute to the balance of the cardiovascular system. The presence of spinasterol, a plant sterol having a great Physico-chemical similarity with cholesterol, leads to a decrease in plasma concentrations of total cholesterol and LDL cholesterol. The latter being considered "bad cholesterol".
– Anti-inflammatory:
fatty acids, particularly omega-3 and tri-terpene alcohols contribute to the anti-inflammatory properties of Argan oil. These substances have therapeutic properties used in dermatological protection and the fight against inflammation of irritated skin.
– Firming, revitalising:
the linoleic acid of this vegetable oil allows the skin to regain its lost tone and firmness. Making it a flagship in the fight against premature aging and the appearance of wrinkles.
– Nourishing:
very moisturizing because of its linoleic acid content, this vegetable oil is the ally of damaged hair, scaly and dry skin, but also brittle nails.
– Healing:
well adapted to sensitive skin, this vegetable oil participates in the healing of chapped and burned skin, and other dermal diseases. Thanks in particular to the presence of its phytosterols such as schotténol.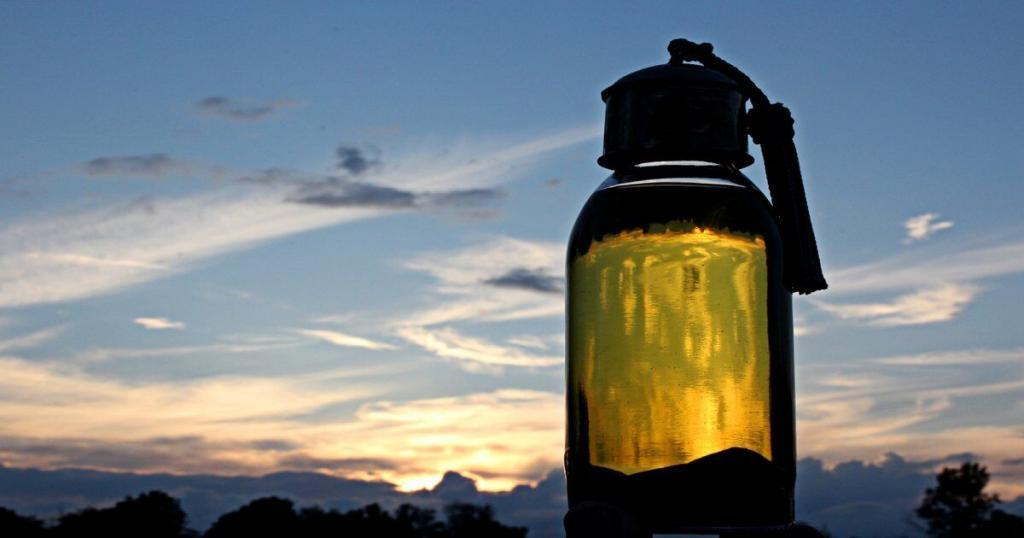 Steps in the production process of Argan oil in Morocco:
It is after a very long process that Argan oil is accomplished. Of ancestral origin, Argan oil is extracted according to very precise and delicate methods. It is during these phases that the final use of this oil (cosmetic or food) and its quality will be determined.
– Picking it up:
The first step is to collect the fruits of the Argan tree directly from the trees. By beating with a pole and harvesting in a net. This work, like all the rest of its manufacture, is a work carried out mainly by Berber women of the regions in question. The fruits are then dried in the sun to facilitate the next step. For a quality result, it is important to select nuts in perfect condition.
– Pulping:
To facilitate the understanding, it should be known that the fallen nut of the Argan tree contains a core. Containing, in turn, the Amadons. As explained above, it is the kernels that will be used to make Argan oil. At the end of August, the nuts have become brown and dry, which greatly facilitates their pulping. It is then a question of opening the fruits of the tree scrupulously and delicately in order to harvest the pits without damaging them. To do this manually, we use 2 stones that will hit the shell to open it. This can also be done with a machine called a "pulping machine". Another way not very recommended is to recover the kernels in the excrement of goats that have previously eaten the pulp of Argan nuts.
– Crushing and extraction:
Once pulped, the cores are in turn crushed with a hammer and pestle. The objective is to crush them in order to preserve the kernels. This stage is extremely difficult because the cores are robust unlike the almonds inside, which are very fragile. It is imperative to keep them in good condition while breaking the core. Needless to say that this moment is long and painful, probably the most tedious in the manufacture of Argan oil in Morocco. Once the famous Amadons are harvested, they are sorted and placed in a basket or container. They are then roasted in a dish heated by the fire. This step is optional and only intended for the manufacture of edible oil. The almonds are then crushed using a hand mill to produce a viscous paste. This paste will be kneaded and kneaded for long hours to which water will be added.
– Decanting and filtering:
Once the dough is obtained, it is left to rest. This is when the oil begins to ooze out of the mixture. It is then stored in large containers and decanted for several days to separate the oil from the plant residues. The oil is then filtered several times to purify it and keep a clear liquid. In addition to becoming scarce, Argan oil in Morocco is long to obtain and its manufacture is not trivial but the result of knowledge and inimitable know-how. Also, important to remember, the cosmetic Argan oil must be unroasted, cold-pressed in order to preserve its virtues and richness as well as possible. Concerning the extraction, it is thus necessary to privilege a cold-pressing if one wishes a cosmetic use.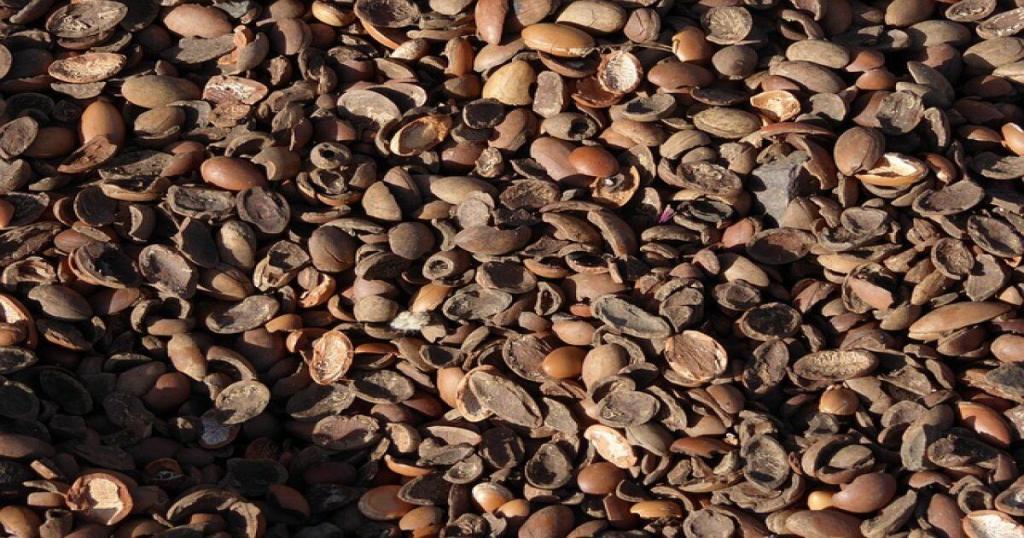 Interested to buy Argan oil and visit Morocco?
We are a travel company based in the Sahara desert of Morocco, we have a very big team of experts in making tours around the country. With above than six years of making journeys towards the desert, imperial cities, and all the interesting destinations in the country. We invite you for a lifetime trip. Argan oil is offered widely in Morocco. Therefore, if you are willing to buy or even taste some Argan oil's food, our expert team will be there to assist you.
Also, we will take you to places where you can read and get information concerning Argan oil. What you will see is pure, certificated, and its operations can be seen in hands of Berber experienced women.
Most of the tours we organize, we take you to feminine cooperatives in different areas especially the High Atlas mountains from Marrakech. In addition to that, you will admire how the use traditional and simple ways. Not only that but tools those Berber women use to produce oil and cosmetics. In Morocco, the biggest area where the Argan can be found is on the way from Marrakech to Essaouira, the city of wind. Also, most of the cooperatives are owned by families from Essaouira.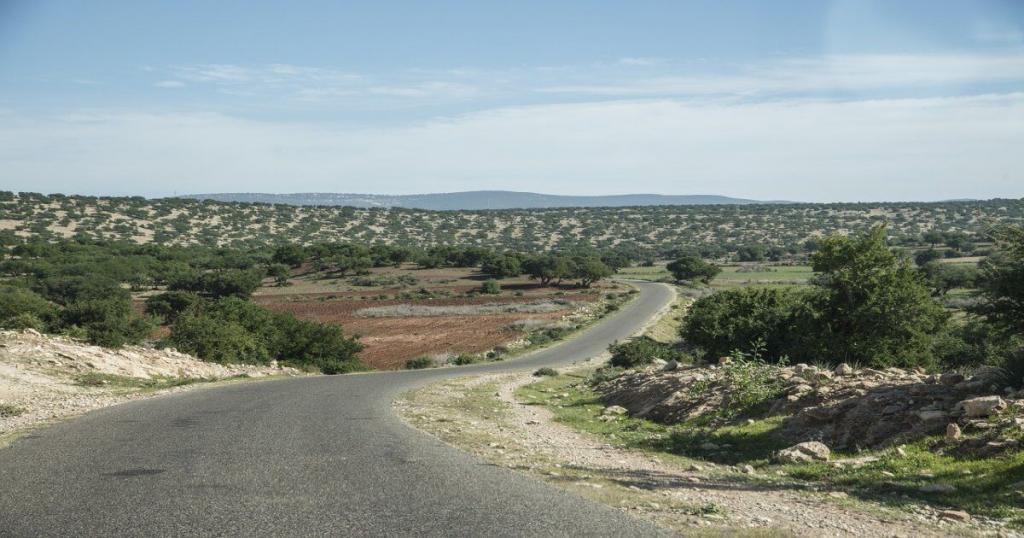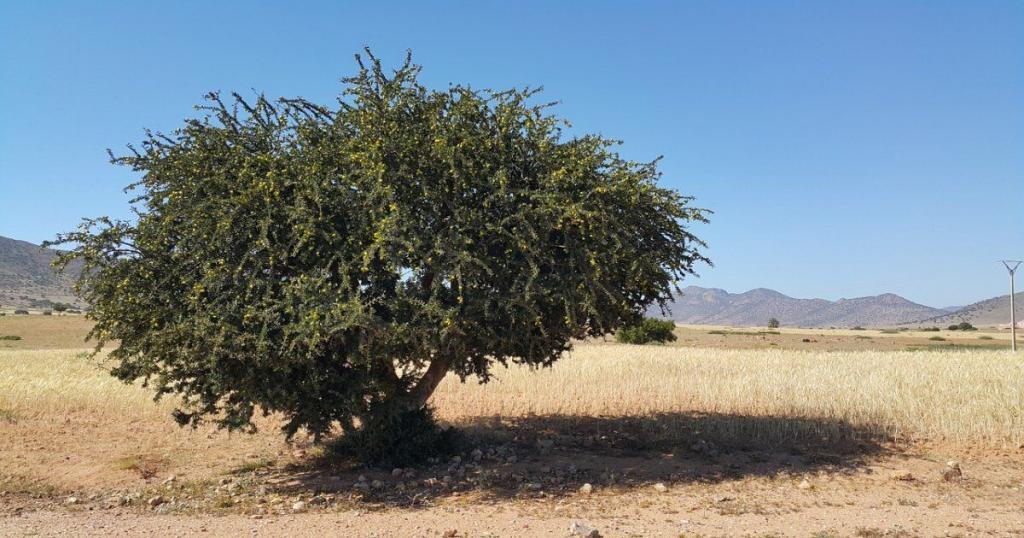 Contact us using the form below for any questions or requests to buy Argan oil.