Many people ask the question; How many days do you need to see Morocco? the answer is simple, to fully discover Morocco, you will need more than a month. However, if you only want to visit the highlights, it can take around 7 to 10 days.
It is always preferable to have more time. However, even if you just spend a few days in Morocco, you will have a magnificent experience. In this article, we will discuss ideas about itineraries and methods for vacations ranging from three days to two weeks.
How much time do you need to see Morocco?
The ideal number of days that you need to see Morocco is at least from 7 days to 10 days. At a leisurely pace, a week in Morocco's desert and imperial cities is enough time to see the country's highlights. You can combine trekking in the Atlas Mountains with leisure on the Atlantic coast in two weeks. If you only have five days, it's best to concentrate your efforts: visit Casablanca, Chefchaouen, and Fes in the north, or Marrakech and the Sahara in the south.
Morocco is a dynamic and diversified nation with its busy souks, magnificent snow-capped mountains, and enormous Sahara. Morocco's unusual cultural mixing means you'll be thrilled by the country's history and cuisine, not to mention the breathtaking and diverse landscapes. Windsurf at Essaouira, sandboard and camel trekking in Erg Chebbi, or explore Marrakech's souk. Morocco itineraries are available for all types of tourists, and the nation is sure to have a particular place in your heart.
Are 3 to 4 days enough to see Morocco?
We often receive the question of; what can you see in Morocco in 3 or 4 days? Well, it depends on what you are interested in. If your priority is to visit the desert, do camel rides, and camp at Berber tents, then yes, the 3 and 4 days tours are enough.
If you're in Morocco for a long weekend, the 3-day Morocco tours are great options. Traveling between Fes and Casablanca is possible. It takes around four hours. Begin in Casablanca, where you won't want to miss a visit to the world's tallest mosque, Hassan II.
Then you may make your way to Fes, where you're likely to spend most of your time. Fes el-old Bali's walled city is a labyrinth of about 9,000 tunnels. Take a walking tour, browse the souks, and pay a visit to the world-famous Tanneries Chouara to witness the vibrant vats of color.
Alternatively, remain in Fes and do day trips. You may visit Meknes, which has a less congested old medina than Fes, or nearby Volubilis, whose well-preserved Roman ruins give a fascinating contrast to Mahgreb's architecture.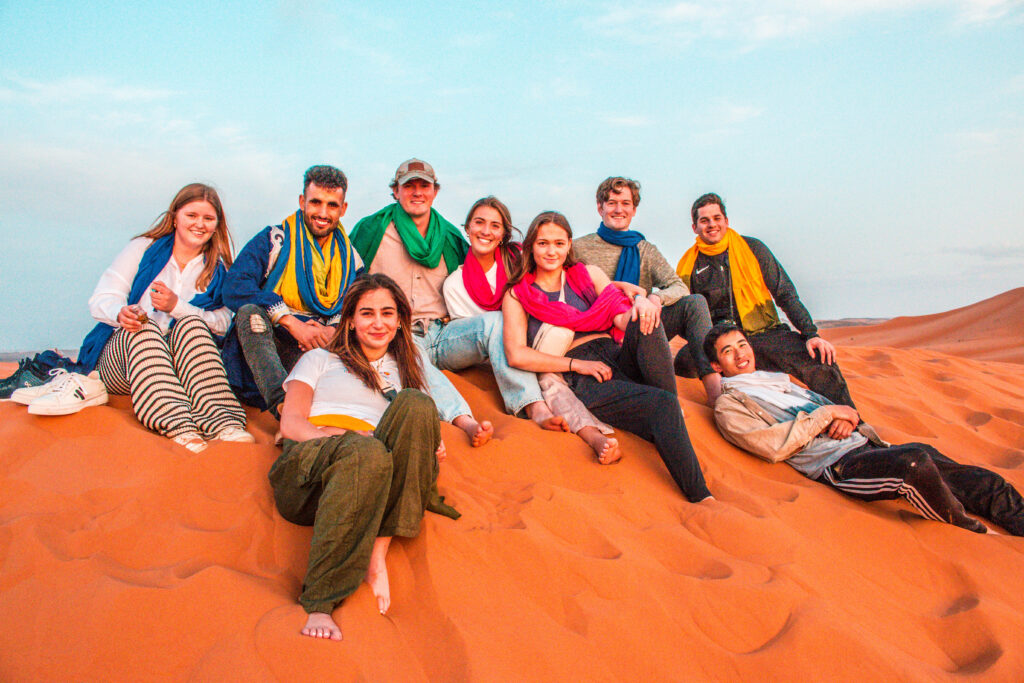 If you opt to stay in Marrakech's neighborhood, there is more than enough to keep you occupied for three days: the colorful Jemaa El Fna Square, the exquisite Bahia Palace, and the Majorelle Garden for art enthusiasts. Outside the medina, Jacques Majorelle's botanical garden and residence provide a tranquil refuge.
You may also take a day trip from Marrakech to the nearby Agafay Desert. There are several activities available, including hiking, camel rides, and a glimpse into a typical Berber village. All of this is conveniently located within a short drive of the city.
Book your 3 days desert tours in Morocco:
Book your 4 days desert tours in Morocco:
Are 5 to 6 days enough to see Morocco?
5 and 6 days are enough to visit most of Morocco's highlights. With a few more days in Morocco, you'll be able to see more of the nation. Or that you may spend more time at a particularly intriguing site, such as Fes, which quickly becomes a favorite of many visitors. Decide whether you want to concentrate on the imperial cities, the desert, or the mountains—or any mix of these—to avoid spending too much time on travel.
One alternative is to concentrate on the northern cities, which are popular with photographers, artists, and history buffs. Visitors have plenty of time to see breathtakingly beautiful places such as Chefchaouen, Morocco's famed "Blue City." This itinerary includes stops in Fes, Tangier, and Casablanca, but it might be reduced or changed depending on how many days you have—and where your planes arrive and leave from.
Alternatively, base yourself in Marrakech and go on a desert adventure trip. Combine four days in the Sahara with a day or two in Marrakech at the beginning and conclusion of your trip. You'll go on a desert tour of Erg Chebbi's gigantic wind-shaped sand dunes and experience a camel ride in Merzouga.
Customized 5-day tours:
Customized 6-day tours:
Are 7 days enough to visit Morocco?
Although you may miss out on a few wonderful places, seven-day Morocco itineraries enable you to explore most of the country's notable landmarks. In seven days, you might begin at the beautiful coastal city of Casablanca, where you can see the Hasan II Mosque, which houses the world's highest minaret. From there, you may go to Fes, stopping at Volubilis, which has the finest example of Roman remains in the country.
Spend the day touring Fes, which includes a historic medina that is one of the world's biggest car-free zones. For a time, you may get lost in the twisting lanes and busy souks. Stop by the Tanneries Chouara for an Instagram-worthy historic photograph. Spend two days exploring the Sahara Desert, beginning with a hike across the Middle Atlas Mountains. Explore Erg Chebbi, the beautiful windswept sand dunes, the Valley of a Thousand Kasbahs, and the Todra Gorges.
customized 7-day itineraries:
Are 8 to 9 days enough to see Morocco?
With an 8to 9 days Morocco travel plan, you can cover all of the above-ground as well as see a few more attractions. On your trip from Casablanca to Fes, stop at Rabat to explore the Roman and Islamic remains, including Hassan Tower and the Andalusian Gardens. The picturesque blue city of Chefchaouen, situated in the Rif Mountains, is your next destination. The magnificent medina of the city was created in the 15th century. At sunset, you may make your way up to the abandoned Spanish Mosque for some breathtaking city and mountain views.
You may spend some more time in the desert, admiring windswept sandy landscapes on your journey to Marrakech, or you can add on some trekking in the High Atlas mountains' foothills. You may shorten other portions of your Morocco itinerary if you wish to experience a homestay in the highlands and learn more about Berber culture.
Customized 8-day tours:
Are 10 days enough to see Morocco?
When it comes to the optimal length of time to spend in Morocco, 10 days may just be the sweet option. It's enough time to not feel hurried, and it's simple to change one of these weekly itineraries to include a couple of additional days at a place you love—and want to linger in—along the route.
In 10 days, you may explore all of Morocco's distinct ecosystems. This trip combines adventure and relaxation: you'll begin in the imperial city of Marrakech, discover the Sahara and adjacent desert settlements, trek the High Atlas mountains, and rest along the coast. Highlights of the journey include traditional music around a campfire, a night with a native Berber family, and excellent seafood by the Atlantic in picturesque Essaouira.
Take a spectacular tour of Morocco's royal cities instead. Begin with this weeklong plan, but allow yourself some wiggle room: if you fall in love with a specific location, you can always spend an extra night or two to really appreciate it.
Customized 10-day tour:
Are 12 to 14 days enough to see Morocco?
With 12 to 14 days Morocco trip plan, you may immerse yourself in the country's culture to the fullest. Begin in Casablanca and make your way to Essaouira, a beautiful walled coastal town with a rich history. Discover the cities of Casablanca, Rabat, and Chefchaouen in a more leisurely manner. Spend more time in the desert with this plan, as you explore the bustling market town of Erfoud on your route to your first overnight in Merzouga, and learn more about the local culture.
Take part in various desert activities such as dancing in Khamleya, sandboarding down the dunes, or just relaxing by the pool. In and around Todra Gorge, there are several possibilities to participate in outdoor adventure activities of all kinds. Rock climbing enthusiasts will enjoy the gorge even more than the average visitor. With two weeks, you may spend the night in the kasbah of Ait Benhaddou, which is world-famous (which might look familiar to you Game of Thrones fans).
Traveling from there, you may continue on to Marrakech by a short detour via the High Atlas Mountains, which will steal your breath away with their breathtaking scenery. You may even stay in a Berber family for a few days to obtain a deeper understanding of Moroccan culture. Travel to Essaouira to enjoy some time at the beach after that. Taking the picturesque coastline road back to Casablanca will provide you with a pleasant return trip.
Customized itineraries:
Book or customize your trip with us!