Marrakech is a vibrant and historical city in Morocco that has much to offer its visitors. It is known for its culture, nightlife, souks, monuments, and museums. With so much to see and do, it can be difficult to narrow down what should be included in your itinerary. Fortunately, there are some excellent day trips from Marrakech that can help you make the most of your time in this bustling city. This article explores the top three day trips from Marrakech that provide an unforgettable experience and allows travelers to get away from the hustle and bustle of the city center.
One of the best day trips you can do from Marrakech is to Essaouira. This charming coastal town is popular for its stunning beaches as well as its traditional fishing port which provides an insight into local life. Here, visitors can explore the unique architecture or head out onto one of the many nearby islands where they will find plenty of opportunities for swimming and snorkeling activities. Alternatively, a day trip to Ouzoud Waterfalls is also a popular choice for those looking for adventure outside of Marrakech. Located around 160 kilometers northeast of the city center, these impressive cascades offer breathtaking views as well as ample opportunities for hiking or swimming beneath them.
Finally, another great way to escape the hustle and bustle is with a day trip to the Three Valleys – an area located just outside of Marrakech filled with lush vegetation and picturesque villages surrounded by mountainscapes dotted with olive groves and fragrant orange blossoms. From here visitors can take part in various outdoor activities such as horse riding or trekking while admiring some of Morocco's most spectacular scenery along their way.
Why start your day trip from Marrakech
Starting a day trip from Marrakech offers travelers the opportunity to explore the vibrant culture and stunning landscapes of Morocco. From the hustle and bustle of its street markets to its ancient medina walls, Marrakech is an ideal place for those seeking out unique experiences. The city also serves as an excellent springboard for exploring some of Morocco's other attractions such as nearby Atlas mountain villages, coastal cities, and Saharan oases. Whether it be taking part in a traditional cooking class or joining a camel safari through the dunes, there are plenty of exciting activities to choose from when spending time in this vibrant North African country. With its unique blend of cultures and mesmerizing landscapes, day trips from Marrakech offer something special that will stay with travelers long after they have returned home.
1. Day trip to Essaouira from Marrakech
Essaouira is a popular day trip destination from Marrakech. It is worth visiting for its unique atmosphere and attractions, such as the old Medina, the harbor, and the beach. Visitors can explore the city's history by visiting monuments like Skala de la Ville or taking part in activities like windsurfing or kitesurfing on the beach.
Book the best day trip to Essaouira:
Is Essaouira worth visiting?
Essaouira is a great place to visit if you want to get away from the busyness of the city. It has beautiful scenery and lots of things to do. There is something for everyone to do and see in this one-of-a-kind coastal town. There are art galleries, busy markets, bars, and craft shops. People can eat traditional Moroccan food or just relax on the beach and look at the beautiful views. Essaouira also gives you a lot of chances to learn about its history and culture through organized trips. It's easy to see why Essaouira is such a popular day-trip destination from Marrakech. It has beautiful beaches, a calm atmosphere, a lively culture, and a wide range of things to do.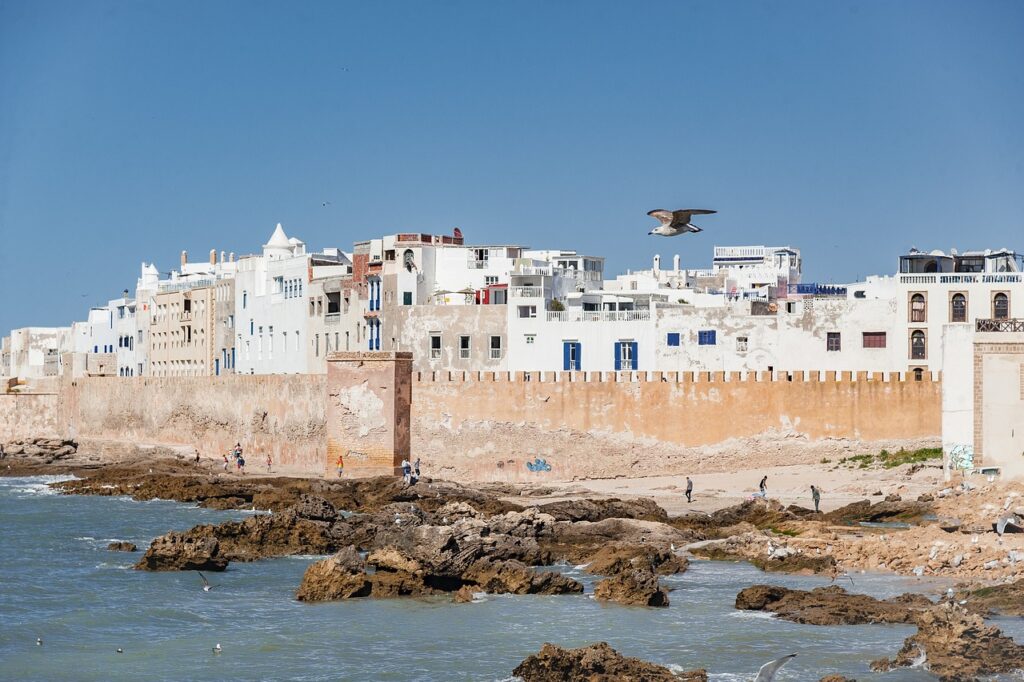 How far is Essaouira from Marrakech?
Located approximately 170 kilometers west of Marrakech, Essaouira offers a delightful journey for those seeking a respite from the hustle and bustle of city life. Situated on Morocco's Atlantic coast, the port town is known for its unique blend of culture and natural beauty. The fortified medina (old city) offers an array of activities for visitors to explore, including traditional handicrafts such as pottery and woodcarving, as well as more modern attractions such as windsurfing and kitesurfing. With its stunning beaches and captivating atmosphere, Essaouira makes for a perfect day trip from Marrakech. The drive itself is relatively easy, taking around three hours depending on traffic conditions. This makes it easily accessible to travelers wanting to explore this stunning destination without having to stay overnight in the area.
Things to do and see in Essaouira?
With its captivating atmosphere and stunning beaches, Essaouira is an ideal destination for those seeking a tranquil escape. Visitors to the city are offered a plethora of activities to choose from, from sunbathing on the beach to exploring the winding alleyways of its medina. Taking part in watersports such as kitesurfing or windsurfing is also possible due to the consistent winds that blow through Essaouira.
The medina should not be missed while visiting this city; its bustling markets selling authentic crafts will transport you back in time. The port walls are steeped in history, providing great photo opportunities and views of the sea below. Furthermore, visitors should take a trip to Skala du Port, an old Portuguese fort that offers spectacular views across the Atlantic Ocean.
2. Day trip to Ouzoud waterfalls from Marrakech
Ouzoud Waterfalls is a popular day trip destination from Marrakech. It is located northeast of Marrakech and can be reached by car in about 3 hours. Ouzoud Waterfalls consists of three tiers, with numerous things to do and see such as swimming at the top tier of the waterfall, taking a boat ride along the river, or visiting one of the many nearby villages. Overall, it makes an excellent day trip that should not be missed.
Are Ouzoud waterfalls worth visiting?
The Ouzoud waterfalls are a picturesque site to behold; like a shimmering ribbon cascading down the rocky cliffs. With its lush vegetation and abundant wildlife, it is no surprise why this natural wonder has become one of Morocco's most popular tourist destinations. The falls offer stunning views and opportunities for swimming, canoeing, rafting, and more. Moreover, visitors can take part in guided tours that will provide an even deeper appreciation for the beauty of the area.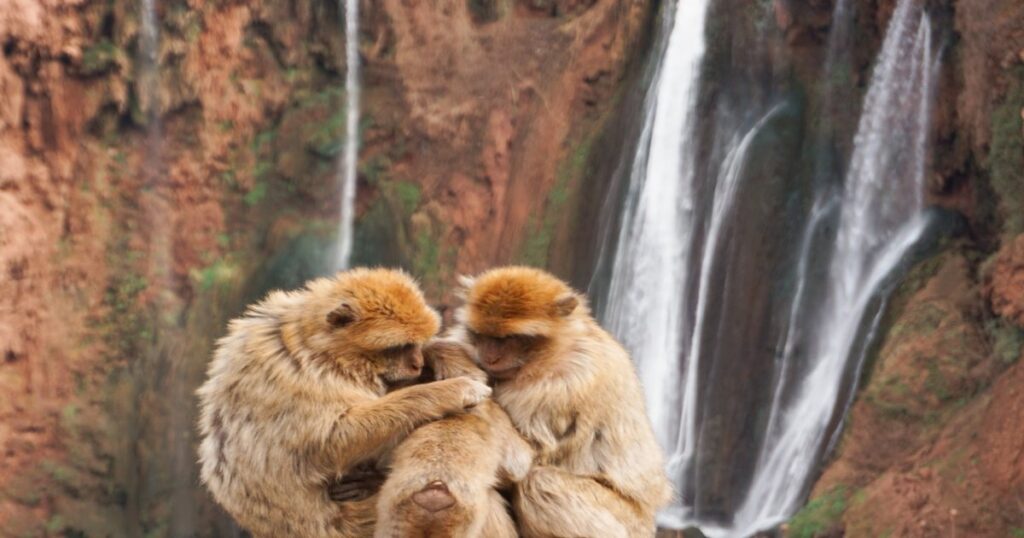 Overall, visiting Ouzoud waterfalls is worth it for those looking to escape into nature while still being close to civilization. It provides a much-needed breath of fresh air from bustling Marrakech with its calming atmosphere and captivating sights. Whether you are looking for relaxation or adventure, there is something to be found here that will make your trip memorable and enjoyable.
How far are Ouzoud waterfalls from Marrakech?
Located approximately 160 km from Marrakech, the Ouzoud waterfalls provide a spectacular natural destination for visitors. A visit to this picturesque spot offers an array of activities and experiences that will leave you amazed.
The journey to Ouzoud is just as memorable; pass through stunning mountainous landscapes with panoramic views across olive groves before arriving at your destination. Experience a unique mix of culture, adventure, and relaxation all within easy reach from Marrakech!
Things to do and see in Ouzoud waterfalls
Situated amidst a captivating mountain landscape, the Ouzoud waterfalls offer an array of activities and sights that will leave visitors in awe. The cascading waterfalls, spanning over 100 m in height, are one of the most popular attractions in Morocco. Visitors can take in the spectacular views from the top or even take a dip at the bottom of the falls. For those looking for an adventure, there are plenty of hikes to explore around the area with stunning scenery along the way. Here are some things to do while in Ouzoud waterfalls:
Enjoy the breathtaking view of dozens of cascading waterfalls surrounded by lush vegetation.
Explore around and discover hidden gems like caves, rock formations, and local wildlife.
Take part in activities such as rafting, swimming, or even kayaking down the river at the base of the falls.
The area also offers some great cultural attractions such as historic Berber villages nearby and open-air markets with traditional products for sale. There is also a range of restaurants offering delicious local dishes while visitors can relax by swimming or sunbathing near the river's edge. To make sure you get to experience it all, guided tours are available where experts will help you discover every aspect of this beautiful region, just Contact Us!
3. Day trip to the three valleys from Marrakech
The Three Valleys of Morocco, or Takerkoust, Asni, and Ourika, are located southeast of Marrakech. These three valleys offer travelers a variety of activities that range from lush vegetation and mountains to swimming in the oasis and admiring breathtaking views. In these valleys, visitors can experience Berber culture with visits to local villages, explore stunning landscapes while visiting Kasbahs and ruins, trekking through valleys with their magnificent rock formations as well as hiking through the mountains for a truly unique experience.
What are the three valleys of Morocco?
1. Ourika Valley:
Ourika Valley is in the High Atlas Mountains, about 30 kilometers (18 miles) south of Marrakech, Morocco.
The valley is known for its lush vegetation, tiered fields, and beautiful scenery. The valley has a beautiful view of the mountains that circle it.
The Setti Fatma waterfalls are one of the best things to see in the Ourika Valley. There is a line of rapids at these waterfalls, and people can walk to the higher falls. People like to have picnics and spend time out there.
There are several traditional Berber towns in the valley, where tourists can learn about the local culture, try traditional food, and see how the Berber people live.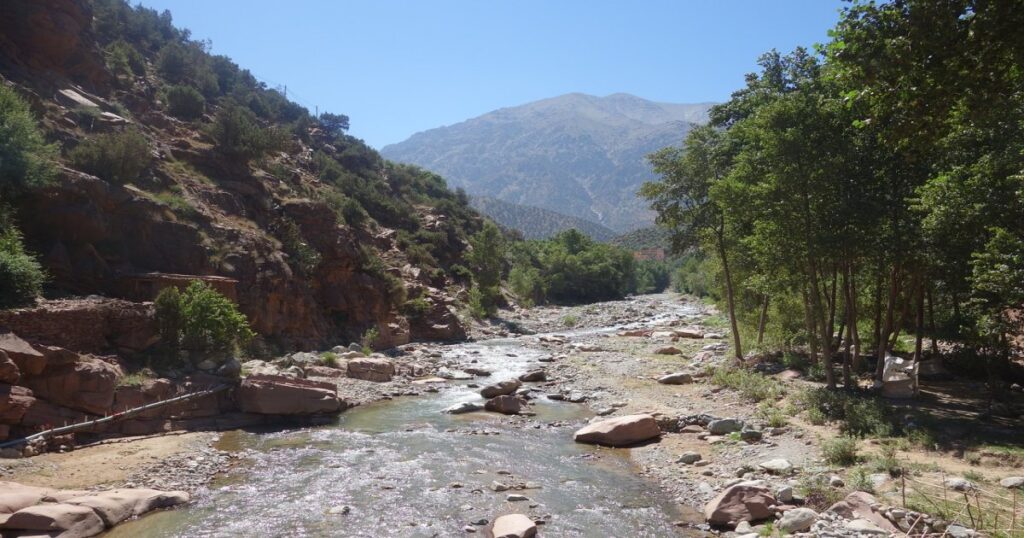 2. Asni Valley:
Asni is a small town at the base of the High Atlas Mountains, about 29 miles (47 kilometers) south of Marrakech.
Proximity to Ourika Valley:
As was already said, Asni is often thought to be a part of the Ourika Valley area because it is close and has similar geography.
Asni is known for its busy weekly market, where people from nearby towns come to buy and sell fresh food, handmade items, and even animals. The market is held every Saturday and is a great way to learn about the history of the area.
3. Takerkoust Valley (Lalla Takerkoust):
Takerkoust Valley is about 30 kilometers (18 miles) southwest of Marrakech. It is also called the Lalla Takerkoust Lake.
The Lalla Takerkoust Lake is in the middle of the valley. It was made by damming the Oued N'Fis River. The blue water in the reservoir is a beautiful contrast to the dry land around it, making it a nice place to relax.
There are many water things you can do at the pond, such as boat rides, fishing, and sailing. Many people come here to spend the day by the water or to play sports outside.
Eateries and coffee shops:
Along the edge of the lake, there are a number of restaurants and bars where you can eat local food and enjoy the view.
All three areas are popular places to go on day trips or longer trips from Marrakech because they offer unique experiences and beautiful nature scenery. Each valley has its own charms and draws, so tourists can see different parts of Morocco's varied scenery and cultures.
Other day trips from Marrakech
Travelers seeking to experience more of Morocco beyond Marrakech can find a variety of day trips available, such as a journey to Ait Benhaddou to explore sites of ancient ruins. Also, a visit to the ruined city of Aghmat is said to evoke a sense of nostalgia for its past grandeur. Another popular day trip from Marrakesh is visiting the nearby Atlas Mountains and Ouarzazate, where travelers can explore Berber villages and get a glimpse at traditional village life. The town of Imlil is one destination that is known for its scenic views and opportunities for trekking through valleys filled with olive trees. From here, visitors are also able to take part in activities such as camel riding or even skiing during winter months. There are plenty of exciting day trips available from Marrakech that will leave travelers feeling inspired by this incredible country and its many wonders.
Frequently Asked Questions
Is it possible to book a day trip in advance or should I wait until I arrive in Marrakech?
Yes, it is possible to book a day trip in advance from Marrakech. Planning ahead can help you avoid disappointment as trips often fill up quickly. With careful research and planning, you can find the perfect day trip to suit your needs – giving you more time to enjoy the beauty of this city when you arrive.
Can you do a day trip to the Atlas Mountains from Marrakech?
Yes, you can go to the Atlas Mountains for a day trip from Marrakech. The Atlas Mountains are close to Marrakech, which makes them a famous and easy-to-reach location for day trips.
How do I get from Marrakech to Ourika Valley?
Ourika Valley is located approximately 30 kilometers from Marrakech and to get there you can rent a car, take the public bus or shared Taxis, or even book a trip.
Is it safe to swim in the Ouzoud waterfalls?
People are allowed to swim in the Ouzoud Waterfalls, but they should be careful and follow safety rules. The Ouzoud Waterfalls are a popular place for travelers to visit in Morocco. Many people like to cool off in the natural pools made by the falling water.
How many steps are in Ouzoud Waterfalls?
The way to the waterfalls of Ouzoud becomes steeper and you begin to climb over 500 to 600 steps that lead down to the lower part of the waterfalls.
What is Essaouira famous for?
Essaouira is known for its rich history, well-kept defensive walls, beautiful beaches, music events, argan oil production, arts and craftsmen.
Conclusion
Marrakech is an attractive destination for day trips, offering a range of experiences and attractions. Visitors to the city can enjoy exploring Essaouira with its ancient medina and colorful markets, or take a journey to Ouzoud Waterfalls – one of Morocco's most visited sites. The Three Valleys offer a picturesque landscape of mountains, gorges, rivers, and lush vegetation. Additionally, there are numerous other interesting day trips available from Marrakech such as visiting Ait Ben Haddou and Ouarzazate.
On average, visitors spend more than three days in Marrakech. This presents ample opportunity to explore the surrounding areas without missing out on the myriad cultural attractions within the city itself. Such trips provide invaluable insight into local cultures and customs while allowing travelers to experience some of the stunning natural landscapes that Morocco has to offer.