Get off the beaten track and discover the Agafay desert, a stunning desert of stones. Discover the enchantment of an incredible landscape made up of majestic whitish dunes thirty kilometers outside of Marrakech, Morocco.
When one thinks of Morocco's desert, one immediately thinks of the Sahara, with its sand dunes and palm trees. Lately, I discovered that the desert could be quite different.
Arid hills sculpted with erosion, stretching as far as the eye can see. A small green oasis that feels like heaven. Imposing snow-capped mountains overlooking the desert setting.

Gites have recently exploited this previously unknown sanctuary of stability. They welcome wilderness lovers to experience nomadic life for a few days, or even a few hours, with their facilities and services. They provide a minimum of comfort at the same time. Berber tents and bivouacs set up on the hills with lanterns and candles for lighting, open-air restaurants in the midst of olive and eucalyptus trees, and unobstructed views of the vast expanse of hills and snow-capped mountains are on the menu. Also, the best spot for watching stunning sunrises and sunsets, as well as sleeping under a starry sky. The vast desert of Agafay provides numerous walking opportunities. In addition to an outstanding accommodation in the heart of an enchanted oasis with a touch of nomadism. An adventure that will live long in your mind.
Top Marrakech tours & Agafay
The idyllic setting to recharge your batteries:
To get to this little gem, take a path that passes through the region's small villages. This one takes you to a gravel road that wound its way through the rugged terrain. An impressive panorama of hills will be waiting for you. You will certainly feel really good in front of this natural immensity.
The telecommunications network in Agafay's desert is not very strong (except for Maroc Telecom which has an antenna in the middle of the desert). The best treatment for social network disconnection.

I recommend that you spend 24 hours in a cottage called "La Pause," which lives up to its name.
A simple sign displaying "Welcome", planted next to a small Berber tent at the edge of the track, indicates the way to this lodge. However, the location's name isn't mentioned, as if to imply that we're on our way to a temporary nomad village. As a result, it's critical to pay attention to this sign as well as the lodge's team's instructions to avoid getting lost on the seemingly endless trail.
A vast desert area that is worth a visit: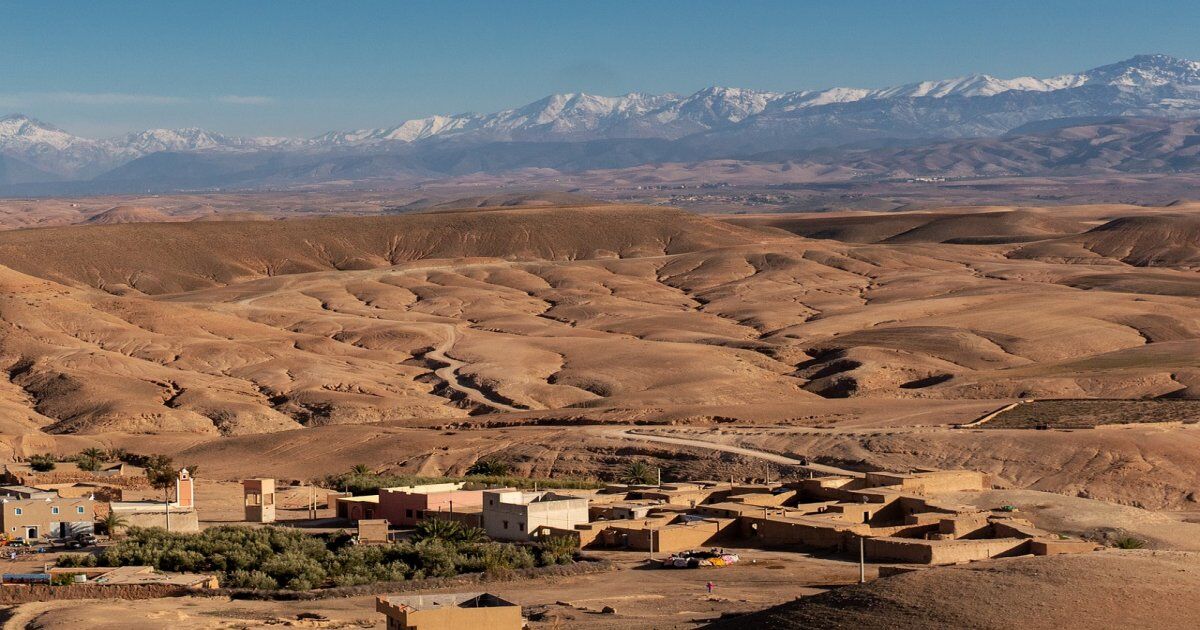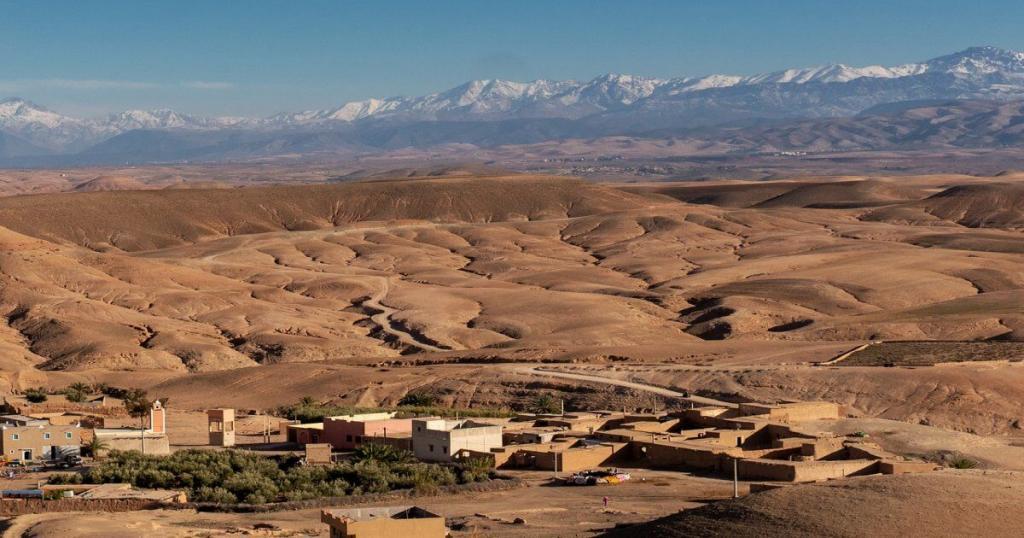 Also called the "Marrakchi desert", the Agafay desert, with its vast expanse of stone, is worth an escapade of half a day to several days. In terms of colors, Agafay displays white and ocher tones, attributable to the rocks that constitute an arid landscape and lunar aspect of a succession of whitish undulations.

The topography of Agafay is comparable to that of a traditional desert, such as the Sahara. However, Agafay is not a real desert in the sense of the term, but rather a desert expanse of several hundred hectares.
This amazing site is located on the plateaus of the High Atlas. A fascinating and perfectly preserved natural environment, the Agafay desert remains untouched by mass tourism.
Its proximity to Marrakech makes it a privileged place for an exceptional excursion. Also, this immensity of silence constitutes a relaxing haven of peace. This isolated place allows you to get away from it all, provides well-being and is conducive to meditation.
When idleness takes on its full meaning:
When you arrive at lunchtime, you will enjoy a delicious and hearty Moroccan meal while basking in the sun among the olive trees. Following that, you will ride a camel through the Agafay Valley, which will take you from the desert to the snow-capped Atlas Mountains. The Agafay guides are a good company, jovial and complicit.
You'll spend extra time feasting your skin, taste buds, and palates, and savoring each and every moment. You will be amazed when relaxing, strolling, tasting, watching, meditating, talking, reading, and engaging with nature.

During the day, you'll be able to watch the changing colors of nature from your bivouacs or the top of a hill. Behind the snowy mountains of the High Atlas, the sunset on a desert scene reappears. Beautiful moments of nature reflection that you will surely love!
The radiance of the sky's myriad stars will soon conquer you as night falls. You'll enjoy identifying the stars as well.
Excursions and outdoor sports:
The variety of landscapes of this exceptionally beautiful desert area can be explored in many ways. This includes horseback riding, buggy riding, donkey riding, camel riding, quad biking, and mountain biking. Also, the Agafay desert can be flown over by helicopter.
It is possible to practise several outdoor sports in these magnificent panoramas. We talk about hiking, horseback riding, climbing, and even cross-country golf. Certainly, the desert is ideal for yoga and meditation.
An enchanted oasis:
In the middle of nowhere, nestled in the hollow of a desert valley, emerges an oasis of freshness. Called "the enchanted oasis", it gets its vitality from a wadi located nearby.
There is flourishing vegetation, such as eucalyptus, vines, and olive trees. The flowers of eucalyptus with their innumerable stamens fill these places of beauty with their white, yellow, pink, or red colors.
Sleep under the stars or in a guest house:
A Frenchman was fascinated by the picturesque panorama of the oasis while taking a random horseback ride. Seduced by the charm of these places, he acquired an abandoned farmhouse and transformed it in 2001 into comfortable guest rooms.
This lodging establishment, called La Pause, is a simple and exotic place. It offers the possibility to spend the night in the middle of the desert, sleeping under a Berber tent transformed into a room, called Bivouac. Also, it allows taking advantage of the suites which offer all the comfort and well-being without concession.
The place is of course well laid out, helped by the shape of the hills. On a hill, each space (restaurant, guest room, bivouacs, etc.) is isolated. You'll get the feeling that you're alone from your bivouacs (even though the gite is full).
Gastronomic pleasures: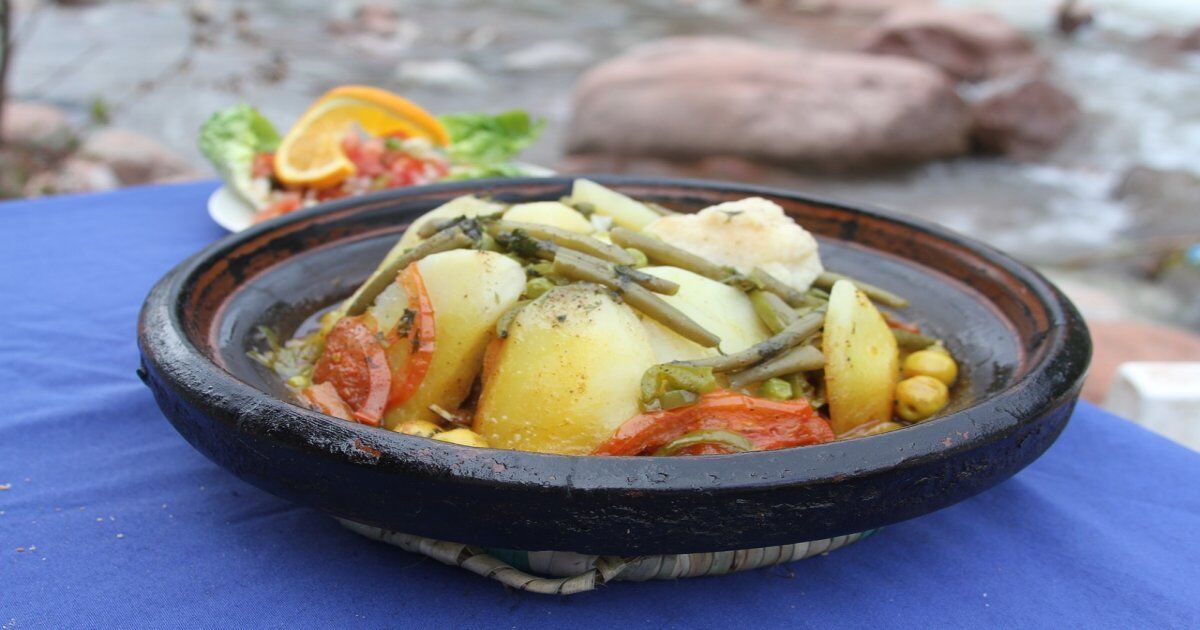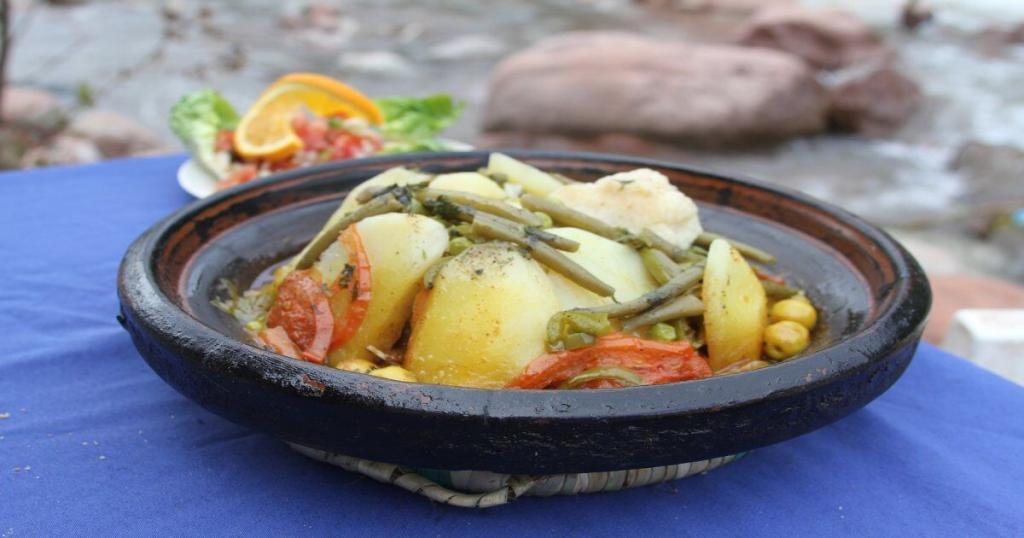 In the morning, travelers have breakfast while admiring the canyon. During the day, after having filled up with surprising visions during a camel ride, enjoy a hot tea at the inhabitant's house.
In the evening, after a refreshing swim in the pool of La Pause, the excursionists taste succulent hot appetizers called "Briouates", comfortably lying in a hammock.
Dinner is simple but tasty. Travelers are served, under a large tent lit with candles, freshly picked arugula from the garden, typical Moroccan salads, chicken tagine with pears, etc. All of this is enjoyed by the enveloping and captivating rhythms of Gnawas musicians.
The sunset, in these exotic places marked by nomadism, is a spectacular event to contemplate.
Activities not to miss: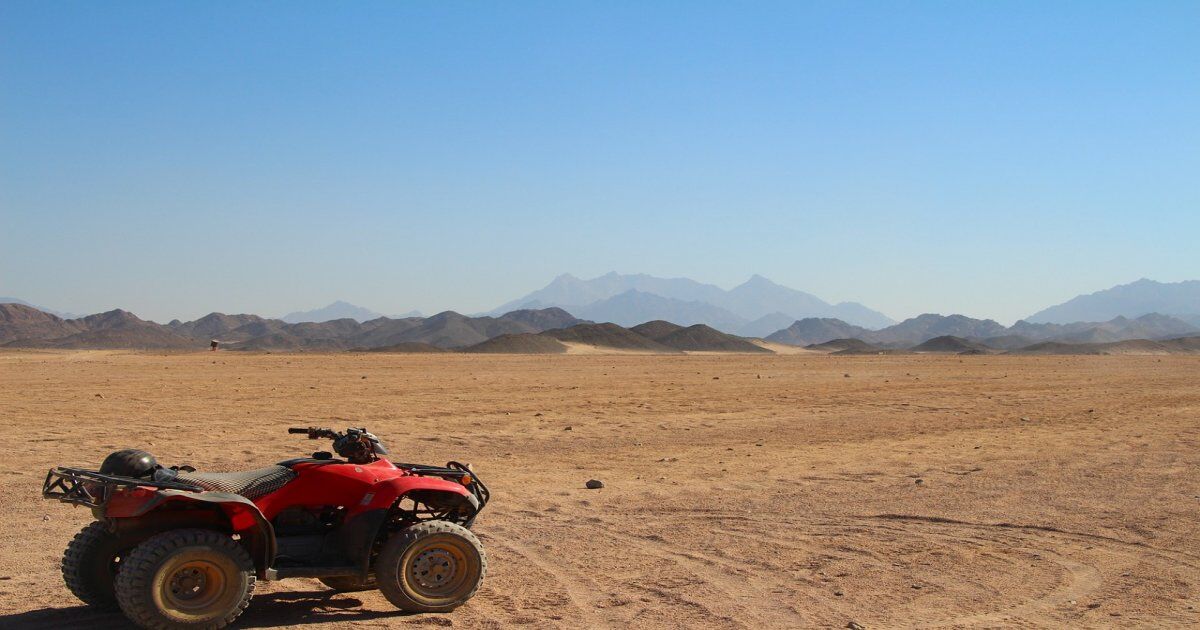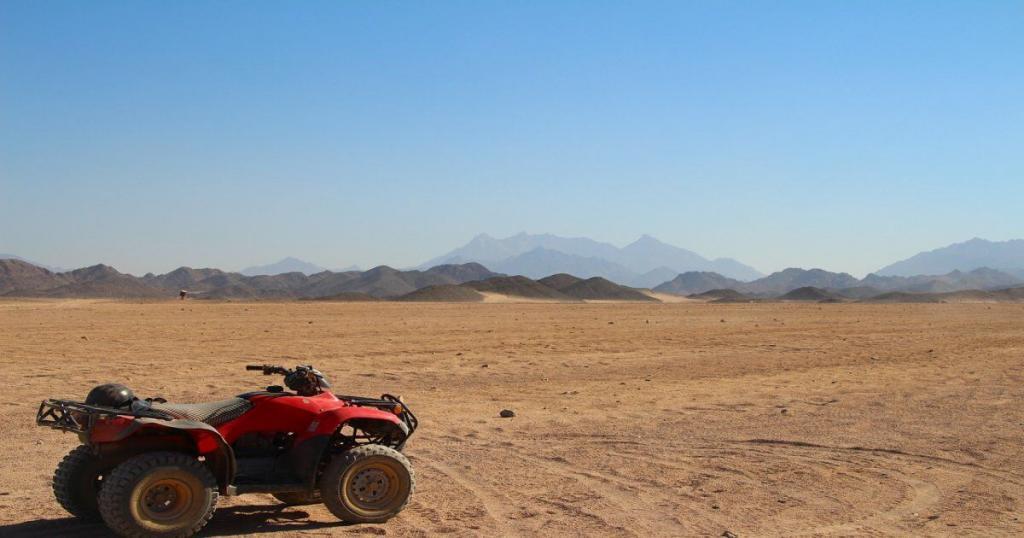 To meet the expectations of the most active among you, La Pause proposes several activities to discover the region (at rather high prices):
Quad * (2 hours guided ride in the desert of Marrakech): 120€/person.
Meharee * (one hour guided camel ride around La Pause): 50€/person.
Horseback riding * (2 hours guided ride in the desert of Marrakech. Confirmed rider only, bomb and sheets provided): 50€/person.
Cross Golf * (9 holes course drawn in the dry river bed, equipment, and balls.
Provided (Reservation 48h in advance): 35€/person.
Mountain biking (4 bikes available for a 2 hour guided ride): 35€/person.
Hammam (traditional bath to be ordered 24 hours in advance): 10€/person.
(*) activities preceded by an asterisk must be booked in advance.
A journey in the Agafay desert:
Organizing a day in the Agafay desert will provide you with a memorable experience full of intense emotions and sensations. In fact, the landscapes, which alternate between desert and mountains, are stunning.
How to book a day in Agafay?
Many providers are offering a day in the Agafay Desert. You can either look for one that suits you best or go straight to your hotel and have the day reserved for you. You can order a day in the Agafay desert by contacting the Touring In Morocco travel agency. It will take care of booking your day with the best service providers in the region.
Departure:
The departure time is usually around 9 AM. The guide will pick you up and explain the route of the day, prepare you and initiate you. Don't worry about the language barrier; your guide will be surely able to Speak English. You can also adjust your day to what you want to do or see in particular. The discovery of the Berber villages, for example, is a step that must not be missed. If you make an appointment with your guide in Marrakech, count between 45min and 1h to join the starting point of your excursion in the desert.
Buggy or quad ride in the morning:
Begin your day in the Agafay desert, which looks like something out of a movie. A vast swath of sand dunes and rugged hills provides limitless tracks for your buggy or quad to explore. Demand that your guide take you to one of the few remaining Berber villages in the region. A period of cultural exploration is on the horizon. Lalla Takerkoust can also be reached by buggy or quad. A city on the edge of the water, sandwiched between desert and mountain. It's like coming across an unexpected oasis. In addition to experiencing strong sensations on board your buggy or quad, the landscape will actually leave you speechless.
Lunchtime:
Regarding your lunch, put your trust in the organizers. In a Berber village or in the desert, you will eat a delicious meat and vegetable tagine. You should also be aware that in the Agafay desert, there is a unique location known as the enchanted oasis. This tiny paradise, where fauna and flora recover their desert rights, will provide you with a relaxing break and an excellent mint tea. Prepare yourself for one of the most unforgettable lunches you'll ever get.
Camel riding in the afternoon:
The best way to spend a full day in the Agafay desert is to take a variety of modes of transportation. It will take you between 2 and 3 hours to ride a quad or buggy in the morning.  After having your lunch, take a camel ride for a more enjoyable afternoon. The breathtaking beauty of the desert landscape will astound you. Take a moment to admire the Atlas Mountains, which are still covered in snow. The contrast between the heat of the stone desert and the ice is breathtaking. You will be absolutely shocked, and you will return home with vivid pictures in your mind.
Sleeping near the Agafay desert:
Renting a house in Agafay's desert is the perfect way to finish the day in style. Although there are few options for lodging in the city, you can still rent a home near Marrakech and the desert. Renting a house near the desert will allow you to retain the unforgettable experience you just had. The rental house also allows you to enjoy a breathtaking view of Agafay while having tea or sipping a cocktail.
Things to know and prepare:
There are a few things to remember before visiting the Agafay desert:
Bring a small backpack with you to protect yourself from falling on the dusty ground.
Choose closed shoes that are comfortable for you. Also, don't be fooled: the desert isn't always sunny, and if you -visit Agafay in the winter, it's best to bring warm clothing.
Cover your skin from the sun by bringing a sunblock with you.
If you have sensitive eyes, don't forget to bring your sunglasses.