Touring In Morocco offers you the opportunity to rent a quad in Merzouga. It provides quad rides in the Erg Chebbi desert to put you even closer to the desert and give you complete control over your trip. Feel the rush of excitement while exploring the dunes and desert tracks in a safe manner. Explore the Moroccan desert on a quad with an accompanying guide who will take you to some of the most beautiful locations. Discover an off-the-beaten-path atmosphere by riding through the dunes and tracks. In Merzouga, renting a quad is straightforward and convenient. We recommend a day of ATV quad biking in Merzouga for a memorable adventure in the Moroccan desert. Feel free to contact us for more information or requirements you may have.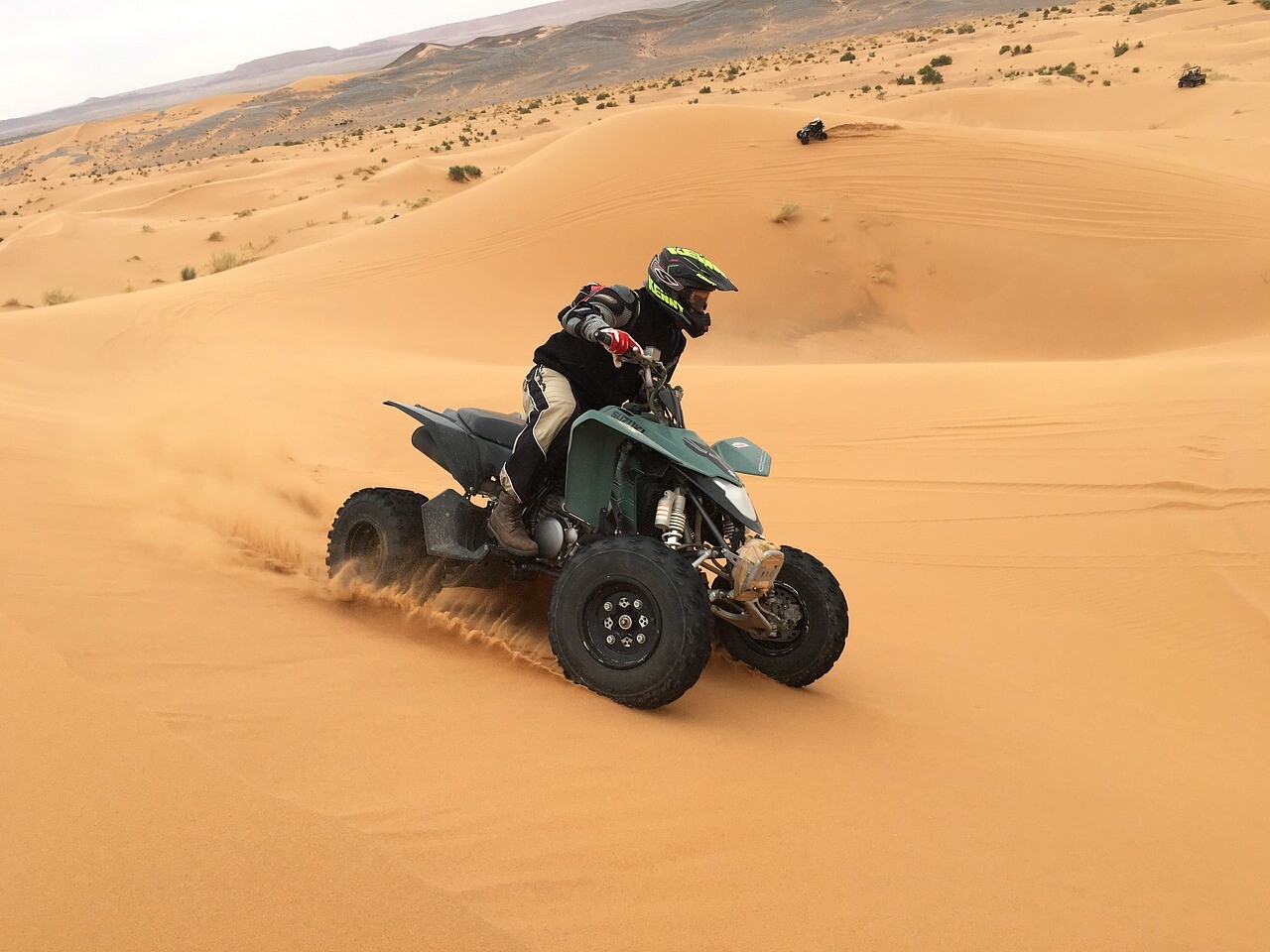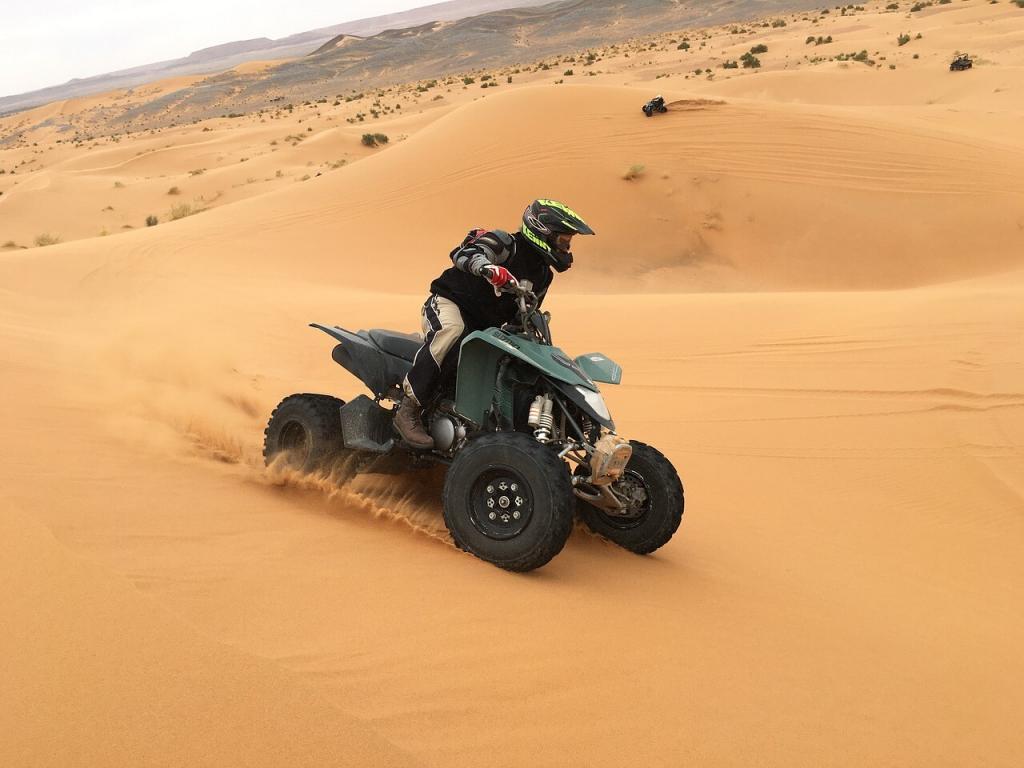 ATV quad biking rental details:
Duration of the excursion: Optional.
Departure time: Available the whole day.
Departure location: Merzouga.
Ending location: Merzouga.
A parent or guardian must accompany the children.
Riding a quad does not require advanced experience.
ATV Quad biking in Merzouga highlights:
Experience the thrill and the excitement of ATV quad biking in Merzouga.
Dune Bashing and exploring the stunning Erg-Chebbi sand dunes.
Quad bike journey in the desert off-road.
Enjoy the stunning Merzouga desert scenery.
A desert oasis and Khamlia settlement visit.
Go to the top of the highest sand dune for a spectacular sunset or sunrise vista.
Things to Know before Booking your ATV quad biking in Merzouga:
Keep in mind that riding the dunes in the middle of the day (11 AM to 5 PM) is difficult in the summer.
You don't need any prior expertise or a driver's license to join our Quad bike adventure.
This ATV excursion can be designed for your specific wants and inquiries.
Two individuals can ride a quad vehicle at the same time.
The program of ATV quad biking in Merzouga:
Our quad bike trip is a customized experience that allows you to bike for an hour, several hours or a full day in the desert. Prepare yourself for a thrilling journey through Erg- Chebbi's vast sand dunes.
– One hour program:
Explore Merzouga desert in 1 hour ATV quad biking adventure through Erg Chebbi sand dunes. The trip is available every day throughout the year. A one-hour quad bike trip can take you to see the sunrise or sunset in the dunes or go for a short hour-long adventure in the dunes.
– Two hours program:
2 hours of adventure quad driving in Merzouga to enjoy the dunes of the Sahara with your friends. We introduce you to the vehicle and it is easy to go! The 2-hour quad bike tour in Merzouga takes you deep into the Sahara desert, including stops at amazing spots and a panoramic view of the desert.
– Three hours program:
The 3-hour ATV quad biking ride through Merzouga town and the Erg Chebbi dunes will take you to the big dunes and the khamlia village to get to know interesting information about them.
– A full-day program:
ATV Quad biking across Merzouga sand dunes and its surroundings will take you to Khamlia, the ancient mining village, the Znigui desert,  and to a Berber family for lunch. Depending on your request, we can also visit Taous, the last village in the desert before the Algerian border, also Rissani or Erfoud.
ATV quad biking in Merzouga prices:
| | | | | | |
| --- | --- | --- | --- | --- | --- |
| Hours | 1 hour | 2 hours | 3 hours | Half a day | Full day |
| Prices | € 40 | € 80 | € 120 | € 150 | € 170 |
Includes:
A helmet.
Goggles.
Gloves.
Tour guide.
Quad per person.
Excludes:
FAQ about ATV quad biking in Merzouga:
Do I need previous experience to ride a quad?
Even though the guide adapts to the group, no prior quad bike experience is required. This signifies that if you're all beginners, we'll drive at a slower pace so that everyone can relax and drive securely.
What's the starting point of the quad biking tour?
Our ATV quad biking tours start from Merzouga village, a small town of about 10 000 people. The Erg Chebbi sand dunes surround this village from the Eastside. The best way to discover these dunes is by hiring a local guide who will be able to explain all the questions and requirements you may have.
Do I need a driver's license to join an ATV quad biking in Merzouga?
No, our ATV quad biking does not require a driver's license. 
How to book a quad bike tour in the Merzouga desert?
To book your ATV quad biking tour in Merzouga, you only have to contact us via Email or WhatsApp, or even via our social media accounts, our staff will make sure to supply your needs.
Other activities to do in the Sahara desert of Merzouga:
Camel rides in Erg Chebbi:
If you're seeking the coolest camel rides in Morocco, you've come to the right place! In the Moroccan desert, we offer camel trekking and camping. Not only that, but we also provide the best camel riding in the Merzouga desert, ending in a night spent in a Berber tent. In addition, our experts can arrange a Merzouga Erg Chebbi desert excursion with camels or a 4WD car. Aside from that, we can only provide a sunset or sunrise camel ride.
Merzouga desert tour:
As your camel ride adventure in Merzouga comes to a close, you might wonder what more Merzouga has to offer. The Souk, nomads, oasis, and lake are just some of the attractions of this lovely small town.
The day tour begins with a visit to a well-known Palace owned by an Emirati, where you will see unique vehicles from all over the world.
Following that, we'll visit the Gnaoua people, who originated in African areas to the south and west of Morocco. These people used music to convey and show the world how hard they were trying to get by in life. After that, we'll move on to the M'Ifiss to read about their story. Before we visit the nomads, we'll tour the historic mines of the French invasion. Finally, we will visit Dayet Srij Lake and an oasis where fresh dates are grown.
Sandboarding in the desert:
Sandboarding is a fun activity that visitors enjoy in Merzouga, Morocco, on the sands of Erg Chebbi. This sport draws fans from all around the world who want to travel to the desert. While most visitors come to the camp to stay the night, they do this fun activity. It's always exciting and amusing, whether you go alone or with a group of pals.
An itinerary for one day riding camels and experiencing camping at Berber tents:
Whether you arrive through our Morocco excursions from Fes, Marrakech, Tangier, or Casablanca, or via public transportation, you will always have the opportunity to ride a camel.
If you are driving your own or a rental car, you will have free parking when you arrive. We will provide you with accommodation in which you may rest and pack your belongings for the night and camel trip. If necessary, the rest will be sent to the camp (only in a luxury option). Our team will take you to the location where you will be able to ride camels with a skilled camel driver. If you want, you'll get the nicest images of yourself with the camels while enjoying the gorgeous scenery along the trip.
Also, you could choose to stop for the sunset on top of one of Erg Chebbi's high sand dunes, depending on your arrival time.
You'll proceed to the camp after viewing the stunning sunset. In the Merzouga sand dunes, you may try the popular sport of sandboarding. But first, you'll have a cup of traditional mint tea.
Our local team will perform a show under the stars while playing enjoyable Berber music. Taking the camels or the 4WD back to the hotel in the morning is an option.