All you need to know about what to buy in Morocco:
Morocco, among other things, is known for being a shopper's paradise, making anyone lose their mind while discovering its wonderful souks. However, since it is possible to find almost everything throughout the country, you must ensure that you bring with you quality souvenirs, and for that, there are cities and regions to visit if you are looking for something more specific. You haven't left yet and you are already thinking about what to buy in Morocco? Here are some of our suggestions.
The first rule is to only ask for the price of what you are really interested in because from that moment on, a real negotiation is opened. Just by asking, the merchant already understands that you want to buy and will do everything to make the deal happen, but don't imagine that all this can be bad. In fact, the negotiation is more like a theater, where each one plays a role knowing that in the end, probably, everything will be fine.
In any case, if you cannot agree on the price, just go away and look for another store, because in certain situations the sellers set a minimum value, and really do not exceed it.
What to buy in Morocco, overview:
One of the most famous items in Morocco is Pashminas, long scarves much coveted by tourists. It is difficult to know which products are of good origin, but the lightness and softness of the fabric are the main indications that that pashmina is of quality. In terms of prices, expect to spend between 65 and 100 Moroccan dirhams on a good product.
Other popular items are teapots, plates, and snack bowls, but in this case, it is important to think carefully about transportation, as these items are fragile. Argan oil, which basically consists of the sap of a typical Moroccan tree, as well as creams and beauty items, are a great buy. Products made with pure rose essence are also a success, especially moisturizing creams.
For the gourmet traveler, spend some time with the local spices, which are very aromatic and can be used in a wide variety of dishes. Just double your attention to the packaging, because the smells are strong, and can impregnate the clothes in your suitcases.
Leather bags and accessories are also a great option, but be aware of the quality, as many goods may not have been properly treated, and may have strong smells and/or a bad appearance.
Our collection of Morocco's best souvenirs:
1. Morocco Berber rugs, #1 of what to buy in Morocco:
Moroccan carpets are beautiful, with fantastic colors and patterns, with the Berber ones standing out personally. Of various sizes, styles, and prices, the options are endless and you have to buy them carefully. Being available in almost all the medinas, there is nothing like first checking out what is available. And then move on to the most valuable investment in souvenirs.
If possible, I recommend buying in the small Berber villages in the Atlas area. They are usually made by women during the winter when it is not possible to work in the fields and live from agriculture. This way you will be contributing to the livelihood of a family and adding value to this art.
When it comes time to negotiate, you should haggle. But be aware that some may take weeks to make and you should offer a fair price for it.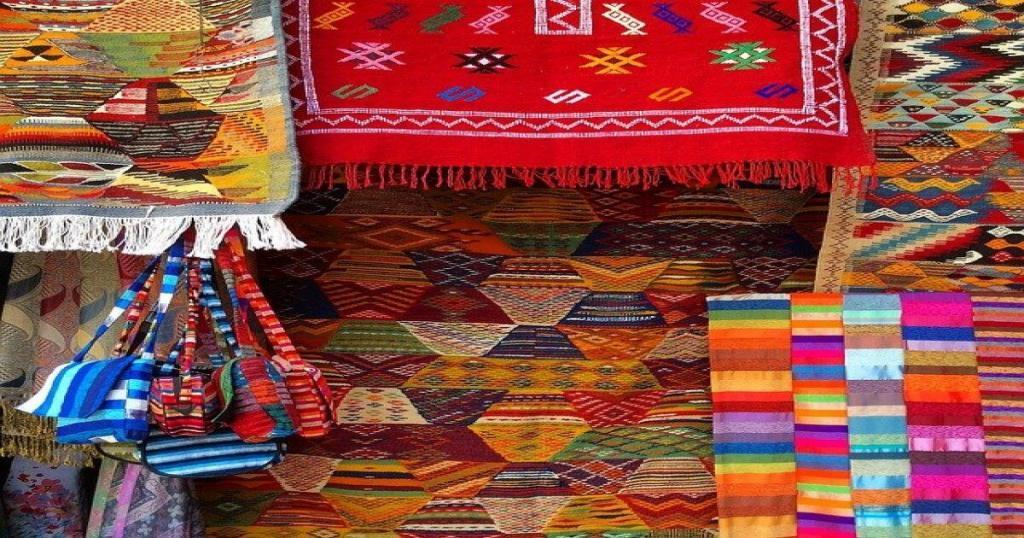 Interested to buy an original Berber carpet?
If you are willing to buy any types of rugs in Morocco, Touring In Morocco surely can help! We are a Berber local travel agency who has a well-experienced team of guides/drivers. Join our tours and visit the best small villages where to find Berber original carpets. Contact us for more!
2. Jewelry:
This is one of the pet peeves. Every visit, there comes a necklace, a pair of earrings, or even a bracelet. From Arab to Berber jewelry, the options are so many that sometimes it is hard to choose! The suggestion, once again, goes to Berber's silver jewelry. The medina of Marrakech is the best for this type of purchase, with lots of stores at our disposal. Once again, you have to put the art of haggling into practice and take into account the weight of the adornment you want to buy.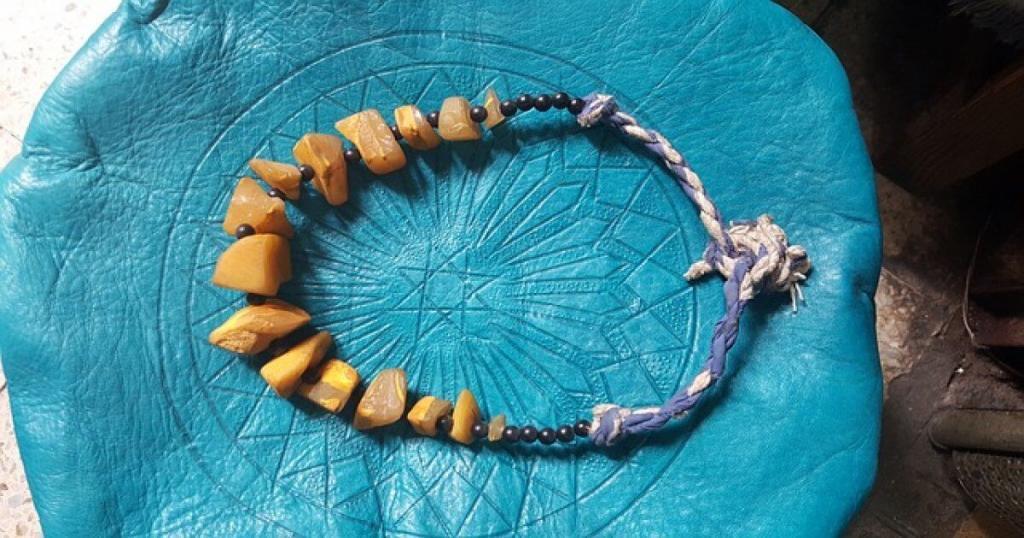 3. Lanterns:
The Moroccan lantern shops are one of the most magical that we can find in a souk. Of various sizes, colors, weights, and materials, the smaller ones are the most accessible, both in terms of price and transport. However, it is important to find out what material is being used to properly pack the luggage, the aluminum ones are more likely to bend.
Our favorites are those with colored glass panels, creating a beautiful pattern when lit. For purchase, once again, the Marrakech medina is our suggestion, and it is possible to see the making of the medina.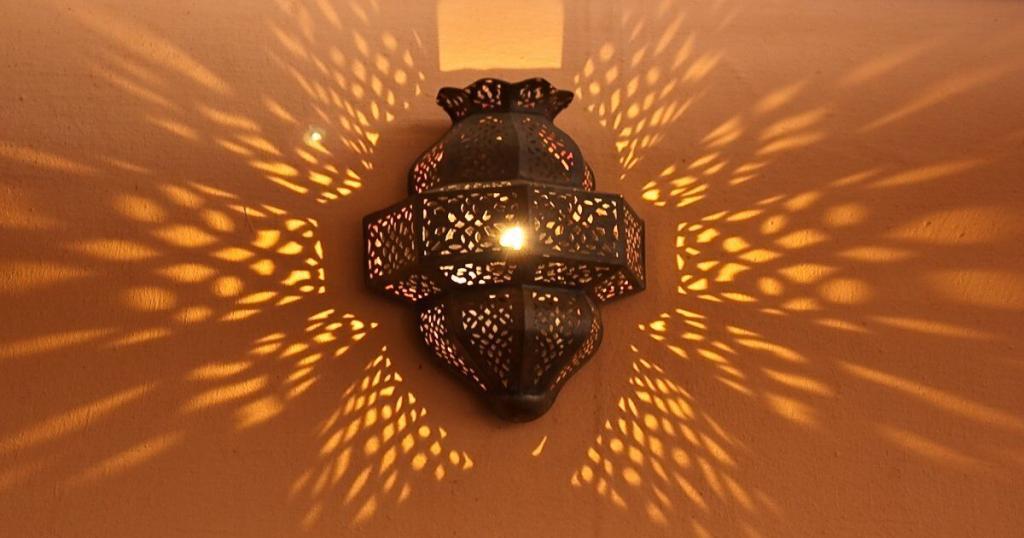 4. Argan Oil:
Argan oil is the gold of Morocco. One of the best of what to buy in Morocco. It consists of a natural product resulting from the crushing of the seeds extracted from the Argan Spinosa tree, which grows mainly in the southwest of the country.
Known for its potential in cosmetics, medicine, and cooking, the cultivation, and production of argan oil has a very old tradition in Morocco, so this is the best place to buy it. However, one must ensure that the product is of quality and is accredited by AMIGHA – Moroccan Association of Geographical Indication of Argan Oil. Essaouira emerges as a great place to buy it.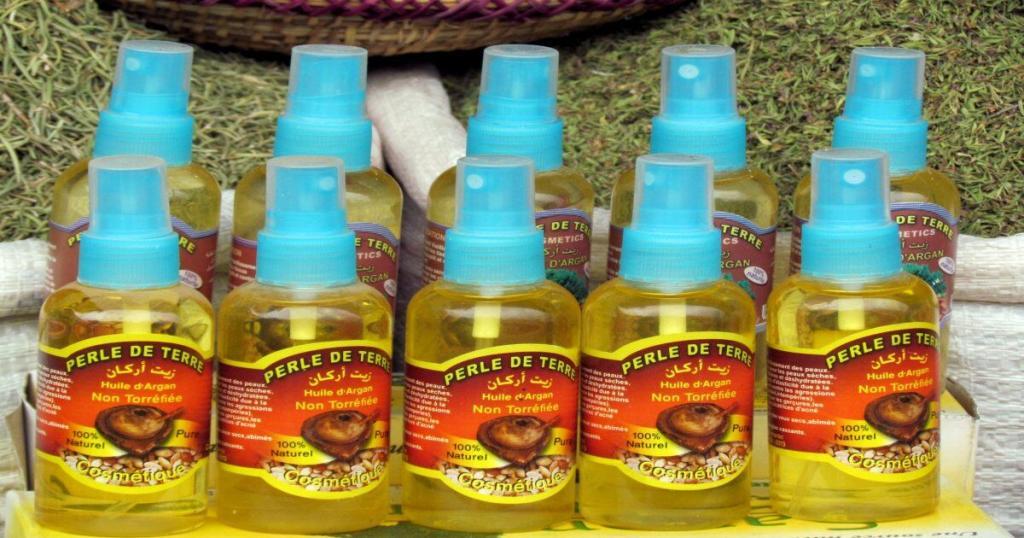 5. Spices:
Spices are not only part of Moroccan cuisine, but also part of its culture. In any medina, in beautiful colorful displays, you will find spices of great quality. And since they are easy to transport and very inexpensive, they are to be enjoyed.
Ras El Hanout, a mixture of cardamom, nutmeg, star anise, saffron, pepper, and sometimes ginger, is the basis of many of the national dishes you are sure to delight in and one of the mixtures to be purchased.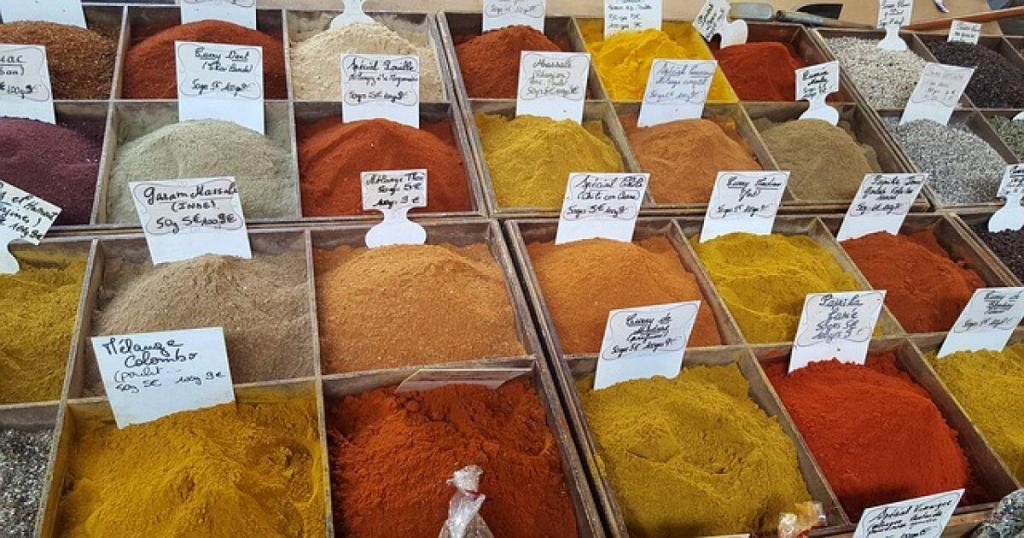 6. Leather:
Whenever we think of Moroccan leather, one name immediately comes to mind – Fés. The medina of Fés is known for its tanneries, where the techniques used today are the same as those used hundreds of years ago. This is also the ideal city for shopping for leather goods.
From wallets to slippers and jackets to poufs, the applications are countless, as well as the quality. Taking into account the types of leather used, and the prices. There is nothing like buying calmly, without giving in to pressure and getting a good bargain.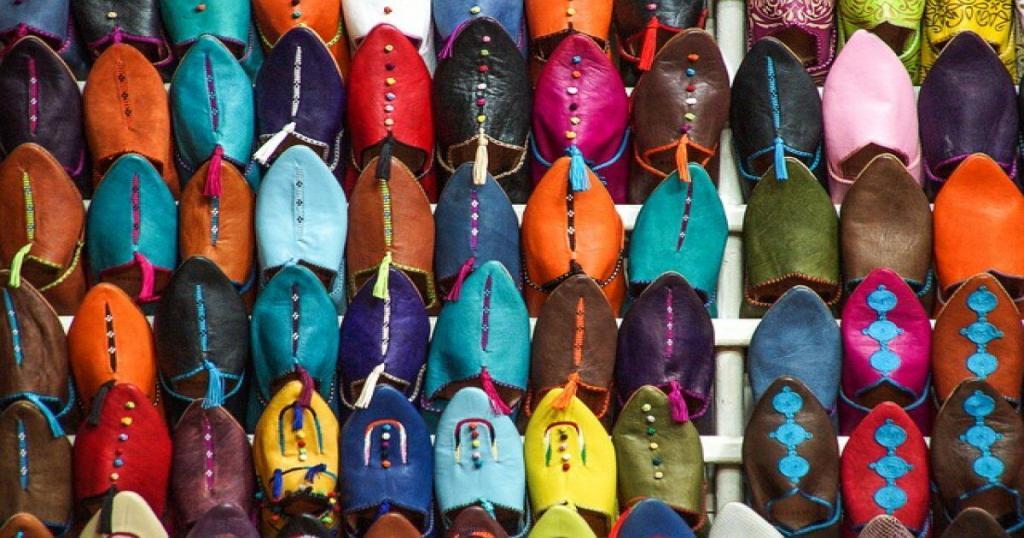 7. Ceramics:
Ceramics are one of the souks' sources of color. Dishes, bowls, cups, and decorative pieces are examples of a huge list of what we can find.
For transportation you have to pack them well, we are not going to get home and find that that piece that took us so much haggling is broken. The place to buy? The medina of Fés, since it is well known for its pottery and patterns used.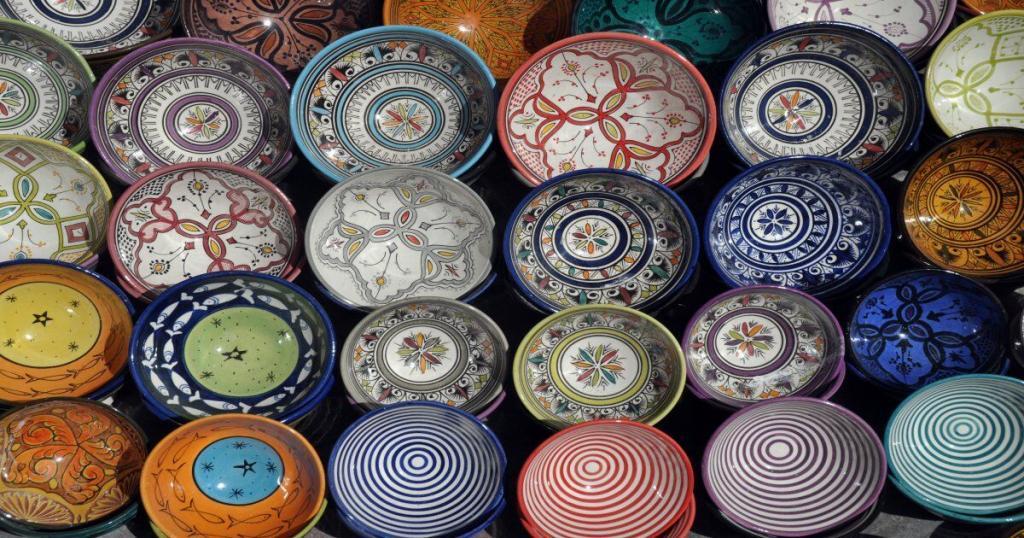 8. Metals:
Another very old tradition in Morocco is the creation of engraved metals. Much of the work is on decorative pieces, but it is also found on more practical things like teapots, trays, and jewelry. The pieces I am talking about are hand-engraved and can easily be found in the medina of Fés. The material used can be bronze, silver, or copper.
When buying, you have to make sure that the piece is actually engraved by hand and not by machine. The former will always be more valuable, and an open eye is needed so as not to buy a "pig in a poke".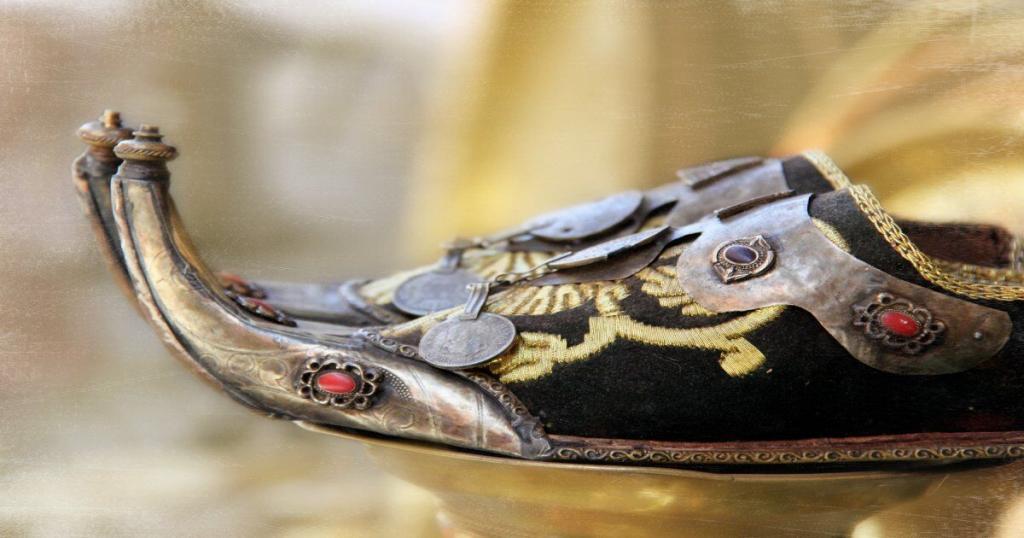 9. Djellabas:
Traditional dress-coat with pointed hood. Can be decorated with embroidery or patterned prints. This dress makes for colorful photos in Morocco's locations. And perhaps this is the safest clothing for moving around the streets at night in Morocco. More than half of the locals wear such clothes, and it is easiest to pass for one of their own.
Prices start at $15. Models richly embellished and sewn from expensive fabrics, which look like evening gowns, are much more expensive.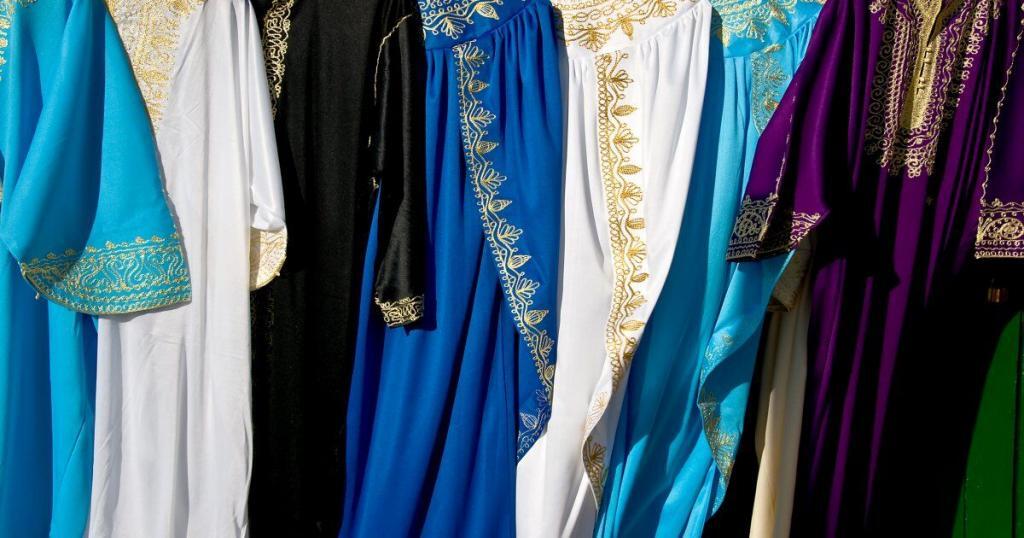 10. Oriental Cookware:
Bring home Aladdin's lamp? You can! Especially since Aladdin, according to scientists, "lived" just in North Africa, somewhere between Tunisia and Morocco. Trays, traditional teapots with long curved spouts, jugs, copper cups, lampshades – in the spirit of Arabic fairy tales. The price of a teapot for two is $10.
A practical souvenir is traditional ceramic cookware. Moroccan housewives and restaurateurs use a true ceramic tajine without coloring to cook meat with dried fruits and vegetables. It preserves the flavor and aroma of the vegetables, keeps moisture from evaporating. And allows you to cook juicy, soft meat according to a Moroccan recipe. According to the locals, the older the tagine, the better the food tastes.
Tagines are sold in markets and stores. New ones cost $5, and exclusive ones are over $1,000. If you plan to cook meat, choose simple models without painting. Painted tajin has mainly a decorative function.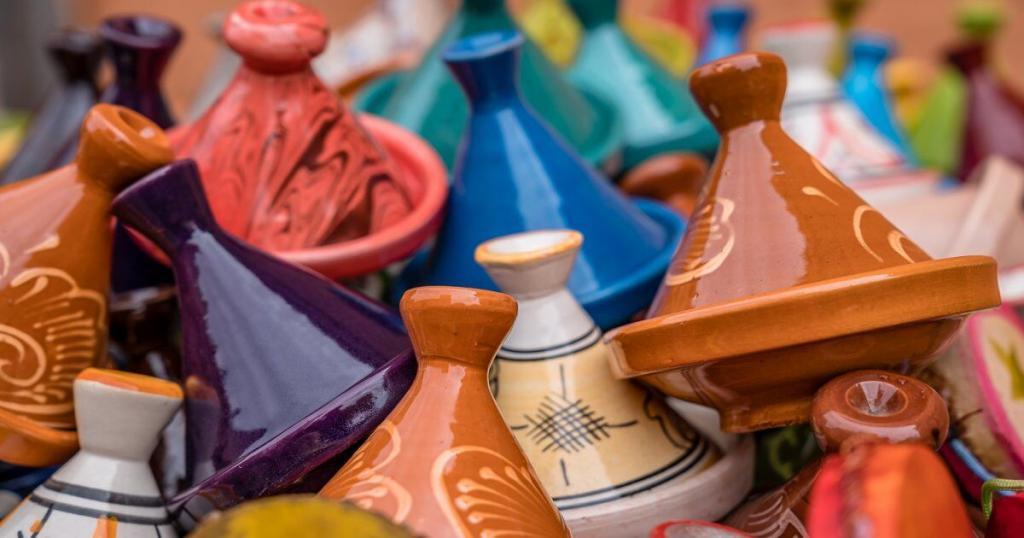 11. Wine:
Despite the anti-alcohol policy in the country, tourists can buy wine. The wine departments in large chain supermarkets are now moved outside the main sales area. A large selection of wines can be found in specialized wine stores and wine departments Carrefour.
From Morocco, it is worth carrying the "gray wine" (Gris), which is produced only here. The technology is close to Pinot Grigio, but there are differences. A bottle of good Gris wine costs 70 DH.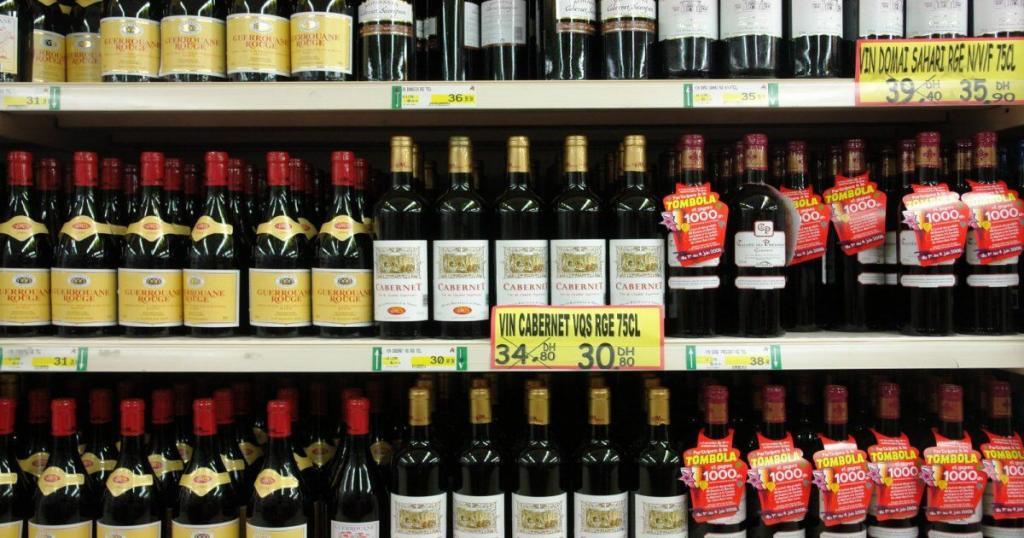 12. Cactus Fruit Seed Oil & Honey:
Cactus seed oil is a natural and gentle oil for all skin types and all ages, making it a suitable oil for home use. Due to the very low production capacity of cactus seed oil, which requires 3 million seeds to extract 1 liter of oil, it is very expensive and has not been widely available to the public.
Most of the available brands of cactus seed oil were created in Morocco and are mainly sold in Europe and the United States. Honey is a specialty of the Moroccan Atlas Mountains and comes from a variety of stamens and therefore varies in color. Morocco is rich in honey oranges, so it is recommended to buy honey from the pistil of the orange tree or the pistil of the date palm.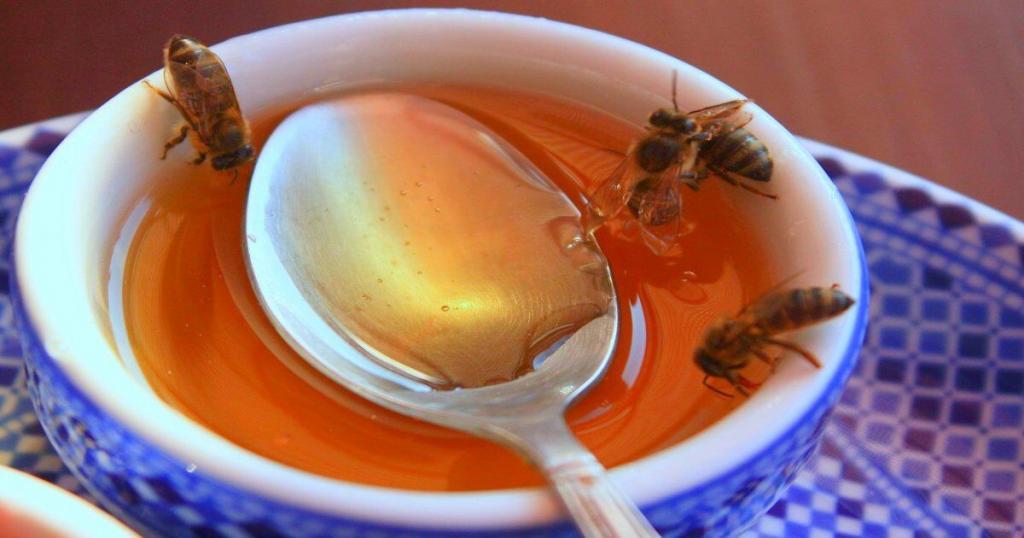 13. Rose essential oil:
Moroccan rose oil is known as the "queen of essential oils", refining 1 kg of rose oil requires 3000-5000 kg of roses. Compared with ordinary roses, the Moroccan rose has more petals, more colorful. The quality of the oil is a light yellow, aromatic, in low temperature, the surface of the oil will form a thin layer of shiny rose wax crystals, hand temperature can make it back to liquid form.
Moroccan rose oil has a firming effect on the skin, soothing inflammation, contraction of microvascular, swelling, can be dropped in cleansers, creams, eye creams, masks, body washes, or shampoos used together to help sleep, improve headaches, lift the spirit, relieve nervous tension and other negative emotions.
100% pure essential oil can not be used directly on the skin, you need to blend to about 10%-30% before use, to avoid Burning or allergies may occur.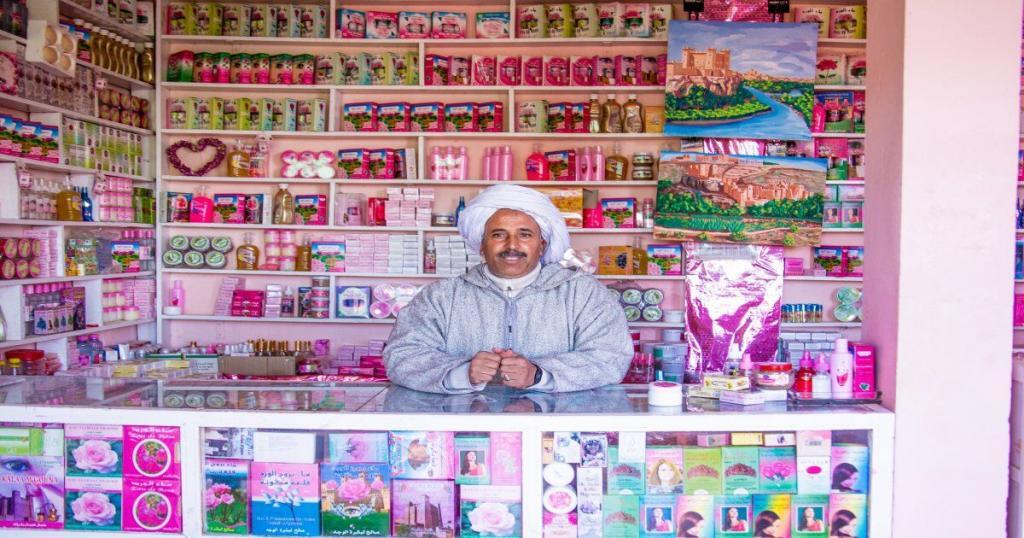 What to buy in Morocco? But, how to pay!
In most stores, you can use credit cards or cash, but in the souks, almost all payments are in cash. It is best to use Moroccan dirhams because although euros and dollars are accepted, the exchange rate is entirely up to the seller. And in that confusion of numbers and conversions, it is not unusual to get a bad deal.