There's so much to do and see in this city of Casablanca, Morocco today, separated into Old Medina and New Medina. The medina is still growing and characterized as a vibrant hub of diverse shops, complex architecture, kaleidoscopic markets and enthusiastic shopping. Here are the top 10 must visit places in Casablanca for your tour in Morocco.
The top things to do in Casablanca:
The Old Medina :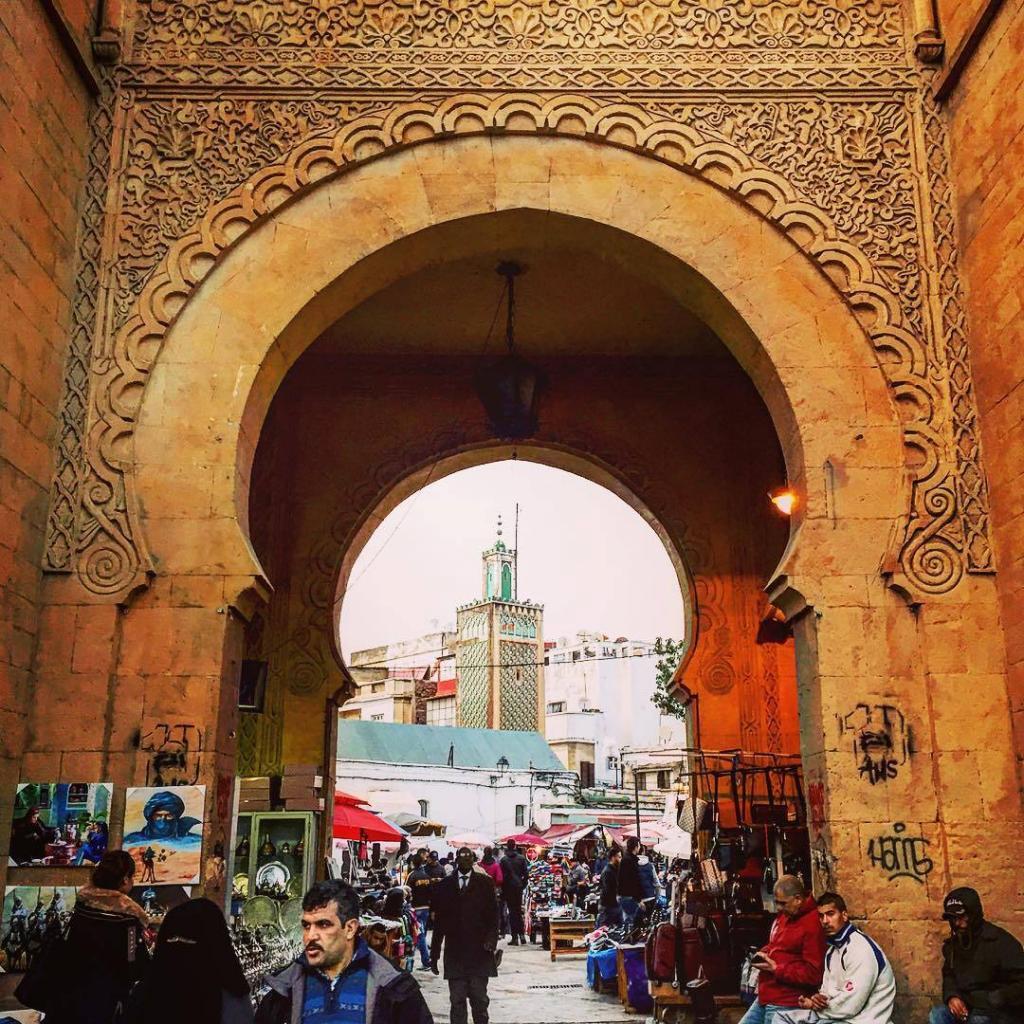 Go back in time and stroll through the streets of Old Medina, the town that dates back to before the 20th century and is practically frozen in time, a place full of history. The remains of the old city walls and fortifications can still be seen today, and the narrow streets have remained the same as they were thousands of years ago. Tours of the city are accessible, and this part of the medina is still very much alive with life, with locals bustling and busy every day. Much of this historic centre is now a bazaar area, a market offering the most eccentric and unique products.
Artisans will make things like leather goods, oils, linens, shoes and spices and will even sell ancient antiques passed down from their ancestors. The markets operate on a bargaining system and most sellers offer reasonable prices or are willing to negotiate. Also in The Old Medina there are several outdoor cafes and smaller restaurants, so enjoy a coffee or tea while watching the locals go about their daily lives.
Watch out: The bazaar is usually extremely crowded, especially on weekends.
Alpha 55 :
Especially the only department store in Casablanca, Alpha 55 is the store for anything and everything. Alpha 55 customers consider the variety store as the place where something is always happening. Whether it's your personal needs, your family's needs or even your home needs, this store aims to stock whatever you want. Seven spacious floors are aligned here with a wide range of different products, each with a variety of brands and reasonably priced for customers. With products ranging from cosmetics and luggage to toys and sports, as well as a plethora of clothing and school supplies, Alpha 55 is the one-stop-shop. On the top floor of the complex is a restaurant, which is open Monday to Sunday from 10am to 5pm and 9am to 12am.
Bear in mind: This department store was established in 1979 and is still extremely popular today.
Hassan II Mosque :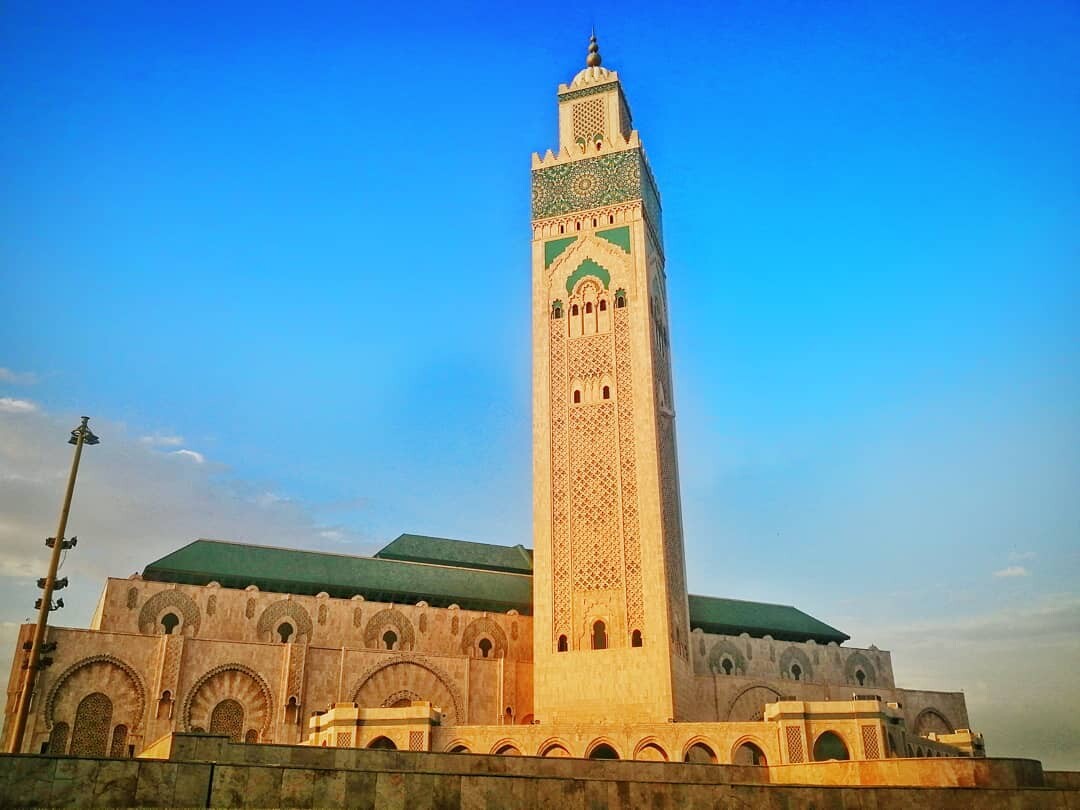 Named the Casablanca Hajj, the construction of the Hassan II mosque was completed in 1993. Furthermore, it is now the largest mosque in Morocco. It was originally designed by Michel Pinseau and King Hassan II himself. When the project began, more than 6,000 artistic geniuses were hired to fulfill Pinseau's dream. Each adding copious amounts of detail to the mosque. Although the mosque is used for prayer and is open to all Muslims during daily prayer periods and for special services, the religious center is open to non-Muslims for guided tours conducted several times a day in various languages. Moreover, One of the most incredible parts of the mosque and an area off-limits to non-Muslim visitors is the section that rises above the sea level of the Atlantic Ocean, with a glass floor. Royalty can kneel directly over the sea to pray.
Note: The beautifully decorated minaret located in the center of the mosque. It is the tallest minaret in the world.
Place Mohammed V :
The place of Muhammad V is often imitated, but never copied. Architect Henri Prost ran with his vision and created a monumental square in the heart of the medina. Influencing and inspiring future architects in many ways. This magnificent square is surrounded by a variety of public buildings including the courts, the governor's office. Also, the al-Maghrib bank, the post office and the ministry of defence building to name a few. Within the open area are brick pavements leading to an incredible fountain in the centre. The fountain is an amazing sight during the day and is lit up on certain nights for special occasions. Also, Place Mohammed V is an ideal area for a day of shopping.
Note: Locals advise that when eating in the square, always bring extra food for the hundreds of pigeons that inhabit the area!
Quartier Habous: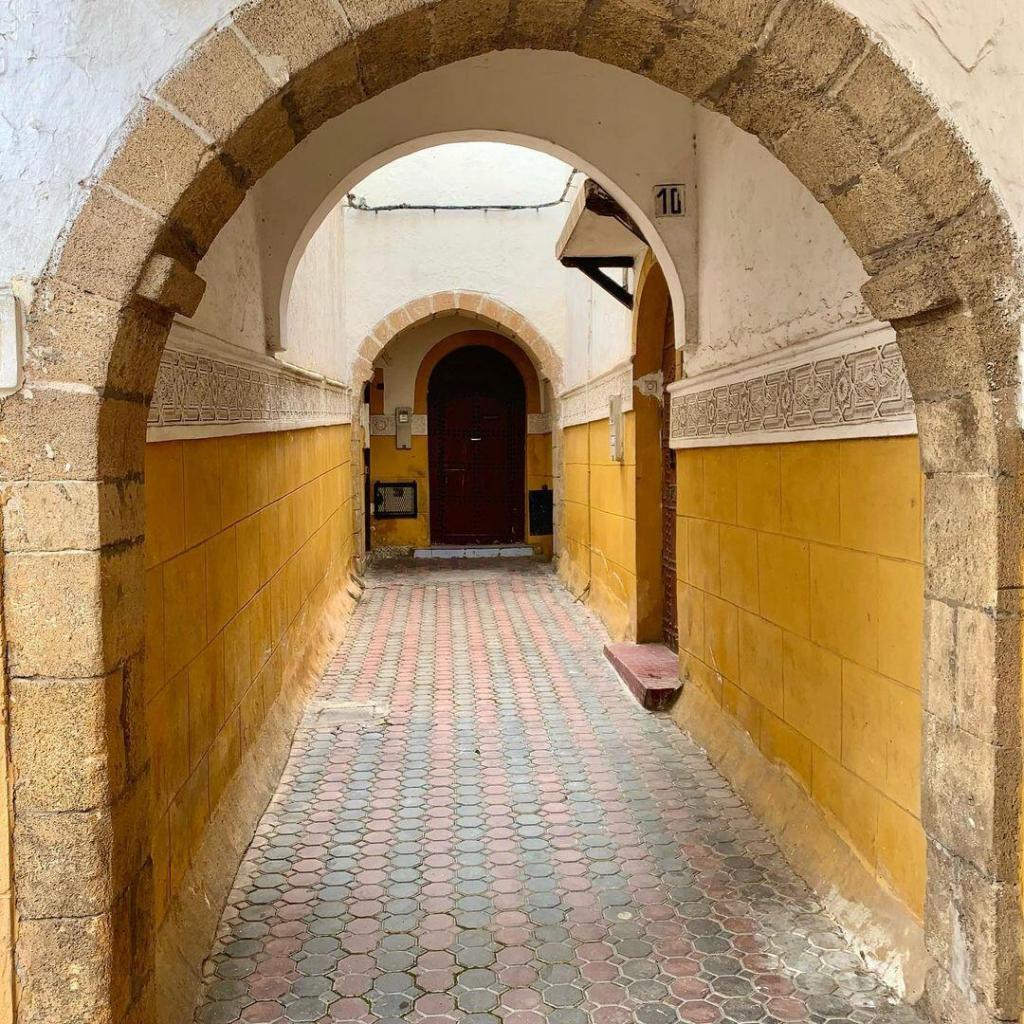 Built by the French in the 1930s, Quartier Habous is a tiny village filled with shops and restaurants. Not to mention, it even has a mosque. This area combines modern French ideals with traditional Moroccan style, resulting in beautiful architecture and design. Many locals see the Quartier Habous as a main tourist attraction. In other words, it strays from the overall authenticity of Morocco in some ways. However, no matter what your opinion it is definitely a must-see. Shop owners here are known for being friendly and reasonable and offering affordable prices. Popular Moroccan classics are sold in shops, including clothes, slippers, carpets and various handmade trinkets. Book shops and open-air restaurants can also be found here and make leisurely stops during the day. Some of the buildings serve as the medina's famous bakeries and pastry shops, a special one being Bennis Habous. This bakery serves delicious authentic Moroccan cakes.
Watch out: Many souvenirs inside the shops are imports from Saudi Arabia.
Le 25 Casablanca :
Offering an elegant and sophisticated dining experience. The Le 25 Casablanca is a high quality restaurant that guarantees that you will never be disappointed! Located near the Arab League Park and open daily from 12pm to 1am, Le 25 puts the customer first, always. Architect Christophe Pillet designed an innovative, Italian-inspired setting, complete with imported Italian marble. Further, ceiling-covering mirrors and various floor-to-ceiling pillars, as well as pure Italian furniture throughout. The atmosphere exudes a modern and elegant feel, perfect to match the refined menu of chef Thierry Vassiére. The quality of the food exceeds the affordability!
Watch out for: Lounge with evening bar on the other side of the restaurant, filled with wines, beer and cocktail mix.
Rick's Café :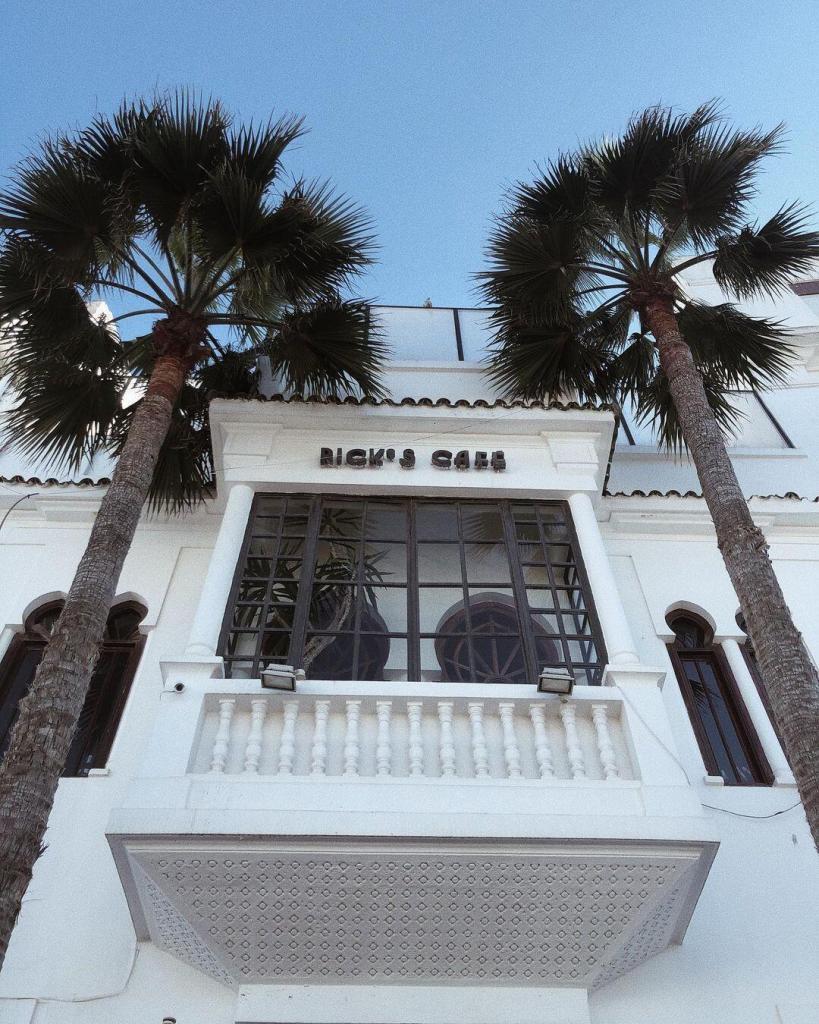 Revitalizing the entire 1942 carablanca set, Rick's Café is something that movie buffs could only imagine. As guests walk out the door they are transported back to the 1940s era. That's to say, straight into Rick Blaine's famous café, with period-appropriate decor and a pianist playing the famous music from the film. The restaurant spans several different floors, each with personalized table arrangements and designs. Televisions throughout the restaurant play the movie on loop, while prompt servers await guests with a polite and helpful smile. A variety of Moroccan food and beverages are available along with some traditional American dishes for lunch and dinner. Reservations and a refined dress code are both necessary and expected.
Note: Lunch is served daily from 12:00 noon to 3:00 pm and dinner is served from 6:30 pm to 1 am.
Bennis Habous pastry shops :
Located within the aforementioned Quartier Habous is the famous Patisserie Bennis Habous. This is a traditional sweet shop located in an old Moroccan house. Bear in mind, they are different from many other more modern buildings in the newer part of the medina. This shop is truly a hidden gem, and although it can be hard to spot. Also, it is well worth the hunt. The most popular treat in this well-established shop is the sweet and savory cookies. Then, after waiting in line, each customer has the opportunity to try a free sample. Another famous treasure is the mini lozenges filled with chopped fish, prickly pear and prawns. Finally, as a gift of gratitude, the treats are packaged in small reusable bags and tied with ribbon.
Bear in mind: Patisserie Bennis Habous has been praised by the New York Times for its sweet treats.
Loft Art Gallery :
Two contemporary art professionals, Meriem and Yasmine Berrada opened the Loft art gallery in 2009. Their aim is to raise awareness of the importance of contemporary art in Arab countries. As the history and background of Moroccan art is relatively new. The Arab World Federation's Global Thinkers and Doers and supports fund the gallery. They are the biggest names in local art as well as potential artists. With well-known artists such as Farid Belkahia, Kim Bennani and Amina Rezki featured throughout the gallery. This space excellently showcases the creativity, vibrancy and talent of many Arab artists.
Note: The gallery also continues to fund ongoing research projects to support the success of local artists. Therefore, it is one of the top things to do in Casablanca is to visit here.
Oliveri :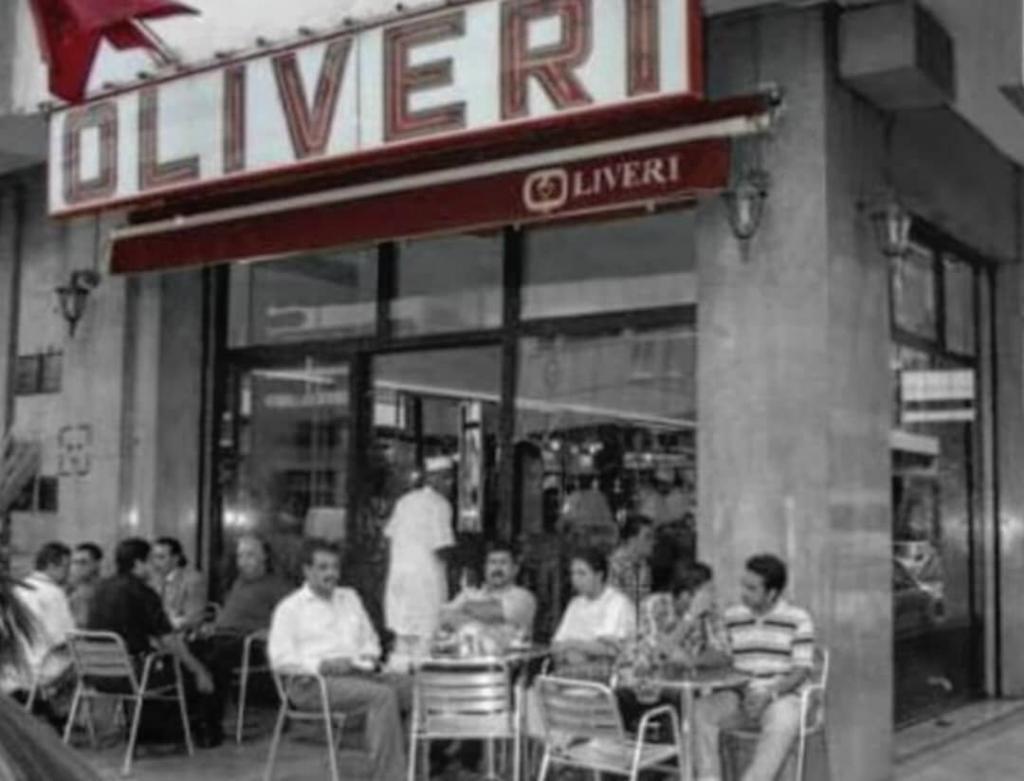 Arguably Casablanca's most famous ice cream shop, Oliveri is a top combination of affordable prices and a courteous staff. Oliveri has been family owned and operated since 1950 and is still run by the same family today. Using the same traditional techniques to make their creamy flavours, this shop believes in sticking to the traditional ways. The gelato and sorbet varieties here are brilliant and are comparable to Italy's lightest gelato. Although orders can be longer in the evenings, the wait is well worth it.
Watch out for: They give omplimentary water bottles to each guest upon ordering.
Conclusion:
Casablanca is not the only city that is the top thing to visit in Morocco. There are many other amazing things to visit in this kingdom. For instance, the Sahara desert of Merzouga. Here, you can do the camel ride at Erg Chebbi dunes and go camping at Berber tents. Touring In Morocco is a travel agency that customizes Casablanca desert tours, contact us if you are interested.
Is Casablanca worth visiting?
Casablanca is worth visiting, the mosque of Hassan II is the only mosque in Morocco that is open for none Muslims and it's in Casablanca.
What is Casablanca Morocco known for?
Casablanca is known for the mosque of Hassan II, it is the only mosque in Morocco that is open for none Muslims.
What can you do in Casablanca in one day?
Casablanca can be visited in one day, you can explore Hassan II mosque, Cafe riks and much more.
Which is better Casablanca or Marrakech?
Both Marrakech and Casablanca are worth the visit. However, the city that has more attractions to visit is Marrakech and it is the capital city of tourism in Morocco.
Is Casablanca safe?
Casablanca is safe during the day with walking along the crowded streets. But at night, it's a bit dangerous.