Morocco is a fascinating country, a true Oriental fairytale – mysterious, romantic, and almost magical. Morocco owes its signature character above all to a unique fusion of cultures and a rich historical heritage. In recent years, interest in Moroccan art, architecture, and styles has increased noticeably, especially in the private sector. So, what are the special features of this trend, and why it is considered unique? We will try to find out below.
Morocco is strategically situated in the northwestern part of Africa, with access to both the Mediterranean Sea and the Atlantic Ocean.  With its proximity to Europe and the west in general, Morocco is in a really important position where the east and the west meet.
Mauritania, the world's first independent nation, was founded in 110 BC and populated by Berbers, whose cultural and religious practices laid the groundwork for modern Morocco. The Berbers used mud-brick to build their constructs, and although these structures needed constant renewal and renovation, this style of architecture eventually became the norm in Morocco.
Morocco was not originally a Muslim country but it was Islam that influenced the Moroccan way of life and culture more than any other religion. The elegance and ornamentation of Muslim architecture with its tiles, fountains, geometric design, and floral ornaments have become the hallmark of traditional Morocco in our modern perception.
Interested in a tour to discover the Moroccan architecture and art styles?
If you are interested in a tour around Morocco to discover its architecture, art, attractions, colors, cities, and buildings, Touring In Morocco offers the best and most affordable Morocco desert and city tour. Contact us now for an unforgettable experience!
Here are the main features of the Muslim tradition in Moroccan architecture and art:
Ceramic tiles:
Concrete pavers, also known as "zellige" (zellige, zillij, zellij), are clay Arabic tiles that have been enameled (not to be confused with mosaics). Thanks to the Persians, this kind of decorative-applied Muslim art made its way to Morocco. The tile was used to tile the interior and exterior surfaces of buildings, as well as the tiling of various domestic and decorative objects such as tanks, vases, fountains, and dishes. Tile art flourished during the Spanish-Moorish era.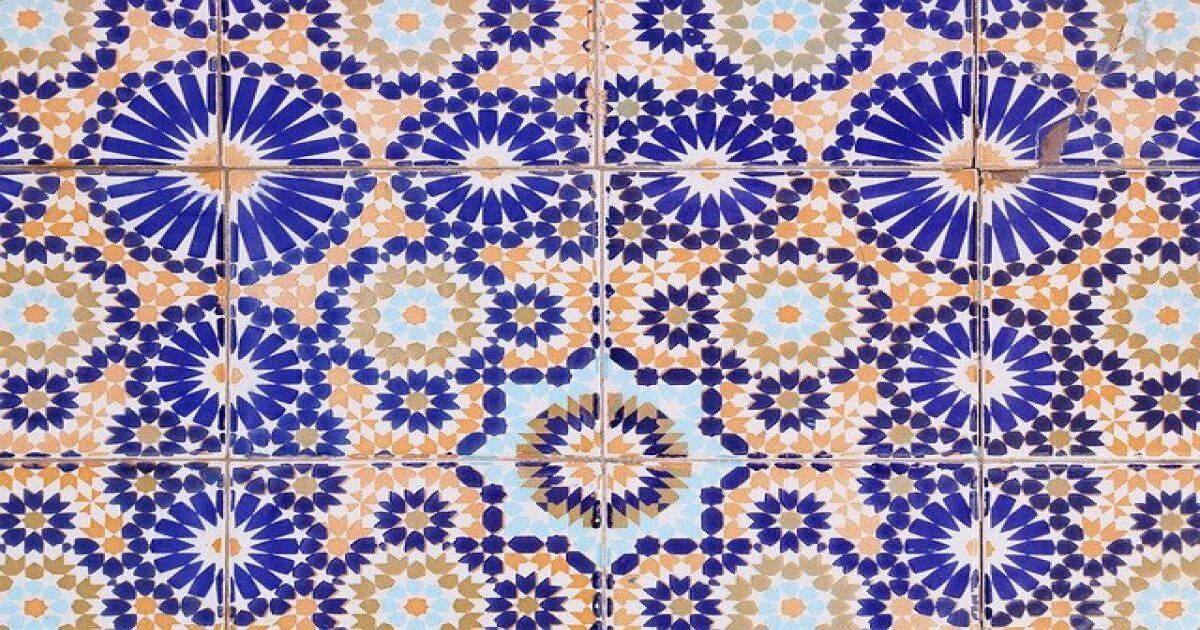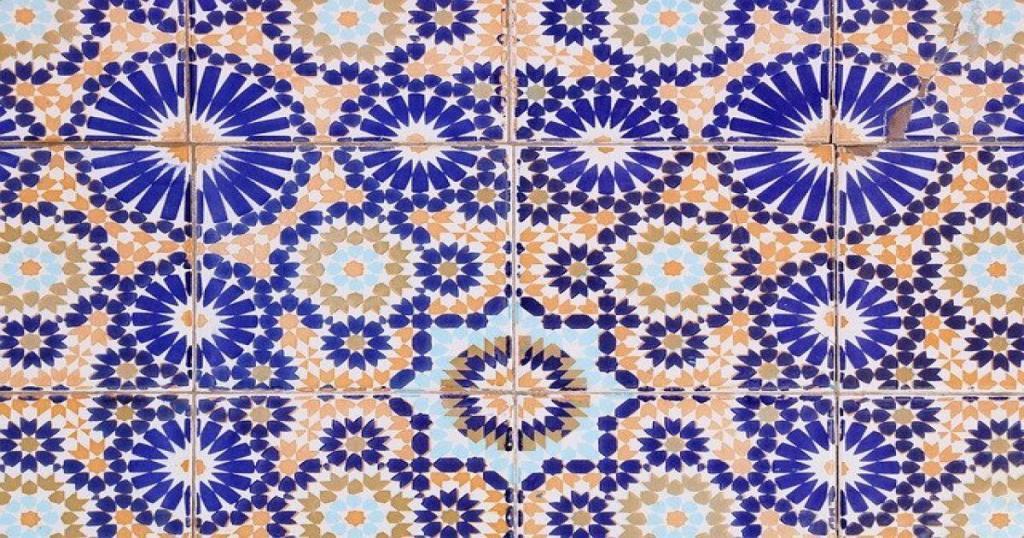 The Moors conquered Spain in the early eighth century, teaching Europeans a new way to glaze ceramics. A white matt glaze and a multicolored glaze with a mother-of-pearl sheen.
Both methods were widely used by Spanish-Moorish artisans. Multicolored mother-of-pearl glazing, on the other hand, is considered a hallmark of Muslim ceramics. In part because gold and silverware, which were common in ancient Rome, Persia, and medieval Christian culture, were strictly forbidden in the Muslim world.
Fountains:
Water was very significant in Morocco even before the adoption of Islam. However, with the conversion to Islam and the need to conduct ritual ablutions before prayers, massive construction of urban fountains for the free use of people began.
Morocco now has mosques as well as fountains thanks to the new religion. Moroccan mosques, on the other hand, are distinct from conventional mosques in that they do not face Mecca, Islam's holiest city and the birthplace of the Prophet Mohammed.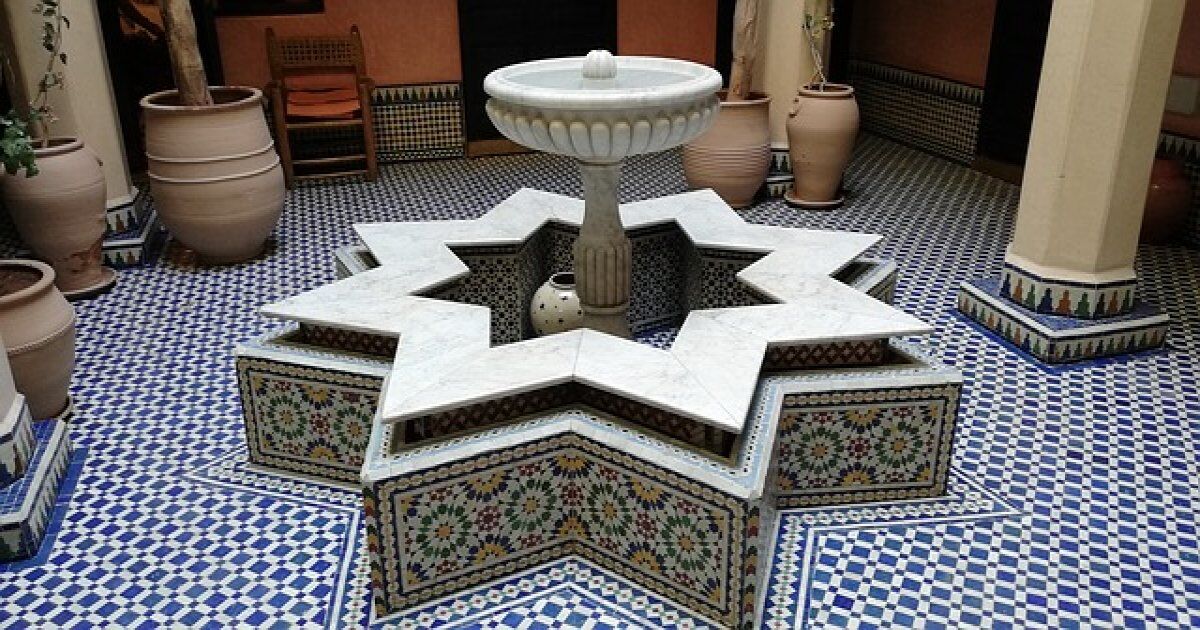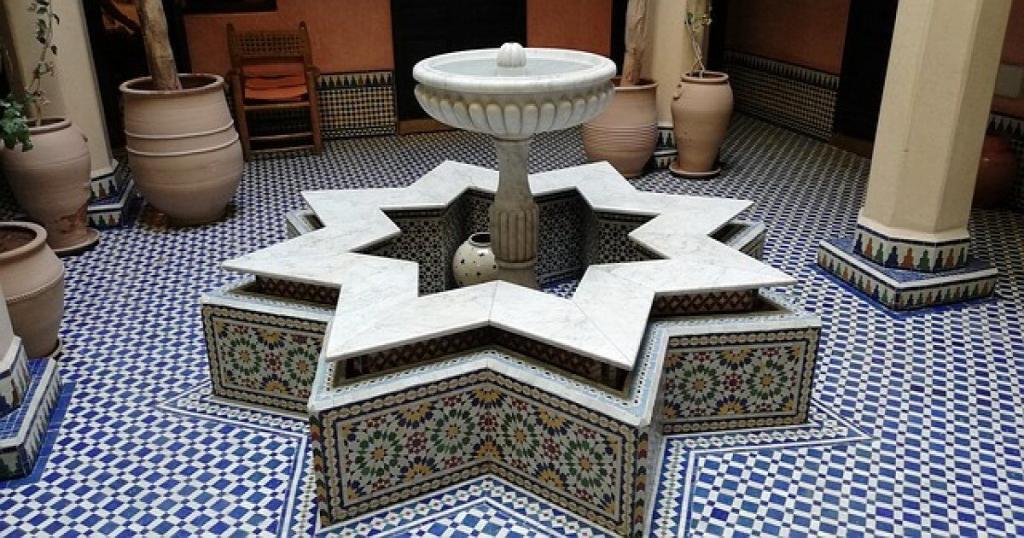 Geometric designs:
Aspects of Muslim culture include geometric designs and plant ornaments. Because of the religious prohibition against depicting people and animals, straight lines, right angles, and floral linear designs. Also known as arabesques, have become an important part of Islamic decorative art. The roots and spread of arabesques as a decorative feature are fascinating to learn about. Cultural historians have been writing serious folios on the subject for nearly two centuries, linking arabesques to Roman, Egyptian, and Chinese styles. Contrasting and separating Oriental and Occidental arabesques, and confirming and denying religious implications in the use of such ornaments.
In the Islamic tradition and especially in Morocco, geometric architecture is a repeating, complex mosaic pattern of intertwined squares, circles, and corners.
Geometric patterns can be found in kilims, woven wool, and silk carpets, among other types of Moroccan Islamic art and architecture. The Girih (Persian for knot) is an intertwining pattern made up of polygons and lines that can be seen on fabrics, facades, incrustations, and book covers, among other things.
Mukarnas are bee-honeycomb-like decorative vaults in the shape of pyramidal hollows.
The influence of the Spanish art and archeticture on Morocco:
The art and architecture of Morocco (and the Maghreb) were strongly inspired by the Spanish. For more than seven centuries starting in the eighth century, the Moors (North Africans), Arabs, and Berbers controlled much of the Iberian peninsula, establishing many Muslim emirates under the common territorial name of Al-Andalus.
When the Reconquista was finished in 1492, the Christian states gained power and reclaimed their lands, and the Christians launched an invasion of the Moorish territories of North Africa.
The Spanish taught the Moors how to roof with overlapping clay tiles.
Arches became common in local architecture and art after their introduction, and they have since become an important part of Moroccan architecture. In Morocco, there are two styles of arches. Firstly, horseshoe-shaped and pointed keyhole-shaped arches, which are known as Moorish arches. Arches are commonly used in Moroccan architecture and art styles. It will be an arch whether it is a door or window opening, an alcove, or an entrance point. Moroccan interior doors are often somewhat exaggerated, being slightly wider than the opening and richly decorated with carvings, inlays, or castings. Windows, on the other hand, are never visible.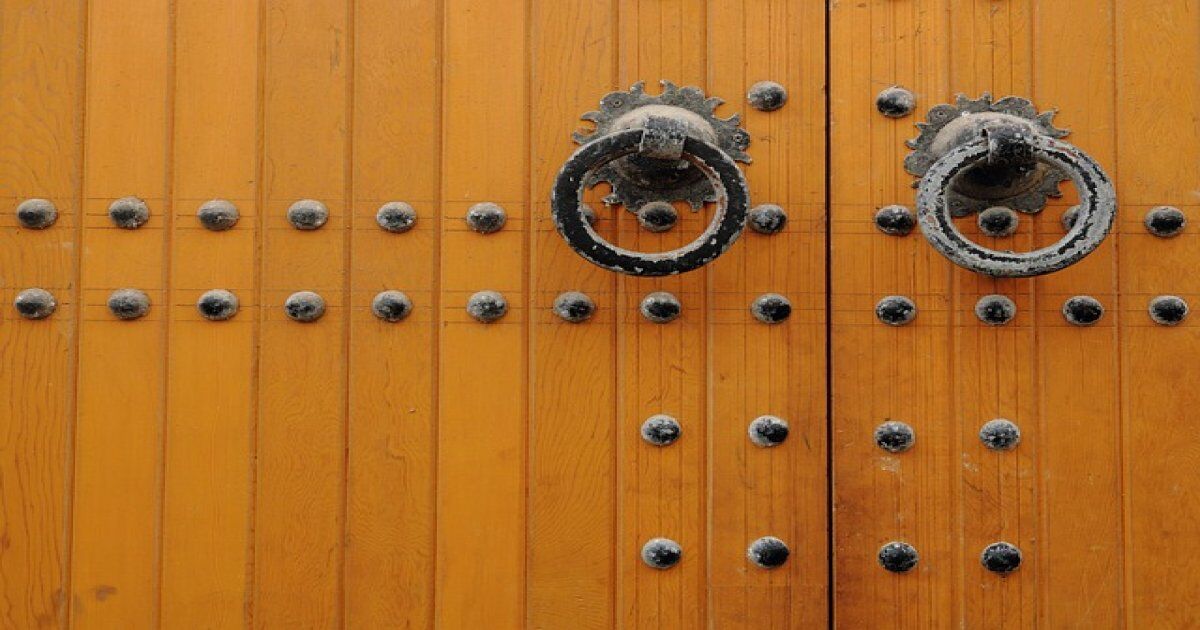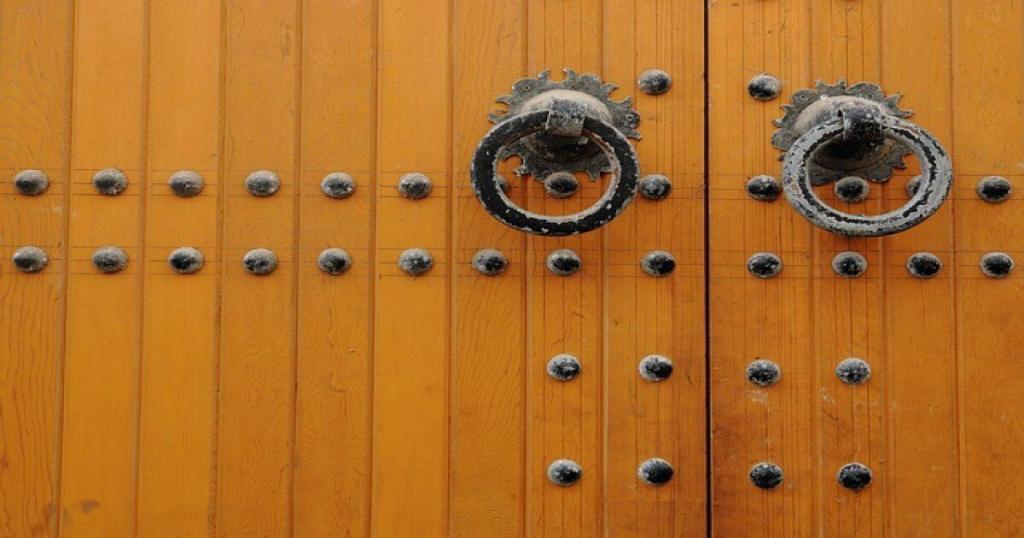 Arches can be found both during the Arab occupation and other Arab countries, not only in Morocco itself, but also in Spanish architecture.
Moroccan parks and gardens:
The famous Alhambra, a unique park and garden, a gem of Moorish architecture, in Granada, Spain. The Alhambra Gardens in Morocco are now a model for urban and private gardens.
In Morocco, as in every Muslim country, gardens always have a special attitude, as the garden is an earthly version of the Koranic Paradise. In Morocco and particularly in Marrakech, on the desert-field frontier, the emergence of Moorish Jardins is a natural phenomenon. The ancient Berbers served as pastures instead of a place to rest or cultivate fruit trees in historic gardens. These countries have always been an area of particular care and attention. The Marrakech Berber Garden originally covered approximately 500 hectares, the same size as the original medina, the old town.
There was established a French Protectorate in Morocco in 1912. The French began active railway construction, investment in natural minerals, and international trade. Cities were rapidly developing, with government regulations on urban development: no building on more than four floors was supposed to be all built. The garden or patio was to use 20 percent of the land allocated to the building, neighboring buildings should not be overlooked by balconies, and the roof of all buildings should be flat. The new demands have contributed to the building boom and to normalizing urbanization. For Morocco, all these urban development requirements are still relevant.
High ethnic styles are today as popular as Scandinavian minimalism or French Provence. Moroccan interior may be one of the most desired and recognizable interiors.
The Moroccan art and architecture styles:
The Moroccan style includes elements from many cultural backgrounds, so the modern décorer can read this story freely; for example, you can always add a little more French and change the Arabic. An interior, it's not a theater set, it takes a clue to make the Moroccan sunshine a part of your home, just a few distinctions to remember. And what details and accents you choose are, as they say, a matter of taste.
Mosaics (or mock mosaics), stucco, plaster, wood, textiles, ceramic tiles, carpets and mats, wrought iron fixtures. And an overall polychrome scheme mixing cool and warm colors will be featured in the Moroccan collection.
Traditional Moroccan colors are warm earthy tones like ochre, terracotta, amber, brown, orange, and sand. Blue, ultramarine, emerald green, turquoise, and white in contrasting variations are also considered common. Accent colors such as red, gold, and purple can be used.
Walls and flooring
Moroccan architecture and art are both realistic and graphic. Stone flooring has traditionally been used in homes to help people avoid the heat of the day and night. Ceramic granite or ceramic tiles will now be used as stone flooring substitutes. Natural wool and silk carpets and kilims, woven in a number of techniques, are used to decorate the living rooms.
Tadelakt, a Moroccan mineral gloss plaster that resembles a natural stone cut, is often used for wall treatments. Tadelakt is a Moroccan technology that dates back many centuries. Made entirely of sand and lime found near the Moroccan city of Marrakech. It was used to decorate the nobility's palaces.
Moroccan Tadelakt plaster was only applied by master craftsmen of the highest caliber with years of experience. Various natural dyes such as saffron, ochre, and cobalt were applied to the mixture to achieve a variety of colors. This is why the Tadelakt mixture had no synthetic additives.
Tadelact has quickly spread all over the world, but it is best loved in Europe.
Moroccan homes often use openwork wooden panels and screens with traditional carved arabesques or geometric designs to decorate the walls. Built-in interior niches with Moorish arches are an excellent way to arrange storage and divide space in a home.
Furniture
Moroccan furniture consists of soft, gentle types such as sofas, couches, poufs, ottomans, and even chests. All of which are decorated with a multitude of decorative cushions and blankets in bright colors and contrasting designs. Cushions was often used rather than furniture, so their appearance and abundance are traditionally valid.
The house's sleeping quarters were granted a sacred significance. To protect against the southern sun, the bed was often set in the center of the room on a high platform under a canopy or a silk or organza canopy. Much of the time, the bed frame was forged.
Chests and niches are used for storage.
Decorative items
Whether it be rugs, trays, boxes, screens, candle-holders, or vases, decorative items are always handmade in Morocco. You will never find two identical lamps or kilims in a market in Fes or Marrakech. That's the beauty of Moroccan interiors: they are always unique.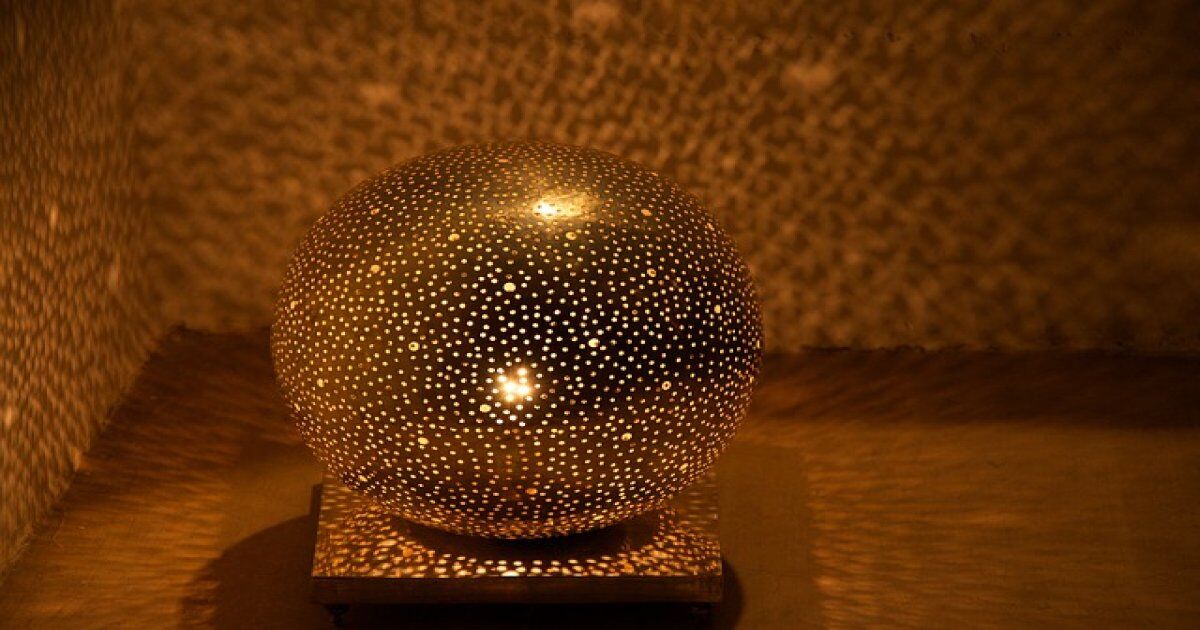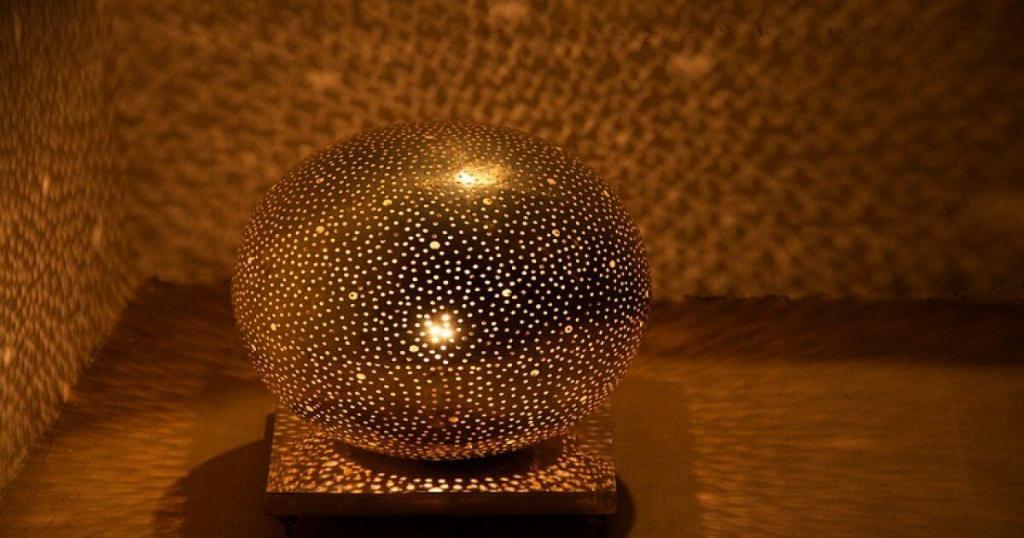 In Moroccan households, crockery is often used for decoration. Trays, pots, and serving dishes made of gold, silver, bronze, and ceramic, hollow vases, and candy dishes are set on niche shelves, low coffee tables, or simply on the floor or stairwell.
It's also worth remembering the Moroccan lamps. A real Moroccan interior is incomplete without traditional lamps. The lamps' openwork wrought iron and inlaid multi-colored glass gently diffuse light and give the space a distinctly oriental feeling. 
Ceilings
Moroccan interiors have a tendency to have high, multi-level ceilings. In most instances, the ceiling is painted white or terracotta in color. Sky blue is represented by blue or turquoise, which is often used in interior design.
The painting and plaster molding in typical Moroccan colors and ornaments, echoing carpet patterns, are perhaps the most distinctive and colorful ceiling style.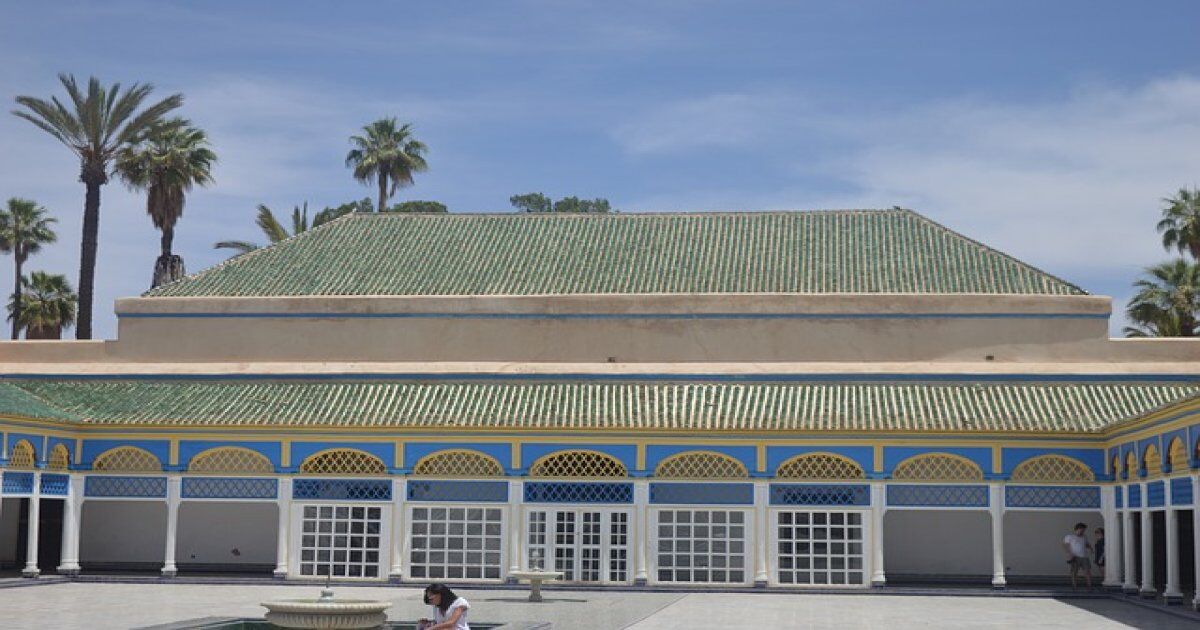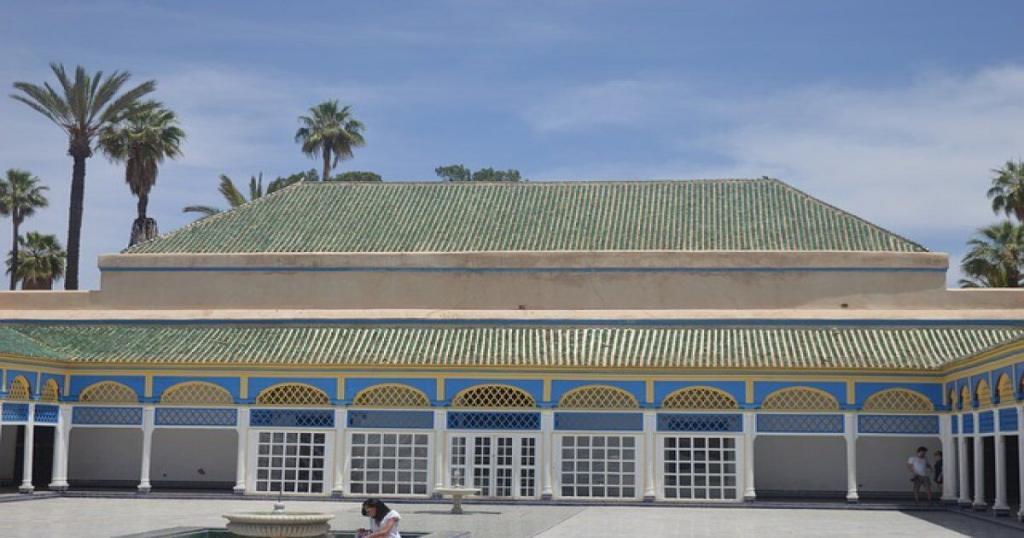 the Moroccan architecture, art, and design styles are extremely adaptable. They are suitable for a small city apartment or a grand country estate. As always, it's all about creativity, improvisation, and common sense.