Located in the northwestern part of Morocco, Marrakech is a city filled with vibrant culture and centuries-old architecture. From the bustling souks to the iconic Koutoubia Mosque, there are many activities that visitors can enjoy while visiting this ancient city. For those looking for an adventurous experience on a budget, Marrakech offers plenty of things to do to explore and experience unique Moroccan culture. Whether it's attending a cooking class or exploring El Badi Palace, Marrakech has something for everyone who seeks freedom and exploration.
1- Exploring the Historic Medina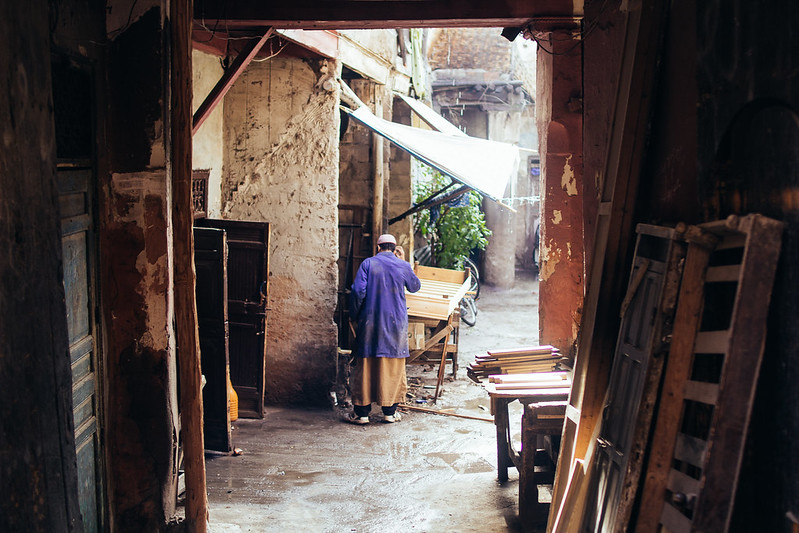 Exploring the historic medina of Marrakech reveals a plethora of winding alleys, vibrant souks, and traditional architecture. With its labyrinthine streets and hidden gems, the Medina is an ideal destination for those seeking adventure on a budget. Stroll through the bustling markets, picking up souvenirs or bargaining for unique finds in one of the many stalls. A visit to the Koutoubia Mosque will give you an insight into Moroccan culture while admiring its impressive architecture from the outside. The mosque's minaret stands tall as a symbol of the Islamic faith and can be seen from miles away, making it a must-see landmark when visiting Marrakech. As you explore further, you'll come across delightful restaurants serving authentic Moroccan cuisine – perfect for fuelling your wanderings around this ancient city!
2- Visit the Koutoubia Mosque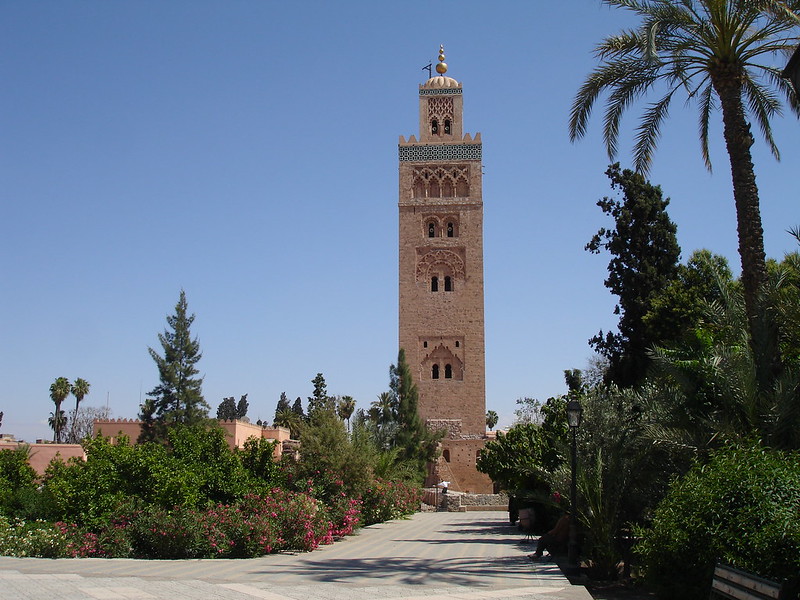 Admiring the Koutoubia Mosque from the outside is one of Marrakech's most iconic experiences, with its towering minaret visible across the city. Exploring this magnificent piece of architecture provides an opportunity to experience a part of Marrakech's rich history and culture. Here are some ideas to make your visit interesting and memorable:
For History Buffs:
Take a guided tour around the mosque, learning about its fascinating history and design features.
Look out for intricately carved stucco decorations that adorn the building's exterior.
For Photographers:
Capture stunning shots of the mosque against the desert backdrop or take a sunset picture as it glows in shades of orange and red.
Take up-close photos of intricate decorative elements like mosaics, tiles, woodwork, and carvings.
Visiting the Koutoubia Mosque is a great way to appreciate Marrakech's ancient beauty while being budget-conscious at the same time! With freedom in mind, why not explore further by visiting local markets (or 'souks') for unique souvenirs?
Read also: Is Marrakech safe?
3- Shop in the souks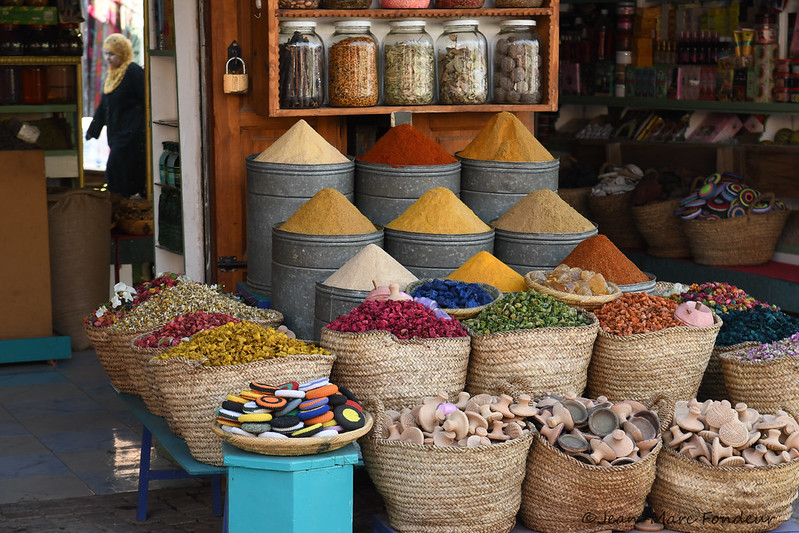 Browsing the diverse array of goods in Marrakech's traditional markets, or souks is a captivating experience that offers a unique insight into the city's culture and heritage. Shopping in these bustling labyrinths of alleyways can be an adventure as you come across unexpected finds like vibrant fabrics, intricate jewelry, and fragrant spices. Prices vary greatly between stores so it pays to haggle for the best deal. The atmosphere is exciting but also quite overwhelming; many tourists find it helpful to bring along a local guide who knows their way around and can help them get the best prices. Visiting the souks is an essential part of any trip to Marrakech and should not be missed by those looking for an unforgettable experience. With careful bargaining and exploration, one might stumble upon hidden treasures that will last long after returning home. To continue exploring all that Marrakech has to offer, a visit to Jemaa el-Fnaa is in order.
4- Visit Jemaa el-Fnaa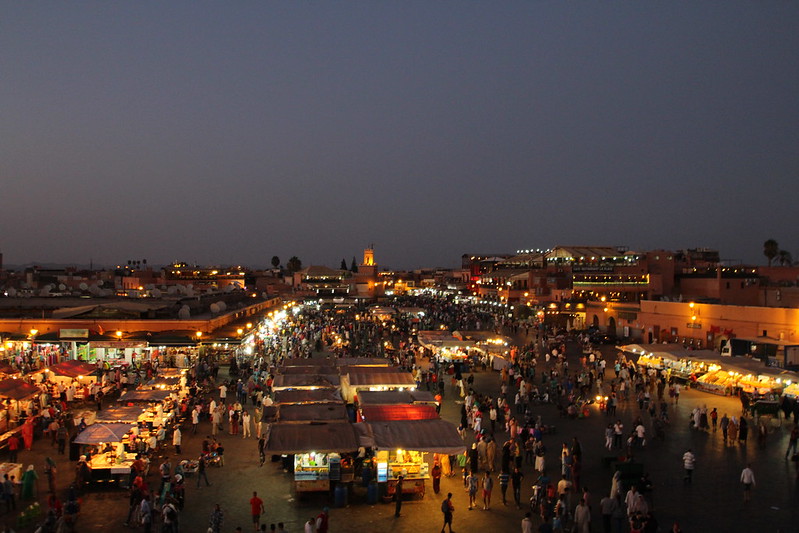 Situated in the heart of Marrakech, Jemaa el-Fnaa is a vibrant square renowned for its bustling activity and diverse attractions. Here you can witness an array of street performers, including snake charmers, storytellers, musicians, and henna artists. You may also savor many local delicacies from the food stalls that dot the area.
For the budget-conscious traveler looking for an adventurous experience, there are plenty of free activities at Jemaa el-Fnaa to engage in. Whether it's people-watching or sampling some traditional Moroccan cuisine, this lively square provides a unique opportunity to explore Marrakech without breaking the bank. From here you can easily transition into exploring other parts of the city such as taking a cooking class or visiting one of its historic sites.
5- Take a cooking class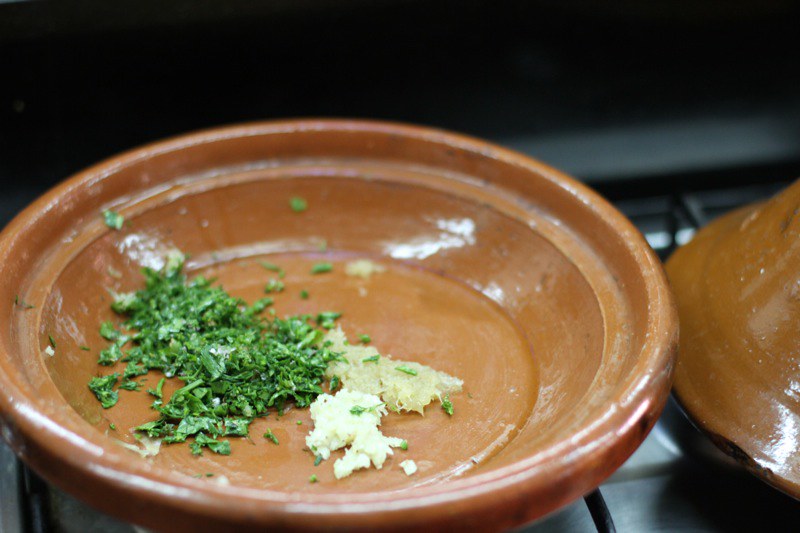 Learning how to cook traditional Moroccan cuisine is a great way to immerse yourself in the culture of Marrakech while gaining valuable culinary skills. Cooking classes are available that teach you the basics of making couscous, tagines, and pastilla. These classes often take place in local homes with an experienced chef who will guide you through each step of the process. As you learn how to make classic dishes, you'll discover more about the culture and traditions behind them. Classes can be tailored to fit any budget or schedule, so finding a class that works for you should not be difficult. In addition, many classes offer cultural activities such as shopping trips to markets or visits to local farms providing an even deeper insight into Moroccan life. With these experiences under your belt, it's time to explore another unique aspect of Marrakech: its famous gardens.
Recommended activity:
6- Visit the Majorelle Gardens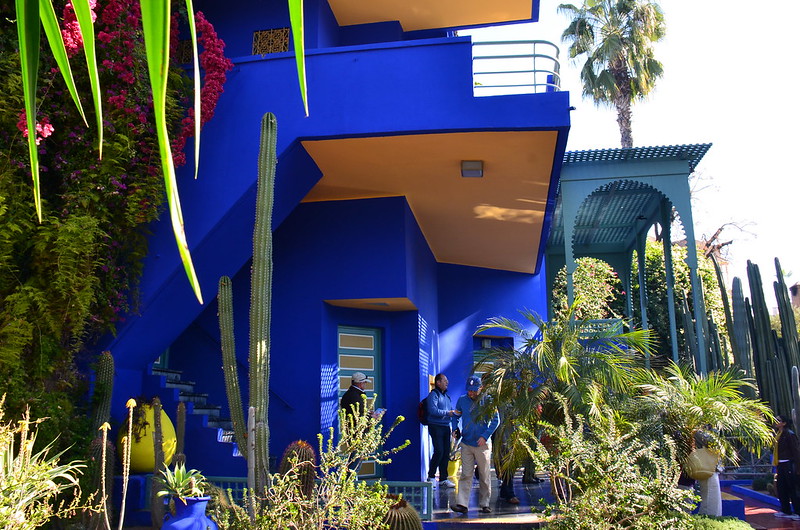 Nestled in Marrakech, the Majorelle Gardens offer a breathtakingly beautiful display of lush foliage and vibrant colors. Created by French artist Jacques Majorelle, these botanical gardens feature an array of exotic plants, trees, and flowers that are sure to captivate any visitor. For budget-conscious travelers seeking an adventure off the beaten track, the Majorelle Gardens provide a unique experience without breaking the bank. Plus, it's easy to access from anywhere in the city and provides a tranquil escape from the hustle and bustle of life in Marrakech. With its stunning natural beauty and peaceful ambiance, spending some time at this oasis will surely be an unforgettable experience for all visitors looking to explore this enchanting Moroccan city. From here, one can take their exploration even further by embarking on a desert safari to Merzouga.
Book this experience:
7- Go on a desert safari to Merzouga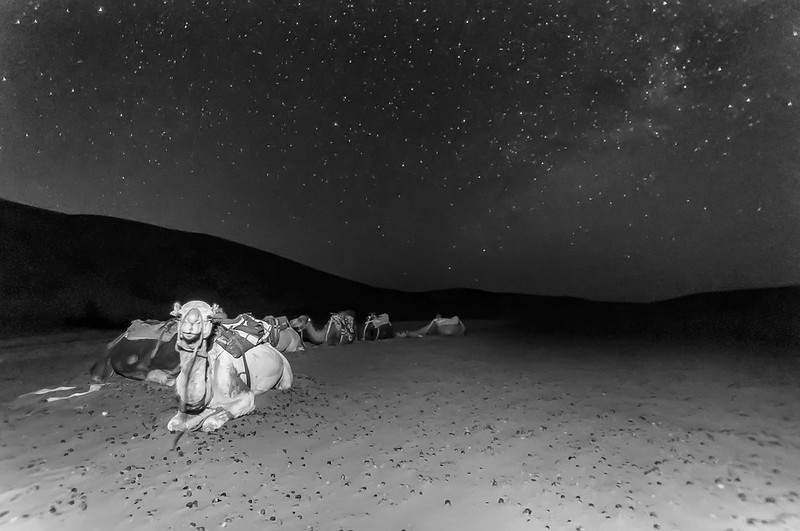 Exploring the vast desert of Merzouga offers a unique opportunity to experience the beauty of Morocco in a truly unforgettable way. Going on a desert safari in Merzouga is an adrenaline-filled adventure that will stay with you forever. You can choose from jeeps or camels to traverse the dunes and explore the area. Once there, you can sandboard down the slopes, take part in stargazing sessions, and even camp overnight for an immersive experience. For budget-conscious travelers, many companies offer group packages that include transportation and meals at discounted rates.
The freedom found in exploring this expansive desert is unparalleled: you can wander freely without any constraints – it's like being transported to another world! To make your trip even more memorable, why not stay overnight in a traditional Moroccan riad, where you'll get to immerse yourself in true Berber culture?
8- Stay in a riad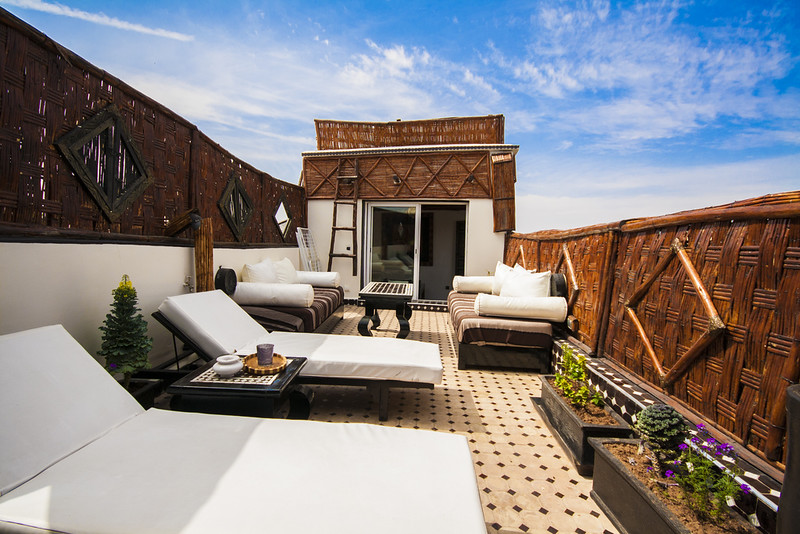 After a day of sand-surfing and camel-riding, visitors to Marrakech may find themselves in need of rest and relaxation. This is where the traditional Moroccan riad comes in. Located in the Medina district, these luxurious dwellings provide guests with a warm welcome and an escape from the hustle and bustle of everyday life. Whether it's for a few hours or days, staying at a riad can be both affordable and memorable.
For those looking to stretch their budget, there are plenty of options out there; from basic family-run establishments to upscale boutique hotels with all the amenities. The ambiance inside a riad is often very different from modern guesthouses – designed with ornate decor, colorful fabrics, mosaic tiles, and cozy seating areas – you'll feel like you've been transported into another world entirely. After your stay at a riad, continue your exploration of Marrakech by visiting the Yves Saint Laurent Museum – just one more way to experience this vibrant city.
Recommended Riads in Marrakech:
3-Star Riads in Marrakech:
4-Star Riads in Marrakech:
5-Star Riads in Marrakech:
9- Visit the Yves Saint Laurent Museum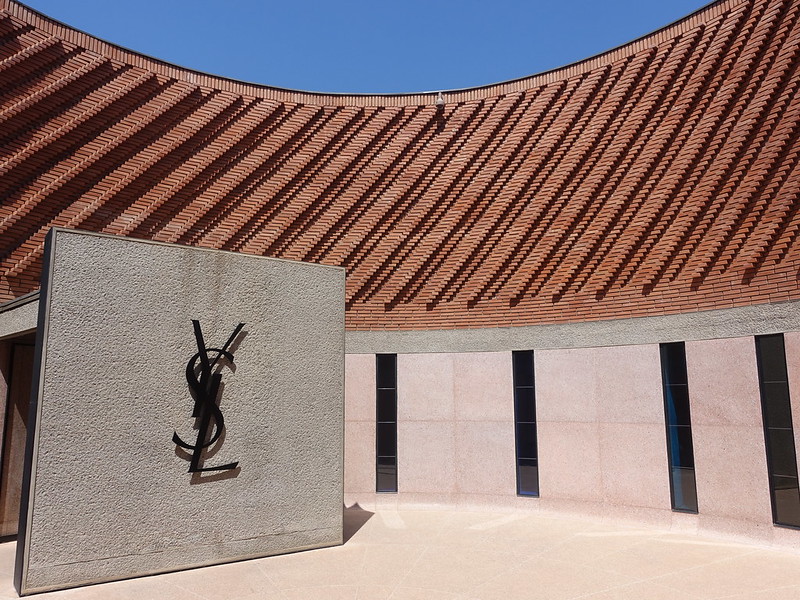 Situated in the heart of Marrakech, the Yves Saint Laurent Museum invites visitors to explore the fashion designer's life and works. From his early designs to his signature silhouettes, this museum is a must-visit for fans of Yves Saint Laurent. Visitors can appreciate the beautiful exhibits containing garments from every stage of his career, as well as some never-before-seen sketches and photographs. The museum also provides insight into the life and home of Yves Saint Laurent and Pierre Bergé, providing an intimate glimpse into their world. For those looking for an adventure on a budget, the Yves Saint Laurent Museum is a great way to experience Marrakech in style. With its unique displays and captivating atmosphere, it's sure to be a memorable experience that won't break your wallet. As such, it should be at the top of anyone's list when visiting Marrakech. And for those seeking something even more historically significant, just around the corner lies another cultural gem: The Saadian Tombs.
Read also: Museums of Marrakech
10- Visit the Saadian Tombs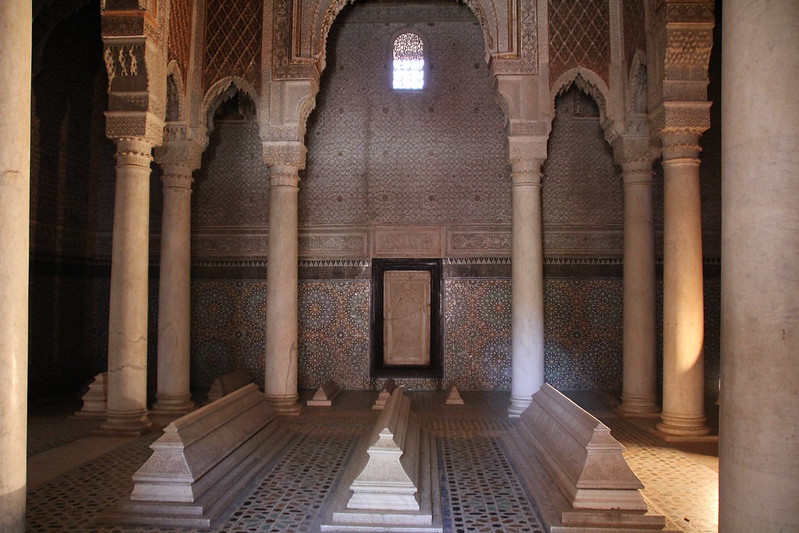 Nestled in the heart of Marrakech, the Saadian Tombs offer a captivating glimpse into Morocco's rich history. Built during the reign of Sultan Ahmed el Mansour (1578-1603), these tombs are an impressive example of Moroccan architecture and artistry, with intricate geometrical designs decorating the walls and ceilings. The site is also home to many stunning examples of Islamic ornamentation such as cedar wood decorations and colorful glazed tiles adorning the walls. Visitors can take part in guided tours to get a more detailed look at each tomb's unique features. For those looking for an adventurous experience, exploring this historical site will certainly be worth their while without breaking their budget. With its breathtaking beauty and intriguing history, a visit to Saadian Tombs is sure to leave visitors feeling awed by Morocco's exotic culture and heritage. Taking in all that this special place has to offer will surely be an unforgettable experience for any traveler seeking freedom from everyday life. Next up: Experience Marrakech's traditional hammam!
11- Go to a hammam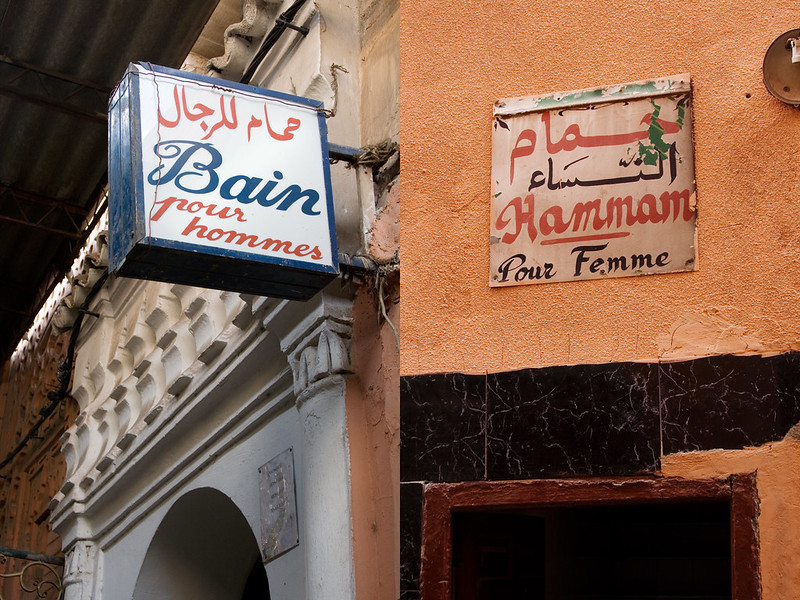 Experience the centuries-old tradition of Moroccan hammams and take a luxurious journey into relaxation and rejuvenation. From heated steam rooms to traditional massage treatments, hammams have been a part of Moroccan culture for hundreds of years. Visiting a hammam is an experience like no other, with hot steam baths that are said to aid in healing and skin care. Hammams usually offer additional services such as facial masks, massages, and scrubs as well as providing an atmosphere where you can relax and unwind. Many hammams offer budget-friendly packages that are perfect for travelers looking for a unique way to experience the culture while getting pampered. With its exotic ambiance, visiting a hammam can be both exhilarating and calming at the same time – perfect for anyone who craves adventure but also needs some time to relax and recharge their batteries. So why not give it a try? After all, there's no better way to feel refreshed than by taking advantage of this centuries-old tradition in Morocco! Next up: Have a cup of mint tea at Hôtel Restaurant Café de France.
Recommended experience:
12- Have a cup of mint tea at Hôtel Restaurant Café de France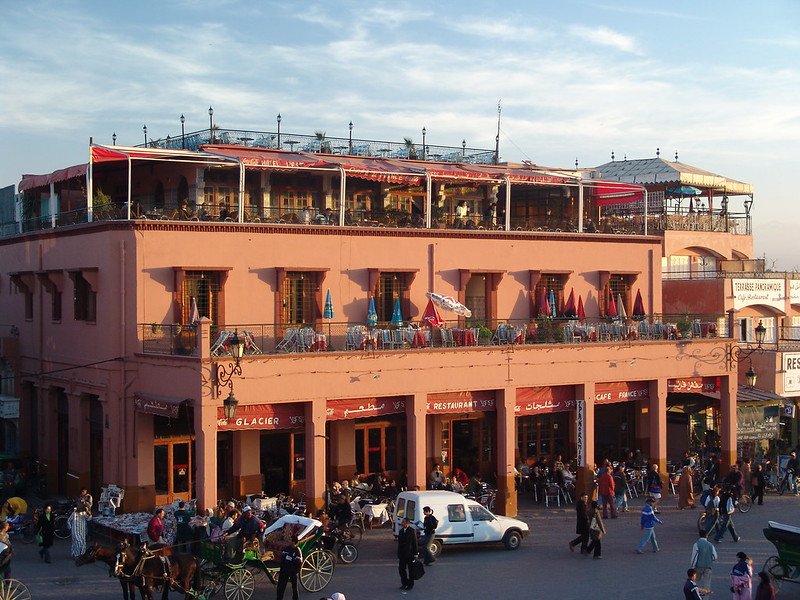 Hôtel Restaurant Café de France offers a unique opportunity to enjoy the traditional Moroccan beverage of mint tea in an authentic atmosphere. The café serves a fresh and refreshing version made with gunpowder green tea, fresh mint leaves, and sugar cubes. It's a great way to cool off on a hot day and have an enjoyable experience in Morocco. Here are some things that make this activity special:
A delightful selection of pastries and desserts to accompany the tea
An inviting atmosphere for people-watching
An opportunity to learn about Moroccan culture from friendly staff
An affordable way to relax while visiting Marrakech
The perfect way to escape the hustle and bustle of city life is at Hôtel Restaurant Café de France, visitors can savor the taste of authentic Morocco while enjoying a cup of mint tea. With its pleasant atmosphere, budget-friendly prices, and cultural significance, it is truly an unforgettable experience. From here, visitors can embark on their next adventure: taking a hot air balloon over Agafay's rocky desert for even more breathtaking views!
13- Take a Hot Air Balloon over Agafay rocky desert
Soaring high above the Agafay desert in a hot air balloon gives one an unforgettable opportunity to take in the breathtaking beauty of this rocky terrain. The experience is made even more special with the presence of lush palm groves and olive trees scattered throughout the vast expanse. An adventurous traveler can enjoy panoramic views from every angle, while also being mindful of their budget. This unique experience offers a sense of freedom that will satisfy any subconscious desire for exploration. From here, travelers can take their journey to new heights by visiting the Bahia Palace, located just outside Marrakech's city center.
Recommended experience:
Read also: Is Casablanca better than Marrakech?
14- Visit the Bahia Palace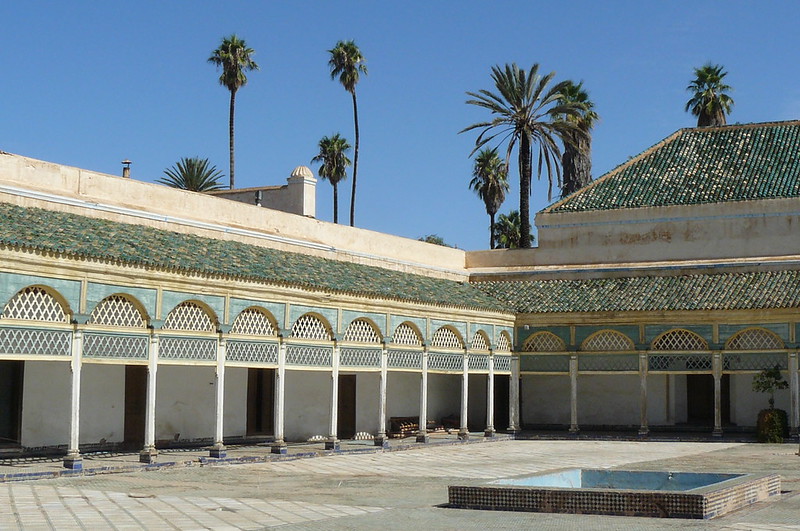 The Bahia Palace is a prominent monument of 19th-century Moroccan architecture located in the vicinity of Marrakech. Constructed by Si Ahmed ben Moussa, the Grand Vizier of Morocco, this palace provides visitors with an opportunity to explore and appreciate the beauty and history of the region. The palace is divided into two sections: a public area filled with intricate tiling and carvings, as well as a private area for the vizier's family that includes bedrooms, a hammam, and a library.
Visiting the Bahia Palace is an unforgettable experience – from admiring its stunning architecture to exploring its lush courtyards and fountains. It is also an excellent place to take advantage of budget-friendly activities while still enjoying all that Marrakech has to offer. For those looking for an exciting adventure with plenty of freedom, there's no better place than this royal palace! With that said, it only makes sense to move on to explore another site from the list of the best things to do in Marrakech: Souk Submarine.
Recommended activity:
15- Souk Semmarine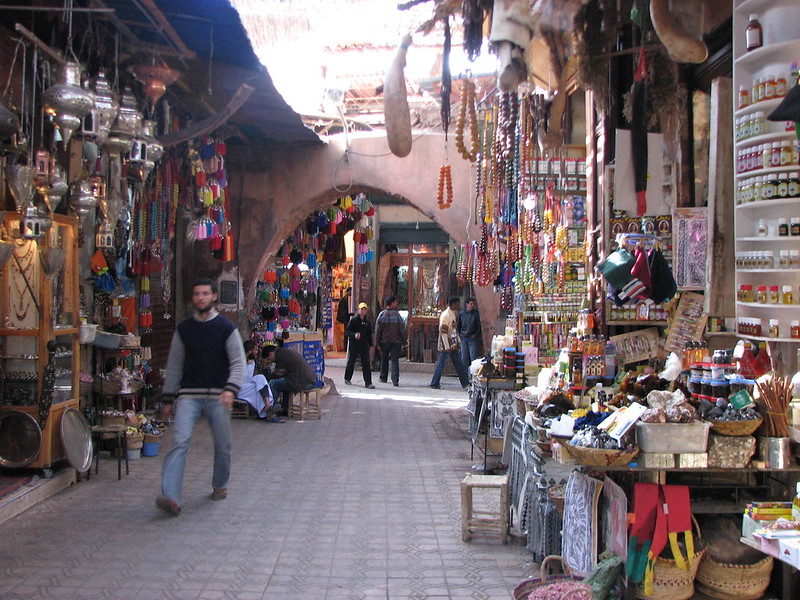 Buried deep in the medina of Marrakech, Souk Semmarine provides visitors with an unparalleled shopping experience. The souk is a labyrinth of narrow streets and alleyways, filled with stalls selling everything from souvenirs to spices to clothing. It is divided into sections, each specializing in its own type of merchandise, making it an ideal destination for bargain hunters and those hoping to find unique items that can't be found anywhere else. Shopping at Souk Semmarine is a great way to soak up the atmosphere of Marrakech while finding some amazing deals on quality items. With its vibrant colors and sounds, the souk is an adventure just waiting to be explored – but be prepared for some haggling from the shopkeepers! For those seeking authentic souvenirs or one-of-a-kind finds, Souk Semmarine offers an unforgettable experience.
Let's move on to the next section about Maison de la Photographie, this shopping district offers something for everyone looking for things to do in Marrakech – whether they are after bargains or unique mementos from their visit.
16- Maison de la Photographie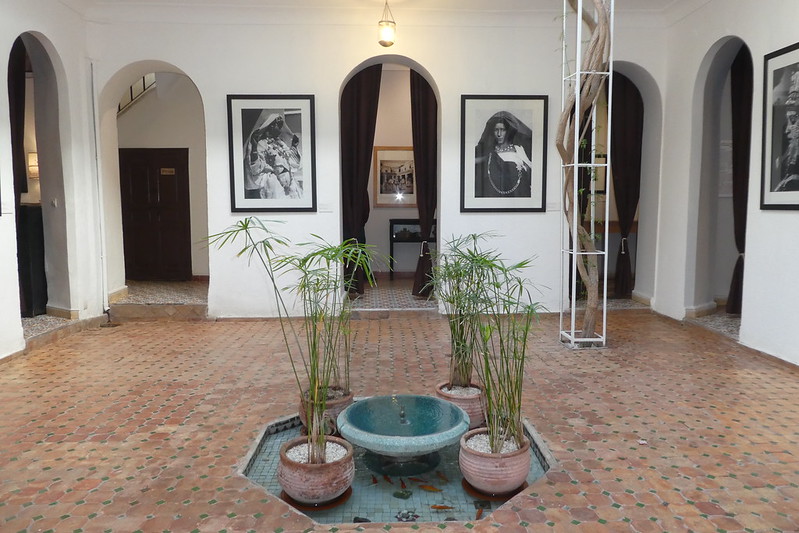 After exploring the hustle and bustle of Souk Semmarine, a visit to Maison de la Photographie may be just the thing for those looking to explore another side of Marrakech. This three-story riad-turned-gallery houses an incredible collection of vintage Moroccan photography from the 1870s to the 1950s. It is an amazing opportunity to view a visual history of Morocco that is still relevant today; many things remain unchanged in this part of the world. The rooftop café also offers visitors a chance to take in views from one of the highest points in the medina while enjoying refreshments. Visiting Maison de la Photographie is a must for any traveler interested in getting an immersive look into Moroccan culture and history.
Next on your list of things to do in Marrakech should be El Badi Palace, which was once one of Marrakech's grandest buildings with more than 150 rooms and decorated with marble, gold, and precious stones.
17- El Badi Palace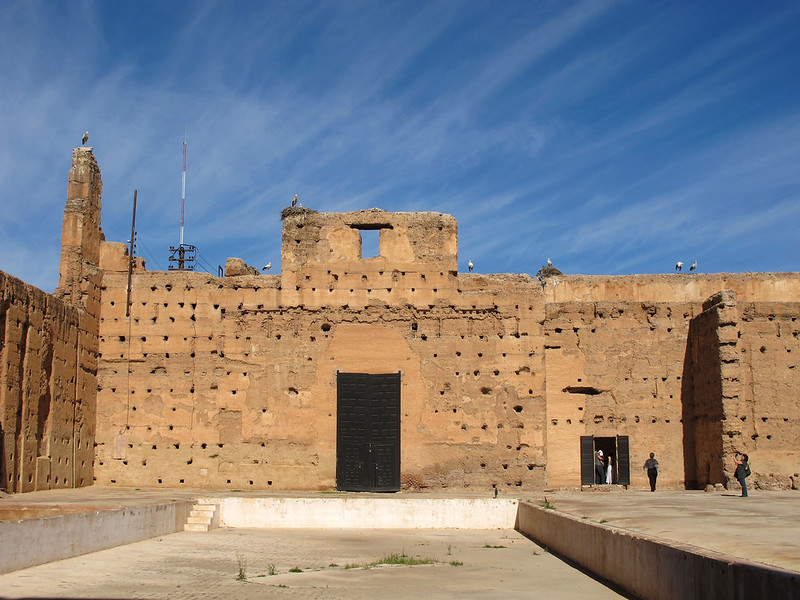 Standing as a monument to the past, El Badi Palace was once famed for its 150 rooms decorated with marble, gold, and precious stones. Located in the heart of Marrakesh's medina, the palace is an iconic reminder of the former grandeur of Ahmed al-Mansour's reign. Visitors to El Badi will be treated to panoramic views over the medina from its decrepit towers and sunken gardens. Within these ruins lies one of Morocco's most treasured gems – Koutoubia's minbar (prayer pulpit) crafted by 12th-century Cordoban artisans. Exploring El Badi gives visitors a unique insight into Morocco's rich history and culture. Whether it be for educational or recreational purposes, this visit is sure to provide a memorable experience that won't break the bank. With so much to explore at this historic site, El Badi makes for an unforgettable adventure in Marrakesh. Now onto Ateliers d'Ailleurs where travelers can delve deeper into Marrakech's cultural heritage.
Recommended experience:
18- Ateliers d'Ailleurs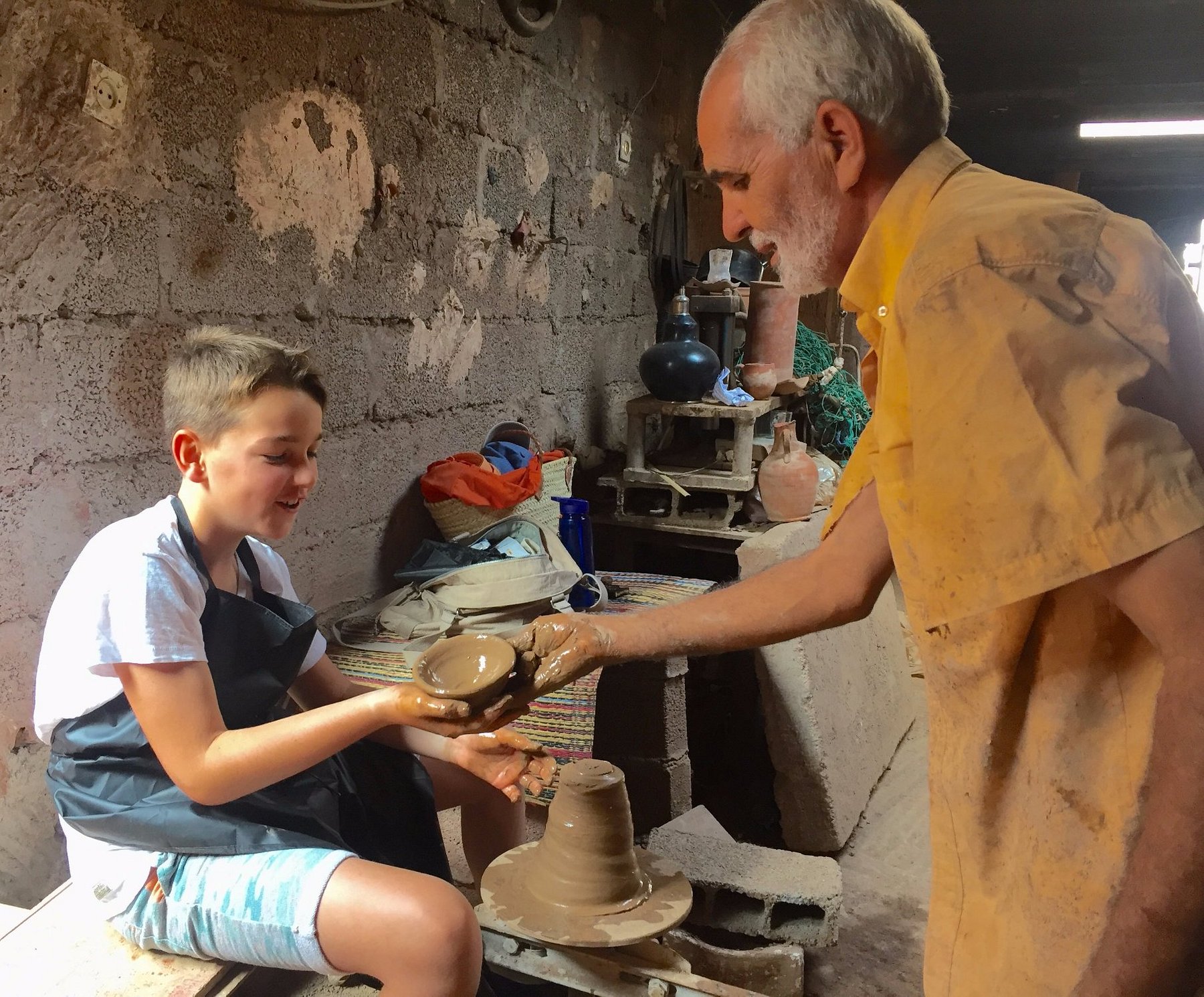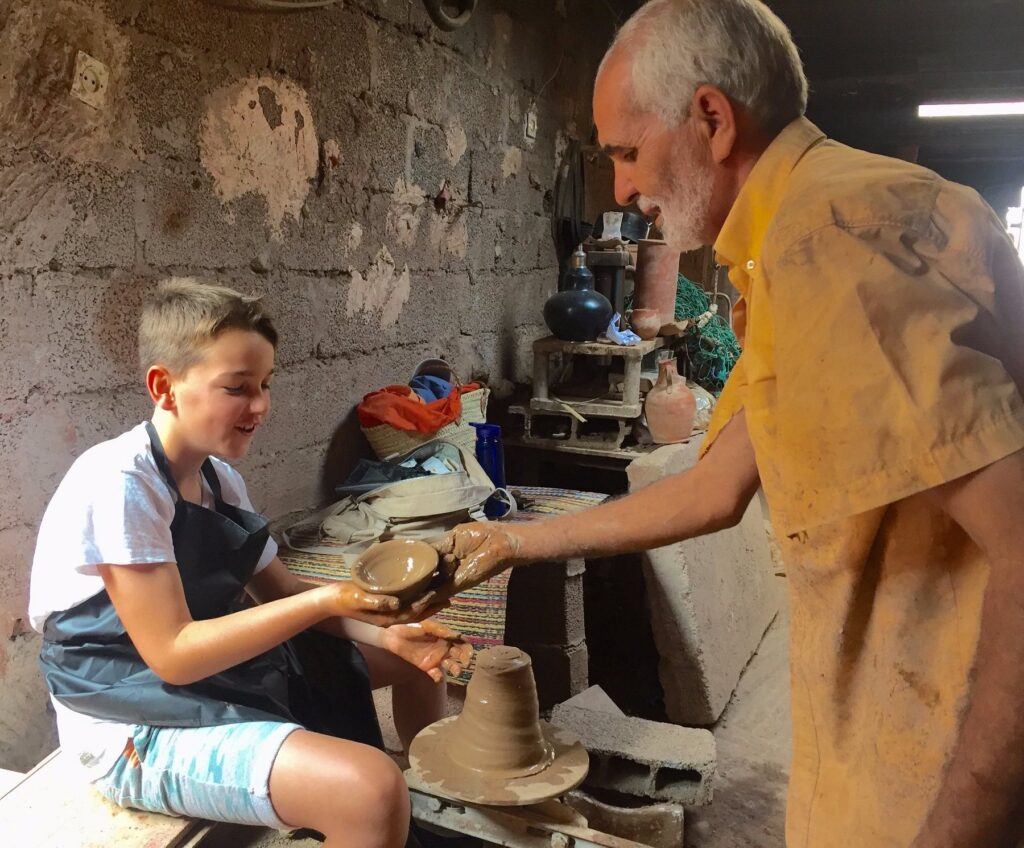 After enjoying the El Badi Palace, travelers may want to visit Ateliers d'Ailleurs, which offers a unique opportunity to learn from Marrakchi Maalems (master craftsmen) in their studios. Here, visitors can enjoy hands-on workshops and learn how to make their own pair of babouche slippers or follow a course in Tadelakt (plaster), basketry, pottery, or cooking.
At Ateliers d'Ailleurs there is something for everyone who wants to explore traditional Moroccan arts and culture. Not only can travelers appreciate the work that goes into the goods they buy in the souk but also gain insights into how these master craftsmen have become so skilled at what they do. The workshops offer an adventure like no other and are budget-friendly while still allowing visitors to experience true freedom. With all of these benefits, it is no wonder why Ateliers d'Ailleurs has become such a popular destination for those traveling to Marrakech. From here we will move on to Café Clock, which provides another great way of experiencing Moroccan culture and cuisine.
19- Café Clock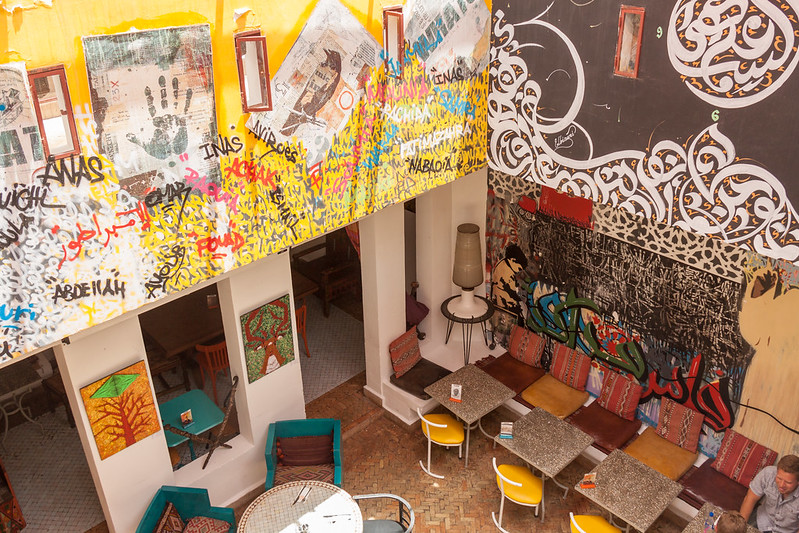 Café Clock is a unique hybrid restaurant-café-cultural center offering a kaleidoscope of experiences that entice visitors to explore Moroccan culture and cuisine. At Café Clock, patrons can sample delicious date milkshakes, camel burgers, and other traditional delicacies at budget prices. Those seeking more than just food can take part in storytelling workshops, calligraphy classes, oud lessons, and Gnaoua jam sessions. 10 dirhams from every camel burger sold go towards charity. The vibrant atmosphere of the café offers an immersive experience of Moroccan culture for those who want to get away from the hustle and bustle of everyday life while still staying within their budget. Café Clock provides an ideal gateway to discovering the wonders of Marrakech without breaking the bank. With its variety of activities and affordable treats, it's no wonder Café Clock continues to draw in visitors from near and far. Without a doubt, it's one destination not to be missed during any visit to Marrakech!
20- Gueliz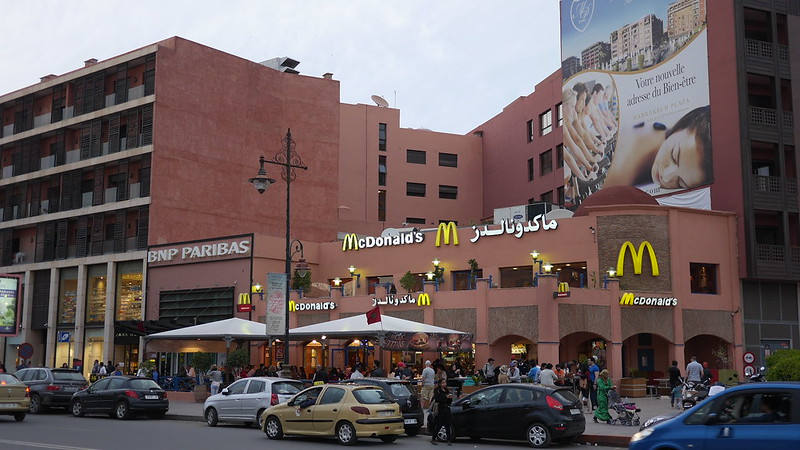 Gueliz offers a modern and laid-back alternative to the hustle and bustle of Marrakech, hosting an array of unique bars, restaurants, shops, and cultural activities for visitors to explore. The neighborhood is known for its 1930s European-style shopping malls with plenty of small homeware boutiques available. From refined French fine dining to traditional Moroccan cuisine, there are a variety of eateries offering something for everyone's taste buds. Visitors can also enjoy the vibrant nightlife scene with craft beer bars or dance the night away at one of the many nightclubs located in Gueliz. For those looking for something more budget-friendly, there are several street food stalls that offer delicious local fare at affordable prices. Furthermore, a day spent exploring Gueliz would not be complete without taking some time out to visit the local art galleries and museums or simply wander around getting lost in its winding streets and discovering hidden gems along the way.
Conclusion
Marrakech offers a wide array of activities for all types of visitors. Exploring the city's historic Medina is a must-do, as it provides an opportunity to take in stunning architecture and immerse oneself in Moroccan culture. The Koutoubia Mosque is an impressive sight while shopping in the souks can be a great way to find unique souvenirs. Jemaa el-Fnaa is a lively market where one can haggle for goods and sample local delicacies. Taking a cooking class or visiting El Badi Palace is sure to provide plenty of entertainment. Ateliers d'Ailleurs and Café Clock offer two more options for those looking to experience something different during their stay in Marrakech. With its various activities available at reasonable prices, Marrakech is the perfect destination for budget-conscious adventurers looking to explore new cultures and experiences.