Agadir is a beautiful city on the coast of Morocco. It is in the Souss-Massa area. According to the 2014 survey, it has more than 500,000 people, making it the biggest city in its area. People love Agadir for its sun-drenched beaches, stunning views of the Atlantic Ocean, and wide range of things to do and see. Agadir has something for everyone, from delicious food to lively nightlife. It's a good place to go for both adventure and relaxation. This Moroccan gem is perfect for a love break or a holiday full of fun. Let's take a look at some of the best things to see and do in Agadir.
Where is Agadir in Morocco?
Agadir is located on the southern coast of Morocco, approximately 250 kilometers southwest of Marrakech. It is a modern city nestled within the Souss Valley and surrounded by desert to its north and rolling hills to its south. With nearly perfect weather year-round, Agadir's beaches have become a popular destination for those who seek an escape from their daily lives. Visitors can explore the Souk El Had market, take a camel ride along the beach, visit hilltop Kasbahs, or just relax in one of many cafés or restaurants overlooking the Atlantic Ocean. The energy of Agadir will make visitors feel alive and free while providing an unforgettable experience full of adventure and reflection that will linger long after they return home.
Is Agadir safe to visit?
Visitors may be curious about the safety of Agadir, as it is a popular tourist destination. Agadir is generally regarded to be a secure city for travelers, and the residents are typically warm and hospitable. The Moroccan police do a good job of keeping order in the city, especially in places where tourists tend to gather. Even though there aren't many crimes in Agadir, travelers should still be careful and try not to carry valuable things in plain sight. Thieves have also been known to target tourists at beaches and other public places, but this doesn't happen very often and can be easily avoided by being aware of one's surroundings. Overall, Agadir is a fun place for people who like to see, try new things to do, and want to explore this exotic part of Morocco while feeling safe.
Top 13 things to do and see in Agadir
Agadir is a fun place with lots of different things to do and see. One of the best things to do in Agadir is to spend the day surfing some of the world-famous waves that hit this African coast. You could also go to Agadir Crocodile Park to see these beautiful animals in their natural environment or Agadir Birds Valley to relax in the shade of trees. For a more adventurous experience, walk up to the old Kasbah, Agadir Oufella, or take a day trip to Taghazout and check out its beautiful beaches and lovely towns.
1. Spend the day surfing in Agadir
People love to go surfing in Agadir because the waves are ideal for riding and the water is warm and calm. Surfers from all over the world come to this Moroccan city because the weather is always nice and the waves are always there. There's something for everyone here, whether you're a seasoned surfer or just starting out:
Experienced Surfers:

Agadir offers some of the best surfing conditions in Morocco with long, powerful waves that can reach up to 8 feet high. The warm waters provide hours of fun and adventure as you ride wave after wave. Plus, there are plenty of local surf schools to help refine your skills or learn new ones.

Newbies:

If you're new to surfing, Agadir is a great place to start as it provides ample opportunity for learning in an environment that is safe and welcoming. From beginner classes at any number of surf schools around town to calmer waters close to shore – there's something for everyone here!
Agadir is sure to offer an unforgettable day out on the water – one full of adventure and thrills – so grab your board and hit the waves!
2. Observe crocodiles at Agadir Crocodile park
If you want to do something different in Agadir, the Agadir Crocodile Park is a great place to see the creatures in their natural environment. Even though some people were worried about safety, the park has put in place many safety measures and keeps a close eye on things to make sure guests are safe while learning about these interesting animals. Being around so many of these animals is sure to be a once-in-a-lifetime experience that will make you think a lot about the power and beauty of nature.
At the Agadir Crocodile Park, it's easy to get caught up in the excitement that awaits. The size and speed of these animals will make you feel amazed and also make you miss wilder places and times from the past. You can take your time exploring—there's no need to hurry—and let yourself be filled with the joys of finding that come from seeing alligators in their natural habitat.
3. Spend an afternoon in the shade of trees at Agadir Birds Valley
Birds Valley is right in the middle of Agadir. It is a quiet place to get away from the busyness of the city, and travelers can spend an afternoon in the shade of the trees. This beautiful valley is a safe place for birds and other wildlife in the area, and tourists can watch these animals in their native environment. There are also a lot of bird species to see here, such as warblers, wagtails, and bee-eaters.
The peaceful mood at Birds Valley makes people want to walk along the many trails that wind through colorful gardens and fields. Along these paths, there are many places where people can have picnics or just sit and take in the beautiful views. The nearby pond is a great place to watch birds and fish. Spending an afternoon at Birds Valley is sure to be a unique experience, whether you're looking for peace and quiet or a chance to get back to nature.
Explore winding trails surrounded by lush greenery
Observe local birds and wildlife in their natural habitat
Take in breathtaking views from peaceful picnic spots
4. Hike up to the old Kasbah, Agadir Oufella
After a peaceful afternoon in the shade of trees at Agadir Birds Valley, why not continue the journey and explore another beautiful attraction? A must-see destination for visitors to Agadir is the old Kasbah, known as Agadir Oufella. This ancient fortress was once an important stronghold in the city, and it stands proudly atop a hill overlooking the sea. Hiking up to this majestic structure is an adventure that promises wonderful views of both the coast and the countryside.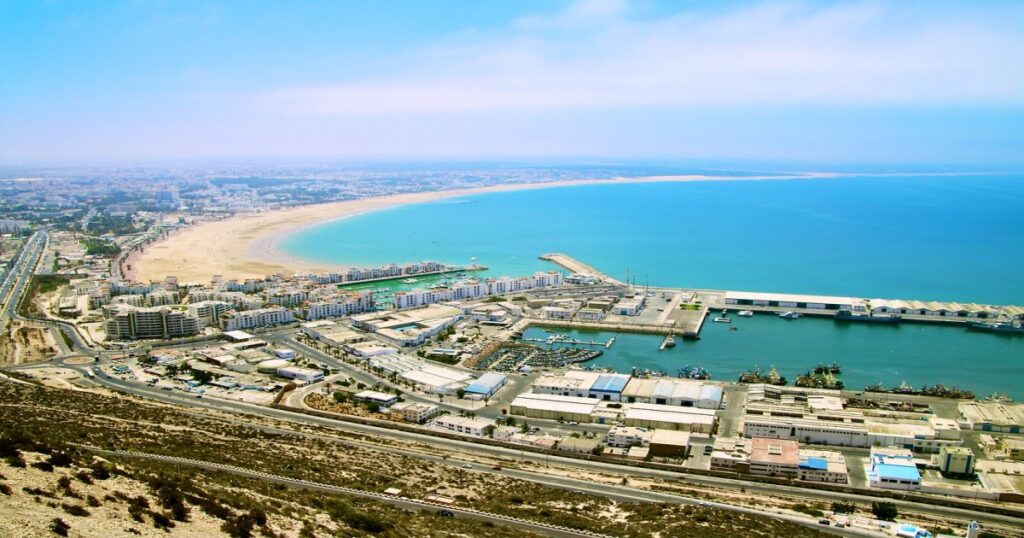 The way up to Agadir Oufella is steep, but it's well worth it for people who want a nostalgic experience. As one goes up, one can see all kinds of things, like brightly colored plants growing on rock walls and birds flying high above them. When you reach the top, you'll be able to see amazing views that make for some beautiful photos. When people go to Agadir Oufella, they can think about how much has changed since it was built many centuries ago, while also appreciating its timeless beauty that has stood the test of time.
5. Go for a day trip to Taghazout
Taghazout is the best place for a day trip because it is only a short drive from Agadir. This small town has something for everyone. It has beautiful beaches and traditional fishing villages. Here are some of Taghazout's best things to do:
Take a dip at Taghazout Beach – explore the sandy beach and take in breathtaking views of the ocean.
Check out Banana Village – enjoy authentic Moroccan cuisine while taking in traditional architecture and culture. Whether it's exploring lush nature trails or simply soaking up the sun on the beach, spending a day in Taghazout will leave you feeling refreshed and inspired with memories that will last a lifetime!
6. Discover La Medina d'Agadir
Now that you've seen what Taghazout has to offer, it's time to head back to Agadir town. La Medina d'Agadir is a great place to look around and learn about. This traditional medina was built in the 1950s. It gives tourists a look into the past of Morocco without having to leave modern Agadir.
In La Medina d'Agadir, the streets are full of shops, restaurants, and bars that sell traditional Moroccan goods like spices, fabrics, jewelry, rugs, and gifts. Also, some of the best street food in town can be found here. You can ride a camel along the seaside walkway or in Talborjt Park if you want to try something more exciting. The medina also has a number of beautiful churches that make great photo opportunities. After exploring this vibrant area of town, travelers will be left feeling reflective about their journey while simultaneously filled with nostalgia for old Morocco.
7. Go for a stroll in The Souk El Had d'Agadir
The Souk El Had d'Agadir presents an opportunity to experience the bustling energy of a traditional Moroccan marketplace. It is a place where people can go to explore and learn something new, as well as enjoy the culture and food of the area. As you walk through the souk's twisting streets lined with colorful shops selling everything from spices to gifts, you might feel a sense of excitement, memories, and freedom. Here, people can buy a wide range of things, from handcrafted leather items to common tourist trinkets. There are also a lot of restaurants in Agadir that serve delicious food coming from many different places. When you walk through the souk, you can take in the mood and see what this lively market has to offer. When you go to Agadir, you should not miss the chance to see things like haggling with nice sellers and try delicious food.
Learn more about what to buy in Morocco!
8. See stunning mosques and the Museum of Berber Arts
As we keep exploring the beautiful city of Agadir, we find some of its most beautiful mosques and museums. With its whitewashed walls and finely carved tower, the Hassan II Mosque is a grand sight in the city. It is a breathtaking sight to behold for visitors to Agadir. The Museum of Berber Arts and History, which shows the country's long and rich past, is another famous place for tourists to go. Visitors can look at traditional Moroccan items like jewelry, rugs, pottery, clothes, musical instruments, and much more. These items show how rich Morocco's culture is. The trip to Agadir wouldn't be complete without seeing some of these amazing places.
9. Take a ride on the Ferris Wheel
From the top of Agadir's famous Ferris Wheel, you can look out at the city's skyline. This ride is beautiful and calm, and it gives you amazing views of the city. The Ferris Wheel is a tall structure that stands out against Agadir's scenery. It is a fun place to visit for people of all ages and backgrounds. As the slow-moving turn takes people to the top, they can see wide views of both desert scenery and city buildings.
The Ferris Wheel is not only beautiful to look at, but it also makes people feel calm as they take in the beauty around them. This famous ride can be a time for travelers to think about where they are in life and what they have seen during their time in Agadir. It is an experience that many will never forget and one that may even spark feelings of freedom within them.
10. Walk along Agadir's sea-front boulevard
Leaving behind the excitement and thrill of the Ferris wheel, take a leisurely stroll along Agadir's seafront boulevard. This picturesque avenue is lined with palm trees, making it a great place to breathe in some fresh air while taking in the stunning beauty of the natural landscape. Along this beautiful stretch, one can find many restaurants and cafes offering delightful cuisines from all over Morocco – making it an ideal spot for a romantic dinner or lunch.
The atmosphere along this boulevard also offers something special for those looking for an adventurous experience. Whether it be watching kite surfers catch some waves, joining in on street games such as hacky sack, or exploring all that the local market has to offer – this is sure to be a memorable experience. The boulevard is also home to many festivals throughout the year where families gather together to celebrate traditional Moroccan customs and culture such as music, dancing, and food.
Things To Do and See Along Agadir's Sea-Front Boulevard:
Enjoy delicious cuisine from various restaurants and cafes
Watch kite surfers catch waves on the beach
Join in on local street games such as hacky sack
Participate in traditional Moroccan music and dance performances.
11. Do a Hammam in Agadir
In Agadir, you can get a taste of traditional Moroccan culture by going to the neighborhood Hammam. As soon as you step inside, you'll be taken to a unique world of steam and energizing smells, as well as a place where you can relax and feel refreshed. The hammam is an old practice that is used to clean, heal, and relax. During your visit, you can get a variety of treatments, such as a nourishing body scrub or a massage that focuses on improving circulation and boosting the immune system. You'll also find that the hammam gives you a place to think and get away from your everyday life. It's a place where you can truly relax while soaking in its warm atmosphere. This is definitely something you should do while you're in Agadir.
12. Visit the Museum of Amazigh Culture
Explore the Museum of Amazigh Culture in Agadir to gain an insight into the history, culture, and traditions of the Amazigh people. Visit this museum to:
Discover how they were able to survive through difficult times:

Learn about their traditional clothing, cuisine, and music.
Understand how their unique customs have shaped them over time.
Uncover the spiritual practices that have defined them for centuries.

Explore a range of artifacts from ancient civilizations:

See ancient pottery and jewelry from nomadic tribes.
Admire traditional tools made by skilled artisans throughout history.
Appreciate some of the most valuable items crafted by past generations.

Visit the Museum of Amazigh Culture for an unforgettable journey back in time that will spark feelings of adventure, reflection, and nostalgia in any traveler with a subconscious desire for freedom.
13. Day trip to Paradise Valley
Take a day trip to Paradise Valley, which is a beautiful place to see if you are ready to leave the city. The area is at the base of the Atlas Mountains and has beautiful views of green slopes with rivers and streams running through them. This oasis is a great place to get out into nature. You can walk along cobblestone paths through quiet fields or hike up rocky hillsides to see beautiful views.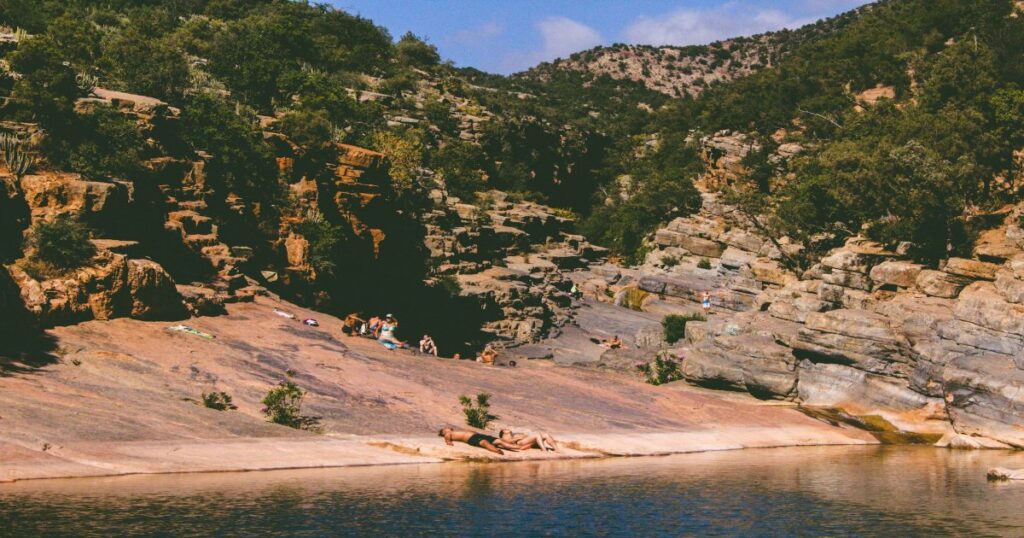 Along with this remarkable landscape comes an abundance of wildlife which can be seen in its natural habitat. From adorable birds flying over the surface of small ponds to mountain goats sitting on sharp rocks, there is a lot to see. There is something for everyone here, as well as a lot of space to relax and think in a place where nature's beauty creates a calm atmosphere. As you take in all that Paradise Valley has to offer, you will be drawn in by its peaceful beauty. After your day trip into the woods, you will feel truly refreshed and refreshed.
How to get to Agadir
Agadir is one of the most popular places for tourists to visit in Morocco, and it's easy to get there from many of the country's biggest cities. You can drive, take a bus, or take a train from Marrakech to Agadir. The trip takes between 4 and 6 hours. If you're coming from outside Morocco, it's best to fly straight into Agadir Al Massira Airport, which has a number of foreign flights. From the airport, travelers can take a cab or ride-sharing service into the city center to start exploring this seaside location.
Fly to Agadir
Traveling to Agadir by plane offers visitors the opportunity to experience the unique attractions and sights of this vibrant coastal city. The journey begins with a breathtaking view of the Moroccan coastline, followed by an exciting landing at Al Massira International Airport. Once in Agadir, travelers can explore a variety of attractions and activities that will satisfy even the most adventurous traveler:
Explore the winding streets and local markets to find handmade souvenirs and authentic Moroccan cuisine.
Spend a day sunning on one of Agadir's beautiful beaches or take part in some watersports like windsurfing or jet skiing.
Visit La Medina d'Agadir for an evening of live entertainment, shopping, dining, and dancing under the stars.
Adventurous travelers will find Agadir is full of interesting things to do and see while enjoying its relaxed atmosphere and stunning views. Whether it's exploring local markets, going on a beachside adventure, or dancing all night long in La Medina d'Agadir – traveling to Agadir by plane opens up an array of experiences with its unique culture and unforgettable sights!
How to get to Agadir from Marrakech
Marrakech is a great place to start a trip to Agadir, as there are many ways to get there quickly and comfortably. One of the most common ways to get from Marrakech to Agadir is by bus. The journey takes around 5 hours, with regular departures throughout the day. Bus tickets are pretty cheap and can be bought in advance or at the stop. If you want a more luxurious experience, you can also take a direct flight from Marrakech to Agadir. The flight takes just over 30 minutes and gives you beautiful views of Morocco's scenery. Also, travelers can rent cars if they want to go south on their own and stop in other towns along the way. No matter which choice they choose, travelers are sure to have a memorable trip full of new experiences as there are plenty of things to do and see in Agadir.
How to get to Agadir from Airport
For travelers arriving at the airport in Agadir, there are various transportation options available to reach their destination. The most convenient way for those wanting to explore Agadir is to take a taxi from the airport. There are official taxis with set prices for destinations within the city or even further afield, and it's possible to arrange private transfers before arrival as well. For those who prefer public transportation, there is an express bus linking the airport with several hotels and resorts throughout Agadir. Additionally, car rentals are available for visitors looking for freedom of movement and flexibility while exploring all that Agadir has to offer.
The journey into town will be memorable as you drive along wide boulevards lined with palm trees, admiring views of sun-drenched beaches and bright blue Atlantic waters. Whether by car or taxi, each traveler can savor the experience of discovering this vibrant city full of energy and beauty – perfect for adventure-seekers looking for an unforgettable holiday experience.
Is Agadir worth visiting?
Agadir is a place to think about if you want to see a lot of what Morocco has to offer. Agadir has beautiful beaches, high peaks, and busy city centers, so there is something for everyone there. There are lots of things to do and see for visitors, from relaxing on the beach to discovering the lively culture and food of the nearby towns of Agadir:
Take in breathtaking views from atop the Tiznit Mountains or explore the ancient Kasbah Tamnougalt ruins
Sample traditional Moroccan cuisine from local markets
Enjoy a leisurely stroll along the sandy shores of Agadir Beach
Visiting Agadir is an unforgettable experience that encourages exploration and reflection. The city's varied landscapes provide a nostalgic backdrop to explore hidden gems like the argan tree groves in Souss-Massa National Park or take part in exciting excursions such as camel riding along tranquil beaches. Whether you're looking for adventure or relaxation, Agadir is sure to offer something for every traveler with an adventurous spirit and a desire for freedom.
How to stay safe in Agadir
When going to Agadir, it's important to take safety measures to make sure you stay safe and have a good time. Visitors should get some general knowledge about the area and learn about the local rules and practices before they go there. People can stay safe in this beautiful area by being aware of possible dangers like theft, pickpocketing, and scams. Taking extra precautions, like not going alone at night or in isolated places, can also help.
Also, people should keep their things close to them when they are out in public and not carry too much cash at once. For extra safety, it's also a good idea to make copies of important papers like IDs and cards. If you're traveling with kids, it's best for them to stay close to you at all times and wear ID tags with your contact information on them, just in case something goes wrong. By following these easy steps, people on vacation in Agadir will be able to have a worry-free trip full of fun!
Best time to visit Agadir
The best time to visit Agadir's stunning beaches and vibrant culture is during the milder months of spring and autumn. During these months, the weather is nice but not too hot, so people can go outside and do things without having to deal with too much heat. This is also the best time to try local water sports like surfing, windsurfing, kitesurfing, or stand-up paddleboarding if you're looking for an adventure. During these months, the days are usually sunny and breezy, and the nights are nice enough to enjoy a meal at one of Agadir's many places with a view of the ocean.
Agadir also has a lot of cultural things to see and do that you shouldn't miss. Many travelers come here looking for a sense of freedom, which they find in the busy markets full of unique souvenirs or the fascinating African sounds in traditional music places all over town. The atmosphere is warm and friendly, which makes visitors feel like they've been invited into someone's house. No matter what time of year you go to Agadir, you're sure to find something that will make you think and feel good.
Frequently Asked Questions
What is the cost of living in Agadir?
The cost of living in Agadir can be surprisingly affordable. It is a great destination for those seeking adventure, reflection, and nostalgia. With its stunning beaches and lively markets, Agadir offers an experience that will cater to the needs of any traveler looking for freedom.
Is there good public transportation in Agadir?
Agadir boasts excellent public transportation, with vibrant buses and taxis providing an adventurous, reflective journey. A ride is often nostalgic and filled with a subconscious desire for freedom. Enjoy the bustling atmosphere of Agadir's streets!
Are there any cultural attractions in Agadir?
Agadir is home to multiple cultural attractions, such as the Souss-Massa National Park, Souk El Had Market, and Agadir Kasbah. The city's breathtaking landscape entices visitors with its various monuments and history, providing a captivating experience that stirs feelings of freedom.
Are there any nearby attractions to visit from Agadir?
From Agadir, there are many attractions to explore. One can take a journey of discovery, delving into history and exploring nature's beauty. The nearby area is ripe for adventure; offering awe-inspiring sights to see and activities to do. With the right attitude, it will be an unforgettable experience that will leave one feeling re-energized and free.
What type of food is available in Agadir?
Agadir offers a variety of culinary experiences, from traditional Moroccan dishes to seafood delicacies. Savor the local specialties such as couscous and tagines while admiring the city's diverse landscape. Let your taste buds explore new flavors and embark on a tantalizing journey through Agadir's gastronomic culture.
Conclusion
Agadir in Morocco is a beautiful place where you can do many amazing things to do and see. The city has something for everyone, from the beautiful beaches of Taghazout to the old Kasbah. It is like a paradise in the desert because its people are friendly and its culture is full of life. Going to Agadir is a once-in-a-lifetime experience, like a lovely sunset that fades away into the night sky. Agadir has a lot to see and do, whether you want to have an exciting time or just rest. It's a great place to relax and enjoy everything Morocco has to offer. Agadir is a great place to visit because of its beautiful scenery, nice people, and delicious food.