When it comes to nightlife in Marrakech, the city is the best place to begin your journey in Morocco. However, it's not all bars and clubs! Visit Jemaa el-Fna, the city's beating heart and central square. The souk is open till late, so you may go walking around or maybe purchase souvenirs or even eat traditional street food. There is a genuine carnival atmosphere, so you can buy and eat while watching acrobats, live music, and street performers.
It's possible that nightlife in Marrakech won't live up to your expectations, especially if you're coming from the United States or Europe. Nonetheless, one of the primary attractions is the variety. The predominant religion in Morocco is Islam, therefore although there are nightclubs and bars, you can also expect non-alcoholic nocturnal activities. For example, folklore shows in the famous square of Jamaa El Fna. Typically, these events include dinner, peppermint tea, and live music. If that does not appeal to you, try a cabaret. You can drink a beer while watching belly dancing.
Spend a great nightlife in Marrakech
Nightlife in the old part of Marrakech, the Madina.
You can take advantage of some unique choices hidden in the maze of streets that makes up Marrakesh's medina to keep the day going. The Jemaa el Fna Square, where street musicians and other entertainers put on their own shows to liven up the mood, is unquestionably the center of life in the medina. A meal at one of the food stands or a trip to nearby cafes can be a fantastic way to start the night in Marrakesh from this location.
In fact, there are some excellent bars in the vicinity of the square where you may get a drink or a cup of tea. Keep in mind that it might be very challenging to locate locations inside the medina that serve alcoholic beverages.
You can stop by cafes with rooftop terraces in the medina like Le Salama or Dar Anika, both of which offer a romantic atmosphere and riad-like furnishings. While dancing by candlelight, you can view the Atlas Mountains from Le Salama.
Without a doubt, Cafe rabe, a restaurant and cocktail bar (this time with alcoholic beverages), with a lovely outside patio, is the most well-known icon in the medina. It is a wonderful way to discover Marrakesh at night to spend an evening at any of them.
Around 22:00 or 23:00, as businesses start to close, the nightlife in the medina comes to an end.
Nightlife in the new part of Marrakech, Geuliz, and Hivernage.
In the city's nightlife, the new part of Marrakesh also hopes to find a place for itself. Hivernage and Gueliz, two nearby parts to the west of Marrakesh's center, have the most vibrant nightlife. The new district offers a broad variety of entertainment options, including hip restaurants, motels, and nightclubs.
Many visitors go to these two neighborhoods after eating in the medina to see the new section of the city, where there is a vibrant nightlife modeled after Europe. In general, the nightlife in the new Marrakech is fairly safe; there is a pleasant mood and a wide variety of possibilities.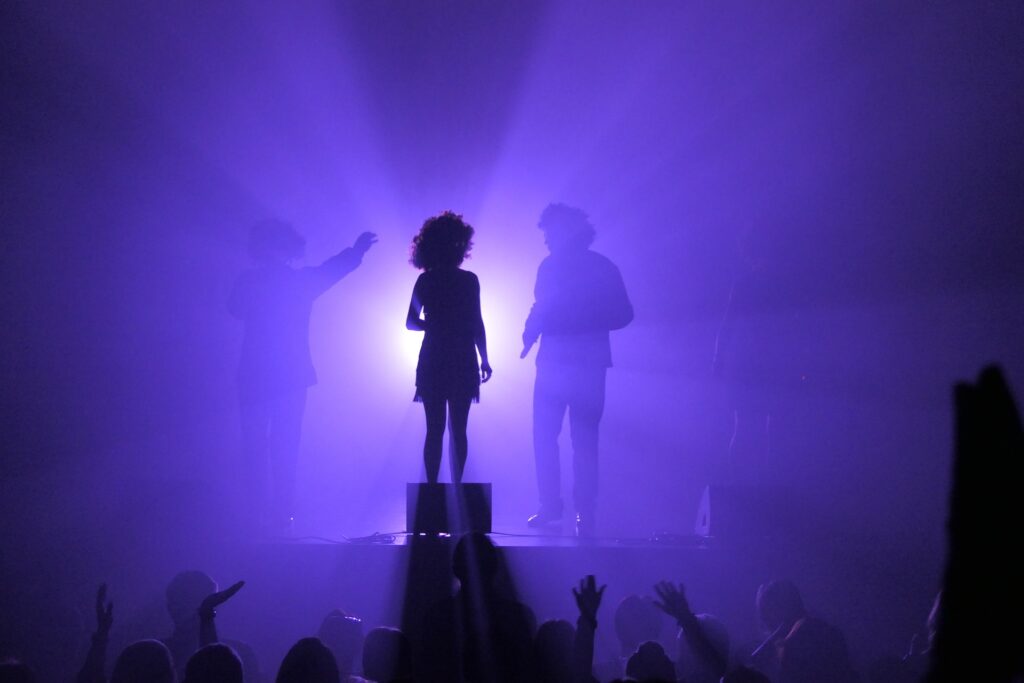 Marrakesh's most popular nightclubs:
If you're a party animal, you should be aware of Marrakesh's top nightclubs in addition to its cafes, terraces, and chill-out areas to make the most of your time in the royal city. The new part of the city is home to all the large nightclubs.
1. Famous Club 555
The vibrant nightlife of Marrakech is well-known. One of Marrakech's top superclubs, Club 555 is recognized for bringing in DJs and artists from throughout the world. The performances at Club 555, which have included famous names like Akon, Tyga, French Montana, and Snoop Dog, are the largest in the city. The club usually conducts themed evenings, has special guests, and offers fantastic drink specials. Due to this, Club 555 is one of the best locations to experience Marrakech's exciting nightlife.
2. Babouchka
One of Marrakech's top nightclubs is called Babouchka. Babouchka's fame has drawn a large number of night owls from all over the world to take advantage of Marrakech's exciting nightlife. Make memories with your pals into the wee hours by escaping to Babouchka. This place is situated in the lovely Palm Grove and just a short distance from the magnificent city of Medina. Every Thursday through Sunday, Babouchka hosts some of the top events in the area. Babouchka is pleased to boast that its ever-evolving sounds provide a distinctive environment and atmospher.
3. Marrakech Pacha
This massive network of nightclubs in the Mediterranean region also includes a location in Marrakesh with what is said to be the biggest nightclub in Africa, with room for 3,000 people. A swimming pool with views of the Atlas Mountains and several dancing venues can be found at Pacha Marrakech. The DJ lineup is excellent and is, of course, the same as at the other Pacha clubs.
4. Theatro
One of Marrakesh's busiest clubs was once a theater and has been transformed into a nightclub. Theatro is a must-go when it comes to partying in Marrakesh because of its top-notch DJ performances. It hosts many sessions every day and is unquestionably one of the top nightclubs in Morocco.
5. Montecristo
This Gueliz neighborhood restaurant boasts a rooftop patio that is ideal for a relaxing night beneath the stars in Marrakech. One of the greatest parties in town is held at the gorgeous and classy Montecristo restaurant, which is also a nightclub.
6. Beach, Nikki
Does Marrakech have a beach? It is possible to visit Nikki Beach, which brings to the imperial city its brand that is already well-known in locations like Ibiza or Miami. For those hot evenings when you simply want to jump in the pool, this authentic beach club in Marrakesh's palm grove is the perfect place to go.
7. Silver
Another must for nightlife in Marrakesh and one of the largest clubs to launch lately is Le Silver. In the Hivernage neighborhood, another Ibiza-style club. Every day, a fresh session with well-known dancers and DJs from across the world is offered.
8. Churchill's Le Bar
After a visit, Le Bar Churchill was renamed in honor of the British Prime Minister. It is opulent, with a leopard-print carpet, red leather walls, and plenty of jazz, giving it a 1930s cocktail bar vibe. A dress code applies.
9. Kabana
This popular destination, which just launched, is fantastic both day and night. A complete restaurant, frequent live music, a stunning rooftop view, and a full bar are all available. While it becomes crowded at night, you may still go for lunch or weekend brunch during the week. However, due to its high level of popularity, you should make a reservation, particularly on the weekends.
10. Restaurant and lounge Le Salama
In the Djemma El Fna neighborhood, this is really one of the best restaurant and rooftop lounge. The food is exclusively Moroccan. Meals cost between 150 and 350 dirhams. The atmosphere is a seductive fusion of jazz bar aesthetics and traditional Moroccan riad design.
With their daily "Happy Hour" (which is more like normal rates because the promotion lasts all night) two for the price of one beverage, you may enjoy hookah and cocktails on the rooftop. Therefore, if you prefer mixed cocktails, you may have two strawberry mojitos for 150 dirhams while seeing belly dancer performances and listening to the music selection of the local DJ.
11. El Fenn
One of the most well-known spots in the medina to enjoying a drink is this hotel and restaurant. They have a complete bar with cocktails and mixed beverages. A snack menu and a lunch or supper menu are also available. Although the cocktail bar doesn't need reservations, there is a limited amount of room, so call ahead if you're going to a big party. Don't expect to be able to simply stroll up; they do shut the pool and bar area if they are full up.
12. Dar Anika
Near the Mellah square in Arset La Maach, you can find this lovely riad. On its rooftop level, it's a perfect place for a romantic nightcap or daytime drinking. The staff is extremely welcoming, and if the owner is around, he will stop by to see how his visitors are doing to make sure they feel cared for and are having a good time.
Visit this place here.
13. Kosy Bar
On the opposite side of Mellah Plaza sits Kosy Bar. It features a wonderful rooftop terrace from where you can enjoy a stunning sunset view of the Medina. Even though it's more expensive than some other places in the neighborhood, it's still a fantastic place for dinner and a glass of wine. This site has the advantage of being less crowded than some of the other places, so entry shouldn't be a problem.
14. Le Tanjia
Le Tanjia is located a few doors down from Kosy Bar. Another spot where you may have supper and take in the view has lovely decor and a wonderful rooftop terrace.
15. Espresso Time
This restaurant is the crown jewel of the Kasbah. It gives classic Moroccan dishes, including their renowned camel burger, a contemporary touch. Although they don't offer alcohol here, it nevertheless has terrific nightlife and is an excellent alternative if you don't drink.
They often have Gnawa musicians play, and towards the end of it, the majority of people are even dancing and applauding. Additionally, they provide traditional Moroccan storytelling in English so that guests may understand more about the community. It's trendy, youthful, and the ultimate Moroccan hangout for hipsters.
16. Café du livre
The perfect spot to start or finish your night is here. It combines a dining establishment, a bar, and a bookshop. With draft beers beginning at 25 dirhams, you can enjoy American comfort dishes like buffalo wings and burgers like their Rock n' Roll burger.
You may take part in their trivia night on Mondays, which attracts a sizable international audience. They feature happy hour beer promotions throughout the week, and live music is performed on Fridays and Saturdays. They also broadcast important athletic events if you're a sports enthusiast.
17. Mama Africa
Come here if you want to sample some sub-Saharan African cuisine. If you want to sample anything other than local food, the restaurant's food is excellent and the décor is quirky. Local musicians make the scene, which is still developing, one of their favorite hangouts.
18. L'envers
This establishment is relatively new to Marrakech, but with to its reasonably priced beverages, tapas, and contemporary art that you can buy from the walls, it's quickly becoming a fixture in the city's evening scene. You may want to make it an early evening or late evening stop with supper in between since the meal might not be sufficient to fill you up completely.
19. Pointbar
This lounge, which has a very French-Moroccan aesthetic, is a nice place to gather with friends for some cocktails and tapas.
20. Barometre
Barometre is another recent opening that is quickly gaining popularity. The setting is gloomy and murky, although the architecture is contemporary. Although the drinks are costly, they come in large serving quantities. You should also try their burgers!
21. 68 Bar a Vin
This is the spot if going to a club isn't really your thing and you're just looking for a lovely setting to enjoy some decent wine with pals. There is food available, and wine is sold by the glass. If you're sensitive to smoking, you may want to be informed that smoking is permitted.
The priciest hotel clubs and a casino are kept for last. The city's most opulent and spectacular hotels may be found in the upscale area of Hivernage.
22. Casino & Epicurien Es Saadi
These two will be combined since they are both located in the same structure, which is next to the Theatro and is all a part of the Es Saadi Hotel grounds. If you like playing slots and gambling, you may visit the casino and try your luck. You may go right to the rear and locate this restaurant/nightclub if you'd rather bypass the gaming. They feature two in-house DJs and a live band that performs its own brand of classic and new popular covers.
23. La Perle Skybar
A wonderful rooftop bar with views of the La Mamounia hotel is called La Perle. If you want to experience some Latin flavor in the city, go to this location where there is a live salsa band and dancers.
24. Lounge SO
The Sofitel hotel includes the SO Lounge. Along with regularly planned live music performances by singers and bands, there is food service. If you're on a tight budget, consider having supper somewhere else and arriving at the party later since it is on the pricey side.
Before going for nightlife in Marrakech.
Is it safe to go out at night in Marrakech?
There is no need to worry about your safety in Marrakesh at night. Although the medina neighborhoods can be daunting at night due to its confusingly small streets and low illumination, there are often no serious dangers. You can always take a taxi if you feel insecure or need to return to a riad within the medina.
In contrast, going out at night in modern Marrakesh resembles going out in a Western metropolis. Here, alcohol is readily available and can even be purchased at a supermarket.
Are there nightclubs in Marrakech?
Yes, Marrakech has numerous nightclubs that are popular with both locals and visitors. Typically, these clubs feature live music or DJs that play a fusion of foreign and Moroccan music. If you want to enjoy the authentic nightlife of Marrakech, you must visit one of these clubs!
Alcohol is commonly available in Morocco's nightclubs, and its usage is authorized. But it's important to know that getting drunk in public is against the law, and if you're caught, you could be fined or even arrested. Drunk driving is not permitted.
Does Marrakech have a dress code for nightclubs?
Yes, there is typically an implicit clothing code in Marrakech clubs. This often entails pants and a collared shirt for males. Women can literally wear almost anything. While the normal rule of thumb in Morocco is to dress more conservatively, nightclubs are an exception to this rule. Women wear formal attire, and anything goes.
When do clubs in Marrakech open and close?
The majority of clubs in Marrakech are open from approximately 10 p.m. till the wee hours of the morning. However, some may close sooner on specific weekdays. Many individuals do not enter nightclubs until midnight or later. Check the hours of operation of your preferred club in advance.
How much would you need for nightlife in Marrakech?
The cover charge for clubs in Marrakech ranges from 100 to 200 Moroccan dirhams (about $10 to $20 USD). Typically, this cost includes one or two beverages. On holidays such as New Year's, expect this rate to be significantly higher. There are minimum drink purchase requirements in some clubs.
How is the music at Marrakech's nightclubs?
The music in Marrakech's nightclubs might vary, but is typically a blend of foreign and Moroccan music. Numerous clubs in Marrakech include live music, and numerous DJs and musicians of international reputation perform there. Expect anything from pop and hip-hop to electronic and dance music.
Can one smoke at Marrakech's nightclubs?
Yes, smoking is permitted in the majority of Marrakech clubs. However, certain locations have designated non-smoking zones. It is prudent to investigate the club's smoking policy in advance.