Taghazout is a beach destination located on the Atlantic coast of Morocco. It is a popular tourist destination boasting pristine white sand beaches backed by rugged cliffs and crystal clear waters. With its idyllic setting, it provides an ideal escape from the hustle and bustle of everyday life. The area around Taghazout offers a wide range of activities, such as swimming, surfing, snorkeling, fishing, and much more. With its spectacular natural beauty and abundance of activities to do, Taghazout is the perfect place for those seeking adventure or simply looking for some peace and quiet in a stunning location.
Where is Taghazout Beach?
Taghazout Beach is situated in the southwestern region of Morocco, approximately 19 kilometers north of Agadir. This small town offers an idyllic atmosphere for travelers seeking peace and relaxation. For those looking to explore the area, Taghazout Beach has plenty to offer – from sunbathing on its golden sand shores to swimming in its crystal-clear waters. There are also a variety of activities available, such as horseback riding along the shoreline or taking part in a traditional surfing lesson. Visitors can also explore the nearby souks for souvenirs or take advantage of local restaurants serving up delicious Taghazout beach cuisine. With so many things to do at Taghazout Beach, it is easy to see why this stunning spot has become a popular destination among travelers who crave adventure and freedom.
What is the best time to visit Taghazout?
With its warm climate and consistent waves, Taghazout is the perfect destination for those seeking a heavenly beach getaway between October and April. The months of October to April boast average temperatures ranging from 20 to 25 degrees Celsius (68 to 77 degrees Fahrenheit), making it ideal for swimming, sunbathing, and surfing. Furthermore, the waves during this time are at their best, creating an enjoyable experience for surfers of all levels.
| Month | Temperature (°C) | Wave Height |
| --- | --- | --- |
| October-April | 20-25 | High |
| May-September | 30 | Low |
During the summer months (May to September), temperatures can rise up to 30 degrees Celsius (86 degrees Fahrenheit). While this may be great for those who are looking for a more relaxed holiday by lounging on the sand, these warmer temperatures do come with smaller and less consistent waves – so it isn't ideal for avid surfers. Nevertheless, people who are not into surfing can still enjoy Taghazout's stunning beaches in the summertime.
The best 5 beaches in Taghazout
Taghazout is a coastal city in Morocco with some of the most beautiful beaches in the world. Amongst the many beaches, five stand out as must-visits: Camel Beach, La Source, Devil's Rock, Plage Agroud and Banana Beach. Each beach offers its own unique qualities and experiences that make it worth exploring. From thrilling waves for surfers to calm waters for swimmers; from stunning scenery to magical sunsets; Taghazout has something for everyone!
1. Camel Beach
Camel Beach, located 10 minutes North of Taghazout, is renowned for its picturesque scenery, clear waters, and small waves that make it ideal for beginner surfers. The beach itself has a beautiful combination of clean sand and the view over the mountains creates a perfect backdrop to any adventure seeker looking to take in some sun and relaxation.
| Camel Beach | Characteristic |
| --- | --- |
| Scenery | Picturesque with mountain views |
| Waves | Small and ideal for beginners |
| Sand | Clean and soft |
| Animals | Chance to spot camels |
The beauty of Camel Beach makes it hard to resist. It's a great way to escape from the hustle and bustle of everyday life; just relax on the sand or take a dip in the crystal clear waters while taking in the stunning sights around you. Whether you're looking for an adventure or some peace and quiet, Camel Beach is sure to provide it all!
2. La source
La Source Beach is a hidden gem located close to Killer Point, accessible via a steep staircase and offering stunning views at low tide. This beach in Taghazout has something for everyone:
Surfers can enjoy strong waves;
Nature lovers can appreciate the high cliffs of Killer Point;
Swimmers can take advantage of the calm waters during low tide and weak swells;
Adventurers can explore the hidden cove with its rocky coast and crystal-clear waters.
This destination is perfect for those seeking an adventure off the beaten path, away from crowds and into nature's splendor and beauty. Its breathtaking scenery will leave you feeling energized and inspired to explore more of what this magnificent region has to offer!
3. Devils Rock
Following La Source, situated along the coastline of Tamraght is the beach known as Devils Rock. It is easily identified for its large rock formation in the middle of the shoreline. This small beach is a great place to bring children due to its well-arranged layout and plenty of restaurants on the shoreline.
The rock formation provides a great opportunity for cliff jumping into the sea but it should be done with caution as this is not an official dive site and can be dangerous depending on sea level. Regardless, Devil's Rock provides a great opportunity to explore and enjoy some of Morocco's natural beauty while also being close enough to civilization that you don't have to worry about safety.
4. Plage Agroud
Situated just off the coastline of Tamraght, Plage Agroud is a small and authentic village with a long sandy beach. Its houses are painted in different cheerful colors, giving it an inviting atmosphere. The water here is incredibly clean and clear making it great for swimming, diving or snorkeling. There are no big waves which make it perfect for those looking for a peaceful day at the beach.
The area around Plage Agroud offers plenty of opportunities to explore and experience the local culture. A short walk away there are traditional markets where you can buy fresh produce and souvenirs as well as restaurants serving delicious local dishes. It's also close to Taghazout, so visitors can enjoy both the quiet of the village and the hustle and bustle of city life.
| Activity | Difficulty Level | Cost | Time Required |
| --- | --- | --- | --- |
| Swimming | Easy | Free | 1 hour |
| Snorkeling | Moderate | Low | 2 hours |
| Diving | Hard | High | 3 hours |
5. Banana beach
Banana Beach is a picturesque destination overlooking the lush banana plantations of Banana Village, with its long sandy shore featuring large stones and strong currents. Visitors to this idyllic spot can enjoy a range of activities, from sunbathing and swimming in the warm blue waters to exploring the local markets for fresh produce. Here are some of the highlights that make Banana Beach an unforgettable experience:
Take a stroll on the beach's long sandy shore and immerse yourself in nature's beauty.
Explore the nearby markets for fresh bananas, seafood, vegetables, and spices.
Enjoy a leisurely swim in the crystal-clear waters while admiring views of distant mountains or islands.
Relax under palm trees as you watch local fishermen bringing home their catch from their boats.
Banana Beach is an excellent destination for those who want to relax by day and explore by night, offering something for everyone looking for adventure or restful calm alike.
How to reach Taghazout Beach?
Reaching Taghazout Beach is an easy and convenient journey allowing travelers to immerse themselves in the beauty of Morocco's coastline. The most popular way to get there is by flying into Agadir Al Massira Airport, which offers flights from various European cities with popular airlines like Air France, Ryanair, and Transavia. From the airport, it takes around 45 minutes by car to reach the village.
To make the journey hassle-free, it is advisable to pre-book a taxi before arriving as this will save time and money. Alternatively, you can take the bus from any major city in Morocco using CTM or Supratours services. It's important for travelers to be mindful of their financial situation while visiting Taghazout as there are no ATMs or banks available in the village itself; it's best to exchange cash beforehand or use the ATM at the airport that allows up to 2000 dirhams ($200) withdrawals per transaction. With careful planning and preparation, visitors are sure to have an unforgettable experience on Taghazout Beach!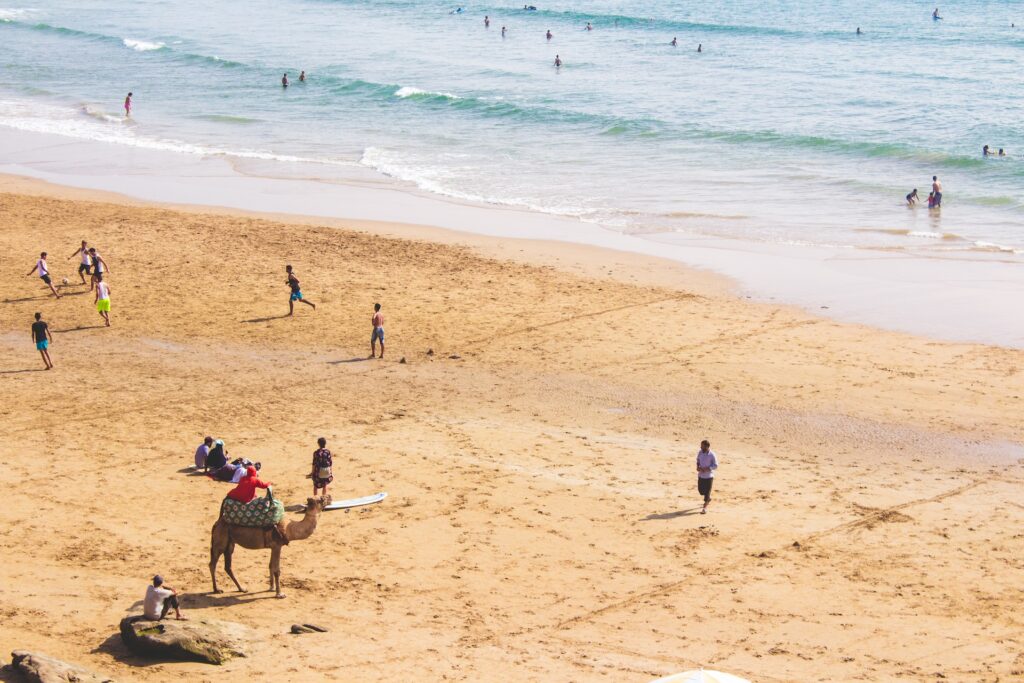 Things to do at Taghazout Beach
Taghazout Beach offers a variety of activities for visitors to enjoy. Surfing is the most popular activity due to its reliable swell and breaks of varying difficulty levels, allowing everyone from beginners to experienced surfers to have an enjoyable time. Relaxing on the beach or joining a yoga class are also great ways to enjoy the laid-back atmosphere and stunning Atlantic views. Those looking for more of an adrenaline rush can practice their skills at Taghazout Skatepark or go on a day trip to Paradise Valley.
1. Surfing
Surfers of all levels flock to Taghazout's renowned breaks year-round, where the waves can reach epic proportions during winter months. Experienced surfers have a plethora of challenging right-handers such as Anchor Point, Killer Point, and Boilers to choose from. The 500-meter northwest swell at Anchor Point is particularly popular among advanced surfers looking for an adrenaline rush. For those with less experience or wanting to learn, spots like Banana Point and Devil's Rock provide more forgiving conditions. Surf shops in Taghazout offer board and wetsuit rentals, lessons, camps, and retreats throughout the season which runs from September to April. They also arrange trips to Immesouane for experienced riders eager to explore new waves. With its world-class surf spots, long days on pristine beaches, and endless sunshine, Taghazout is undoubtedly one of Africa's best surfing destinations offering something for everyone – a place where dreams come true!
2. Relax on the beach
After a thrilling surf session in Taghazout, there is no better way to relax than by soaking up the sun on its beautiful beaches. With golden sands, clear water, and abundant sunshine, visitors are sure to enjoy some much-needed rest and relaxation. Average annual temperatures of around 77 degrees Fahrenheit (25 degrees Celsius) ensure that beachgoers can spend hours soaking up the warm rays without having to worry about getting too hot or cold.
The main beach in Taghazout is especially popular with families due to its safe swimming conditions and relaxed atmosphere. The added bonus of camel rides and horseback riding along the shoreline offer an exciting adventure for travelers looking for something more adventurous. Photographers will also appreciate the spectacle of local fishermen bringing their catch ashore in brightly painted wooden boats – a perfect photo opportunity! Although summertime may be busier due to Moroccan tourists, winter months can be quieter but cooler if visitors wish to explore this delightful destination at different times of the year.
3. Join a Yoga class
For those looking to combine their surfing adventure in Taghazout with a wellness experience, yoga classes are available at various local camps and hotels. Amouage by Surf Maroc offers twice-daily classes in an open-air setting that provides stunning views of the ocean. Adventurekeys Surf & Yoga provides guests with the opportunity to try aerial yoga using silk suspensions for postures. Tamraght Yoga Studio has an immersive wellness program that includes private therapeutic yoga classes, reiki sessions, massage treatments, and accredited yoga teacher training courses.
Those looking for an exciting way to relax while on vacation can take advantage of these varied options for a unique and mindful experience. Guests can explore their physical limits with aerial yoga or learn how to become a yogi themselves with a special certification course. Reiki and massage treatments are also offered for those seeking deeper relaxation while taking in the beautiful scenery of Taghazout Beach.
4. Practice Your Skills at Taghazout Skatepark
Skateboarders of all abilities can practice their skills at the international-standard Taghazout Skatepark, where breathtaking tricks are performed by the locals and newcomers alike in a friendly atmosphere. The skatepark is situated on a hillside overlooking the town and offers stunning views of the sea, beach, and village below. With its variety of ramps, obstacles, and half pipe as well as its inclusive environment for beginners, it is an ideal place to test your limits while making friends with those that share your passion for skateboarding. There's always an exciting energy in the park so whether you're riding or watching others perform impressive moves, it's sure to be an enjoyable experience.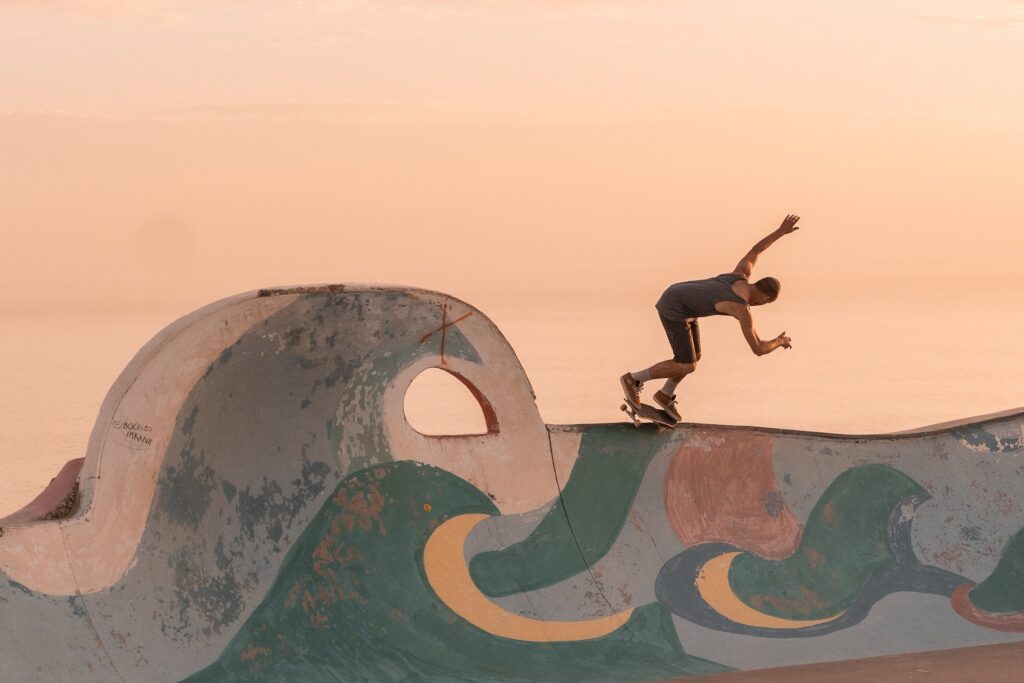 5. Go on a day trip to Paradise Valley
Situated in the foothills of the High Atlas Mountains, Paradise Valley is a secret oasis accessible from Taghazout via a 45-minute drive and 20-minute hike. An idyllic spot for both adventurers and those seeking relaxation, this hidden gem offers stunning views of sheer limestone cliffs, clear turquoise pools perfect for swimming or cliff jumping, and fresh orange juice stands. During winter months when water is at its fullest flow, visitors can experience the full majesty of Paradise Valley as they explore its winding trails and take in the lush scenery. With plenty to do – from lounging by the pool to enjoying a delicious tagine – Paradise Valley is an ideal day trip destination from Taghazout for anyone looking to discover something new.
6. Go for a Massage or Hammam
After a morning's activities, many visitors to the area opt for a traditional massage or hammam experience at one of the nearby spas, with some locations offering treatments that last up to two hours. While Taghazout Golden Spa and Mellow Massage & Spa are both popular choices located just 10 minutes south of the village proper in Tamraght, there is nothing quite like experiencing a Berber hammam. This ancient ritual has been practiced in North Africa for centuries and involves being steamed while lying on heated marble floors before undergoing an invigorating scrub with organic argan oil, which helps restore shine and elasticity to skin and hair. Many spa-goers report feeling rejuvenated after a session in the hammam, making it an unforgettable experience when visiting Paradise Valley or other destinations around Taghazout.
7. Enjoy Moroccan Cuisine
Moroccan cuisine offers a wide variety of dishes that incorporate exotic spices and local ingredients, making it an ideal choice for visitors to Taghazout. From the traditional tagine to couscous and pastilla, there is something for everyone. For those looking for something more adventurous, try some of the street food which can be found near the beach. Sample spicy Moroccan sausages or sardines grilled over hot coals with a side of Harira soup. The restaurants in Taghazout also offer an exciting mix of flavors from around the world, including Western and pan-African dishes. All of these options can be enjoyed while taking in breathtaking ocean views from one of the many rooftop restaurants overlooking the Atlantic Ocean.
8. Go for a day trip to Agadir
Following a delicious meal of traditional Moroccan cuisine, take the opportunity to explore beyond Taghazout and embark on a day trip to Agadir. Just 30 minutes away by car lies Morocco's largest beach resort – an ideal destination for those with a desire for adventure. Agadir is home to stunning palm-lined boulevards and promenades, where visitors can admire grand yachts in the marina or explore the remnants of its medieval kasbah. Those looking for souvenirs will find everything from artisan crafts and clothing to spices and rugs at Souk El Had market. Immerse yourself in Islamic architecture while taking in breathtaking views of the ocean, creating memories that will last a lifetime.
Frequently Asked Questions
What amenities are available at Taghazout Beach?
Surrounded by sun-kissed sand and a soothing sea, vacationers can enjoy a plethora of activities at the beach. From surfing the waves to exploring the local culture, there is something for everyone. Visitors can take advantage of nearby restaurants and bars or relax in the sun with a good book. Nature lovers may even spot migrating whales or dolphins along the shoreline. With its many amenities, Taghazout Beach is an ideal destination for adventurers seeking a carefree escape.
Is there a fee to access Taghazout Beach?
Accessing a beach may require a fee; however, some beaches are free to use. It is worth researching the policies of the beach before visiting to determine if there is an applicable fee.
Are there any nearby restaurants or shops in Taghazout?
Nearby restaurants and shops abound in Taghazout! Whether seeking a quiet cafe experience, or a bustling marketplace, options are available to fulfill any desire. Enjoy exploring the local flavors while discovering unique gifts to take home.
Are there any safety concerns when visiting Taghazout Beach?
In General, Taghazout Beach is safe. However, visiting any beach destination should involve safety considerations. Always be aware of potential hazards such as strong currents, sharp rocks, and marine life. Research the beach's local conditions to ensure a safe and enjoyable experience. Be aware of your surroundings, and if in doubt, seek advice from locals or lifeguards before entering the water.
Are there any special events or activities taking place at Taghazout Beach?
Statistics show that over three million people visit Morocco's beaches each year. Taghazout Beach is a popular spot for many activities, including surfing, kiteboarding, and snorkeling. Tourists can also explore the nearby markets, join boat trips and take part in unique cultural experiences. Visitors are sure to find something to suit their adventurous spirit!
Conclusion
Taghazout Beach is a beautiful destination located in the south of Morocco. It offers stunning views of the ocean and many activities to do, such as swimming, sunbathing, surfing, and fishing. The best time to visit Taghazout is during the summer months when temperatures are milder and there are plenty of activities on offer. There are also five picturesque beaches to explore, each with its own unique charm. To get to Taghazout you can take a bus from Agadir or fly directly into nearby airports. Once there you can enjoy a range of activities including paragliding, snorkeling, and taking part in traditional cultural events. All these experiences combined make for an unforgettable adventure that will stay with you long after your trip has ended. Travelers looking for a truly special holiday should consider visiting this gem of North Africa