You will find the top 10 hotels in Fes in this article. They are recommended based on experience by locals and tourists.
Fes offers the atmosphere of an authentic Arabian walled city. The historic city of Fes El-Bali is home to the labyrinthine medina and the University of Al Quaraouiyine, the world's oldest educational institution. Explore the colorful souks before getting lost in the meandering passageways that lead to some of Fes' greatest hotels. These wonderful places to stay, known as riads, are often concealed behind unassuming entrances that open to reveal beautiful courtyards.
 1. Dar Seffarine.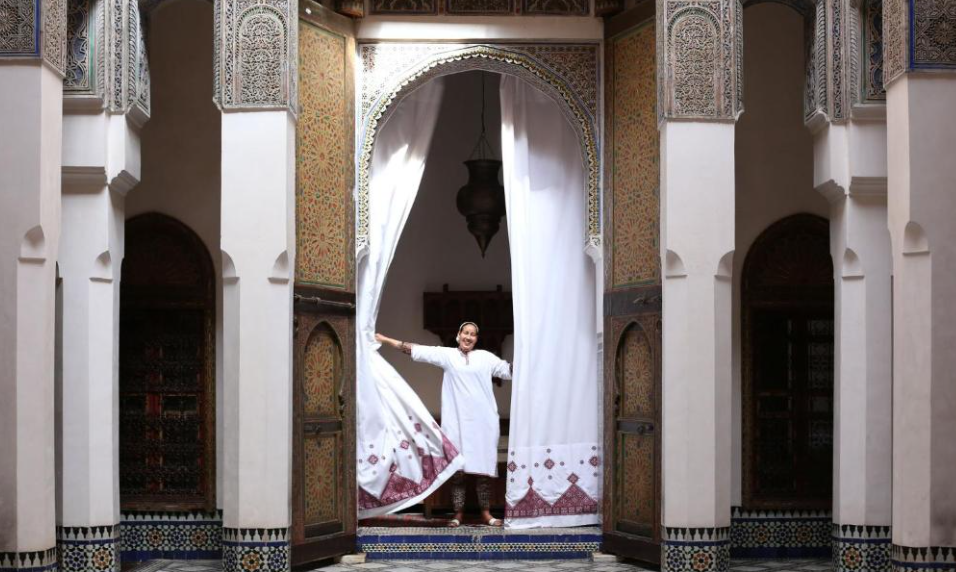 This 600-year-old dar (typical Moroccan townhouse centered on an interior courtyard) would almost likely be a historical attraction if it wasn't a hotel. It took 25 expert artisans two years to restore the structure to its previous splendor, culminating in a central courtyard worthy of the Alhambra in Granada, Spain. Columns of finely carved plasterwork rise from a mosaic-and-marble floor, towering above 4-metre-high (13-foot) cedar doors with hypnotic patterns. Breakfast and supper are provided on the rooftop terrace, which has a view of the medina.
 2. Karawan Riad.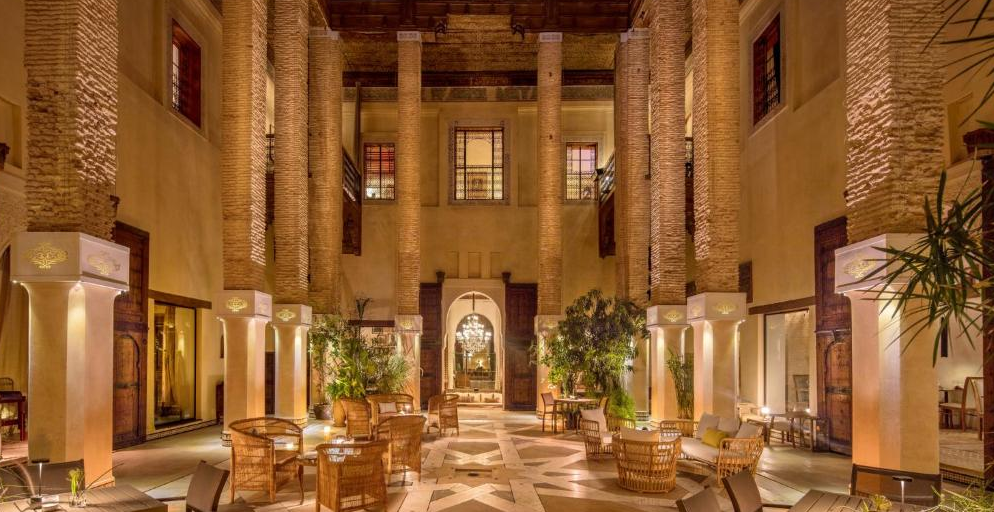 This was one of Fes' most opulent hotels in the 1600s. The Chergui, which contains a bathroom facing the vertical garden, a balcony into the central courtyard, and a hidden mezzanine area reached by a hanging staircase, is possibly the most authentic of the seven specially designed suites. Relax in a magnificent Ottoman-style spa before dining on innovative Moroccan cuisine at the Karawan Restaurant.
 3. Riad Al Bartal.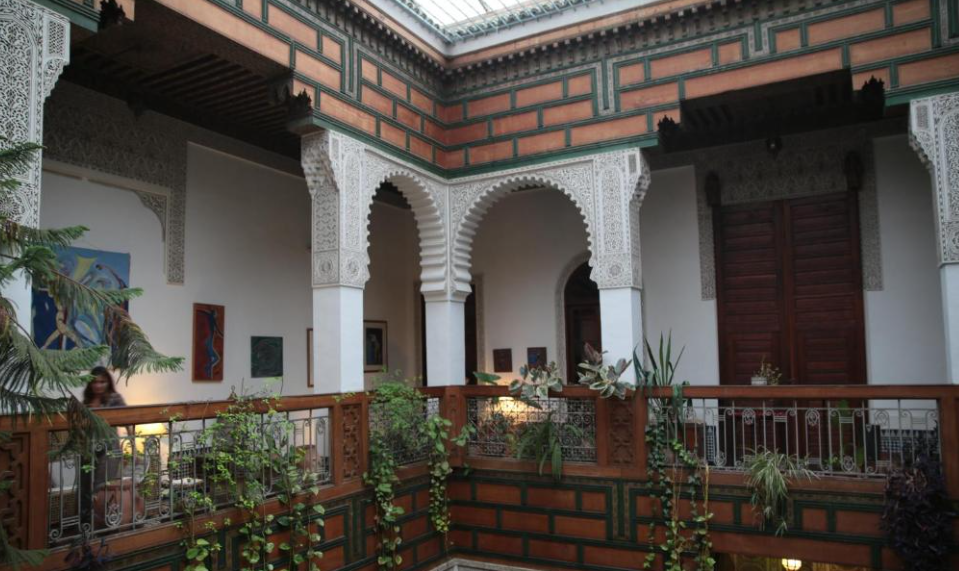 The apartments and suites of Riad Al Bartal are centered on an Arab-Andalus courtyard with filigreed columns and intricately tiled flooring. It's the ideal site for breakfast (included in the nightly cost) or an afternoon mint tea, since it's filled with greenery and soundproofed on all sides from the outside world. The conventional medina-style rooms at the Riad are themed around things gathered by the owner during his travels across Africa and South America. Parking is unusually accessible directly outside the riad.
 4. Palais Amani.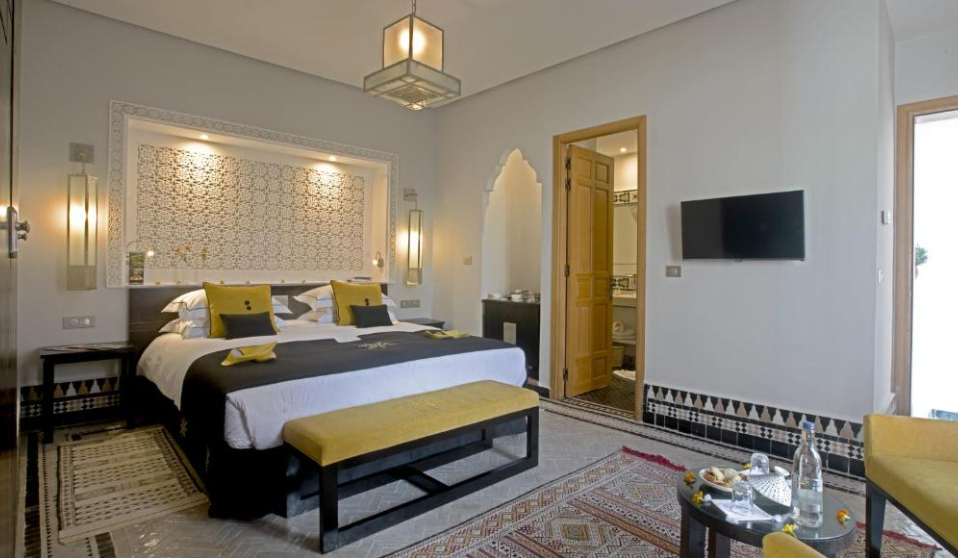 The five-star Palais Amani is housed in an exquisite riad that was formerly home to one of Fes' most renowned families. Abdel and Jemima, a husband-and-wife duo, saved the building from extinction after it had been unoccupied for over 25 years. They currently provide a variety of Moroccan cultural experiences, ranging from chef-led souk excursions to henna skin painting courses. Book a tasting supper at the hotel's Eden restaurant, where a five-course tasting menu is expertly matched with a flight of Morocco's top wines.
Also read: Fes in Morocco, top things to do, see, and more
 5. Dar Tahyra.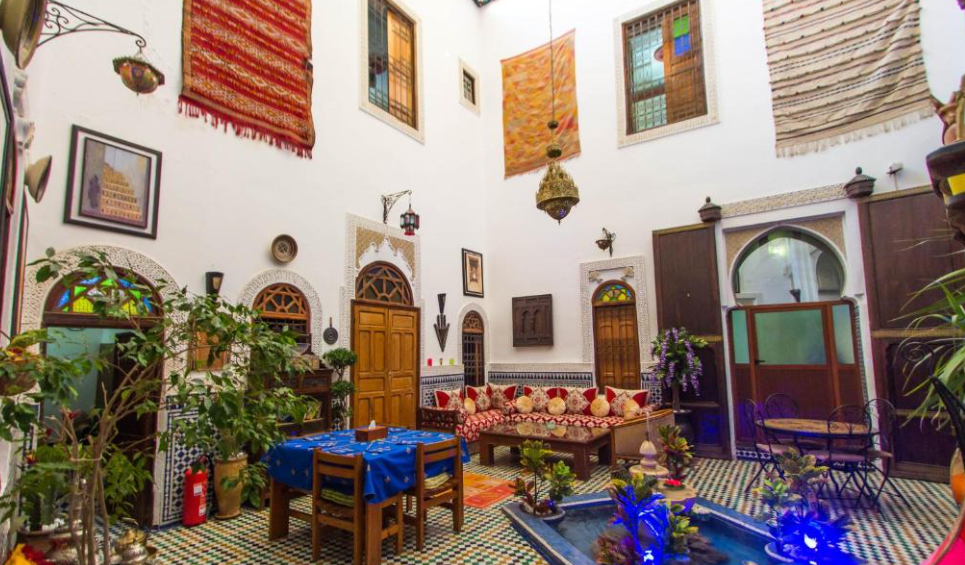 Dar Tahyra is one of the finest hotels in Fes if you seek an economical alternative in the heart of the lively ancient medina. Driss, the proprietor of this modest but charming hotel, is kind, as are the cooks who will create a typical Moroccan breakfast to start the day. It is not unusual to be welcomed into the kitchen to assist with the cooking process. With nicely appointed apartments sleeping two to six people, this is an ideal riad for both friends and couples. Enjoy the views from one of two patios.
6. Riad Fes Relais & Châteaux.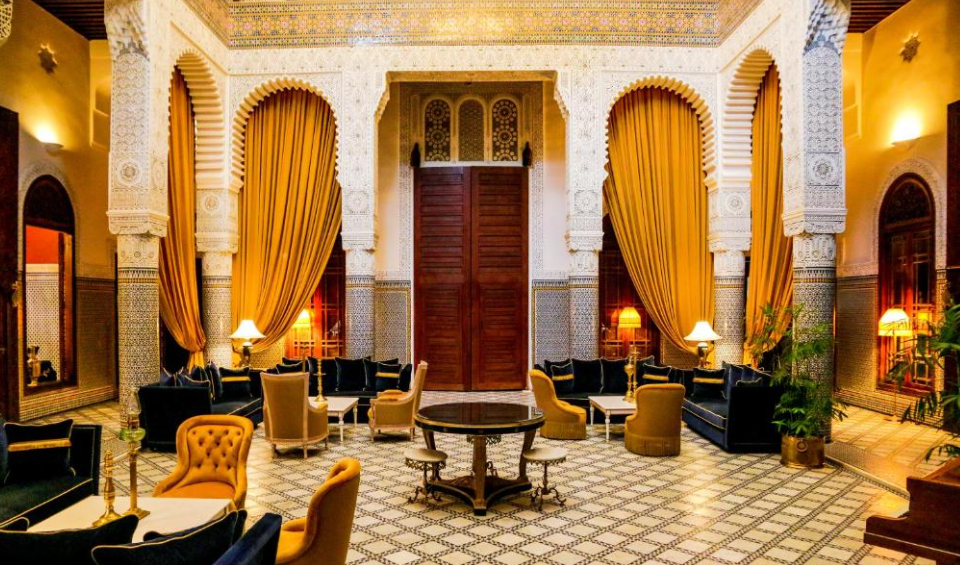 Riad Fes Relais & Châteaux is a five-star sanctuary in the center of Fes that combines luxury and heritage. Step into the magnificent foyer and you'll discover sumptuous velvet couches strewn around the classic tile flooring. The Deluxe Suites are only in the mid-price level, but they are exceptionally big, with a king-sized bed and a Carrara marble ensuite bathroom. The Moroccan L'Ambre restaurant, Spa by Cinq Mondes, swimming pool, and rooftop wine bar are all highlights.
7. Riad Fes Baraka.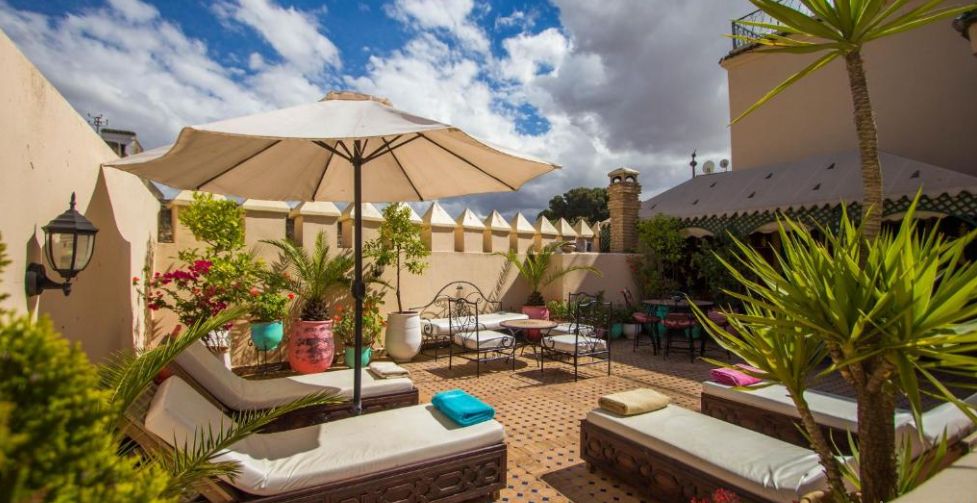 Riad Fes Baraka invites you inside a classic, lovely property that has been lovingly refurbished to reflect the original character of the city. Inside, the rooms are uniquely furnished and surround an open terrace. Swim in the on-site pool or relax in a traditional Moroccan hammam. Chef Samira will prepare a feast of tagine, couscous salads, and pastilla at the onsite restaurant, and you may also participate in a half-day cooking course to master traditional methods.
8. Hotel Sahrai.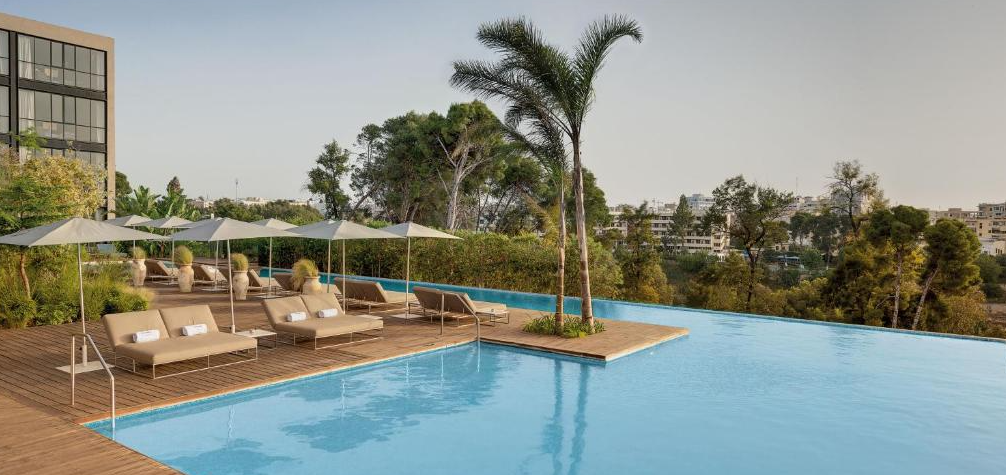 The infinity pool at Hotel Sahrai, perched on the hills around Fes, is a big lure, with magnificent views of the city below. This five-star hotel has stylish modern architecture and decor fashioned by French designer Christophe Pillet. After a specialty Stress Relief massage at Givenchy, walk to the Jungle Bar for tapas and homemade sangria. Alternatively, for French brasserie food, get a seat at the exclusive Relais de Paris Restaurant.
9. Riad Salam Fes.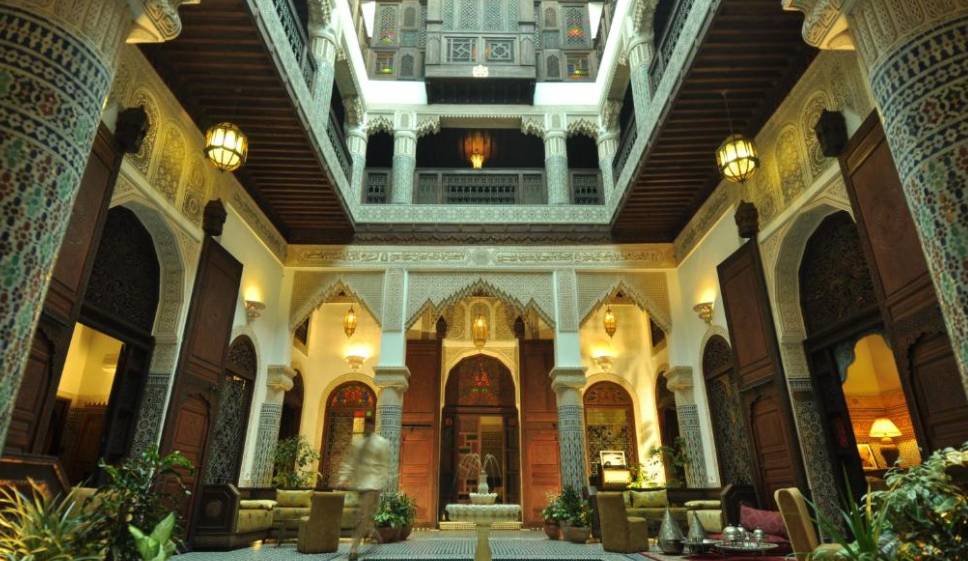 The inside of this five-star hotel is defined by maximalist design, which includes brilliant geometric tiling, velour sofas, and multi-colored stained-glass windows. There are eight exquisite accommodations to choose from, including the Ambassador Suite with panoramic views and the Royal Suite with king-sized mattresses and copper chandeliers. There's also a rooftop restaurant and a spa with hammam and massage treatments. To understand more about the city, book a tour of the medina ramparts.
10. Palais Shéhérazade & Spa.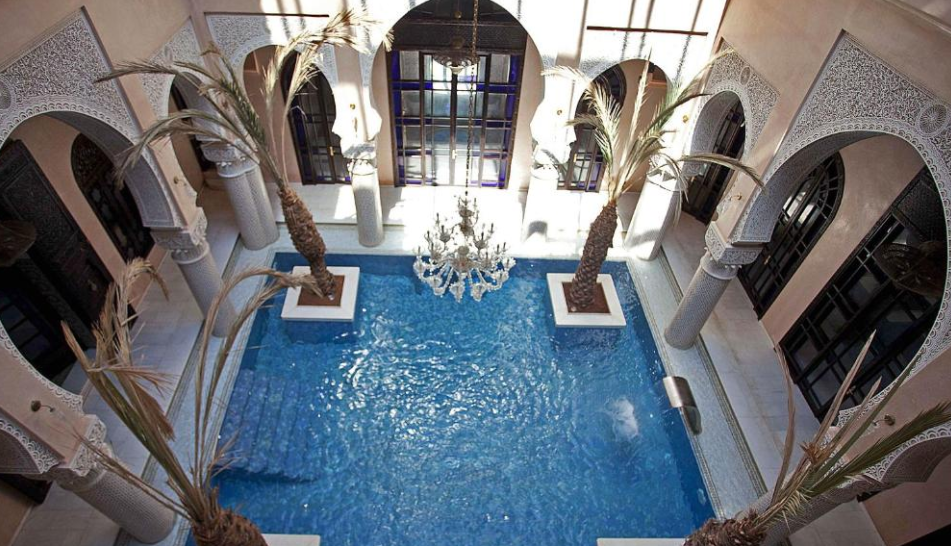 This hotel, located in Fes's Layoun district, boasts an ideal setting of palm trees, enticing pools, and grand Moroccan architecture. It unquestionably deserves the label of palace. There are 24 suites in two beautiful riads, ranging from Junior to Royal, each with ornately carved furnishings and exquisite linen. On arrival, traditional Moroccan tea and sweets are served. Make an appointment for a "haute couture" beauty treatment at the Anne Sémonin spa, which includes a Jacuzzi, an outdoor pool, and a hammam.