Renting A Car In Morocco
Morocco is a country in North Africa that is known for its beautiful scenery, rich culture, and unique architecture. It's a popular destination for travelers who are looking to explore the beauty of the Kingdom while enjoying an immersive experience. Renting a car in Morocco lets visitors see the country at their own pace. With the rental car, guests can get to remote areas, learn about the culture of the country, and find secret gems that aren't on the main roads. The following article will give you a general idea of what it's like to rent a car in Morocco. It will talk about safety, insurance, and how to make the most of your trip.
Read also, Top 15 Landmarks Of Morocco, Hidden Gems.
1. Is driving in Morocco safe?
In general, it is safe to drive in Morocco as long as one pays attention to traffic regulations and takes action to avoid dangers and scams. When traveling in Morocco, it's important to learn about the different visa requirements, driving rules, and road safety rules ahead of time. Renting a car is a great way to see this huge country and learn about its many different cultures. Before making a choice, you should also think about how much a hire car will cost in fees and gas. Now that you know this, you can be sure that your trip will be both fun and safe.
When you drive in Morocco, safety should always come first. Drivers should always be aware of the speed limits, follow all traffic signs, and never drink and drive. Also, you should learn about the local customs before you leave, since they can change from region to region and city to city. If you follow these steps, you'll have a trip you'll never forget without any problems.
Read also; Is Morocco Safe to Travel To?
2. How to Rent a Car in Morocco?
Travelers who discover Morocco by car have the freedom to see the country at their own pace. It's important to know the local rules for driving and adapt to road conditions, which can change a lot from place to place. Before renting a car, it is essential for travelers to understand the various payment methods accepted by rental companies as well as the regulations that apply when renting a car in Morocco.
There are a lot of rental companies that give a wide range of cars, from small economy cars to SUVs and vans. Travelers who want to rent a car in Morocco have a lot of choices, depending on their needs and price. Before signing a contract, it's also a good idea for renters to learn about the rental rules, such as age limits, insurance coverage, and cancellation fees. Taking these steps will ensure that travelers enjoy an enjoyable and hassle-free experience while exploring all that Morocco has to offer.
3. What do you need in order to rent a car in Morocco?
When renting a car in Morocco, it is important to remember to keep all necessary documents close at hand. Your driver's license from your home country, your passport, and your credit card are some of these things. Before starting the hiring process, it's also important to make sure that all of these papers are still legal and up-to-date. By having these things close at hand, renting a car in Morocco will go more smoothly and quickly.
Read also; Do's & Don'ts in Morocco – Top Conduct Rules
Keep your important papers close to you.
It's a good idea to keep your car rental paperwork, like your insurance and rental agreement, in a safe place that's easy to get to. When going to Morocco, it's important to know the local rules and customs for driving, as well as how to avoid being robbed and find your way around. For a trip to go well, you also need to be aware of road safety. If you keep all of your important papers close by, you'll be ready for any quick police checks or other unplanned events along the way. Having these papers on hand can save you time and make sure that your trip goes smoothly. It is smart to keep all of your important papers with your passport so they are easy to find when you need them.
Rental car insurance in Morocco
On top of the basic Collision Damage Waiver (CDW) coverage, rental car insurance in Morocco often comes with a high cost of 10,000 dirhams (about $1,000 USD). When choosing whether or not to rent a car in the country, this is an important thing to think about. Before making any plans, visitors should make sure they know the rules for driving and renting in Morocco. There are many places to rent popular car models, but it's important to remember that there are age limits and that road conditions may be different than what tourists are used to in their home countries. Taking the time to learn about rental car companies, insurance, and the rules of the road in Morocco can make renting a car a fun and stress-free experience for everyone.
4. Is driving in Morocco easy?
Driving in Morocco can be fun because there are different speed limits and signs, a lot of gas stops, and roads that lead to many different places. To get around on the country's roads, you need to know about speed limits and signs, but there are plenty of gas stops so you'll never run out of gas. You may need to pay extra attention when you park your car because many spots are not clearly marked or are hard to find in the busy streets.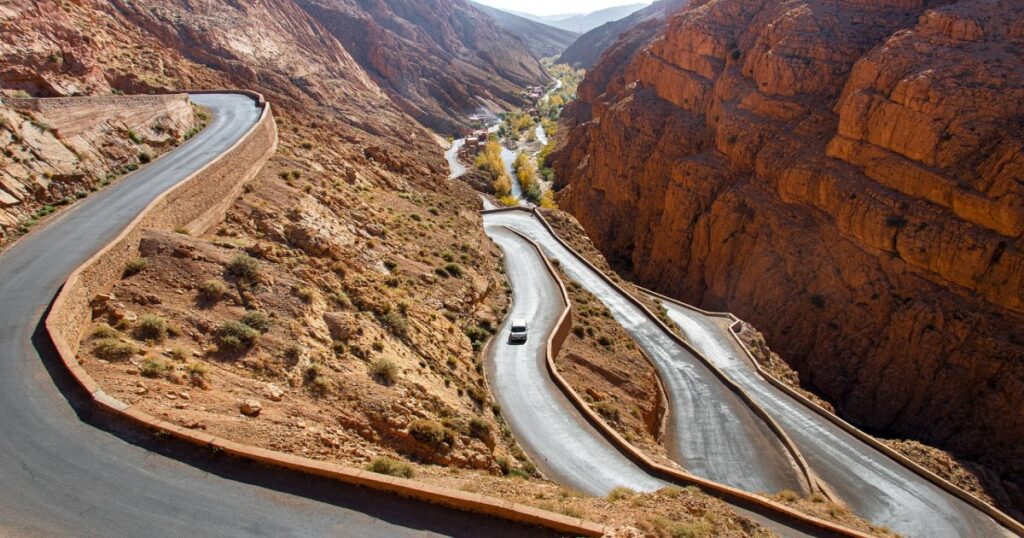 Speed limit & Signs
In Morocco, it is important to stay within the speed limits, which are different for highways, towns, and roads outside of cities. The speed limit on highways (autoroutes) is 120 km/h, while it is 60 km/h in cities and 100 km/h on roads outside of cities and towns. Even so, some drivers tend to go over the speed limit, which is something to be aware of when driving in Morocco. Signs are usually on the far right side of the road, but sight can change based on where you are and how the road is.
Police often set up secret radar devices to make sure everyone stays safe. When renting a car in Morocco, it's important for all drivers to follow these rules and follow proper driving etiquette. Speeding tickets can also affect rental prices, so to have a fun and safe trip, it's best to stay within the posted speed limits.
Gas and the roads
Morocco has a good gas supply overall, and gas pumps can be found even in remote places. Compared to other countries, fuel prices are still pretty low, and prices are always given in liters instead of gallons. On the country's roads, visitors may come across toll roads that require payment to get through some of the bigger towns, like Marrakech.
When it comes to safety on the roads, there are roadside help services all over Morocco, and it's a good idea to know the local rules and customs before you drive in this country. Also, it's important to know that most of Morocco's main roads are in good shape, except for those near Merzouga and in the high Atlas Mountains, where you might need a 4×4.
Parking your car
Parking in Morocco can be hard, and you may need to plan ahead and use helpful tips. To make sure that parking is done properly, traffic rules should also be taken into account. Most parking lots have guards who can help drivers find a safe place to park their cars. This service often costs money, but it's well worth it because it's so easy to find a spot for your car. People who travel by car should have some dirhams on hand in case they need help finding a parking spot.
5. Tips for Renting a Car in Morocco
When renting a car in Morocco, it is important to consider the conditions of the roads, which may be unfamiliar and more difficult to navigate at night. With that in mind, travelers should familiarize themselves with local driving rules and regulations before taking a rental car out. Also, they should look over their contracts and read reviews of the rental service to make sure they are getting the best deal for their money. Also, drivers should keep an eye out for gas stops and pay attention to advise from locals about road safety. Renting a car can be a fun way to see the different parts of Morocco and find secret gems along the way.
However, pay attention to the speed limits since there are fixed and manual radars. Sometimes police hide somewhere with a speed radar in their hand. So if you exceed the limit you will be stopped by the next police controller and will be given a ticket depending on how much you have speeded above the limit.
6. Where do I rent a car in Morocco?
Travelers to Morocco can rent a car from either a foreign agency or a local company. You can rent a car in big towns and airports like Tangier or Marrakech. International companies are more handy because they know the area and are easier to get to. People who want lower prices should look into local companies, but they will need to know some Arabic and be able to negotiate the price. No matter what kind of business a traveler chooses, they should learn about the local culture and the rules of the road. They should also check prices from different rental companies and make sure they choose a car that fits their needs.
Researching the local culture before traveling is important to make sure you understand the laws and customs so you don't accidentally break any rules; Knowing the road rules is also important so that travelers can drive safely and confidently; Comparing prices between different rental companies lets travelers make an informed decision about where to rent a car; Knowing what types of vehicles are available from each rental company makes sure you get the right car for your trip. When hiring from local companies, you can save money by learning how to bargain.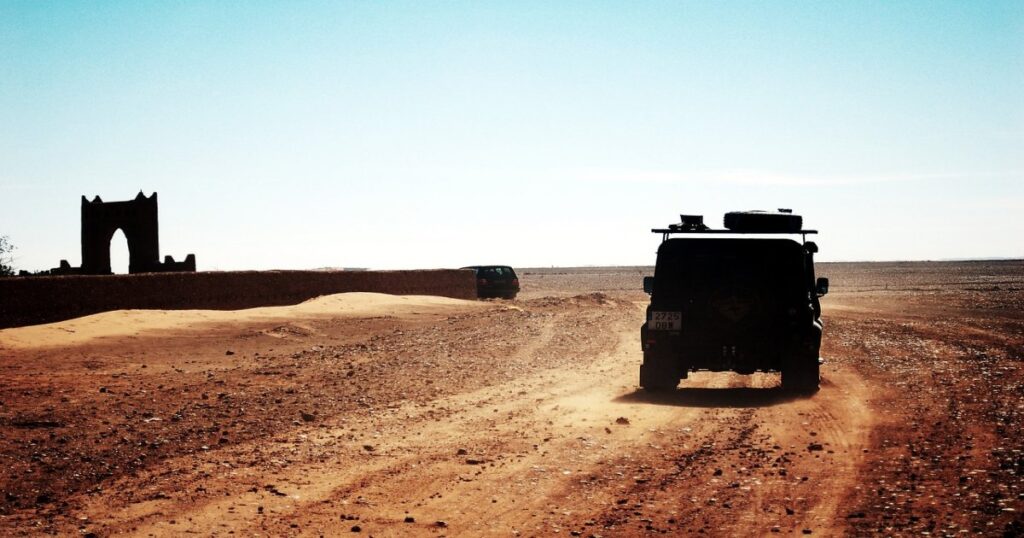 7. How much does it cost to rent a car?
Renting a car in Morocco can cost anywhere from $25 to $50 per day, based on the company and the type of car. Comparing prices from different rental companies is a great way for people who are traveling alone to get the most for their money. There are different types of cars to choose from that can fit different customer service wants and budgets. Automatic cars usually cost more than manual ones, but the extra money may be worth it if you want to be comfortable on long drives. Also, many rental companies offer extra services like GPS devices or extra insurance coverage for an extra fee. Travelers can stay within their budgets by studying these extra fees before getting a car.
Read also; Cost of living in Morocco.
Questions People Usually Ask
How old do you have to be to rent a car in Morocco?
In Morocco, the youngest age you can be to rent a car depends on the rental company and the type of car. In Morocco, most car rental companies ask that drivers be at least 21 years old. But some companies may have higher age limits, needing drivers to be at least 23 or even 25.
Are international driver's licenses accepted in Morocco?
Morocco accepts international driver's licenses, but you should compare costs, hire regulations, insurance policies, car availability, and gas prices before making a choice. Exploring the country in your own car can be an exciting journey that gives you the chance to be free and on your own.
What types of cars are available for rent in Morocco?
Here are some types of cars that you can rent in Morocco: Economy Cars, Sport Utility Vehicles (SUVs), Minivans, Luxury cars, and 4×4 Vehicles.
Is there a minimum or maximum rental period for renting a car in Morocco?
Driving laws, car insurance, rental companies, local laws, and gas prices all affect how long you can rent a car and how long you have to. It can be anywhere from one day to several months, depending on the company. Check out what different rental companies have to offer to find the best deal that fits your adventurous lifestyle.
Does renting a car in Morocco come with any extra fees or taxes?
If you want to explore Morocco by car, you might have to pay extra fees and taxes, like gas, insurance, rental fees, vehicle inspections, or knowing the rules of the road in Morocco. Start out on an exciting trip and enjoy the freedom of finding new roads.
In conclusion
Morocco is a beautiful place with lots to see and do. Renting a car can be a great way to see the many different areas and sights of the country. It's important to remember that driving in Morocco needs caution, knowing the rules and laws of the country, and having rental car insurance. If you plan ahead, renting a car can be a fun and worthwhile experience.
By doing a lot of study before renting a car, learning the rules of the road, and getting all the papers and insurance coverage they need, drivers can safely drive through Morocco's roads and have a once-in-a-lifetime experience. In the end, if you have enough knowledge and resources, renting a car in Morocco can be a fun way to explore this fascinating country.