Taghazout is a breathtaking coastal town in Morocco, known for its rugged coastline and world-class surfing. Surfing in Taghazout offers an experience unlike any other, with its stunning views and perfect waves. It has become a destination of choice for those looking to explore the beauty and thrill of the Moroccan coast. With easy access to some of the best surf spots on the continent, it's no wonder why so many people flock to this tiny town each year. Whether you are an experienced surfer or just starting out, Taghazout has something for everyone. From surf camps to private lessons, you can find your own ideal adventure here. So grab your board and come explore what Taghazout has to offer – you won't be disappointed!
The best time to go surfing in Taghazout
Visiting Taghazout for surfing is a timeless affair, as the perfect time to go depends on one's skill level and preference. With winter months providing more powerful swells for experienced surfers, while summer months offer calmer waters for beginners. For those looking for an exciting challenge, the winter season from November to March provides consistent and powerful Atlantic swells that will test your skills. On the other hand, if you're just starting out in the sport or want a leisurely experience, then head to Taghazout between June and September where 1.5-4ft waves peak during these months, making it ideal for beginner surfers. With its warm waters and sandy beaches, Taghazout has something to offer all year round.
Why go surfing in Taghazout?
Taghazout is an ideal destination for those seeking to experience the thrill of surfing, offering a unique combination of stunning scenery and waves that are suitable for all levels. With its picturesque coastline, warm water and reliable surf breaks, it provides an unforgettable adventure with something to offer both novice and experienced riders alike. The nearby Agadir does not have hostels or more interesting boutique hotels that Taghazout has, making it the perfect getaway from standard all-inclusive packages.
Additionally, the newly built bypass around Taghazout has allowed travelers to access the area quickly and conveniently. Coupled with new luxury hotel complexes and renovated roads, this has enabled tourists to enjoy a luxurious seaside holiday while also appreciating the authenticity of local Moroccan life. From morning yoga classes on the beach to watching fishermen pull their boats out of the sea at sunset, there is something for everyone in Taghazout – making it an ideal location for those looking for a unique surfing experience.
How to get to Taghazout?
Getting to Taghazout, Morocco can be done by taxi, bus, or car. Taking a taxi from Agadir airport is the simplest way to get there and takes about 45 minutes. There are also regular bus services that leave from Agadir and run several times a day. Finally, it is possible to rent a car at the airport and drive up the coast to reach Taghazout. Whether you choose to take public transport or drive yourself, getting to this surf destination is quick and easy.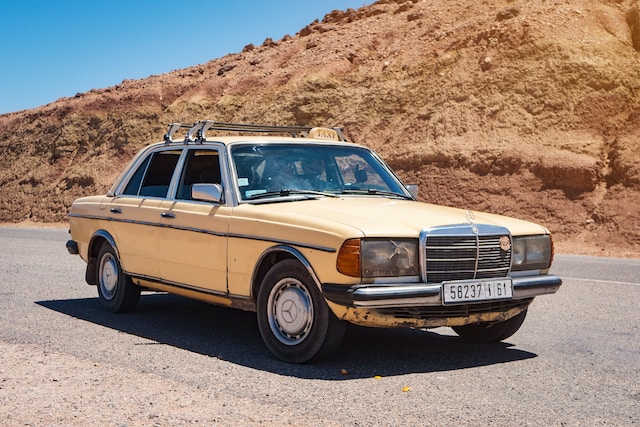 1. By Taxi
Traveling by taxi from Agadir to Taghazout, the rolling hills of the Atlas Mountains and picturesque views of the coast provide a pleasing backdrop for the journey. Taxis can be hired from stops near the bus station in Agadir for around 15DH per person or the whole taxi can be hired for a quicker, more direct route. The journey is an opportunity to marvel at Morocco's diverse landscape and take in its vibrant culture as you move through rural towns and villages before arriving at your destination.
The natural beauty of this part of Morocco is truly astounding; deep valleys dotted with palm trees, rugged mountains, lush green fields, and golden sandy beaches that stretch along miles of coastline. The journey is made even more enjoyable because you are often travelling alongside locals who are just as excited about reaching their destination as you are! As you wind up narrow mountain roads and pass small settlements with white-washed walls it will become apparent why so many people flock to Taghazout every year – a chance to experience true Moroccan hospitality combined with world-class surfing spots makes it an ideal destination for all kinds of travelers.
2. By Bus
Reaching Taghazout by bus offers visitors the chance to experience an amazing journey through Morocco's diverse landscape. The bus stop is conveniently located at the beginning of the village, making it easy to access from Agadir. Taking Bus No. 32 costs only 7DH and provides a great opportunity for travelers to take in the sights and sounds of Morocco without having to worry about waiting for a taxi or renting a car. The journey is filled with spectacular views of mountains, valleys, and coastlines that will leave anyone breathless. As an added bonus, travelers get to ride with locals and have meaningful conversations about local culture, traditions, and beliefs – giving them an insight into what makes this country so special. With its convenient location and budget-friendly prices, taking the bus is definitely one of the best ways to explore Taghazout while surfing in Morocco.
3. By car
Car travel offers a convenient and cost-effective way to explore the stunning scenery between Agadir and Taghazout. Driving from Agadir, one passes through a number of towns, villages, and landscapes that offer spectacular views of the Atlantic Ocean, as well as traditional Moroccan architecture. The old road is slightly slower due to newer roundabouts and limited traffic, but the bypass provides an opportunity for faster travel. With car travel, travelers have the freedom to stop whenever they like along their journey in order to take photos or enjoy a bite at local cafes or restaurants.
This makes it possible to truly immerse oneself in the culture of this unique region while taking in all of its natural beauty. By car, Taghazout can be reached with ease; allowing visitors to make the most out of their time in this breathtaking destination. From here one can easily embark on an adventure into some of Morocco's best surf camps situated right beside beautiful beaches.
Surf Camps in Taghazout
Taghazout is an ideal location for a surf camp, offering accommodation options to suit all budgets and many packages that cover airport transfers, accommodation, daily transport to surf spots, surf lessons, surf equipment hire and meals. The area is home to many popular surfing camps such as Hashpoint Surfcamp, Surf Berbere, Oceana Surf Camp and Dfrost Almugar Taghazout Villa – each offering unique experiences with expert tuition from experienced instructors. Surf Coast Morocco presents the best of both worlds; combining luxury camping with adventure activities such as surfing in a stunning coastal setting.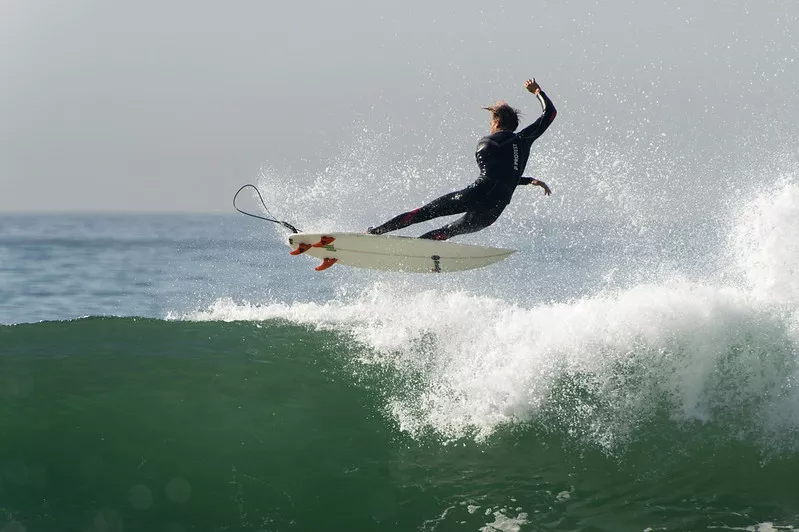 1. Hashpoint Surfcamp
Hashpoint Surfcamp offers a unique experience for those seeking to learn and improve their surfing skills, boasting a stunning backdrop of waves that seem to stretch on forever. With an array of packages tailored to different abilities and experiences, the surfer is spoilt for choice. From the beginner who's taking their first steps into the world of surfing, to the more experienced boarder looking for some steep drops or big rides; Hashpoint has something for everyone.
The camp provides excellent facilities with professional instructors guiding you through your adventure in Taghazout. The warm waters of Morocco provide an idyllic setting to learn new techniques from teaching staff with years of experience in the sport. Guests also have access to yoga sessions, massage treatments and evening entertainment such as beach barbecues or movie nights under the stars – perfect for unwinding after a day on the water!
1. Surf Berbere
Surf Berbere offers a more serene atmosphere compared to other surf camps, providing guests with additional amenities such as a yoga studio. Located in the picturesque Taghazout, Surf Berbere is an ideal destination for those looking for a relaxing holiday combined with exciting activities. The perfect combination of laid-back vibes and thrilling adventures gives visitors the opportunity to experience the true freedom of life. With its unique location and relaxed atmosphere, Surf Berbere has become one of the most popular surf camps in Taghazout.
From yoga classes to fun beach outings, this camp has all the ingredients necessary for an unforgettable adventure that will leave you feeling invigorated and inspired. With its stunning views and warm hospitality, it is no wonder that Surf Berbere has become so popular amongst travelers looking for something special. As such, it is an ideal spot to explore your own sense of freedom while learning how to surf in some of the most beautiful settings imaginable. Moving on from here we take a look at Oceana Surfcamp to learn what they have to offer.
2. Oceana Surf Camp
Oceana Surf Camp offers an uninterrupted escape into the wild, providing guests with a unique opportunity to experience the thrill of riding waves in one of Morocco's most captivating landscapes. The camp offers budget-minded surfers dorm-style accommodation and shared bathrooms, but still provides high quality lessons that are perfect for all levels. It is a great way to take advantage of the unique and often unexplored coastlines that Tagazhout has to offer: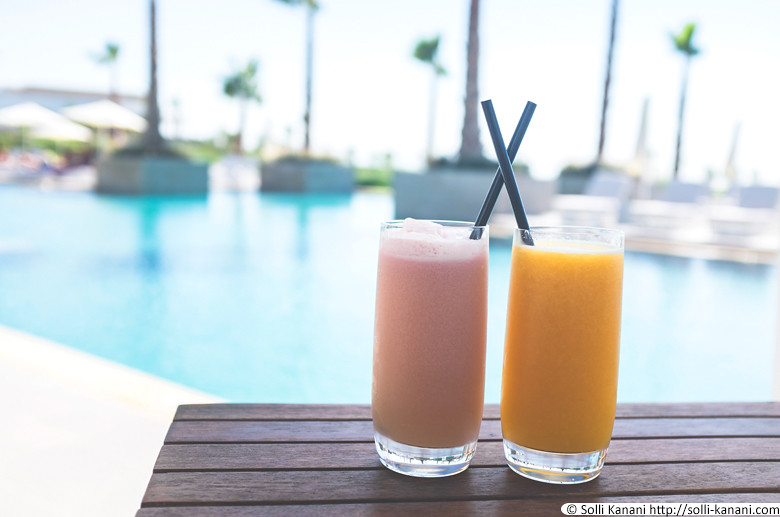 An unforgettable adventure: Taghazout boasts some of the world's best surfing conditions, making it a destination not to be missed. Oceana Surf Camp provides its guests with access to excellent surf breaks throughout their stay.
A chance for enlightenment: For experienced surfers, this camp offers more than just an adrenaline rush; it also provides an opportunity for self-discovery and exploration as they travel through new places and take on new challenges.
Unparalleled relaxation: After a day spent out in the waves, visitors can retreat back to their comfy rooms at Oceana Surf Camp and unwind with breathtaking views over the ocean. With its laid-back atmosphere and picturesque surroundings, this is truly an ideal place for rest and relaxation after a long day in the sun.
The combination of unparalleled surfing conditions, comfortable accomodation, knowledgeable staff members and stunning views make Oceana Surf Camp one of Morocco's premier choices when it comes to surfing vacations. From here, guests can easily transition into exploring 'dfrost almugar taghazout villa', where they will find yet another unforgettable experience awaiting them on their journey through Morocco's renowned coastline.
3. Dfrost Almugar Taghazout Villa
Located in the heart of Morocco's most sought-after coastline, Dfrost Almugar Taghazout Villa provides an alluring holiday experience for surfers and yogis alike. This special retreat offers a unique combination of surf and yoga classes, with daily equipment hire included in the package. Guests can look forward to amazing sea views from their private or shared room, as well as a communal terrace with a jacuzzi – perfect for watching the sun go down over the ocean.
In addition to great surfing conditions and excellent yoga instruction, this villa also offers an opportunity to meet people from all over the world and explore the culture of Morocco. With its unsurpassed hospitality and luxurious amenities, Dfrost Almugar Taghazout Villa is sure to provide an unforgettable holiday experience that will leave guests feeling relaxed and inspired. The next stop on our journey is Surf Coast Morocco – a paradise for those seeking adventure and relaxation in equal measure.
4. Surf Coast Morocco
Situated along Morocco's stunning coastline, Surf Coast Morocco offers an adventure-filled holiday experience for surfers and yogis alike. Perfectly located between Panorama and Hash point spots in Taghazout, this laid-back surf camp provides guests with a unique opportunity to explore the Moroccan coast. Whether looking for a surf lesson to learn new skills or simply wanting to relax in the sun while soaking up the culture, Surf Coast Morocco is sure to provide an unforgettable experience:
Enjoy seven yoga classes as you take in breathtaking views of the ocean
Take advantage of six exciting surf lessons led by experienced instructors
Relax on the panoramic terrace featuring a yoga deck, chill-out area and outdoor dining space With such an array of activities available at Surf Coast Morocco, it's no wonder why so many people choose this destination for their surfing holiday.
Things to consider when choosing a surf camp in Taghazout:
The Surf Coast of Morocco is home to some of the best surfing in the world, and Taghazout is no exception. Located on the southern coast of Morocco, this small fishing village offers surfers an abundance of different waves to choose from. From beginner-friendly beach breaks to more challenging reef breaks, there is something for every surfer in Taghazout.
Before committing to a surf camp in Taghazout, there are a few things to consider such as the type of waves you want to surf, the length of your stay, amenities offered, and price. Each surf camp offers something unique that can make or break your experience so be sure to do your research before booking! With these factors in mind, choosing a surf camp can give you an unforgettable experience while exploring all that Taghazout has to offer. From here we turn our attention towards the best places for surfing in Taghazout – each offering its own distinct flavor and challenge – which we will explore next.
The best Taghazout Surf Spots
Taghazout offers a variety of surf spots for every level and style. The renowned Anchor Point is suitable for experienced surfers looking to challenge themselves, while Draculas and Boilers provide larger wave faces for more advanced riders. For those who prefer mellow surfing, Killer Point and La Source are perfect options with gentle waves providing an enjoyable ride.
1. Anchor Point
First surfed in the 1960s by Australians, Anchor Point is a world-renowned break that reveals its breathtaking potential when medium to large northwest swells coincide. Boasting an endless succession of cutback hooks and speed walls, Anchor Point also offers a section that is more sandy down the point, providing occasional green rooms. With waves suitable for all tides, there is even the chance to ride back into Taghazout during periods when the waves become huge.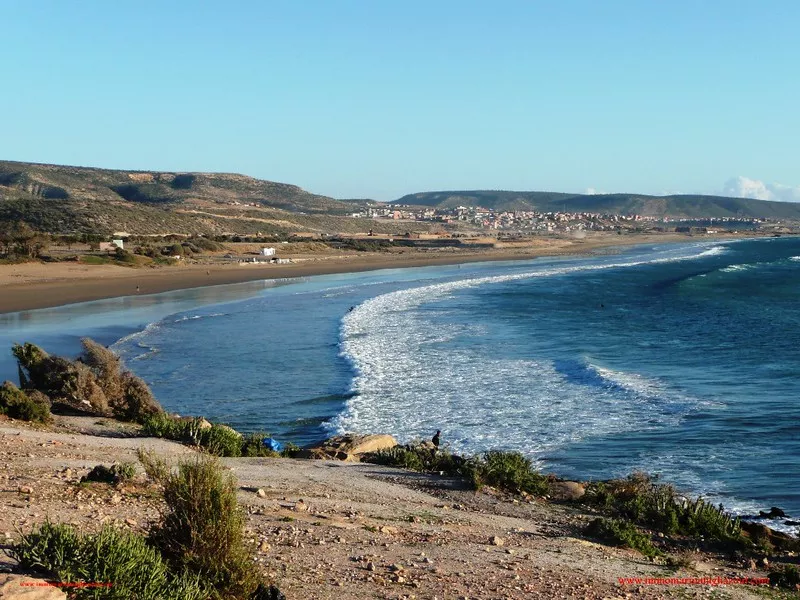 It's no wonder why this spot has remained one of Morocco's most popular surfing locations over the years; its sheer power and beauty are sure to leave any surfer buzzing with excitement. From these thrilling rides to the unique sense of freedom it brings, Anchor Point continues to capture the hearts of adventurers around the world. Nowhere else can they experience such a combination of intense adrenaline rushes and serene moments in nature like here at Anchor Point. With these experiences comes a realization that life can be lived on your own terms – free from societal constraints – if you seek out genuine adventure in pursuit of your passions. This understanding serves as a reminder to take advantage of every opportunity life presents us with and make our own stories worth telling. And so begins another journey as we turn our attention towards 'Draculas' – another great surf spot in Taghazout!
2. Draculas
Named after its distinctive vampire teeth shaped rocks, 'Draculas' is a fast right-hander that produces some of the most powerful and thrilling waves in the area. With its reputation as Boilers' evil twin, it is certainly not for the faint hearted. The wave can be unpredictable with heavy set waves crashing hard onto the beach. However, it is also an opportunity to challenge yourself and test your skills as a surfer. Riding Draculas will provide you with an adrenaline rush like no other and you'll be sure to remember this experience long after you've left Taghazout behind. Exploring these waters will give you an exciting thrill that will make your heart race with anticipation; a true adventure awaits those bold enough to take on this surf spot!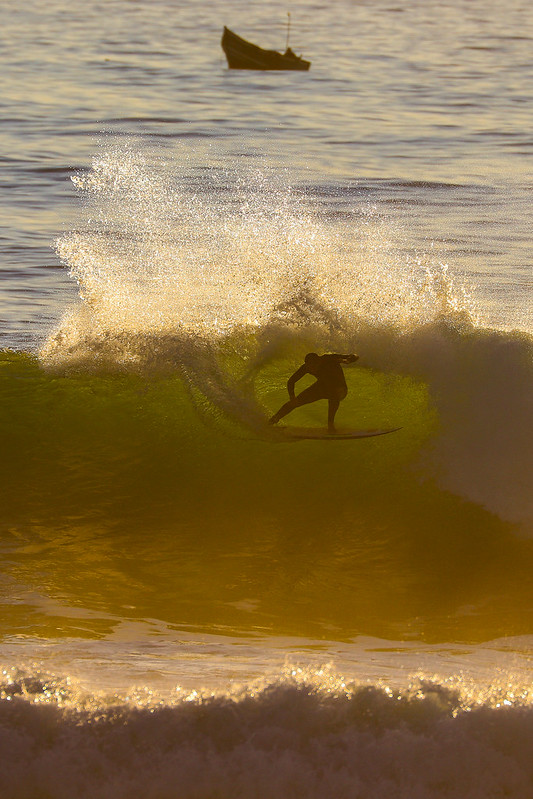 3. Boilers
Leaving behind the treacherous yet thrilling waves of Draculas, surfers in Taghazout have another challenge to face – Boilers. This spot offers a thrilling experience for any surfer looking for powerful and fast walls. The winds from the mountains funnel down onto this right-hand reef, creating strong vertical lips and a speed wall that can take even the most experienced surfers by surprise.
Surfing at Boilers requires skill and knowledge, as these waves are not meant to be taken lightly. To be able to handle the power of these waves, it is important to have an experienced friend who can guide you and tell you when it's time to rock off behind the shipwreck. With this type of guidance, Boilers will offer an unforgettable adventure for those brave enough to face its challenges! As exciting as this spot is, surfers should also be aware of their own safety before venturing out into these waters. From Boilers we move on to one final stop – Killer Point!
4. Killer Point
Killer Point, renowned for its consistent waves and thrilling walls, is an ideal spot for experienced surfers seeking a unique experience. This point break gets its name from the occasional visits of a pod of Killer Whales to the area. When the tide is low, small swells provide short lefts and sectioning rights from the peak in front of a cliff. On bigger swells, these vertical walls rumble down into hard sections and barrels. Conversely, when the tide is high, the inside section at this spot becomes sheltered from Northerly winds and provides an excellent surfing opportunity. With all these features combined, Killer Point makes Taghazout one of most sought-after surf destinations in Morocco. Leading onto La Source next door with its own distinct characteristics, it is easy to see why so many surfers flock here for some truly incredible waves.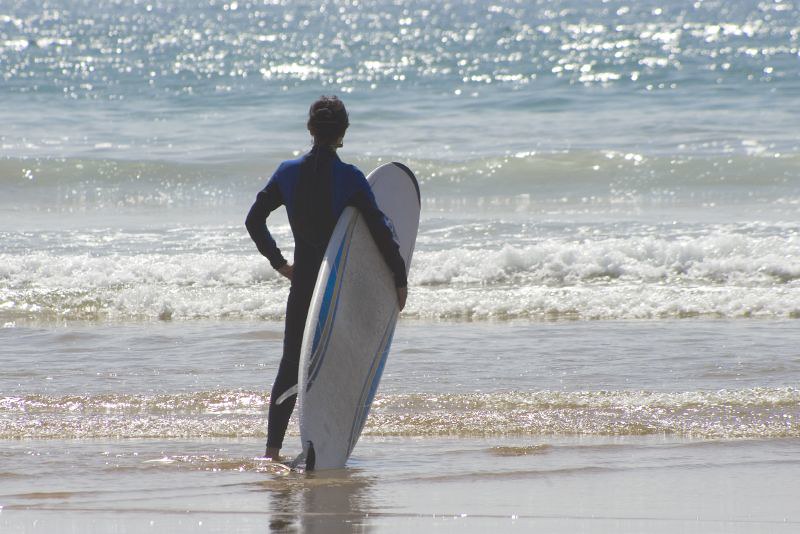 5. La Source
Located near Killer Point, La Source offers an A-framing peak for intermediate surfers to explore. The wave here breaks both right and left over a rocky reef, providing a playful opportunity for goofy footers to ride on their frontside. It is best suited to shoulder high small swells, when the wind is gently blowing offshore. Here are some advantages of surfing at La Source:
The location is easily accessible from Taghazout
It provides great conditions for intermediate surfers
It allows goofy footers to have fun riding the wave on their front-side.
With its beautiful view of the ocean and surrounding areas, La Source is an ideal spot for those looking to experience the thrill of surfing in Taghazout.
6. Panoramas
Panoramas offers a thrilling opportunity for surfers to experience an A-framing peak close to the shore with strong rips and stunning views of the ocean. The swell can be quite powerful, yet jumping off the rocks can help counteract this force. From here, surfers will be able to appreciate gorgeous views of the sea and take in all its beauty. Surfers at Panoramas should also keep an eye out for cross-shore winds as they tend to pick up at this spot but can often still handle more East wind than other local spots. With all this in mind, those looking for some exciting waves need look no further than Panoramas in Taghazout.
7. Banana Beach
Leaving the stunning panoramas of Taghazout behind, one can find a great spot for beginner surfers at Banana Beach. This beach provides gentle right curls around the point, making it easy to enter and ride the waves into shore. This is widely considered as one of the best locations for learning how to surf in Morocco! Here are some reasons why: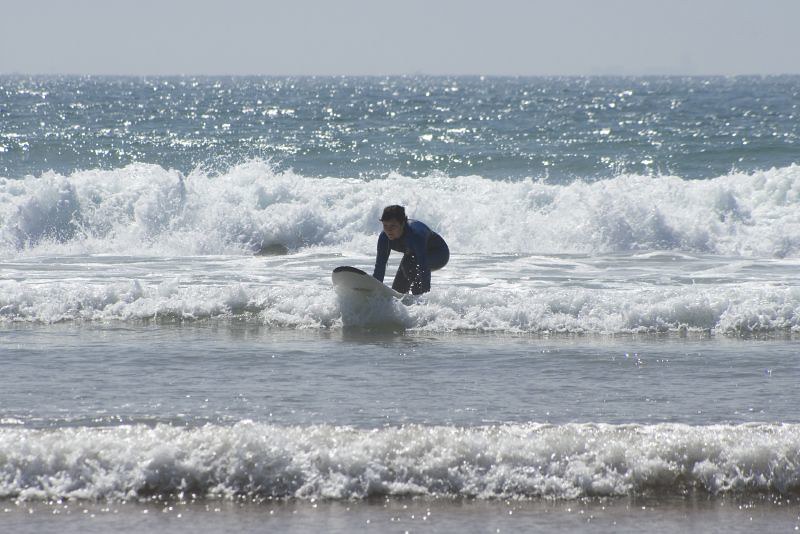 Swells of all sizes are able to be handled
The longboarders love this spot
It has become a popular destination to learn surfing due to its forgiving nature and ease of entry into the waves.
Banana Beach is an excellent spot for beginners looking to improve their skills while still having plenty of fun on the waves. With its consistent swell size and easy access points, it is no wonder this picturesque beach has become so popular amongst aspiring surfers! From here, adventurers will be ready to take on more challenging waters like Devil's Rock.
8. Devil's Rock
Situated near Banana Beach, Devil's Rock is a great spot for intermediate surfers who are searching for higher waves and more challenging conditions – its A-frame peaks crashing against the shoreline like a raging sea. The consistent swell and powerful currents make this surf break an adrenaline-filled experience. With endless possibilities of carving turns, performing aerial tricks, and experiencing the thrill of riding bigger waves, it is no wonder why this spot lures so many adventurous souls to its waters. Whether you're up for a shortboard session or longboarding down the line with ease, Devil's Rock offers something for everyone. Transitioning now to Imsouane, located further south along the Atlantic coast in Morocco, awaits a unique surf destination that will take your breath away.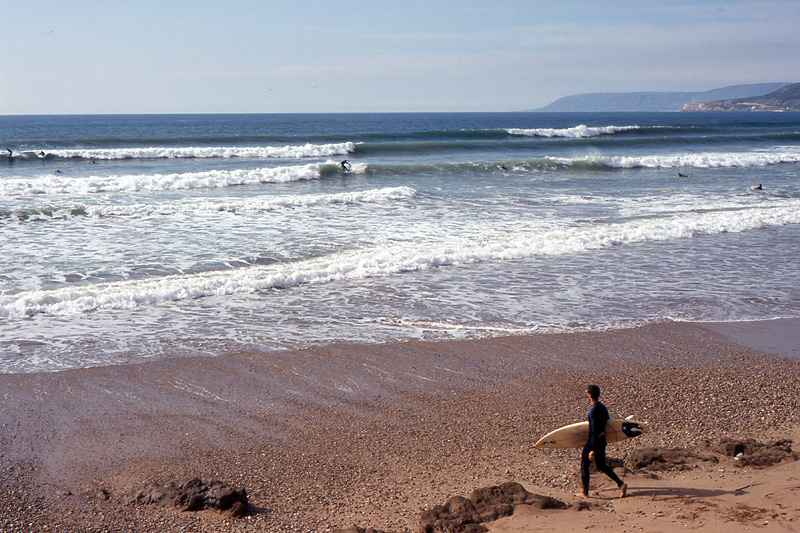 9. Imsouane
Imsouane, a fishing village located along the Atlantic coast of Morocco, is renowned for its longboard wave, considered to be one of the best in the world. With rolling swells and an atmosphere of tranquility and nature, Imsouane provides an idyllic surfing experience. It is located just over an hour away from Taghazout—the popular surf destination known for its excellent waves—offering visitors a peaceful break from the hustle and bustle of city life.
Whether you're looking for some peace and quiet or an adrenaline-filled adventure, Imsouane has something for everyone. Its inviting waters draw surfers from all over the world who come seeking perfect waves with uninterrupted rides that can last up to five minutes! With its mix of laidback vibes and endless opportunities for exploration, Imsouane is truly a magical spot that will make any surfer's dreams come true. As such, it remains one of Morocco's best kept secrets when it comes to surfing destinations. Moving on from this topic, let's explore where to stay in Taghazout next.
Where to stay in Taghazout
Taghazout offers a variety of accommodation options, ranging from the Roofhouse Hostel to the Amayour Surf Hostel and Munga Guest House. For those looking for more luxury, there is also Hotel Riu Palace Tikida Taghazout which provides comfortable rooms with stunning views. All these options provide visitors with an opportunity to experience the magic of Taghazout while enjoying all the amenities they need.
1. Roofhouse Hostel
Roofhouse Hostel provides budget-friendly accommodation with mixed dormitories available for €20 a night. Located in Taghazout, Morocco, this laidback backpacker offers beds in their mixed dorm that is perfect for the adventurous traveler who wishes to explore the area without breaking the bank. The hostel has a relaxed atmosphere and its friendly staff will make sure guests feel at home during their stay. With its convenient location close to the beach and other attractions, Roofhouse Hostel is an ideal option for those looking for an affordable place to rest between surf sessions or day trips. From here, guests can easily take advantage of all that Taghazout has to offer while staying on a budget. For an even more exciting experience, travelers can venture out into nearby villages and explore Moroccan culture up close. Transitioning into the subsequent section about Amayour Surf Hostel without saying 'step'.
2. Amayour Surf Hostel
For those seeking a more private experience, Amayour Surf Hostel offers an idyllic seaside retreat with luxurious amenities and breathtaking views. Relax in the comfort of a private double room complete with plush linens and air conditioning for €50 a night. Enjoy stunning vistas over the Atlantic Ocean while lounging on your own terrace or balcony. Wake up each morning to the sound of waves crashing against the shoreline and take advantage of excellent surfing conditions, with access to surfboards rentals and lessons right on the beach. You'll find something for everyone at this hostel: from sunbathers to experienced surfers, all can enjoy its peaceful atmosphere and beautiful surroundings.
The staff at Amayour Surf Hostel are always available to help make your stay as comfortable as possible—from arranging transport to nearby attractions to organizing events like yoga classes or beach clean-ups. Whether you're looking for relaxation or adventure, this is sure to be an unforgettable experience!
3. Munga Guest House
A truly unique experience awaits visitors at Munga Guest House, where a thoughtfully curated collection of artwork and handmade furniture from across Morocco creates an atmosphere of exquisite comfort. The 10-year journey of collecting these pieces is evident in the warm and inviting atmosphere that welcomes guests upon their arrival. From traditional rugs to hand-carved chests, each item has its own story to tell and provides visitors with an insight into Moroccan culture. Guests can relax in the comfortable lounges or enjoy a meal prepared by the onsite chef using locally sourced ingredients. It's easy to see why Munga Guest House has become one of Taghazout's most sought-after locations for luxury accommodation – it provides a luxurious escape for those seeking adventure and relaxation in equal measure. With its combination of beauty and comfort, this guesthouse offers a truly unique experience unlike any other.
4. Hotel Riu Palace Tikida Taghazout
Situated right on the stunning beach of Taghazout, Hotel Riu Palace Tikida offers a luxurious escape with its 5-star amenities and unparalleled views of the bay. With its sprawling outdoor swimming pool, well-equipped fitness centre, lush garden and private beach access, it's no wonder why many travelers choose this hotel as their home away from home.
For those looking for an especially adventurous holiday experience, one can't help but appreciate all that Hotel Riu Palace Tikida has to offer:
Poolside Fun: Guests can soak up the sun by the expansive pool area while enjoying drinks from the swim-up bar or delicious snacks from the poolside restaurant.
Fitness Centre: Keep up your exercise routine at the state-of-the-art fitness center which is well-equipped with modern equipment and has experienced trainers to guide you through your workouts.
Beach Access: Enjoy a day in paradise at the private beach only accessible to guests of Hotel Riu Palace Tikida. Here you can relax on a lounge chair under an umbrella and take advantage of various water sports activities such as surfing or snorkeling.
From unwinding in luxury to making lifelong memories outdoors – everything needed for an unforgettable getaway is available at Hotel Riu Palace Tikida.
Travel Insurance for Surfing Taghazout
Surfers visiting Taghazout should be aware that up to 85% of surfers in this region do not have travel insurance coverage. It is important for all visitors to be aware of the risks associated with surfing, and how they can protect themselves from any potential accidents or injuries. Travel insurance will provide peace of mind by covering medical expenses, lost or stolen equipment, and flight delays or cancellations. Investing in a good travel insurance plan will allow you to focus fully on enjoying your time in Taghazout without worrying about the unexpected.
Surfing in Taghazout can open up a world of adventure and exploration. With its stunning landscapes and perfect waves, it is an ideal location for those looking to escape the everyday grind and follow their passions out into the sea. However, it is also important to remember that even experienced surfers can fall victim to injury or theft while traveling abroad. Ensuring you are covered with a reliable travel insurance policy will give you the freedom to explore without worry, knowing that help is just around the corner if anything goes wrong.
Frequently Asked Questions
What is the local culture like in Taghazout?
The local culture in Taghazout is one of vibrant energy and hospitality. This small fishing village offers a unique experience to those looking for an authentic cultural adventure. With stunning landscapes, warm welcomes, and opportunities to engage with the locals, it is a destination well worth exploring.
What are the safety tips for surfing in Taghazout?
Exploring the waves of Taghazout can be an exhilarating experience; however, safety should always come first. Be sure to check conditions before entering the water, wear a proper wetsuit and leash for protection, avoid swimming alone, and never overestimate your skill level. Respect local wildlife and beachgoers as you journey on your surfing adventure!
Are there any local surf schools in Taghazout?
Yes, there are several local surf schools in Taghazout. Experienced and knowledgeable instructors offer a range of courses for all levels, from beginner to advanced. The area is popular for its world-class waves and pristine beaches, making it the perfect destination for an adventurous surfing experience.
Are there any other activities to do in Taghazout?
Taghazout offers a variety of activities to enjoy, such as fishing, hiking and bird watching. There are also opportunities for camel riding, beach yoga and hammam treatments. Exploring the local markets or simply experiencing the stunning beaches can be an unforgettable experience. The area is full of surprises!
Conclusion
Taghazout is a surfers paradise, offering some of the best waves in the world. From novices to experts, there's something for everyone, and plenty of opportunities to experience surfing at its finest. With great weather year-round, scenic views and easy accessibility from Marrakech, it's an ideal choice for a surf vacation. With many options for accommodation and surf camps available, as well as breathtaking landscapes to explore while visiting Taghazout, it's an unforgettable destination. So why not take a chance and go surfing in Taghazout? What could be more thrilling than experiencing the rush of riding some of the most perfect waves on earth?