Do you want to escape the hustle and bustle of daily life while in Morocco? Then consider staying in one of Merzouga Desert's top 12 suggested riads! Riads are traditional Moroccan dwellings that provide a one-of-a-kind experience for people seeking a getaway from the contemporary world. These riads are situated in some of Merzouga's most attractive areas, enabling you to immerse yourself in the breathtaking natural environment and enjoy genuine independence. There's something for everyone here, from Riad Merzouga Dunes to Hotel Riad Xaluca. Let's have a look at these incredible locations and discover why they've grown so popular with tourists!
1. Riad Merzouga Dunes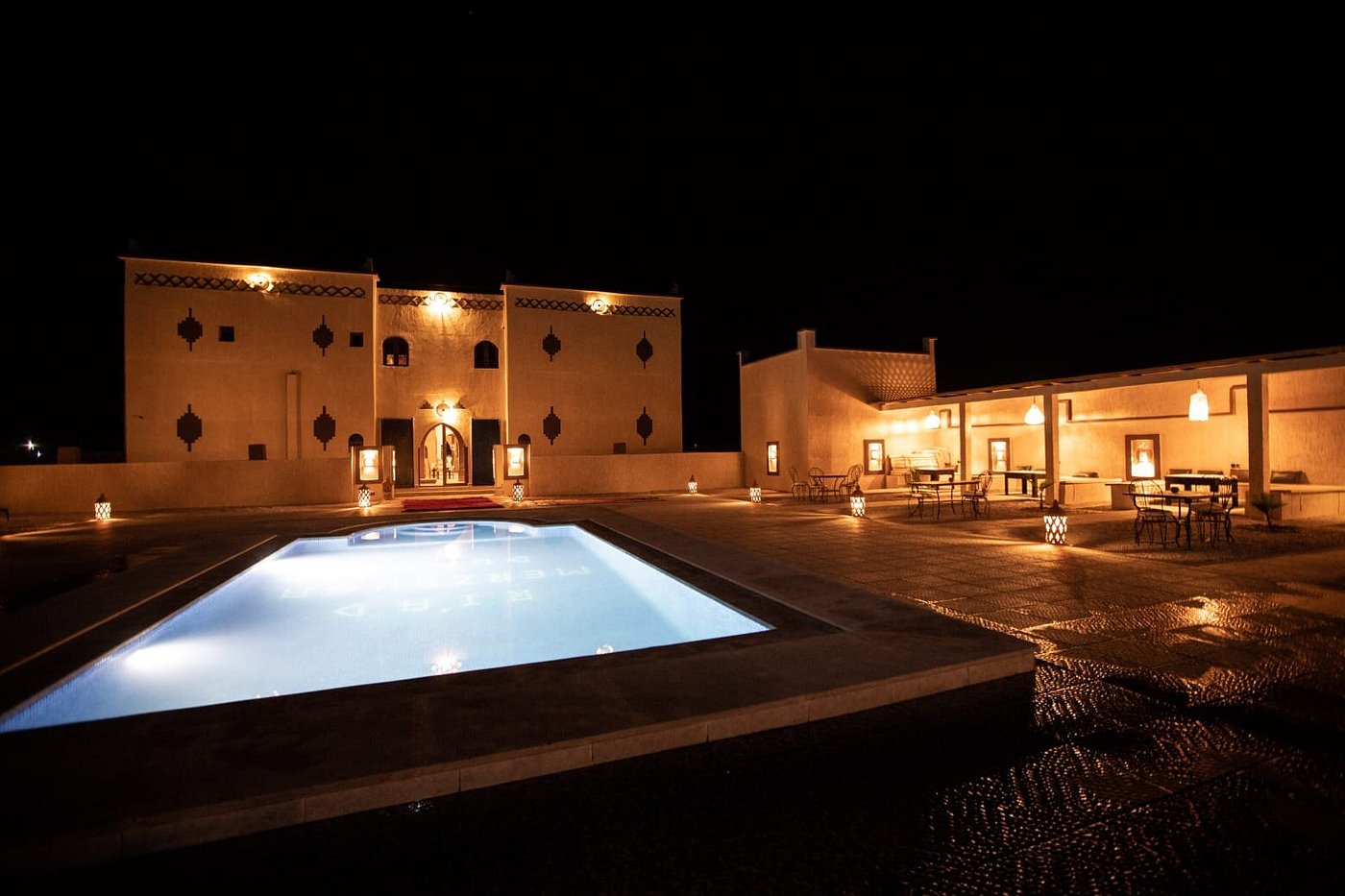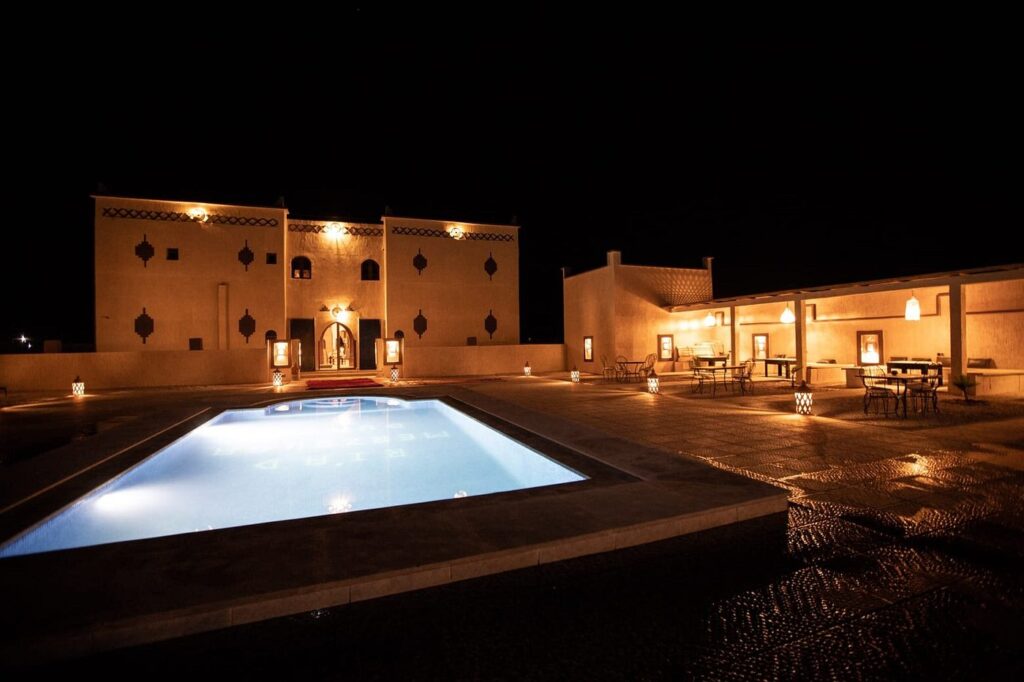 Riad Merzouga Dunes offers a magnificent hideaway in the Merzouga desert, with an outdoor pool, garden, patio, and free Internet – ideal for your next holiday! You may stay in one of the family rooms, each with its own bathroom. Every morning, enjoy vegan, vegetarian, or halal breakfast selections. Since the closest airport is just 128 kilometers away, you can quickly reach our riad from anywhere. Riad Merzouga Dunes has been greeting visitors since 30 May 2023, and it's the ideal destination to get away from it all and enjoy in a one-of-a-kind desert adventure. Let Riad Merzouga Dunes be your portal to seeing all this lovely region has to offer!
2. Riad Dar Morocco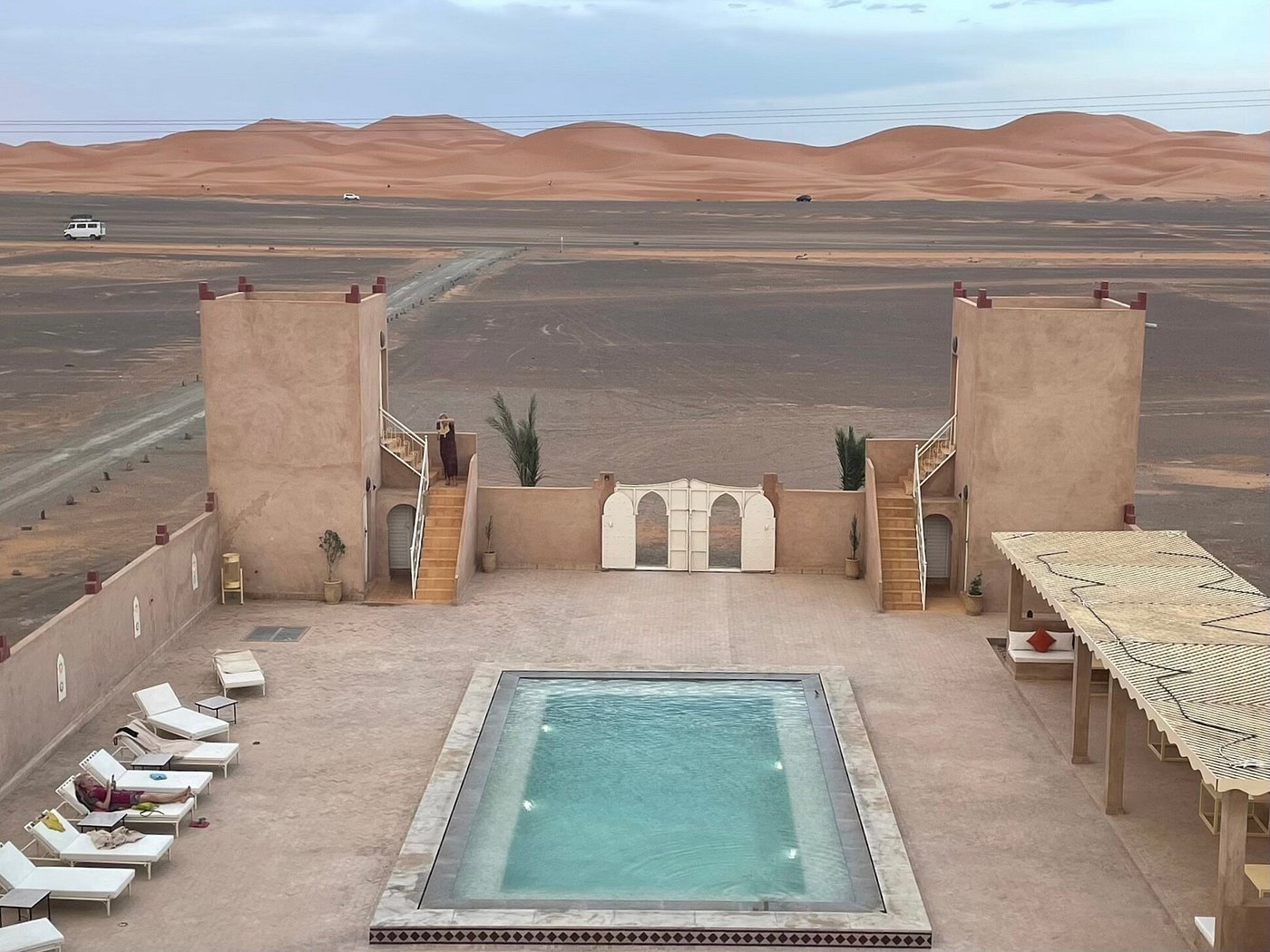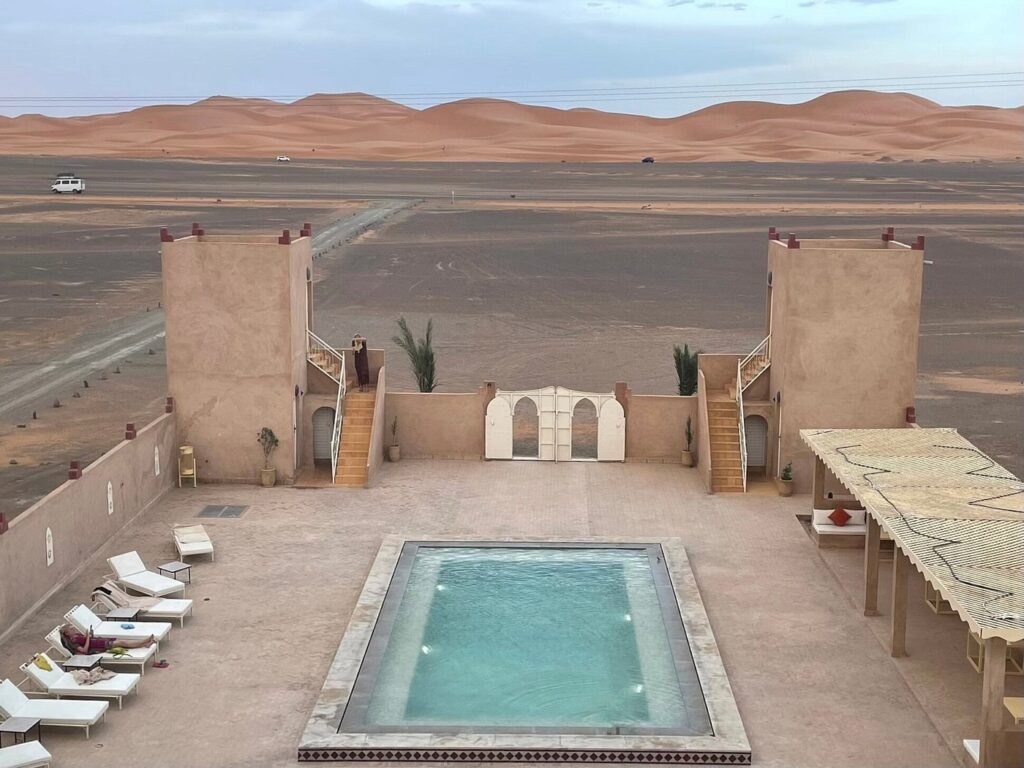 Riad Dar Morocco is a gorgeous, elegant sanctuary of hospitality in the heart of the breathtaking Erg Chebbi desert. Traditional Moroccan culture is combined with luxury and contemporary conveniences such as a swimming pool, restaurant, tea room, and 12 individual rooms decorated with stunning materials and colors made by local craftsmen. On the second level, there is an excellent patio that overlooks the spectacular Desert dunes, where you can take in all of their magnificence. Enjoy a calm stay in the midst of nature while also having access to a choice of amenities that will make your vacation really memorable. Take advantage of this once-in-a-lifetime chance to discover and immerse yourself in the culture and charm of this unique region of Morocco. Make Riad Dar Morocco your next adventure home away from home!
3. Riad Chebbi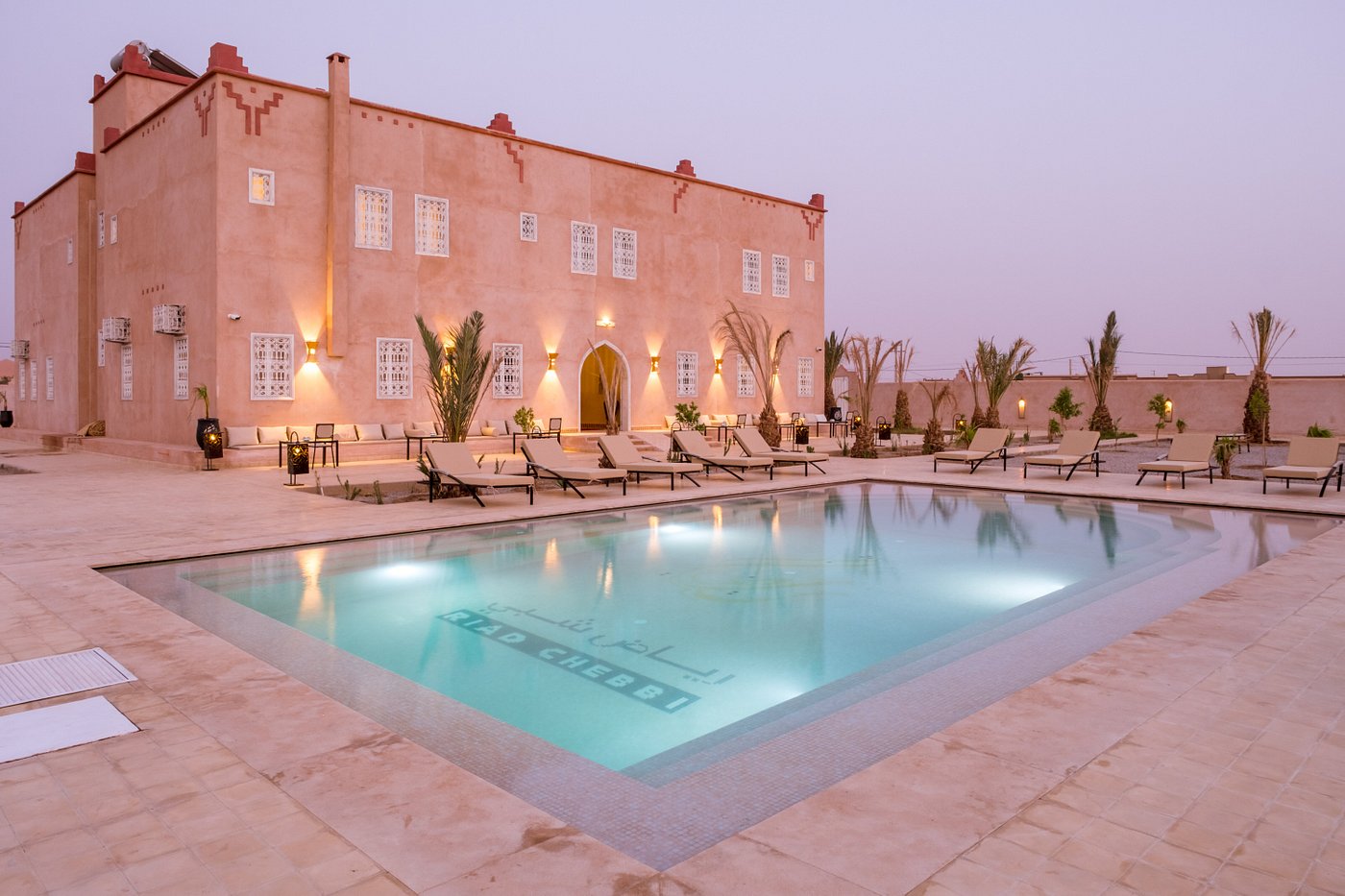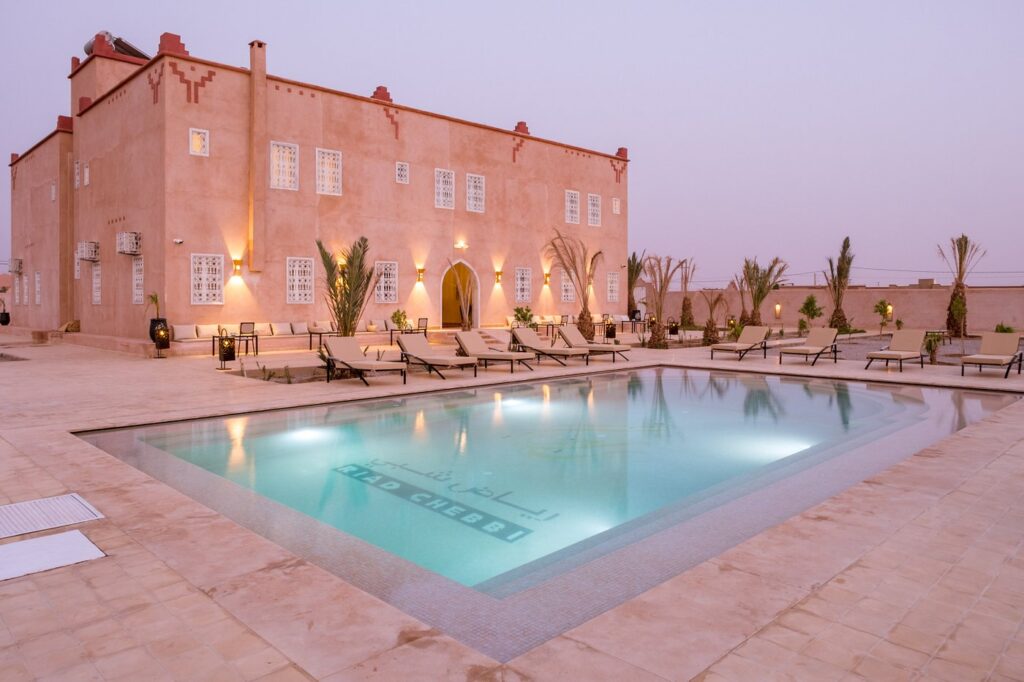 Enjoy the delights of Merzouga's Riad Chebbi. With a garden, communal lounge, and ski-to-door access, you can easily enjoy the riad's comforts. Relax in one of their rooms, which has a terrace and a private bathroom with a shower and free amenities. In addition, they provide 24-hour front desk assistance, airport shuttles, and room service. Enjoy a full breakfast buffet or an à la carte lunch at their restaurant, which serves Moroccan and local cuisine. For people who like skiing, they provide ski equipment rental as well as automobile rental services. Riad Chebbi offers an ironing service as well as business services such as faxing and photocopying. All of these features combine to make this riad a great choice for your stay in Merzouga. When you're ready to go exploring, Moulay Ali Cherif Airport is just 128 kilometers away!
4. Riad Azawad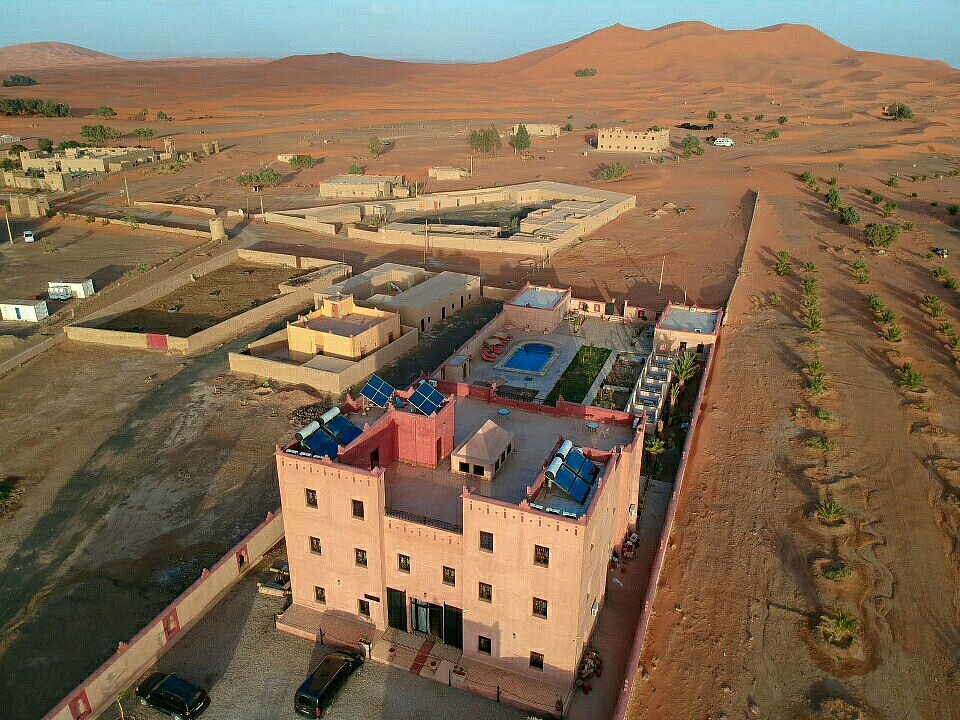 Experience the distinct ambiance of Riad Azawad in Merzouga, which is ideal for people seeking to get away from it all and immerse themselves in desert life. This luxurious lodging is less than two kilometers from the town center and is built at the foot of the Erg Chebbi sand dunes. Discover the unusual Saharan animals and participate in activities like camel trekking, sandboarding, ATVs, camping, and just wandering barefoot on the peaceful sandy hills.
The riad itself is meant to preserve its traditional architecture while giving all of the contemporary conveniences that tourists may need. Large rooms are embellished with indigenous crafts that will transport you through centuries of history just by stepping inside them. And don't forget about their swimming pool, which is ideal for cooling down on hot days! With all of these elements together, Riad Azawad provides a real insight into actual desert life and peacefulness that no other location can match. So why not try it for yourself? Riad Azawad gives everything required for those seeking an amazing trip in this lovely area.
5. Riad Jouba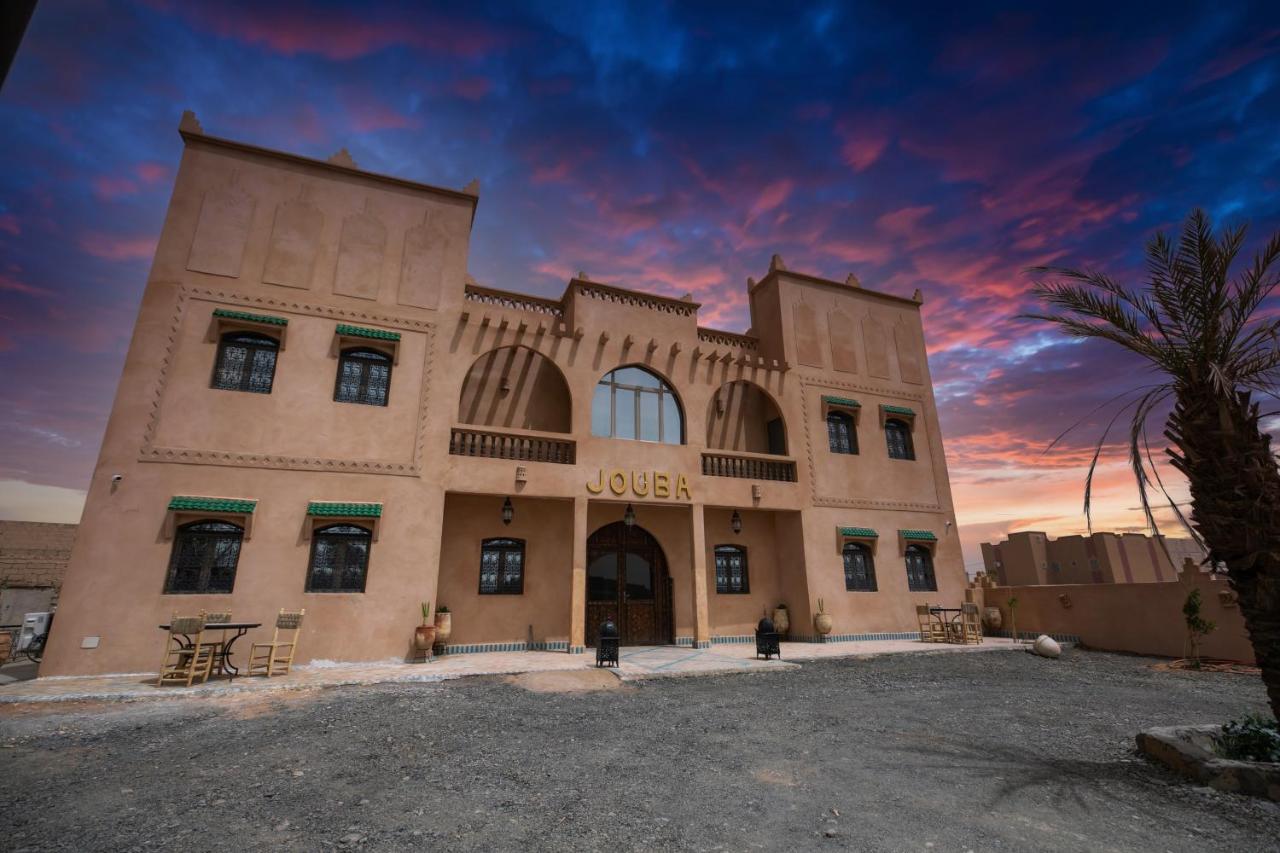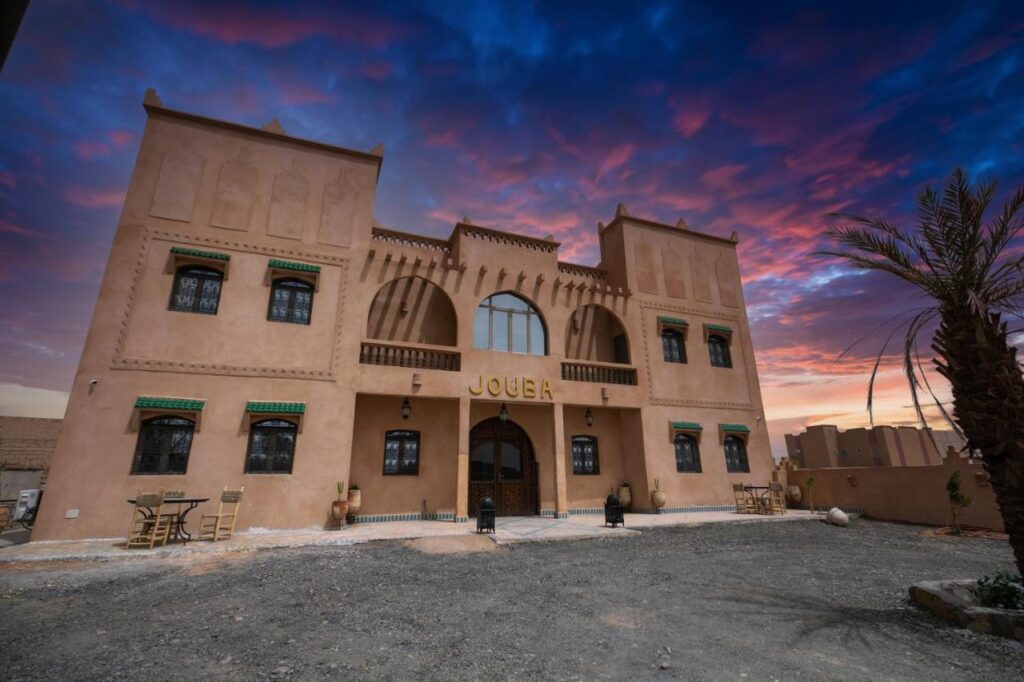 Take a journey to Riad Jouba, where you can enjoy room service and a terrace in Merzouga. This accommodation features all the amenities you could need for a comfortable stay, such as:
A 24-hour front desk
Offering airport transfers
A shared lounge
Featuring free WiFi throughout the property
Air conditioning in each room
Plus private bathrooms for added convenience.
Breakfast is served daily, giving guests the option of choosing from buffet, continental, and vegetarian options. The onsite restaurant serves Moroccan cuisine with vegetarian, dairy-free, and halal options available upon request. Moulay Ali Cherif Airport is just 122 km away from this desert oasis so you can experience its unique atmosphere without having to worry about transportation. Get ready to explore the wonders of Riad Jouba and beyond!
6. L'homme Du Desert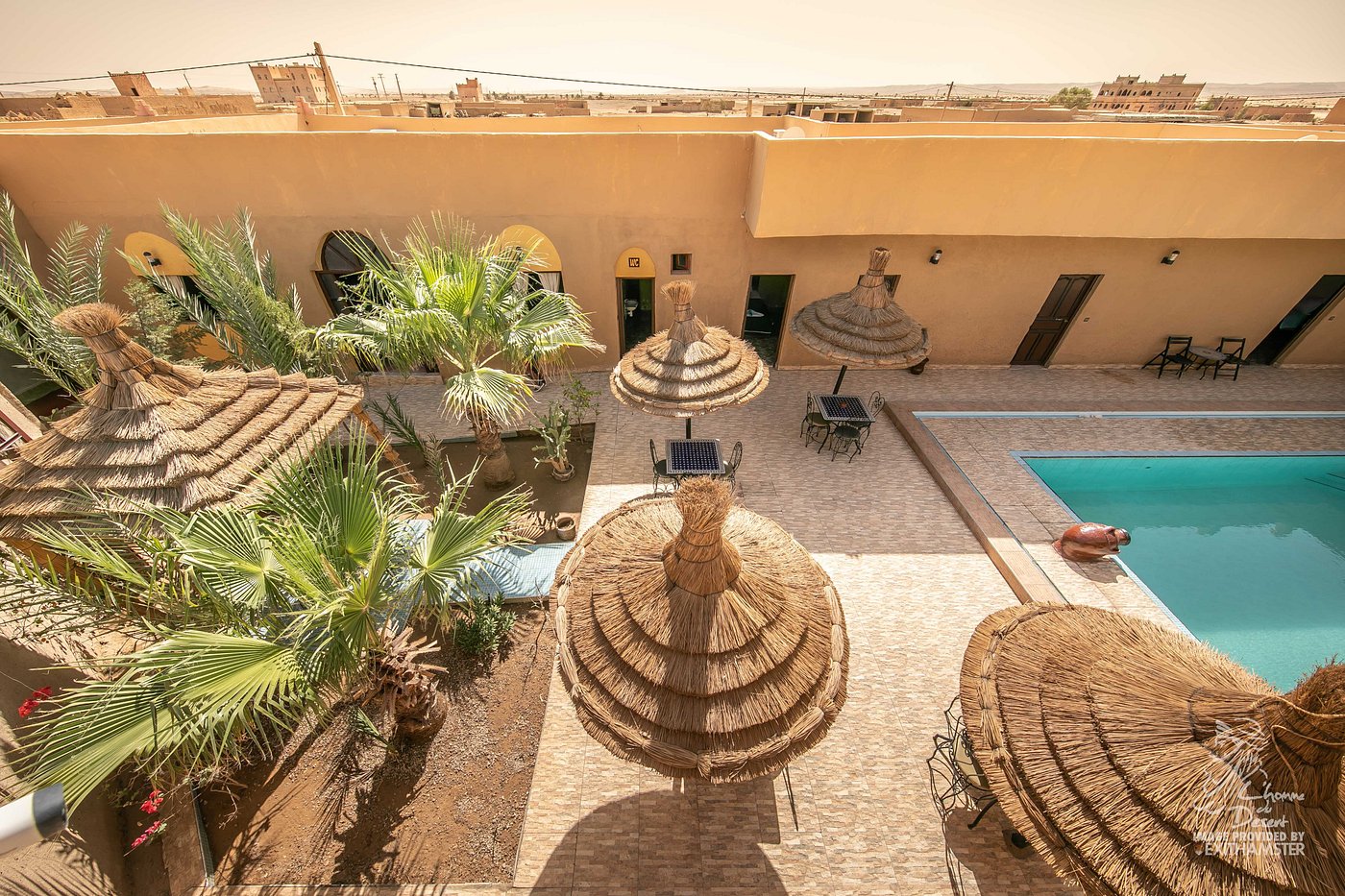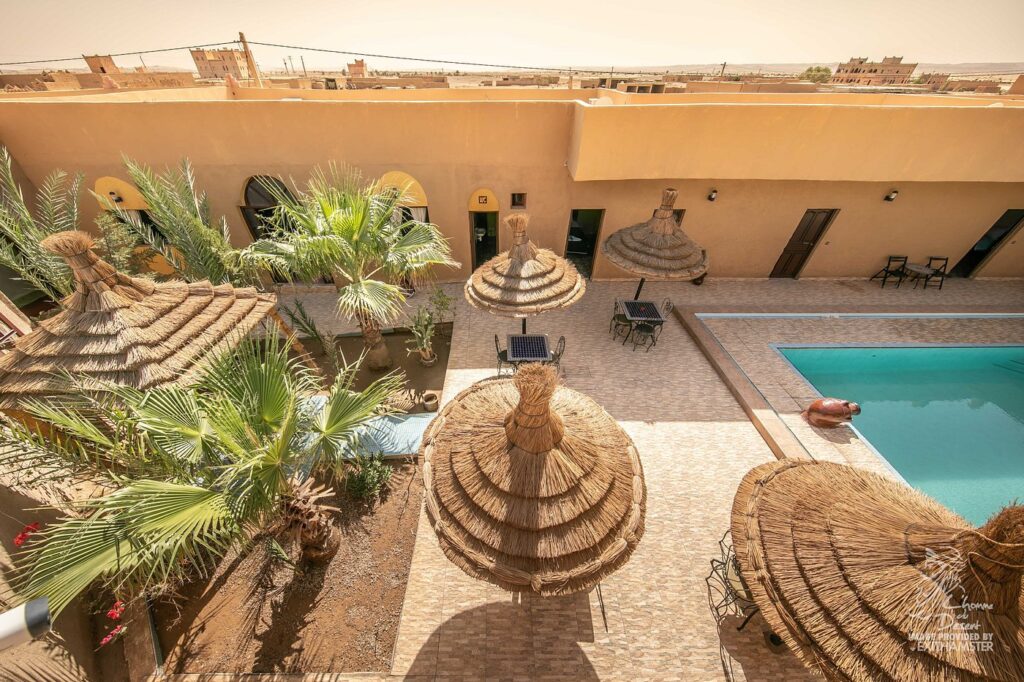 L'Homme du Désert is 5 kilometers from Merzouga's town and 41 kilometers from Rissani. There is an outdoor pool as well as a patio with umbrellas, tables, and seats. Local food is also available. Air conditioning, a dining space, a CD player, and a satellite TV are included in all rooms. The bathroom has a shower and is private. Every morning, L'Homme du Désert provides a Moroccan breakfast. If asked in advance, local foods may also be supplied. There is also a grilling area on the property. There is free private parking, and excursions and entertainment may be arranged.
7. Dar Hassan Merzouga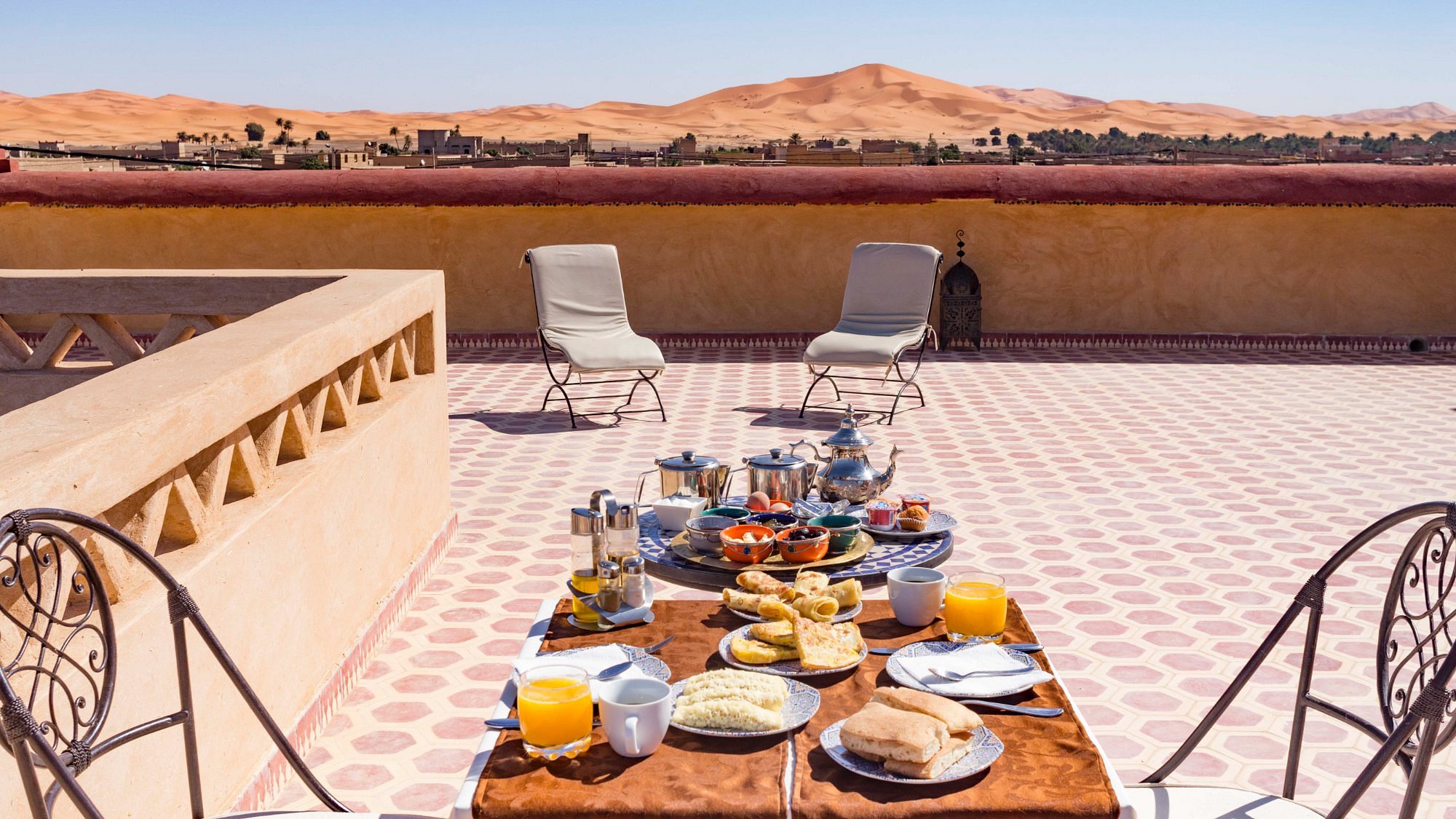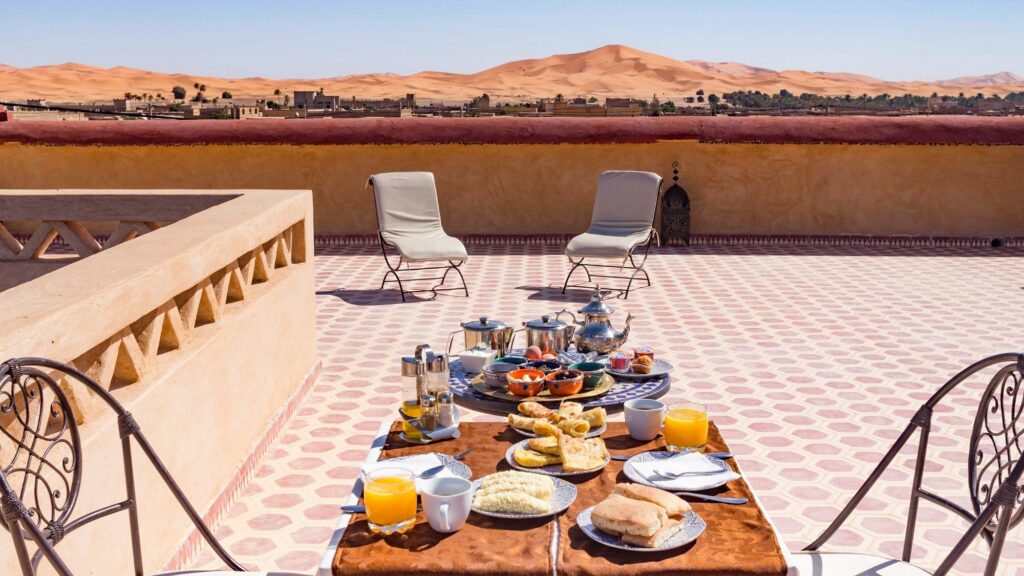 Go no farther than Dar Hassan Merzouga for a genuinely magnificent retreat in the Merzouga Desert. This hotel, located in a wonderfully magnificent location amid sand dunes and palm palms, provides an experience unlike any other. You'll enjoy a wonderful stay with its on-site restaurant, private parking, free Internet, 24-hour front desk service, and comfy rooms with en-suite bathrooms and luxurious amenities. There's also an indoor pool and sun deck to unwind after a day of exploring the desert. So come witness for yourself why Dar Hassan Merzouga is one of the top riads in the area!
Ready for something even more special? Then make your way over to Riad Madu – you won't be disappointed!
8. Riad Madu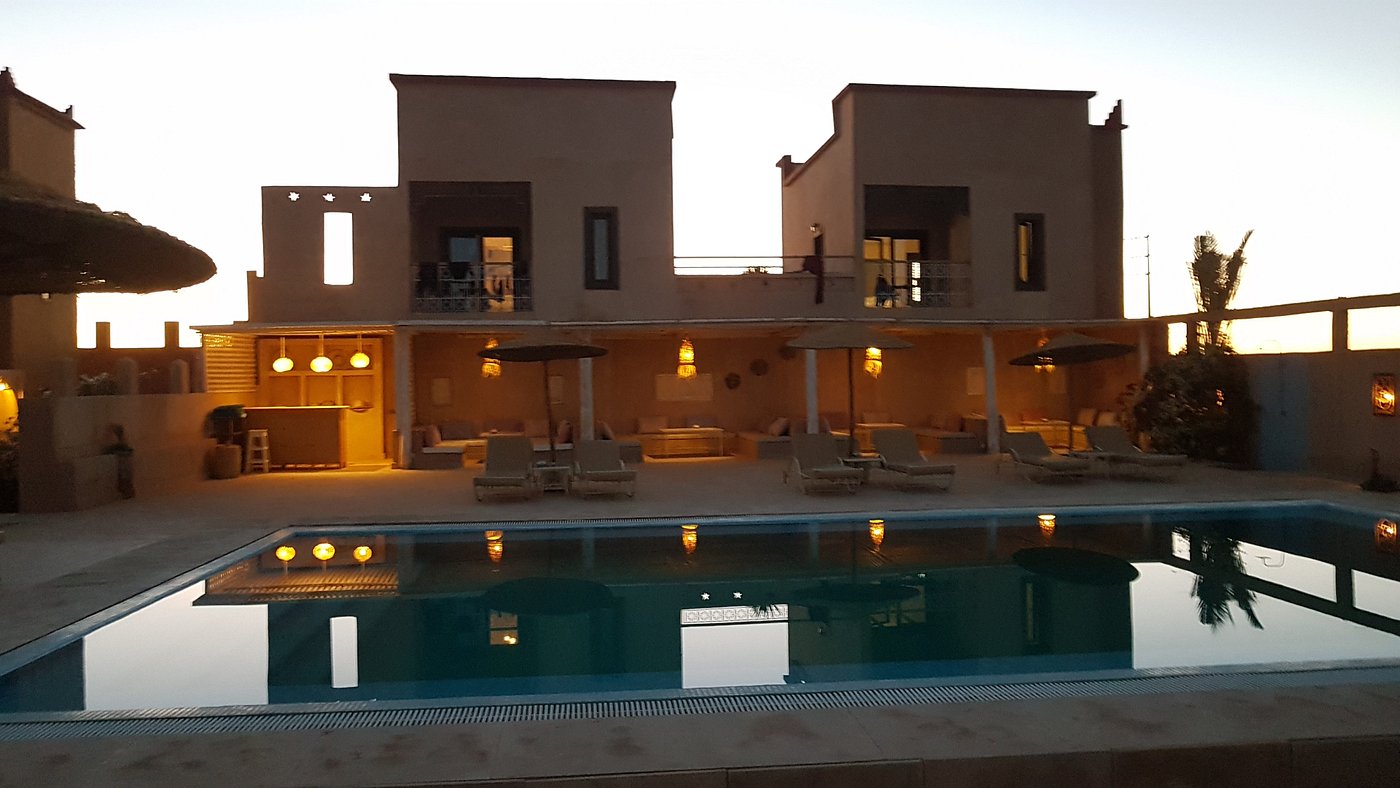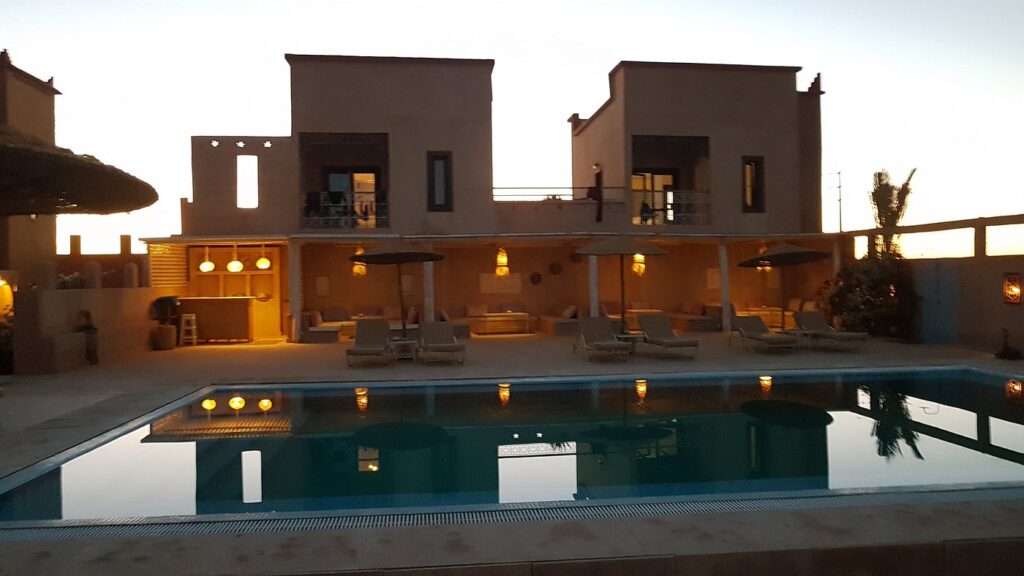 Riad Madu, a magnificent guesthouse in Merzouga, welcomes you with luxury comfort, and convenience. All of the amenities of the home are available here, including air conditioning, a sitting area, a private bathroom with a shower, and free Wi-Fi. For extra convenience and comfort, the resort has a 24-hour front desk, a garden, a patio, and a communal lounge. There's also a tour desk to assist you arrange your trip to the desert! Riad Madu provides an amazing experience in Merzouga by serving breakfast and Moroccan cuisine on-site:
Unwind and relax in the peaceful atmosphere of the garden or terrace
Enjoy complimentary amenities like parking for your car or bike
Explore Merzouga with guidance from experienced staff at the tour desk Indulge yourself with comfortable lodging options while taking advantage of all that this exquisite riad has to offer – creating lasting memories along the way. Take your vacation to new heights at Riad Madu! Moving onto Maison Hassan Merzouga…
9. Maison Hassan Merzouga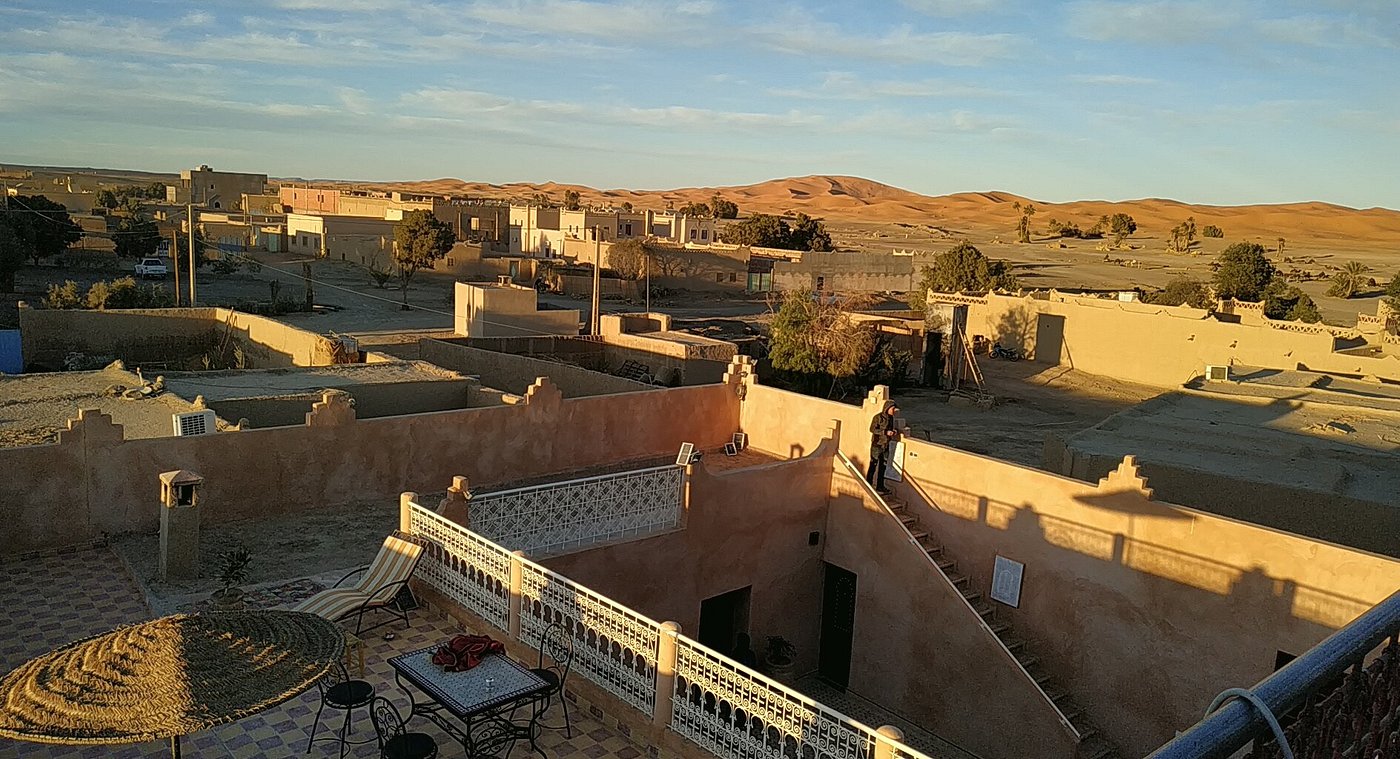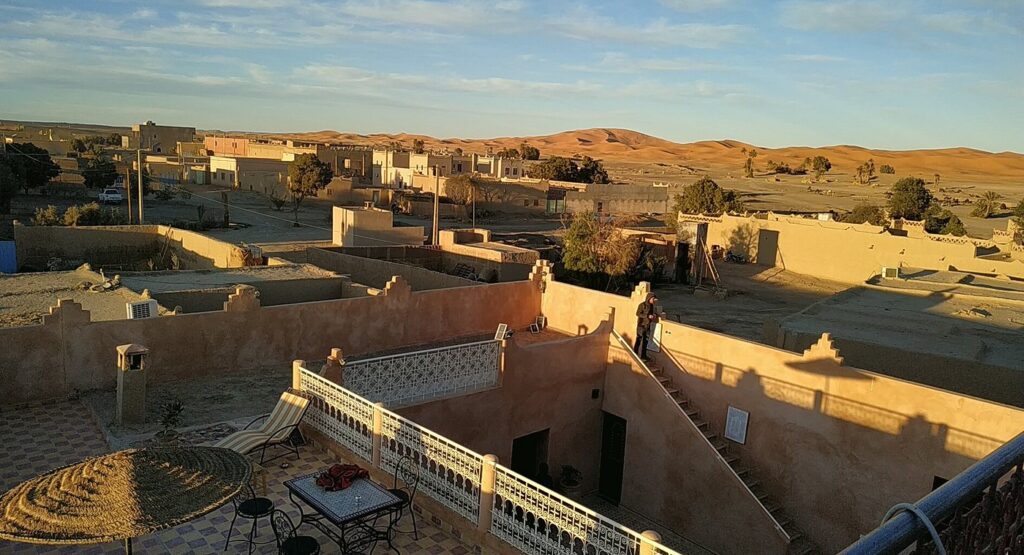 At Maison Hassan Merzouga, you can immerse yourself in luxury and experience authentic desert hospitality. This family-run riad in Merzouga's breathtaking location provides visitors with a one-of-a-kind experience that mixes traditional Berber style with contemporary conveniences. Visitors are welcomed into a calm and beautiful retreat, where they can enjoy free Wi-Fi and air conditioning in all rooms. The 24-hour front desk is there to assist visitors in making the most of their stay, and a communal kitchen ensures they never run out of tasty local food. The grounds also provide various things to do, such as walking and cycling for those looking for adventure, or just relaxing in the garden with breathtaking views of the desert scenery. For added convenience, there is free parking on-site, allowing you to come and go as you choose. During a stay at Maison Hassan Merzouga, you may make your dreams come true and appreciate the beauty of Merzouga. This desert home away from home will have you coming back for more with its mesmerizing environment.
10. Riad Mamouche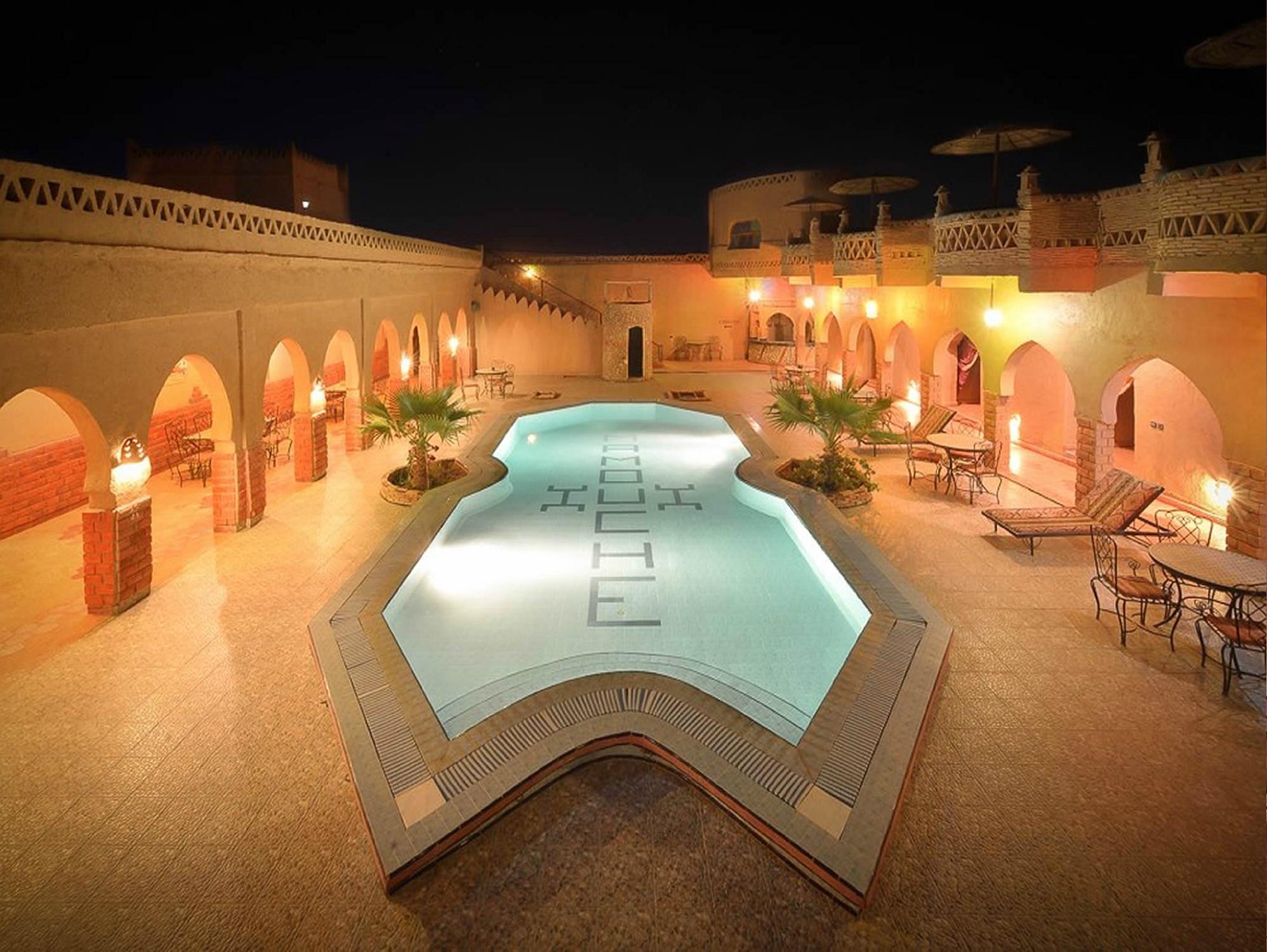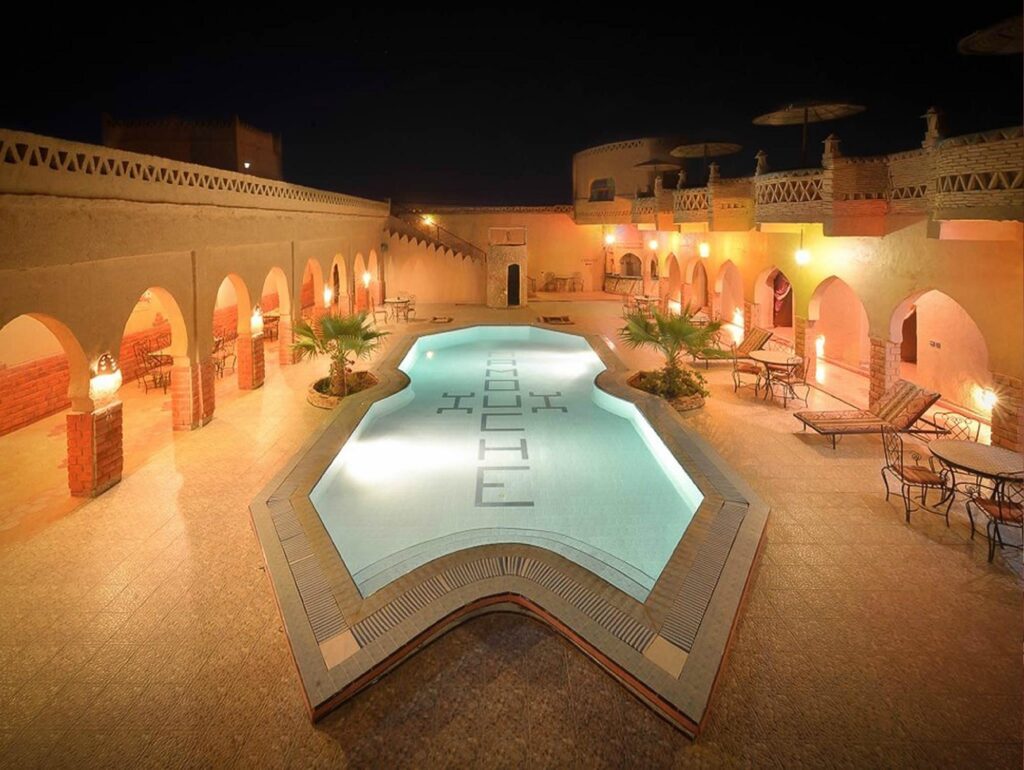 Riad Mamouche is an excellent alternative for anyone seeking a more deluxe experience in the Merzouga Desert. This hotel, only fifteen minutes from Merzouga's town, has a rooftop patio and an outdoor pool, as well as complimentary Wi-Fi. Within, there are air-conditioned apartments with en suite bathrooms as well as a private courtyard area with fountains and other lovely elements. Traditional Moroccan dishes like tajine and couscous are served at the restaurant. In addition, if you want to go farther into the desert, the hotel may organize 4×4 or camel caravan trips. If that isn't enough, you will also be able to rest in elegance here – so what are you waiting for? Prepare to appreciate all Riad Mamouche has to offer! Your adventure continues in the Xaluca Hotel & Riad, where even more luxury awaits you.
11. Hotel Riad Xaluca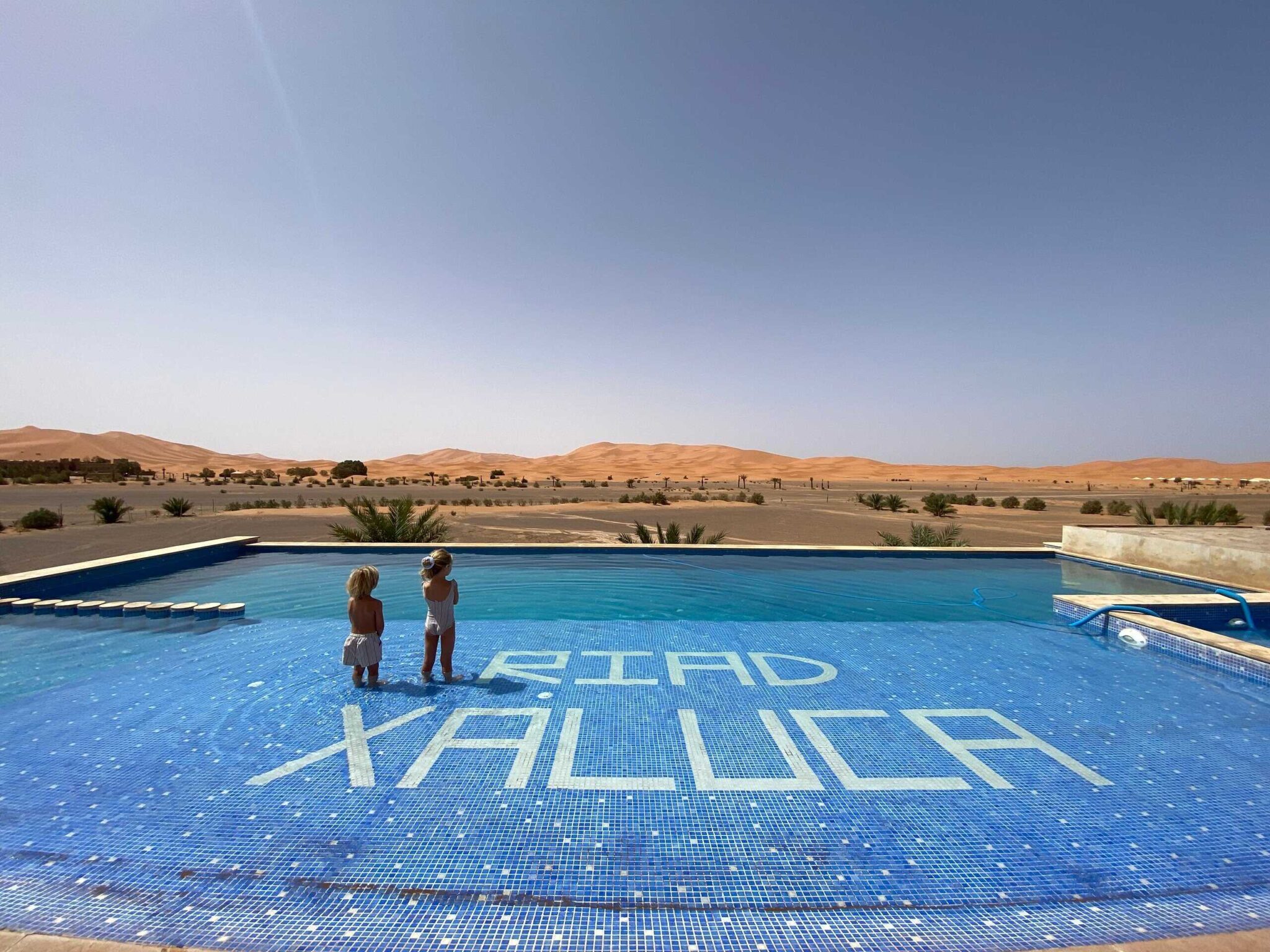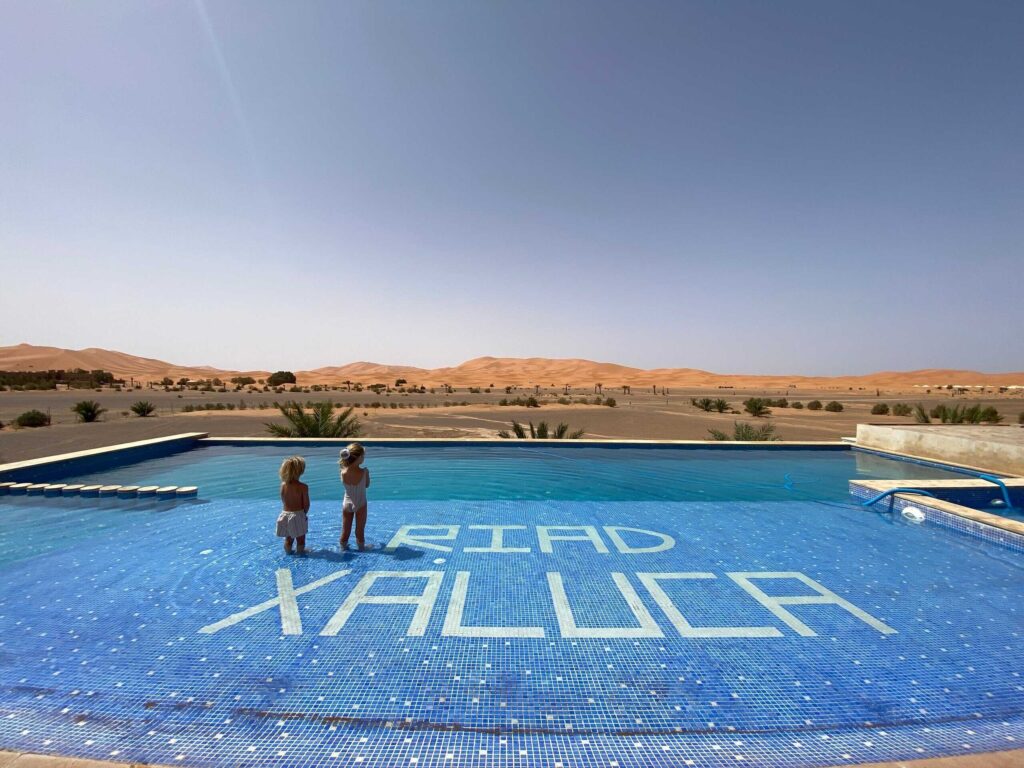 Hotel Riad Xaluca in Merzouga offers luxury comfort and relaxation. This hotel offers a peaceful respite from the stresses of regular life. For an enjoyable visit, take a plunge in the outdoor pool or a walk in the verdant garden. Make use of the patio and bar to relax and have a beverage with friends. Each room has a flat-screen TV, a private bathroom, complimentary amenities, and bed linen. Begin your day with a continental breakfast before seeing all Merzouga has to offer. Following an eventful day of exploring, return to unwind in the hot tub before drifting off to sleep. Riad Serai will help you transition into your future journey!
12. Riad Serai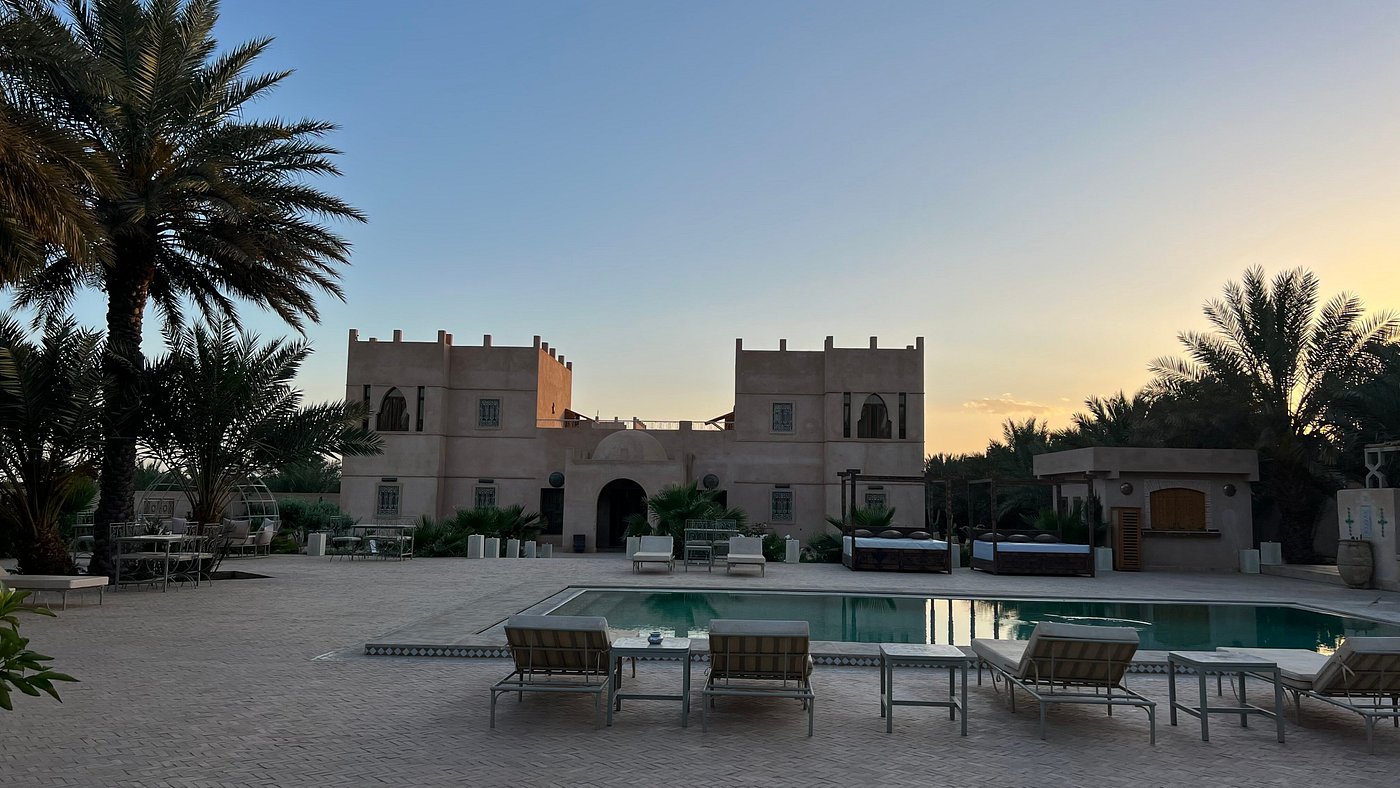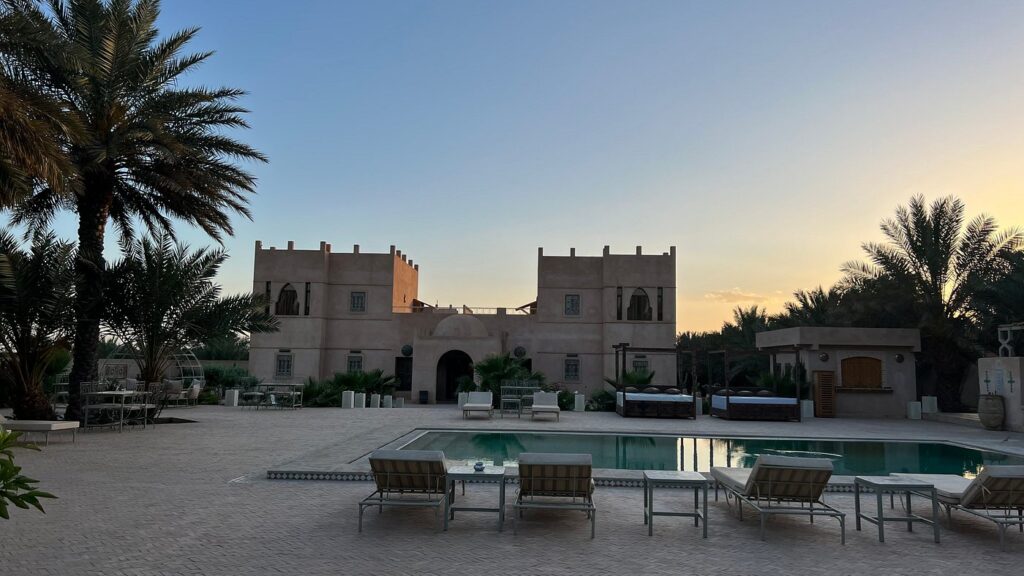 With its magnificent rooms, dedicated staff, and spectacular activities, Riad Serai provides a memorable escape in the middle of the Sahara. As soon as you arrive, you will be greeted with pleasant service that will make you feel at ease. The design has been carefully selected to offer your comfort and peace while taking advantage of Moroccan hospitality. During your visit, you may experience the grandeur of the desert, watch spectacular sunsets, and reconnect with yourself. Riad Serai offers a comprehensive package to make your stay unforgettable, including organized activities, attractive locations, and delectable food. Come to Riyad Serai for an exciting adventure over the dunes of Merzouga!
Frequently Asked Questions
What is the cost of accommodation in each of the recommended Riads?
The cost of accommodation varies from riad to riad. Explore your options and find the best fit for you – one that meets your budget and satisfies your desire for freedom.
Are there any facilities or activities available in the Merzouga Desert?
Explore the Merzouga desert! Enjoy activities like camel riding, sandboarding, and 4×4 tours. Discover the culture of the region through traditional music and Berber hospitality. Experience freedom and adventure in this unique corner of Morocco.
Are there any restaurants or cafes at the Riads?
Are you looking for a restaurant or cafe experience in the desert? Many of the riads offer delicious, locally-sourced cuisine that will tantalize your taste buds. Plus, they'll make sure you stay refreshed and energized for your next adventure.
What is the best time of year to visit the Merzouga Desert?
Visit the Merzouga Desert in spring or autumn for perfect weather. Enjoy a mix of sunshine, warm days, and cool nights – perfect for exploring! Experience the serenity and beauty of this incredible place and create memories to last a lifetime.
Are there any special offers or discounts available for booking a stay at one of the Riads?
Are you looking for a special offer or discount on your stay in Merzouga? Check out riads online – there could be discounts available to make your trip even more memorable.
Conclusion
You've seen the best 12 recommended riads in Merzouga Desert. They all offer something special and will make your stay in this magical place even more memorable. Whether you're looking for a luxurious spa experience or a rustic desert escape, there's something here to suit your needs. So why not take a few days out of your life and relax in one of these amazing retreats? You won't regret it! And don't forget to take lots of photos – they'll be memories you'll treasure forever.