Located in the northwest of Africa, Marrakech is a famous tourist destination. It is known for its rich culture, vibrant nightlife, and stunning architecture. With its hot climate and long summer season, many tourists come to visit Marrakech every year to enjoy the beautiful beaches that it has to offer. The city offers a variety of luxurious beach hotels and resorts as well as more affordable options such as Fiesta Beach Marrakech. In addition to the beaches within the city itself, there are also many great beaches located near Marrakech which make excellent day trips from the city center. This article will explore some of the best beaches in and around Marrakech so that visitors can make an informed decision when planning their trip.
Are there real beaches in Marrakech?
No, Marrakech offers no access to the soothing rhythm of waves crashing against a shoreline, metaphorically speaking. The city is landlocked and located in the foothills of the Atlas Mountains, approximately 250 kilometers southeast of Casablanca on the northwestern edge of the Sahara Desert. As a result, there are no beaches in Marrakech itself. However, it is possible to find some natural oceanfronts within a few hours' drive from Marrakech. Agadir is one popular destination that has an expansive beach with beautiful golden sand and numerous amenities for visitors looking to relax by the ocean such as restaurants and cafes. Alternatively, Essaouira offers travelers breathtaking vistas of white sandy beaches, crystal clear waters, and picturesque fishing ports which all make for an unforgettable experience.
Beach hotels in Marrakech
Marrakech is a popular destination for those looking to escape the heat of the city and relax on one of its many beaches. There are several beach hotels in Marrakech that provide a luxurious atmosphere and stunning views. La Plage Rouge, Nikki Beach, and Brazilian Beach Marrakech offer guests an unforgettable experience with amenities such as private cabanas, exquisite cuisine, and unique activities like camel rides. These resorts provide an ideal setting for anyone looking to enjoy all that Marrakech has to offer.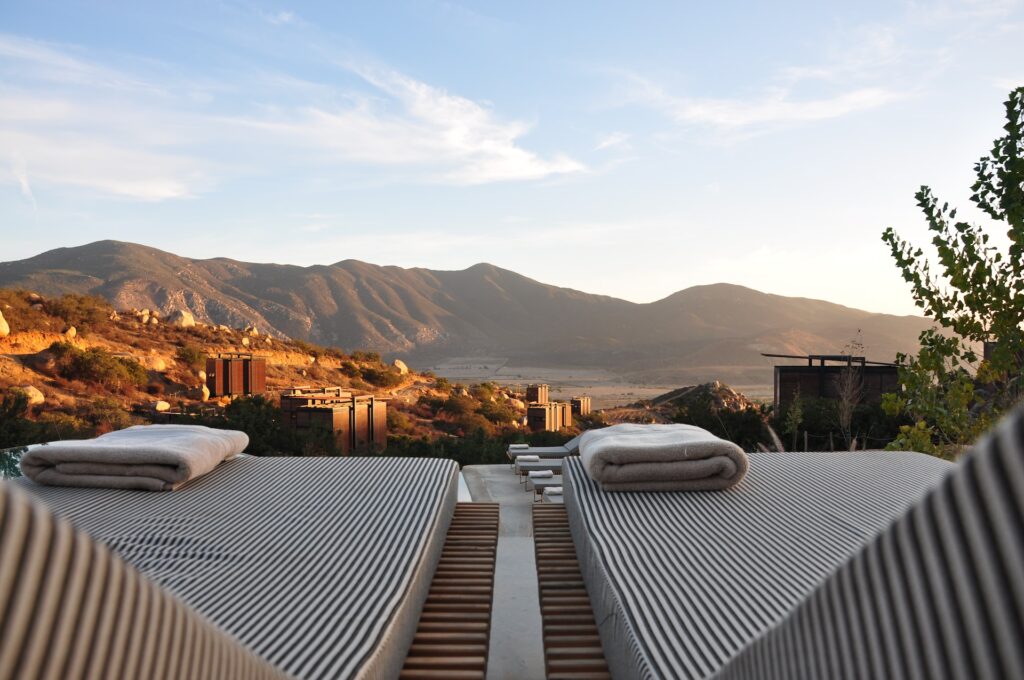 1. Nikki Beach in Marrakech
Nikki Beach in Marrakech offers a unique beach club experience with an exciting combination of amenities and activities that make it one of the city's premier destinations for relaxation and entertainment – but how can guests be sure they are getting the best experience possible? With its stunning views, chic decor, vibrant music, and sumptuous cuisine, Nikki Beach is renowned for providing guests with an unforgettable experience. From its world-class DJ sets to private cabanas and sunbeds, Nikki Beach boasts some of the most luxurious offerings on the Marrakech coast. Its attentive staff ensures that each guest feels like royalty, offering personalized service to meet everyone's individual needs. The restaurant also serves fresh local seafood dishes as well as international options from around the globe. With all these features combined, it is no wonder why Nikki Beach is known as one of Marrakech's finest beach clubs.
2. La Plage Rouge in Marrakech
La Plage Rouge is a unique and luxurious beach club located in Marrakech, offering an oasis of relaxation for those looking to escape the heat and enjoy a day of fun. This resort has something for everyone, from its 2.300 Km2 swimming pool with deckchairs and Balinese beds to its selection of cocktails, lunches, and dinners as well as live music from its DJ. With this combination of features, La Plage Rouge stands out as one of the most desirable beach clubs in Marrakech:
A large swimming pool with plenty of space to relax
Delicious food options for lunch or dinner
An inviting atmosphere with lively music provided by a DJ
Comfortable seating such as deck chairs and Balinese beds
This beach club provides an inviting atmosphere that encourages visitors to stay all day and take advantage of what it has to offer. It is the perfect place for people who want a break from the hustle and bustle while still being close enough to explore Marrakech's vibrant cityscape. In short, La Plage Rouge offers guests an unforgettable experience filled with luxury, comfort, fun, and relaxation.
3. Brazilian Beach Marrakech
The Brazilian Beach Marrakech offers a luxurious and stylish atmosphere, perfect for those seeking to relax and enjoy the city's vibrant culture. Located near a McDonald's restaurant, with free transport available, visitors can easily access the beach while still being close enough to take advantage of other attractions. The servers are friendly and attentive, making sure all guest's needs are catered for. Furthermore, the music on offer creates an energizing atmosphere that will make visitors feel like they're in the middle of a Pasha party or some other festive event. With its high-end facilities and stunning views, this beach is an ideal destination for anyone looking to experience the beauty of Marrakech without sacrificing comfort or class.
4. Fiesta Beach Marrakech
Fiesta Beach Marrakech offers a tranquil respite from the hustle and bustle of city life with its extensive array of amenities, including:
A fish pond surrounded by lush vegetation;
An onsite gift store offering shorts, swimwear, swimming apparel; and
Colorful slippers for guests to slip into for an enjoyable beach experience.
The beach itself is an excellent spot to relax and take in the sights and sounds of the area. Guests can enjoy activities such as swimming, sunbathing, or simply strolling along the shoreline admiring breathtaking views of the Mediterranean Sea. The vibrant atmosphere at Fiesta Beach Marrakech makes it a popular destination for locals and tourists alike looking for a fun-filled day under the sun in one of Morocco's most exotic locations!
Best 4 Beaches Near Marrakech
Morocco is home to several stunning beaches, many of which are conveniently located near Marrakech. Essaouira Beach is one of the most popular and beautiful beaches in Morocco, boasting a tranquil atmosphere and inviting sandy shoreline. Agadir Beach offers an array of activities such as jet skiing, windsurfing, and sailing, making it a great choice for thrill seekers. Taghazout Beach has become increasingly popular due to its tranquil waters and consistent surf waves that make it perfect for surfing or simply enjoying the sun. Lastly, Oualidia Beach is considered one of the best beaches in Morocco with its crystal clear waters and lush landscape offering a serene escape from city life.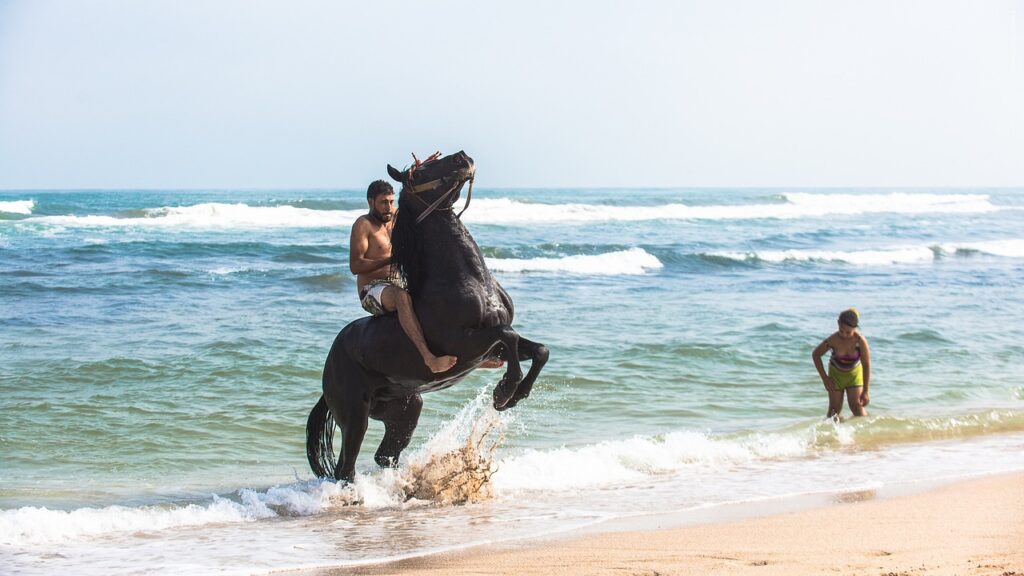 1. Essaouira Beach
Situated 180km from Marrakech, Essaouira Beach offers visitors an enchanting experience with its bohemian atmosphere, vibrant colors, and soothing seascape. The picturesque city is a haven for artists and fishermen alike and has been listed by UNESCO as a World Heritage Site. Visitors can enjoy the following activities while in Essaouira:
Explore the colorful medina where artisans create ceramics, rugs, silver jewelry, and leather goods
Enjoy fresh seafood delicacies at one of the many restaurants along the harbor
Take part in water sports such as surfing or stand-up paddleboarding
Stroll along the beachfront promenade to watch traditional fishing boats come in with their daily catch.
Essaouira Beach is truly a magical place that should not be missed when visiting Marrakech. With its stunning natural beauty and diverse culture it makes for an unforgettable experience that will stay with you forever.
2. Agadir Beach
Agadir Beach, with its ten kilometers of golden sand and three hours' proximity to Marrakech, offers a unique seaside experience that is unparalleled in Morocco. Its modernity compared to other cities nearby makes it an attractive destination for those seeking a sun-drenched adventure. This city is ideal for relaxing holidaymakers looking to unwind on the beach without distraction as there are no large medinas or souks. Instead, one can enjoy the stunning views of the Atlantic Ocean from their comfortable spot in the sand and take part in other activities such as kayaking, surfing, or swimming. Agadir Beach provides an exclusive getaway experience that will provide lifelong memories for all who visit.
3. Taghazout Beach
Taghazout Beach, famed for its world-class surf spots and picturesque views of the Atlantic Ocean, provides visitors with a unique coastal experience. Located in Morocco's fishing village on the Atlantic coast just north of Agadir, the beach is divided into two sections; Panorama beach, which is backed by the old town and offers golden sand and long stretches of coastline; while further south lies a larger stretch of beach bordered by gnarled Argan trees. The waters are ideal for surfing due to their consistent swell and proximity to some renowned surf spots. Beyond this, visitors can explore local markets offering an array of fresh seafood or take part in various cultural activities such as camel rides along the shoreline. There is something to suit everyone at Taghazout Beach: from sunbathing on its golden shores to discovering its vibrant culture and history – it truly provides an unforgettable escape.
4. Oualidia Beach
Oualidia Beach, located on the Atlantic coast of Morocco, is renowned for its crystal-clear waters and lush green palm trees. An ideal destination for those who seek a tranquil atmosphere by the sea, Oualidia Beach offers visitors an inviting mix of nature and culture. Guests can enjoy the ambiance of white sand beaches dotted with umbrellas and sunbeds, while they marvel at the beauty of the surrounding wetlands and lagoons. The beach provides plenty of activities such as surfing, kayaking, sailing, and fishing. There are also restaurants offering local seafood dishes to tantalize one's palate. In addition to its stunning scenery, Oualidia Beach Club offers various luxury amenities such as swimming pools, spa treatments, and lounges that provide a unique experience for anyone seeking a relaxing vacation by the ocean.
Frequently Asked Questions
What activities are available on the beaches in and near Marrakech?
Drawing upon ancient wisdom, the beaches in and near Marrakech offer a plethora of activities for people of all ages. From swimming and snorkeling to camel rides and sandboarding, there is something to suit everyone's preferences. Additionally, visitors can explore the local culture through cuisine and experience the vibrant nightlife scene.
How far away are the beaches from the city center?
The distance of beaches from the city center varies depending on their location. Some can be as close as 10 kilometers away, while others may be located up to 100 kilometers away.
Are there any public transportation options to get to the beaches from Marrakech?
Public transportation options to get to beaches vary depending on the location of the beach. Some may have a direct bus route, while others may require a combination of buses or other forms of transportation. It is important to consider all available means before deciding which option best suits one's needs.
Are there any beachside restaurants or bars near the beaches in Marrakech?
Marrakech is known for its beachside hotel restaurants and bars that offer a variety of culinary experiences. Visitors can enjoy traditional Moroccan cuisine as well as international dishes while taking in the beautiful views of the beach. The wide range of options ensures there is something to suit everyone's tastes.
Are there any special safety or health precautions to take when visiting the beaches near Marrakech?
Surrounded by a vibrant culture, beaches in Morocco present an inviting environment for visitors. However, to ensure safety and health, it is important to be aware of the potential risks while enjoying the sun and sand. Sun protection, vigilant swimming habits, and watching out for strong currents are all essential precautions to take.
Conclusion
Given its location in Morocco, it may come as a surprise that Marrakech is home to several nearby beaches. Although there may not be any real beaches in Marrakech itself, visitors can still enjoy beach life by staying at one of the many beach hotels or visiting Fiesta Beach, which is located just outside of the city. For those seeking more pristine expanses of sand and water, there are also four excellent beaches within easy reach of Marrakech. From secluded coves to bustling public spots with food kiosks and activities for all ages, these coastal treasures offer something for everyone.
Coincidentally, each beach has something special to offer; whether it's breathtaking views, crystal clear waters, or vibrant nightlife scenes, visitors from across the world can find a beach experience that suits their desires. With its impressive selection of seaside destinations and plenty of opportunities for relaxation and exploration near Marrakech, this city truly lives up to its reputation as an oasis in the desert.