Akchour Waterfalls is one of the most beautiful and picturesque places in Morocco. Located in the Rif Mountains, near Chefchaouen. Akchour is a great destination for hikers and travelers alike. The majestic waterfalls are both stunning to look at and provide an exciting way to explore the area. This guide will provide information on how to get to Akchour from Chefchaouen or Tangier, a description of what can be seen there, tips on hiking the trail, when is the best time to visit the waterfalls, safety considerations and where to stay while visiting Akchour.
Hikers will find that Akchor's trails offer spectacular views with its lush green scenery and amazing rock formations. It is also a great opportunity for bird watching as there are several species of birds that can be found around the area including eagles and hawks. With its many attractions, visitors are sure to have an unforgettable experience when exploring this unique part of Morocco.
Where are the Akchour waterfalls?
Akchour Waterfalls is located in the Rif Mountains of northern Morocco, approximately 25 to 30 kilometers north of the city of Chefchaouen. The lush green landscapes surrounding Akchour create a stunning backdrop for this spectacular natural wonder. It is an ideal spot for those seeking an escape from everyday life and has become increasingly popular with tourists who come to admire its beauty and appreciate its tranquility. With easy access via public transportation, it is possible to reach Akchour within a few hours from the larger cities in Morocco, making it a great option for travelers looking for a quick getaway. Despite its growing popularity, Akchour remains relatively untouched by mass tourism and visitors can still experience its unspoiled nature and majestic scenery firsthand. This makes it one of the most beautiful and unique attractions in Morocco which is sure to provide an unforgettable experience for all who visit.
Here is how to get to Akchour from Chefchaouen:
Reaching Akchour from Chefchaouen requires a journey of approximately 25 kilometers. The trip to the waterfalls can be done in several ways:
By car: This is the fastest, most comfortable way to get to Akchour. It takes around 30 minutes and provides stunning views along the way.
By bus: There are frequent buses that depart from Chefchaouen's central bus station and drop you off at Akchour's entrance in about one hour.
By foot: A walk from Chefchaouen is possible if you're an experienced hiker, taking around 4 hours with beautiful sceneries all the way down.
By mule/horseback ride: This is great for those who want to feel more connected with nature during the journey and experience traditional transportation methods used by locals for centuries!
Whichever route you choose, a visit to Akchour will surely be unforgettable! A unique blend of pristine nature combined with breathtaking landscapes will make your experience truly special! Enjoy the fresh air and relax as you take in this magnificent sight!
Here is how to get to Akchour from Tangier:
From the city of Tangier, it is possible to reach Akchour by various methods of transportation. The most popular and quickest way to get there would be to take a taxi from Tangier. This will cost approximately 70-90 dirhams per person and will take around 1 hour and 30 minutes. Alternatively, one could take a bus from the main bus station in Tangier; however, this option is considerably slower as it takes about 4 hours and costs around 25 dirhams per person. Another option is to rent a car or hire a driver for the day, though this may also be more expensive than taking a taxi or bus. All these options provide travelers with an easy way to visit Akchour's stunning waterfalls located nearby the village of Bab Taza.
Here is what to see in the Akchour waterfalls:
Akchour Waterfalls is located in the Rif Mountains in Morocco and consist of two sets of falls, the upper falls, and the lower falls. The most notable attraction at Akchour is God's Bridge, a naturally formed bridge overhanging a gorge with a small waterfall below it. Visitors to Akchour are able to take in both breathtaking views of the surrounding mountains and experience these natural wonders up close.
1. Lower and upper waterfalls
The two waterfalls of Akchour, the lower and upper, contrast sharply in terms of their size and sound. The lower waterfall is approximately 60 meters high and its thunderous roar can be heard from a distance. It is a popular spot for visitors due to its accessibility via an easy hike and the beautiful scenery it provides. On the other hand, the upper waterfall has a height of 30 meters and is much quieter than its counterpart. While it requires a bit more effort to get there due to the steeper terrain, it offers an incredibly tranquil atmosphere that allows one to truly appreciate nature's beauty:
The lush greenery surrounding both waterfalls
The bright blue waters cascading down into pools below
The misty spray created by the force of the cascading falls
The rainbow hues reflecting off of each pool
And most importantly, the peacefulness emanating from this natural wonder
Visitors will not only be captivated by Akchour's majestic beauty but also its unique atmosphere as they experience both waterfalls in all their glory.
2. God's Bridge
Nestled between the two waterfalls of Akchour is a remarkable natural rock formation known as God's Bridge. This stunning natural attraction has become one of the most popular tourist spots in all of Morocco, and it is not hard to understand why. Visitors can take a leisurely stroll along its smooth pink stone pathways or challenge themselves by climbing the steep rocks for an even more spectacular view. The area is surrounded by towering cliffs, forming a unique landscape that will take your breath away. Surrounded by jaw-dropping scenery and lush greenery, visitors feel as if they have stepped into another world when they come to visit God's Bridge.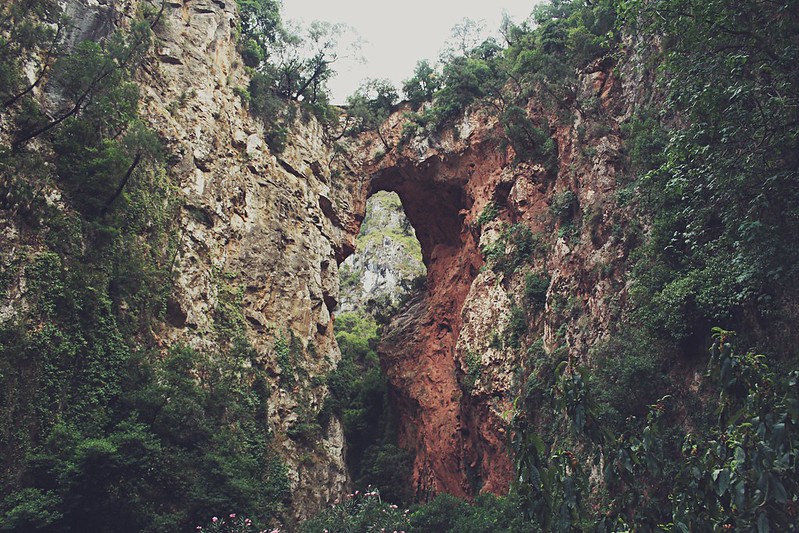 The bridge itself is said to date back millions of years and was formed over time from erosion caused by the two waterfalls that flow beneath it. Many believe this rock formation was created by divine intervention, making it even more special for those who come to see it in person. It provides an unforgettable experience that will stay with you long after you leave Akchour and its cascading waterfalls behind. Whether you are looking for an adrenaline rush or just want to relax and admire nature's beauty, God's Bridge should definitely be on your list of places to visit when traveling through Morocco!
Tips for hiking Akchour waterfalls
Hiking Akchour waterfalls can be a challenging experience, yet one that is sure to leave a lasting impression with its breathtaking scenery – the perfect example of synecdoche. To ensure an enjoyable and safe adventure, hikers should take into consideration the following tips:
Wear appropriate shoes for hiking; those with strong grip soles are best for navigating slippery rocks and paths.
Pack plenty of food and drinks, as some trails may require more energy than anticipated.
Bring along a walking stick or trekking poles to help navigate in difficult terrain or on narrow paths.
Ensure you have adequate protection from sun exposure by wearing sunscreen, sunglasses, and a hat if necessary.
These steps are all essential for having an amazing hike in Akchour Waterfalls while ensuring safety throughout the journey! By being prepared before setting off on your adventure, you will be able to make full use of the beautiful landscape under your feet without worry or fear of danger around every corner!
How is the trail in Akchour waterfalls?
The Akchour Waterfalls trail is a popular hiking destination for outdoor enthusiasts. The trail is composed of two parts, the upper and lower waterfalls, as well as the path to God's Bridge. Both trails offer breathtaking views of the surrounding landscape, with the upper waterfall offering stunning views from its peak. Each route provides an exciting adventure that will delight hikers of all experience levels.
1. The trail to the upper and lower waterfalls
Located in the mountains of Akchour, a scenic trail leads to both the upper and lower waterfalls. To reach the waterfalls, you head left before the dam and cross through a small bridge, then you will find two roads, one to the right (leading to god's bridge) and one to the left which leads to the waterfalls. This path is a popular destination for outdoor lovers, offering stunning views of the surrounding landscape. The trail is easy to access and relatively flat. It begins at a nearby village and winds its way through lush forests filled with cedar trees, wildflowers, and wildlife.
At various points along the way, visitors can take in breathtaking panoramas of cascading waterfalls and soaring mountain peaks. The hike culminates with an awe-inspiring view of the majestic upper waterfall plunging into a deep pool below. For those seeking an even greater thrill, there is also a challenging climb down into the depths of the lower waterfall's canyon-like basin. Regardless of which route one takes, it's an unforgettable experience that will leave them feeling invigorated by nature's beauty and grandeur.
2. The trail to god's bridge
Nestled in Akchour, the trail to God's Bridge is a must-see for nature enthusiasts looking to get away from it all. The trail follows a winding path along the sides of a deep gorge, make sure you take the right path of the dam, going upstairs through a tiny way nestled on the edge of the gorge. The path offers spectacular views of the running rivers. Along the trek, visitors will find many hidden gems such as caves, ancient shrines, and unique rock formations.
Amongst these attractions and around 30 minutes of hiking is the famous God's Bridge – a majestic natural arch created by millions of years of erosion from water and wind. This formation provides an awe-inspiring view that can only be experienced in person; one that cannot be replicated or captured with words alone. Considering its proximity to other popular attractions, the trail is well worth exploring for any outdoor enthusiast seeking adventure and breathtaking vistas.
Here is the best time to visit Akchour Waterfalls:
Visiting Akchour waterfalls during certain times of the year can offer a richer experience for those seeking to make the most of their trip. The best time to visit the area varies depending on personal preference. For those looking for an adrenaline-filled adventure, the months between May and August are typically regarded as ideal. At this time, the water flow is at its peak, making it perfect for activities such as kayaking or swimming in the rapids. On the other hand, if relaxation is desired, then visiting during September and October is recommended. This is because these months usually have milder temperatures and reduced water levels that allow visitors to fully appreciate and explore all aspects of this beautiful place without being hindered by rushing waters or extreme weather conditions.
Are Akchour waterfalls dangerous to hike?
Hiking Akchour offers a breathtaking journey of discovery through its stunning natural beauty, but it also requires extra caution due to its challenging terrain. With steep inclines, narrow paths, and rocky gorges, the risk of injury or worse is present for those who attempt to hike this beautiful landscape without the proper preparation and knowledge.
Before embarking on this adventure, hikers should take into consideration the following:
Be sure to wear appropriate hiking gear such as sturdy shoes with good grip and clothing that can keep you warm if necessary.
Pack plenty of water and food in case you get lost or stuck in the area.
Familiarize yourself with the terrain before setting out by researching maps and trails beforehand.
Make sure someone knows your plan so they can alert authorities if you don't return at an expected time.
By taking these precautions into account, adventurers can fully enjoy their experience while keeping themselves safe from harm along the way.
Where to stay in Akchour waterfalls?
There are numerous accommodation options for visitors to choose from. On average, these establishments offer competitive prices with the average rate per night being around $40 USD. Accommodation options range from camping sites to homestays and hotels. Campsites are equipped with basic amenities such as toilets and showers, while some may even feature a restaurant and bar. For those looking for a more comfortable stay, there are also homestays available where guests can enjoy home-cooked meals prepared by friendly hosts. Several mid-range and luxury hotels have also been established in the area offering comfortable rooms with modern facilities such as air conditioning, Wi-Fi access, and private balconies or terraces with stunning views of the Akchour waterfalls. Visitors should take into consideration their budget when selecting an accommodation option as prices vary greatly depending on location and additional services offered.
Conclusion
Nestled in the Rif Mountains, Akchour Waterfalls is a stunning destination that offers travelers an unforgettable experience. Boasting breathtaking views of lush greenery, cascading waterfalls, and deep gorges, this spot is well worth a visit. Its incredibly diverse terrain makes it ideal for exploring and admiring its many splendors. Whether you're looking for a peaceful escape or an adventure-filled excursion, Akchour can provide both. Like the sun rising from behind the clouds after a stormy night, visiting Akchour will be sure to leave you feeling invigorated and refreshed. So don't miss out on this special place – make your way to Akchour Waterfalls soon!
FAQs
Can you swim in the Akchour waterfalls?
Yes, it is allowed to swim in Akchour waterfalls, and the path towards god's bridge has some nice places for swimming.
How long does it take to hike to Akchour waterfalls?
It depends on how fast you go, however, it takes approximately around 2 hours to reach the waterfalls. If you want to hike to god's bridge on the other side, it will take around 40 minutes.
Can you do a day trip from Chefchaouen to Akchour waterfalls?
The answer is yes, you can do a day trip from Chefchaouen to Akchour since both attractions are not far from each other.
Are there eateries or restaurants in Akchour waterfalls?
There are plenty of restaurants at the entrance of Akchour waterfalls, not to mention that there are some stalls deep through the hiking path.