Are you traveling to Morocco for business or pleasure? Read our guide about tipping in Morocco to learn when and how much to leave. Then, using our helpful tip calculator, you can prevent any tipping blunders.
Is tipping common in Morocco?
Tipping is customary in Moroccan restaurants, pubs, and cafés, especially in tourist or commercial districts. Tips are also welcomed at hotels and serviced apartments, as well as other places where employees may not be well compensated, such as spas or salons.
The amount you tip in Morocco will vary depending on where you are and what services you are purchasing. Expect to tip 10% of the bill as a general guideline. If you receive great service, reward them with a tip of around 15-20%.
Tipping is a common and acceptable aspect of daily life in Morocco. Those of us who reside in Morocco are accustomed to tipping restaurant staff, salon employees, hotel workers, laborers, and other service providers.
Although not required, tipping is a significant component of some Moroccan workers' overall pay since minimum salaries are quite low in compared to the cost of living.
Of course, a tipping culture may be strange to many foreign residents and visitors to Morocco, who may be willing to comply with local norms but are unsure of when and how much to tip in Morocco.
Even those of us who are accustomed to tipping in our native countries have pondered how much gratuity is appropriate in Morocco.
Read also: Cost of living in Morocco
What Are Morocco's Tipping Customs?
The reality is that tipping traditions differ greatly not only between foreigners and Moroccans, but even within Moroccans.
Some Moroccans, for example, may give merely pocket change as a tip at a restaurant, whilst others habitually leave 5% or 10% of the bill.
Travelers and foreign residents, on the other hand, may be tempted to leave 10 to 15% of a restaurant bill.
The amount to tip varies depending on where you are. Larger gratuities may be typical or anticipated in Casablanca and other major cities, as well as in higher-end restaurants.
When the question of how much to tip in Morocco comes up on expat and tourist sites, the reactions range from furious — why should I pay someone extra for performing their job?! — to empathetic. — to extraordinarily generous — In Morocco, I always tip at least 20% unless the service is poor!
Some say that foreign visitors and residents are expected to tip more generously than Moroccans.
This may ruffle the feathers of foreigners residing in Morocco on small local earnings or from places where tipping is considered disrespectful or just not understood.
Read also: Best 10 recommended hotels in Fes
Tipping in Morocco: Unique Guide
I've put up the following Moroccan tipping guide to assist understand Moroccan tipping norms.
Of course, they are merely estimates based on typical Moroccan and immigrant practices. No one should feel forced to tip if it makes them uncomfortable or if they received terrible treatment.
Restaurants & Street Food
1 or 2 dh per person for food vendor, juice stall, etc.
5% to 10% of bill OR 5 to 10 dh per person – Waiter – Café or Small Local Eatery
Waiter – 10% to 15% of bill – Mid-range to Upscale Restaurant (Check to be sure that a tip is not already included.)
Drivers & Transportation Services
Petit Taxi Driver – Round up to the nearest 5 or 10 dh (Be sure the meter is running; some taxi drivers take advantage of tourists by quoting high fixed prices.)
Airport transfer (one way) – 20-50 dh per passenger; 100 dh per booking party
One-way local transfer – 10 to 20 dh per passenger; 50 dh per booked party
Multi-Day Tour Driver – Car, Van, or Minibus – 100 dh per booked party per day (More if you hire a private driver; pay at the end of the tour.)
Full-day Tour Driver – Car, Van, or Minibus – 200 dh per booked group
Half-day Tour Driver – Car, Van, or Minibus – 100 dh per booked group
Coach Bus Operator (large group tours) – 10 to 20 dh per day each person
Tipping Tour Guides in Morocco
Multi-Day Large Group Tour Guide – 200 dh per booked group every 5 to 7 days (more if your booking party is large; pay at conclusion of tour.)
Full-day Tour Guide – 150 dh per individual; or 300 to 400 dh per booked party
Half-day Tour Guide – 100 dh per individual; or 200 to 300 dh per booked party
5 to 10 dh per person, unofficial guide (Utilize with prudence.) If police are nearby, they may try to take you to stores where they get a commission or desert you.)
Sites, Activities, Attractions & Performers
Museum or Site Guide – 10-20 dh per person or 50-100 dh per party; more for big groups
Museum or Site Guardian – 5 to 10 dh; a lovely but optional gesture.
Guided Camel Ride or Horseback Riding – 10 to 20 dh per person; more for expeditions
Tipping is not anticipated for cooking class instructors.
Meals with a Local Host – gratuity is not requested
Instructor for Artisan Workshops – 20 to 50 dh per individual; 200 dh per booking party
Live entertainment (at a restaurant, hotel, etc.) – 20 to 50 dh per group; a charming but optional extra.
In the Markets
For Photographing a Vendor, Artist, or Product – 5 to 10 dh (Always inquire beforehand.) Some retailers in high-traffic locations post signs indicating that they expect this gratuity.)
Henna Tattoo Artists – 10 dh (Confirm that they do not use PPD or "black henna.")
Monkey Grinder, Snake Charmer, and so forth. – 10 dh to hold the animal or pose with it. (You may wish to avoid this; many people believe it encourages poaching and puts endangered species in danger.)
1 to 2 dh for beggars (Usually best to ignore; give only small change if you want to.)
Hotels, Riads, and Guest Houses
10 to 20 dh bellboy (more if handling many bags)
Concierge – 10 to 20 dh per service OR 50 to 100 dh at the time of check-out (only if provided service)
Housekeeper or chambermaid – 10 to 20 dh per day OR 100 dh per week (One website recommends placing the tip into a pillowcase to prevent a supervisor from claiming the tip for herself.)
Doorman – 5 to 10 dh for cab hailing (OR lump sum of 20 dh upon checking out; more for extended stay)
10% discount on room service (Check to see if this has already been included in check.)
Breakfast Buffet Manager – 20 to 50 dh; a pleasant but optional gesture (Tip after final breakfast if you feel service was attentive.)
Spas & Salons
Hammam – Turkish Bath – 20 to 50 dh per attendant, depending on how humble or posh it is (Luxury package deals might include exfoliation, massage, henna, etc. so there will be more people to tip.)
Hair, facials, waxing, massages, and other spa services – 10% off each service (Tip the appropriate attendant or stylist directly for each service.)
Salon – haircuts, highlights, coloring, and so forth – 10% to primary stylist; an extra ten dollars per assistant (ie. hair washing, color application, etc.)
Manicures, pedicures, waxing, and other services – 10% of service(s); extra 10 dh per assistance, if any
Parking & Gas Stations
Street Parking Guardian – 3 dh on average; 5 dh in good neighborhoods; 10 dh for premium places. (Guardians may or may not be present in metered street parking spots denoted by blue lines; have your meter ticket visible in your windshield.)
Valet parking costs between 10 and 20 dh.
10 to 20 dh Parking Lot Attendant (Depends on location; ask if price is not displayed.)
Car washing (just exterior) – 20 dh (sometimes offered by a parking attendant or guardian)
2 dh for Gas Station Attendant (optional for pumping gas, cleaning windshield, or checking air tire pressure, etc.)
Other Tipping Situations in Morocco
General Assistance (carrying shopping bags, loading cars, assisting with physical tasks, and so on) – 5 dh; more if it needed heavy lifting or took more than a few minutes.
Buta Gaz Delivery (or liquid propane tank replacement) – 5 dh (more if stairs are involved or multiple tanks are delivered)
Plumbers, electricians, painters, and so forth – 20 to 50 dh (More if a half or full day is spent on the project; it's also a polite gesture to give a meal if a worker is there at lunchtime or while you're serving your family.)
In addition to the standards outlined above, you may find yourself in situations where a gratuity appears to be acceptable.
Tip fishmongers, poultry dealers, and anyone who help clean or prepare fresh goods at markets, for example.
When in doubt, adding a few dirhams to your purchase typically suffices.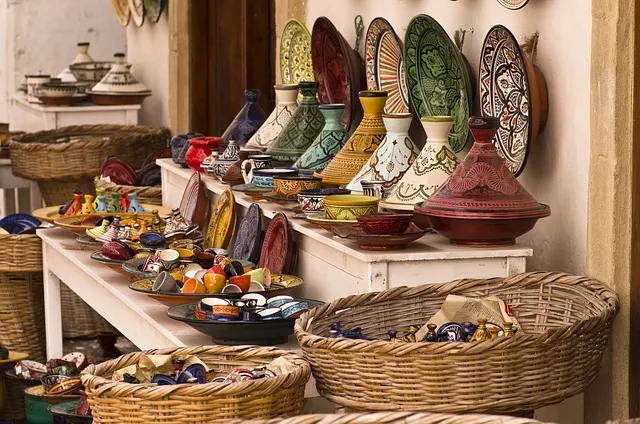 FAQ
How much do you tip in Morocco?
You should tip roughly five dirhams for a fast dinner (or more.) In fancier places, a normal tip ranges from 7 to 10% of the bill. NOTE: Always pay your tip in cash and leave it on the table. When paying with a credit card, do not just add it to your bill.
Do you tip in hotels in Morocco?
Tipping is a common and acceptable aspect of daily life in Morocco. Those of us who reside in Morocco are accustomed to tipping restaurant staff, salon employees, hotel workers, laborers, and other service providers.
What should you tip a private guide in Morocco?
In general, tip your private guide $10-$15 each day, plus extra $5-$10 for drivers. You'd tip half of that for large group excursions.
How much do you tip in riad Marrakech?
Personnel in a riad or hotel: We recommend 50 dirhams a day per room to cover all staff. Use the tipbox to ensure that the tip is distributed evenly across all personnel! Local guide after a half-day tour: 50 dh (for 2 to 5 individuals) or 10 dh per person for larger groups.
How much do you tip at Hammam in Morocco?
Prepare to have some cash on hand for tipping. However, restaurants, cafés, and bars are not the only establishments where gratuities are expected. Tipping hotel personnel, porters, hairdressers, and musicians is also customary. Hamam attendants, on the other hand, demand to be paid 25% of the cost.