Hey, travelers! Are you looking for the best place to stay while visiting Essaouira? Look no further. We've rounded up the top 16 riads in this stunning coastal city, so you can experience all its beauty and charm. Whether you're in search of a luxurious retreat or something more low-key, we have an option that's sure to fit your needs. From Riad Chbanate to Les Terrasses d'Essaouira, there's something for everyone here. Get ready to explore Morocco's Atlantic coast like never before!
1. Villa Quieta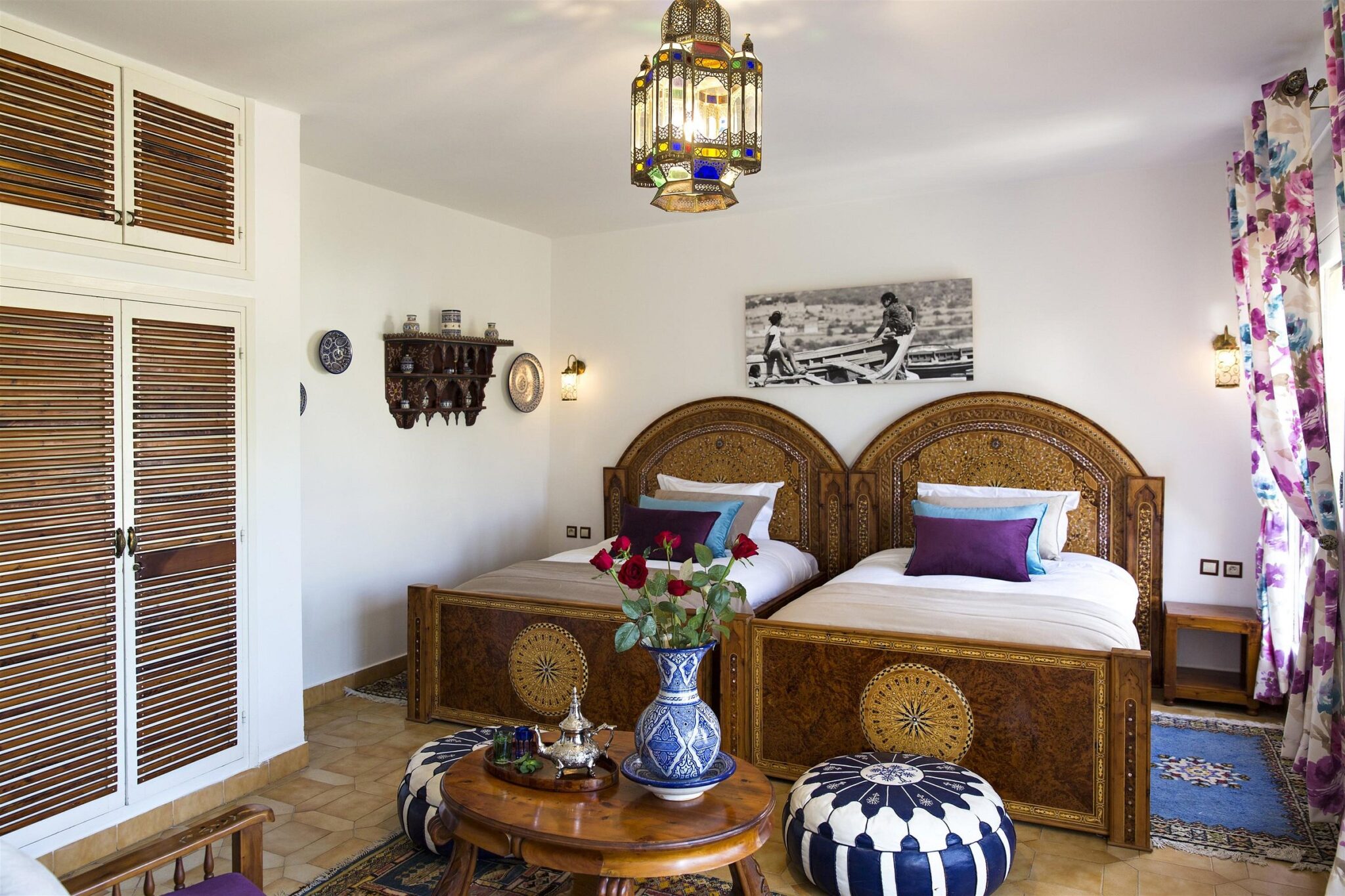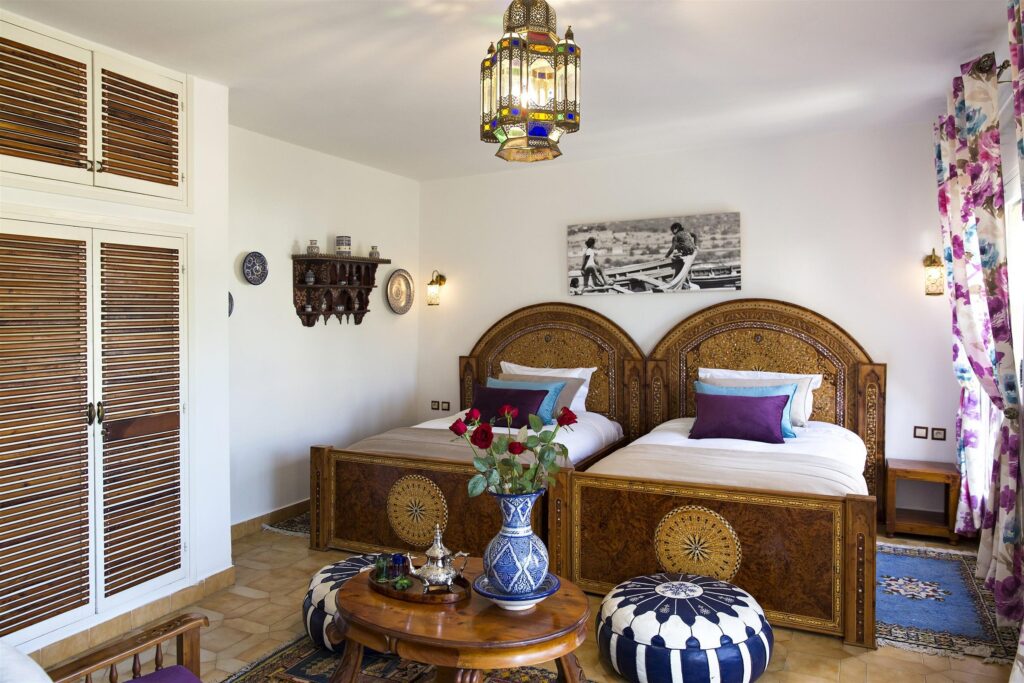 Located just outside of the medina, Villa Quieta is like a Moroccan palace, with intricate tile and stonework, lush textiles, and metal lamps creating a cozy atmosphere that's sure to please any Instagrammer! The rooms are spacious and full of amenities for your comfort. Plus, you can enjoy an outdoor pool and garden area for some relaxation. Stroll along the boardwalk that borders the beach to take in views of kiteboarders gliding across the ocean during sunset – it's truly a dreamy escape! With its idyllic location right on the beach, Villa Quieta is one of the best riads in Essaouira.
2. Riad Chbanate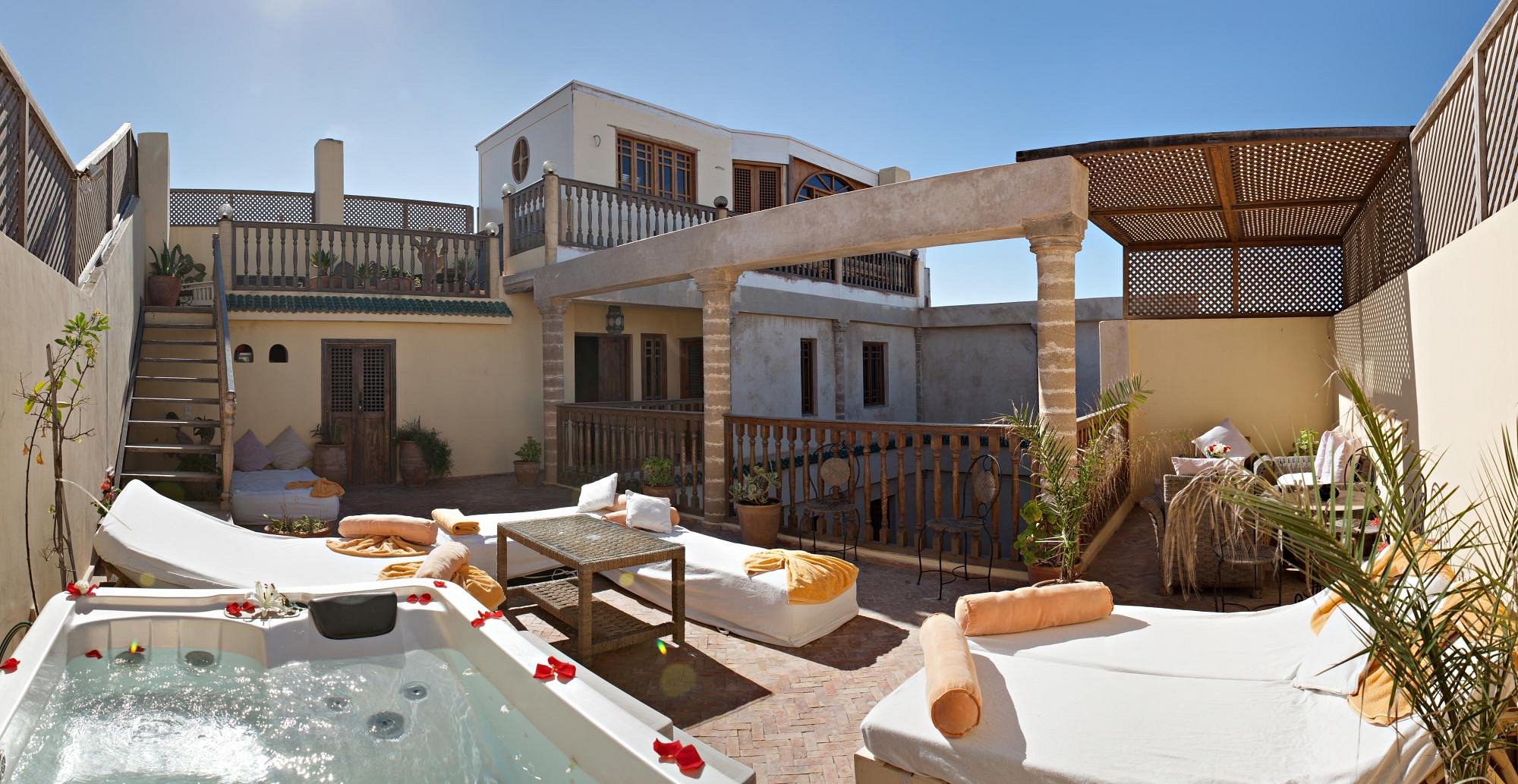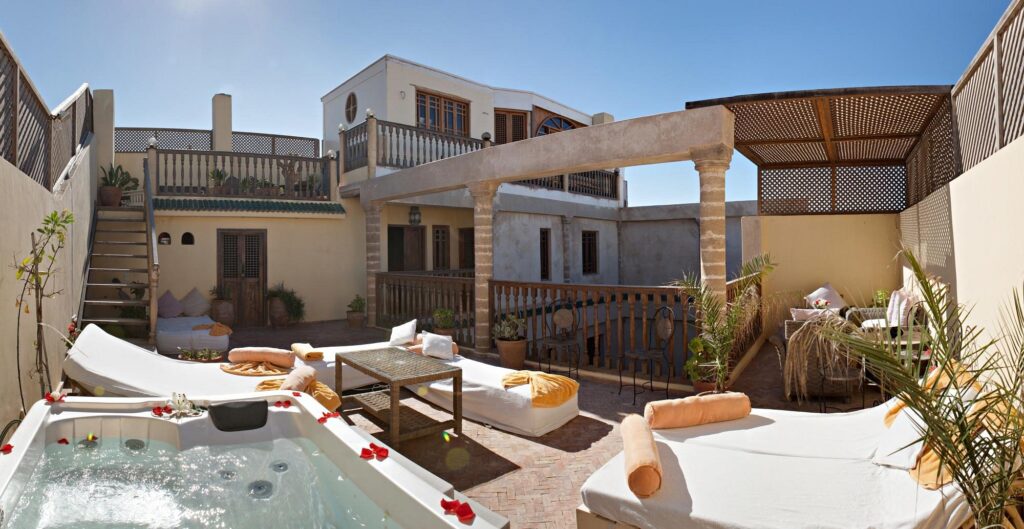 You'll love the Riad Chbanate's stunning stonework, intricate woodwork, and cozy traditional decor – perfect for escaping the hustle and bustle of Essaouira! From the dimly lit stone walls to the spacious rooms with private fireplaces, there are plenty of reasons why this riad is one of the best:
Amenities: All rooms come equipped with air conditioning, a TV, and various other amenities to make you feel right at home.
Breakfast: Enjoy a delicious breakfast every morning served by an incredible staff always ready to help.
Rooftop Escape: Relax on the rooftop for breathtaking views of Essaouira – perfect for travelers wanting a bit more luxury during their stay.
And if that wasn't enough, you can experience Moroccan hospitality firsthand as you explore Salut Maroc!
3. Salut Maroc!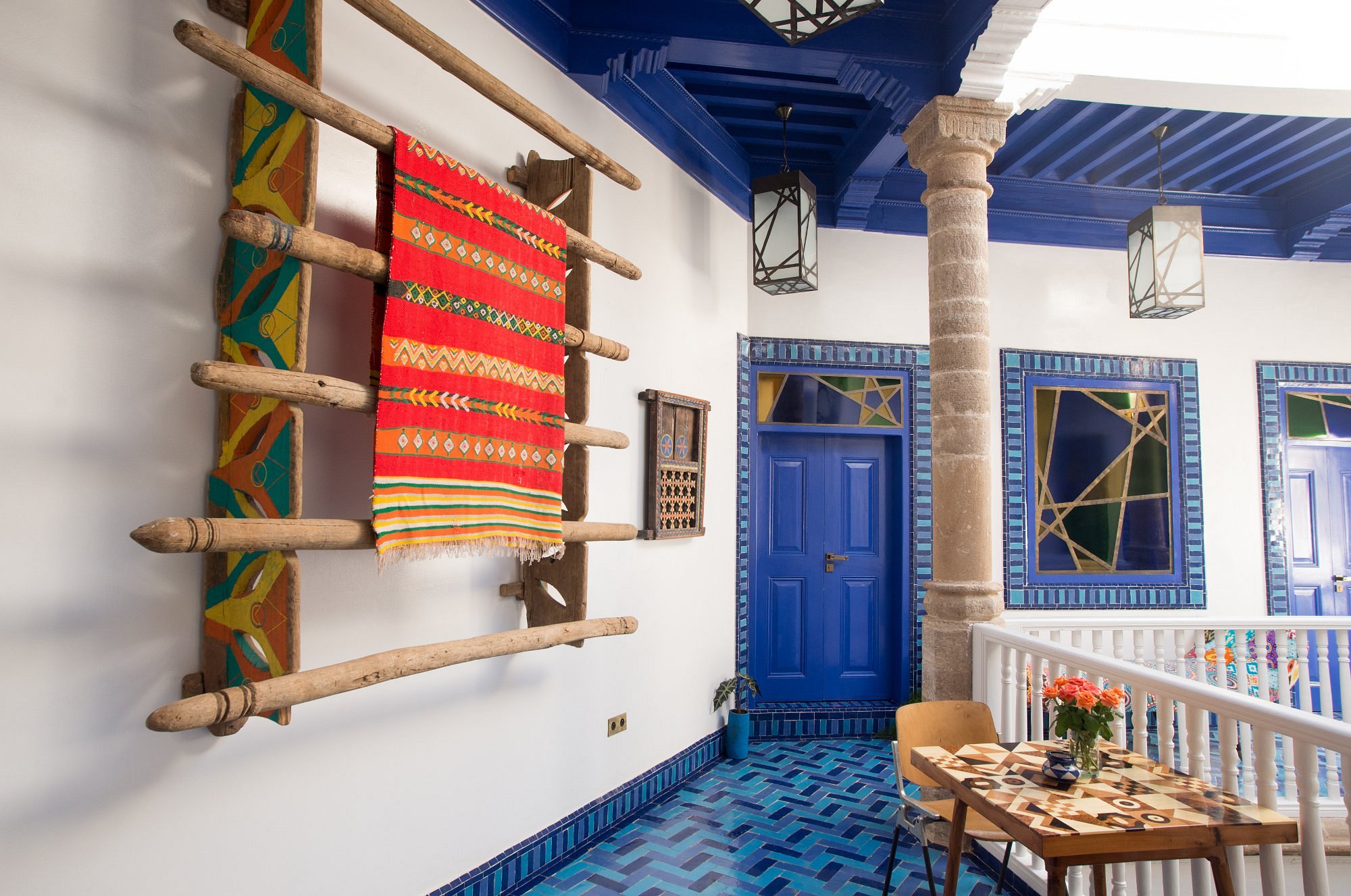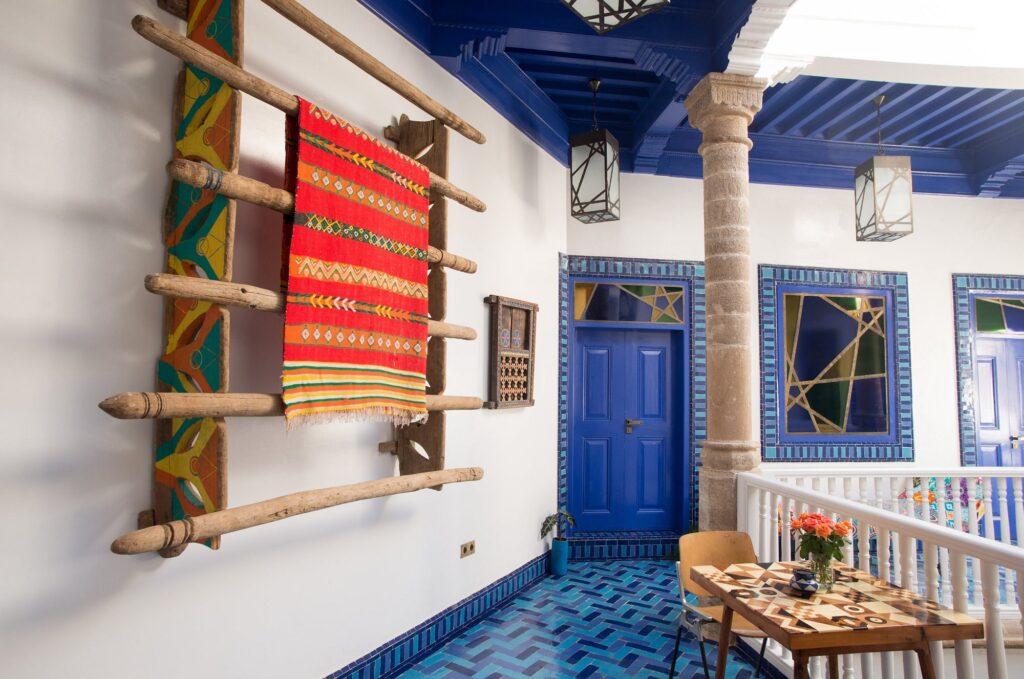 Immerse yourself in vibrant colors, custom furniture, and Moroccan hospitality at Salut Maroc! This riad is an explosion of color, with walls filled with colorful murals and every piece of furniture handmade. Don't forget to take your camera, as this riad is perfect for capturing special moments. The rooftop terrace has the most spectacular views of the sea, covered in tiles and offering a wonderful spot for enjoying a mint tea while admiring the view. And you won't believe your eyes when you enter your room – it includes a stunning copper bathtub that looks like something out of a dream! Salut Maroc offers an unforgettable experience that will leave you feeling refreshed and inspired. Now step into Riad Emotion to feel its unique charm.
4. Riad Dar Emotion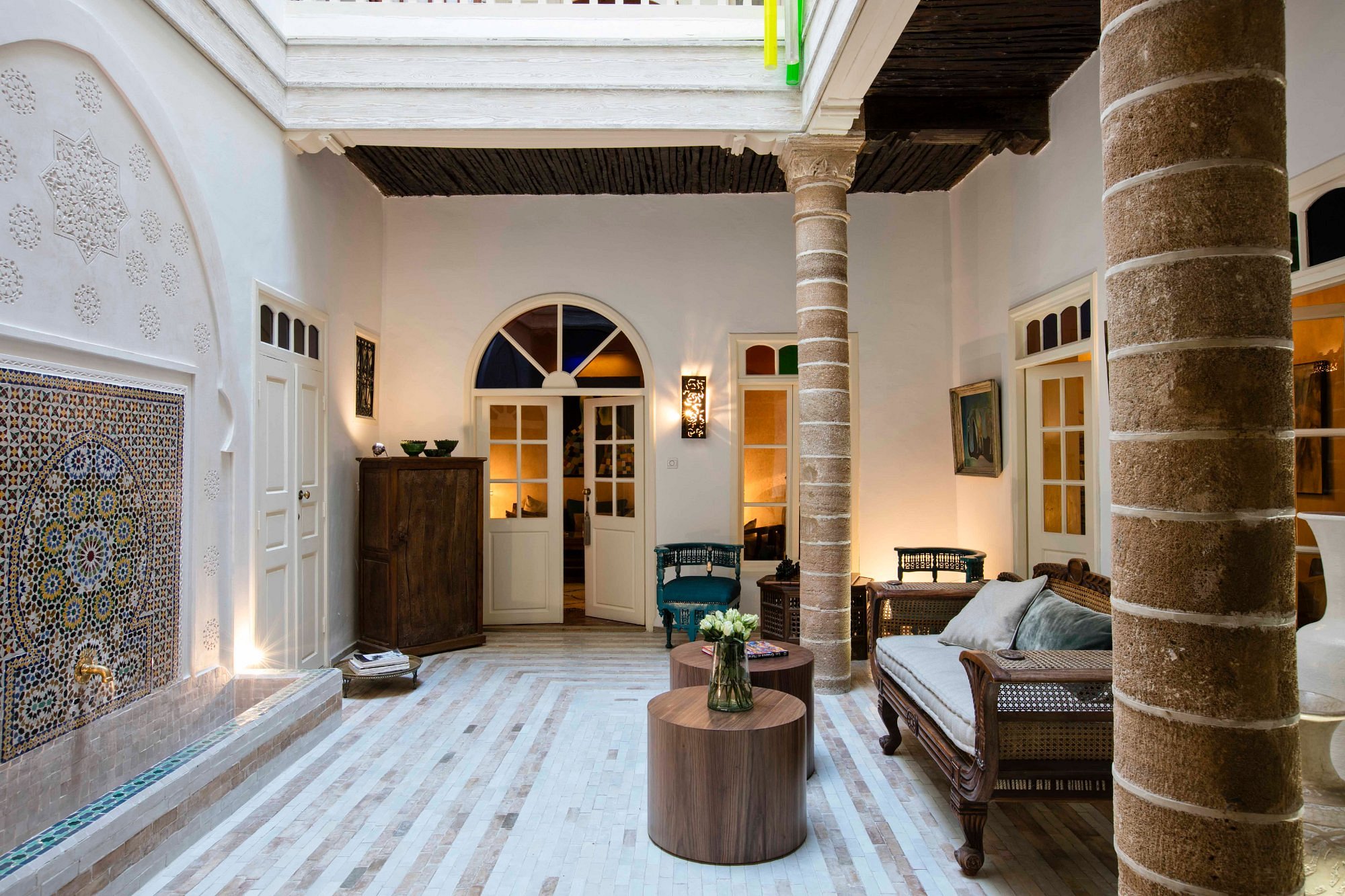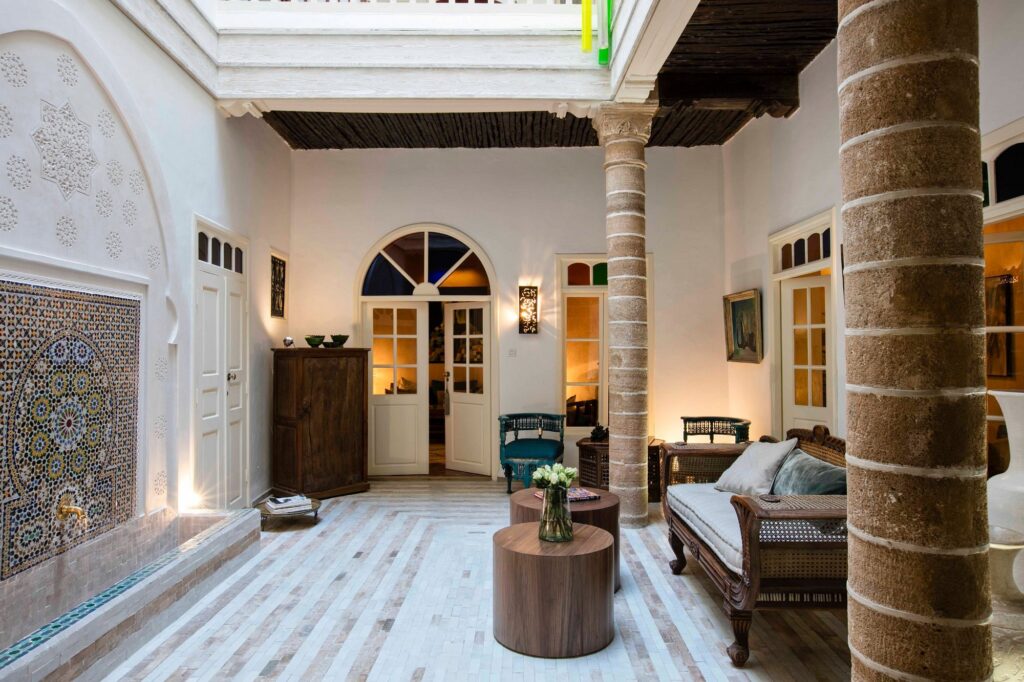 Experience the unique charm of Riad Emotion, a warm oasis in the heart of the medina that'll make you feel right at home. Rooms are spacious and comfortable with individual private seating areas and free toiletries, while the traditional Moroccan decor has been carefully designed to create both a modern and traditional space. Relax on their beautiful terrace with plenty of sun beds, or enjoy your breakfast in the comfort of your own room. With such friendly hosts, you will be taken care of from arrival until departure! Get ready for an unforgettable stay – Riad Emotion is one of the best 16 recommended riads in Essaouira!
5. Riad Dar Maya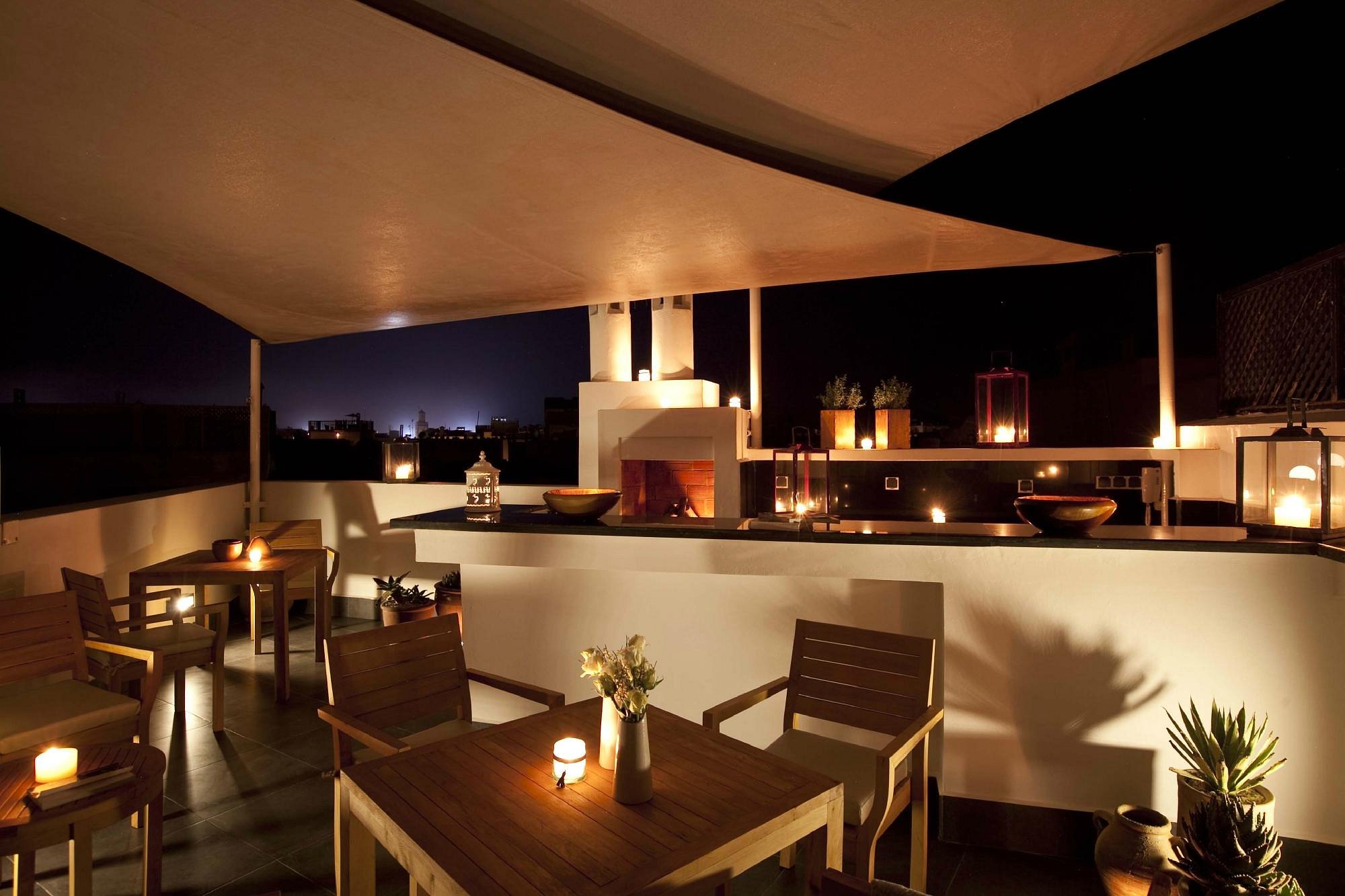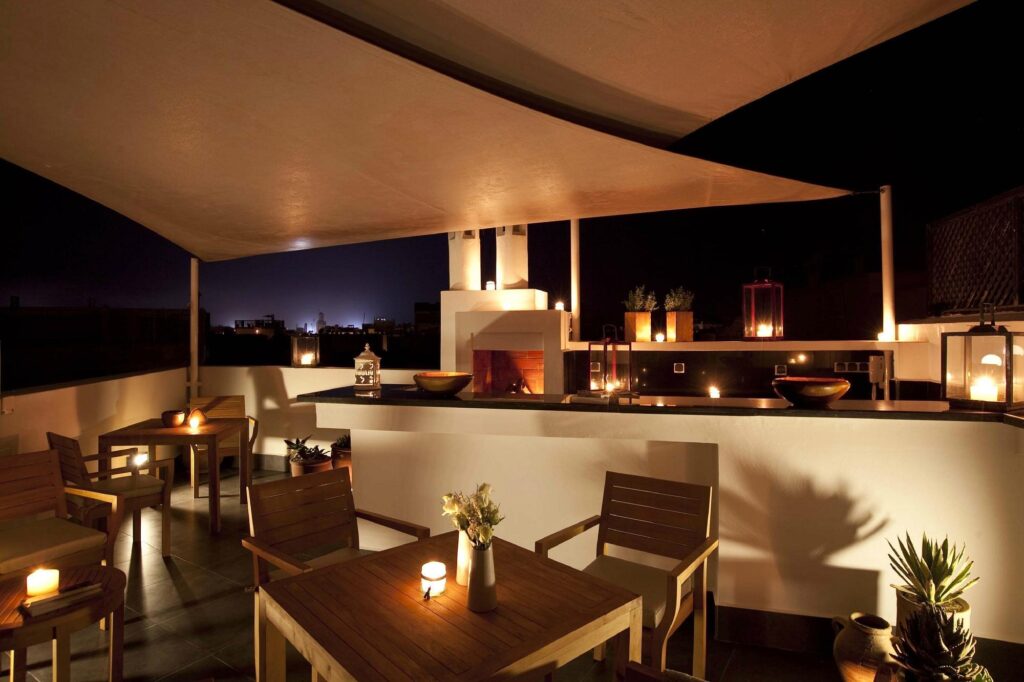 Indulge in luxury at Riad Dar Maya, a stunning riad tucked away in the medina of Essaouira. From the beautiful natural colors and Moroccan lamps to the cozy fireplace in your room, you'll be enchanted by this haven. Enjoy all that Riad Dar Maya has to offer, including:
A rooftop terrace to take in breathtaking sunsets with a cup of tea
A library for curling up with your favorite book
A hot tub for soaking after a day at the beach
You'll also love the traditional Moroccan snacks and drinks when you arrive – just one way that Riad Dar Maya makes sure every guest feels welcome. With its luxurious amenities and inviting atmosphere, it's no wonder why Riad Dar Maya is one of Essaouira's most recommended riads. And as if it couldn't get any better, next door lies another renowned riad: Raoud Rayhane.
6. Raoud Rayhane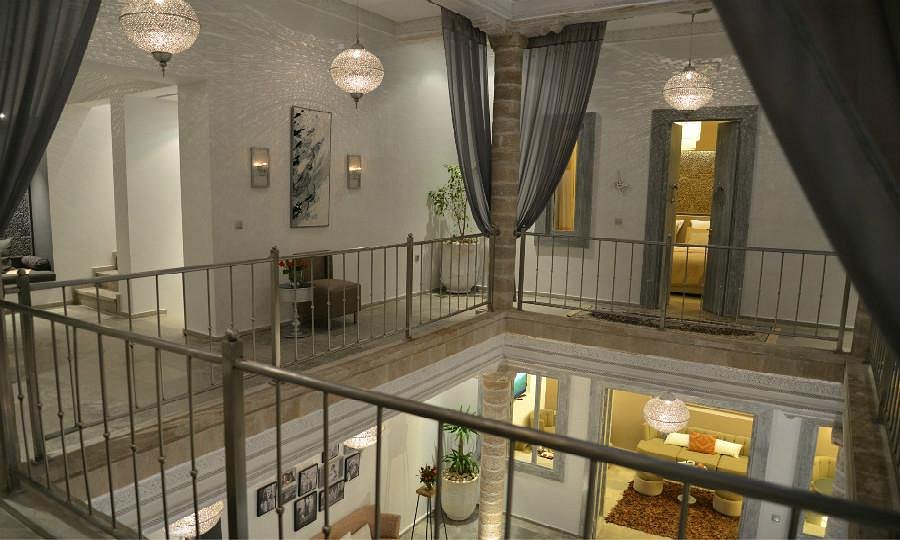 Relax and unwind in luxury at Raoud Rayhane, a stunning riad tucked away in the medina of Essaouira. This newly renovated hideaway is renowned for its classic decor in muted tones and beautiful stonework throughout. The public seating areas are cozy havens to cuddle up with a book by the fireplace on colder days, while private balconies off certain rooms make for a nice escape when the sun shines. Rooms are spacious, comfortable, and impeccably clean with flat-screen TVs and Wi-Fi throughout.
Experience even further comfort with an indulgent massage or hammam session at the onsite spa center. Prices are reasonably priced so you can pamper yourself without breaking the bank! Raoud Rayhane is definitely one of the best places to stay in Essaouira with its luxurious amenities and friendly manager – you won't regret it! From here, head over to Riad Malaïka for another incredible experience…
7. Riad Malaïka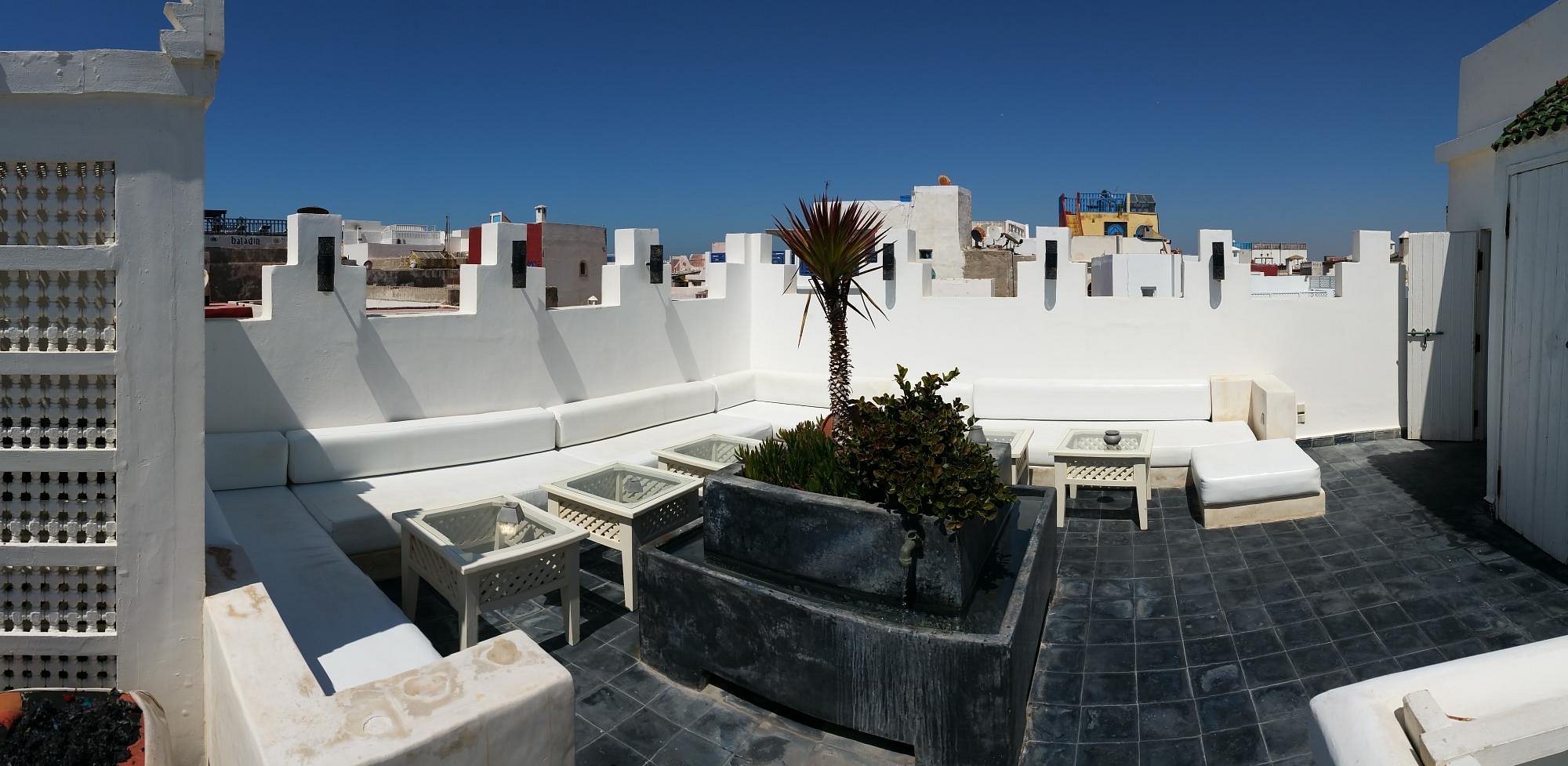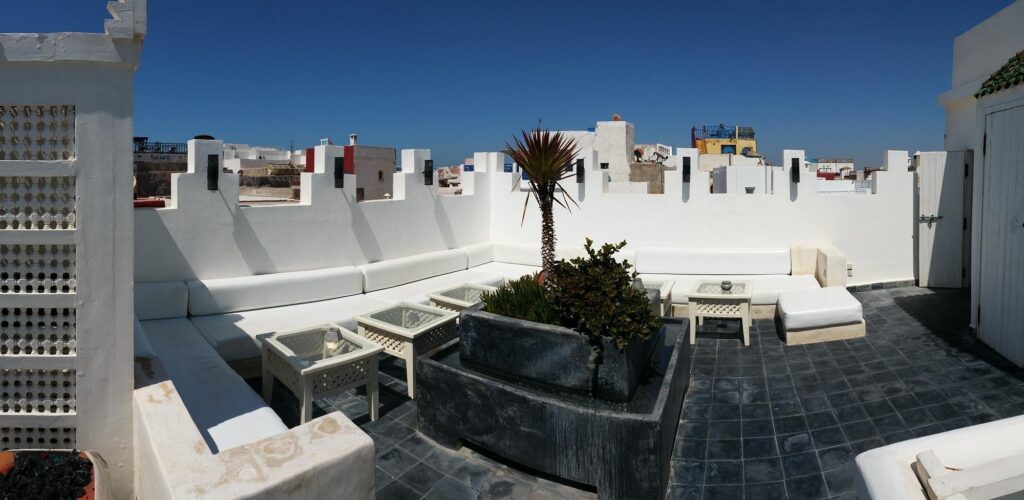 Escape to Riad Malaïka, a charming little oasis tucked away in the Essaouira medina, and enjoy traditional Moroccan touches like beautiful tilework and stonework. Relax in cozy, comfortable rooms for a peaceful night's sleep. Marvel at the breathtaking view on the rooftop terrace. Sample exquisite dishes from the in-house restaurant – don't miss out on the delicious lamb tagine! Enjoy warm hospitality from every member of staff who will go above and beyond to make you feel welcome.
Experience true luxury at Riad Malaïka – it's an ideal destination for those seeking a unique and memorable getaway. From its classic architecture to its exceptional cuisine, this riad is sure to exceed all your expectations. And with such friendly service, you won't want to leave! Next up: let's explore Riad Dar Awil…
8. Riad Dar Awil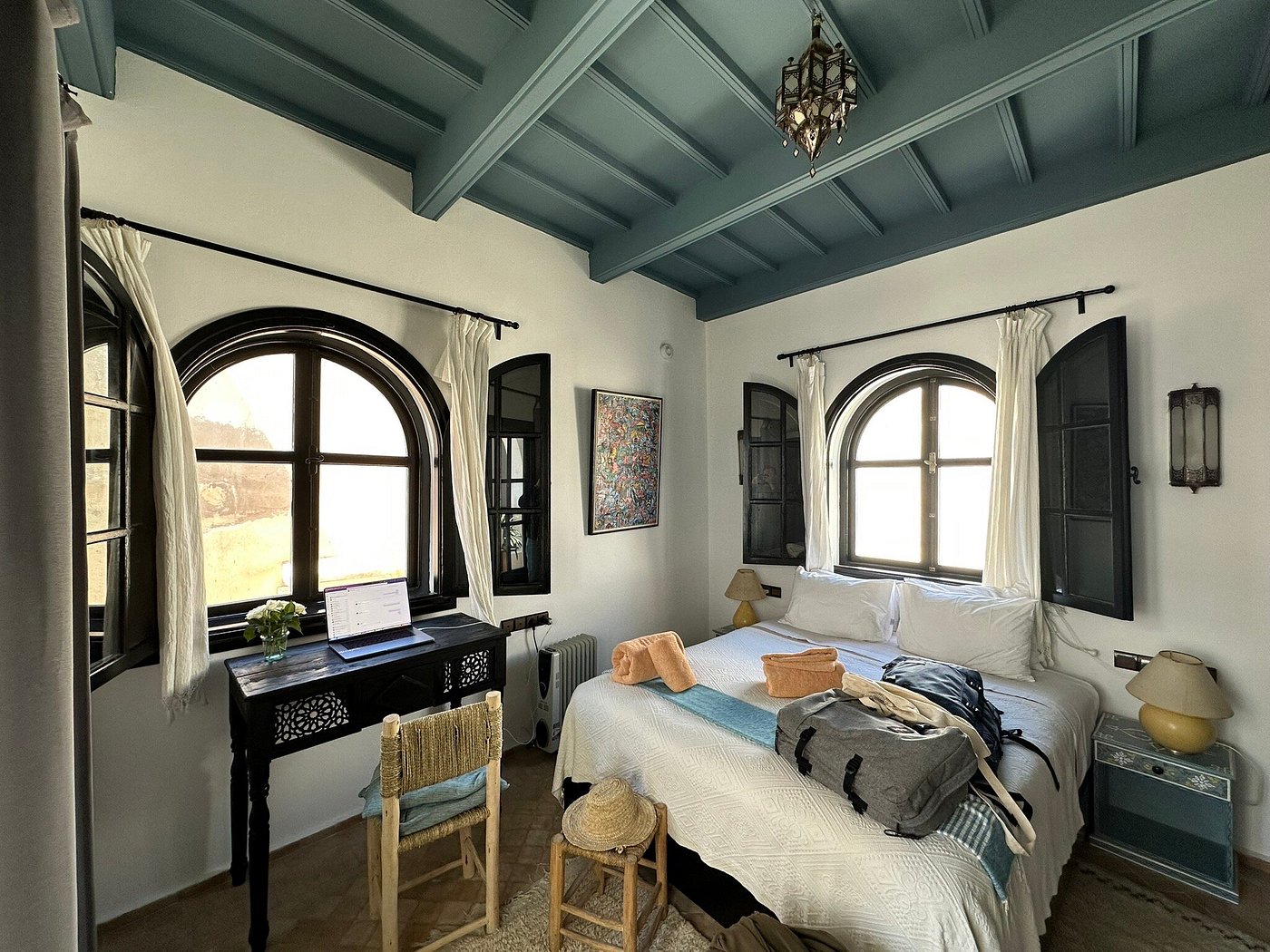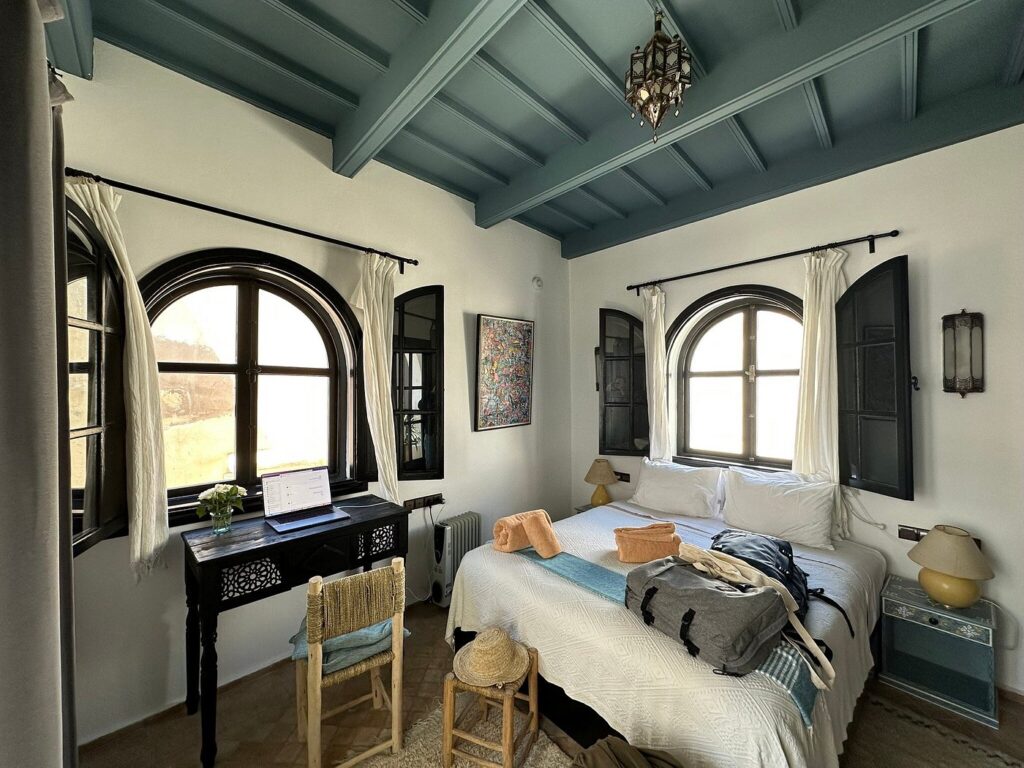 At Riad Dar Awil, you'll find a truly welcoming atmosphere with bright and airy rooms and attentive staff. Enjoy the gorgeous decor throughout the riad and take in the beautiful views of Essaouira from the rooftop at sunset while sipping on a cup of refreshing mint tea. The complimentary breakfast is sure to satisfy your cravings each morning, so make sure you get there early! With its central location, you can explore all that Essaouira has to offer with ease. This riad will have you feeling right at home during your stay. And as an added bonus, you won't find another place quite like it in all of Essaouira – so don't miss out! Next up: Villa Garance!
9. Villa Garance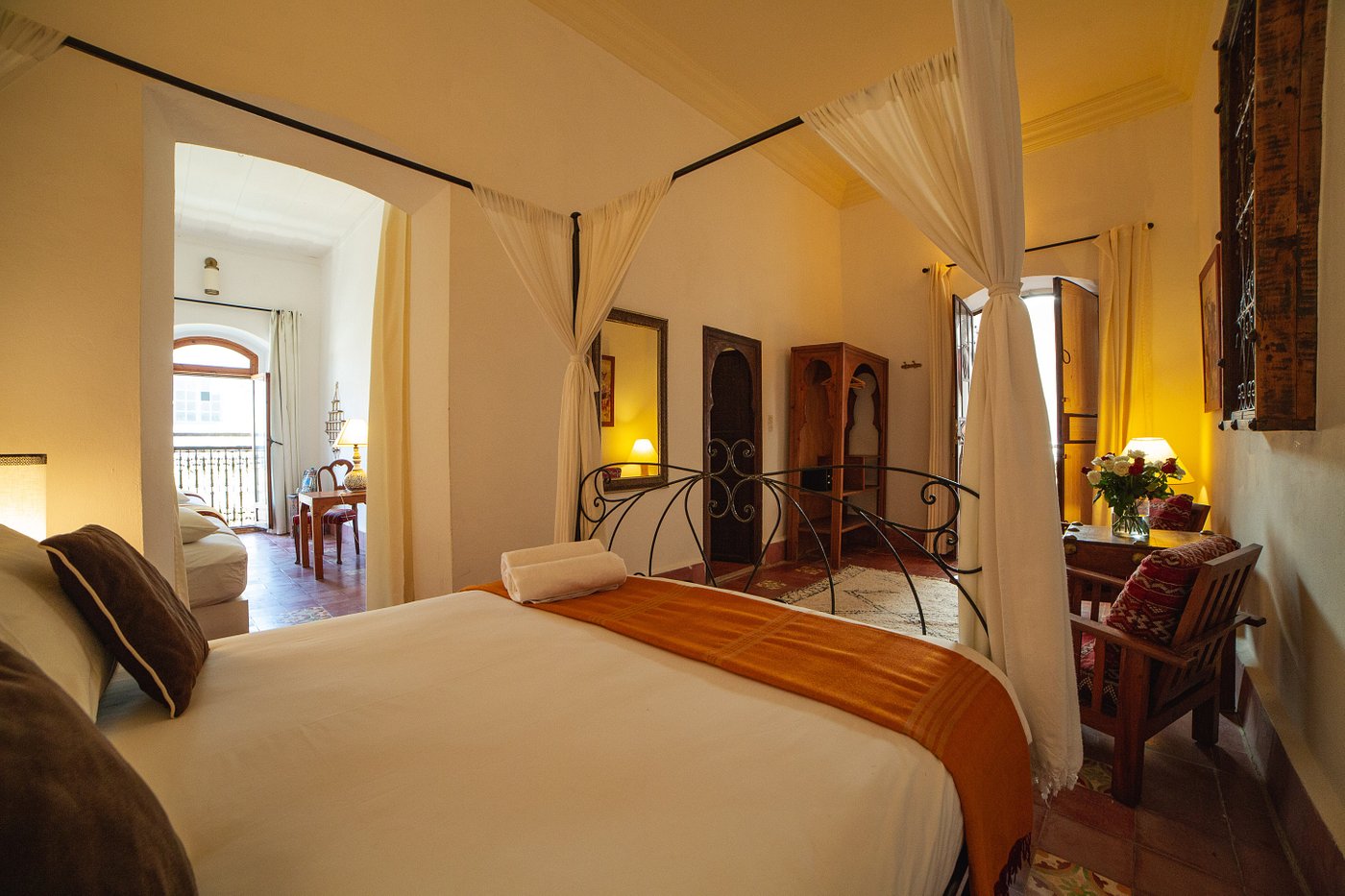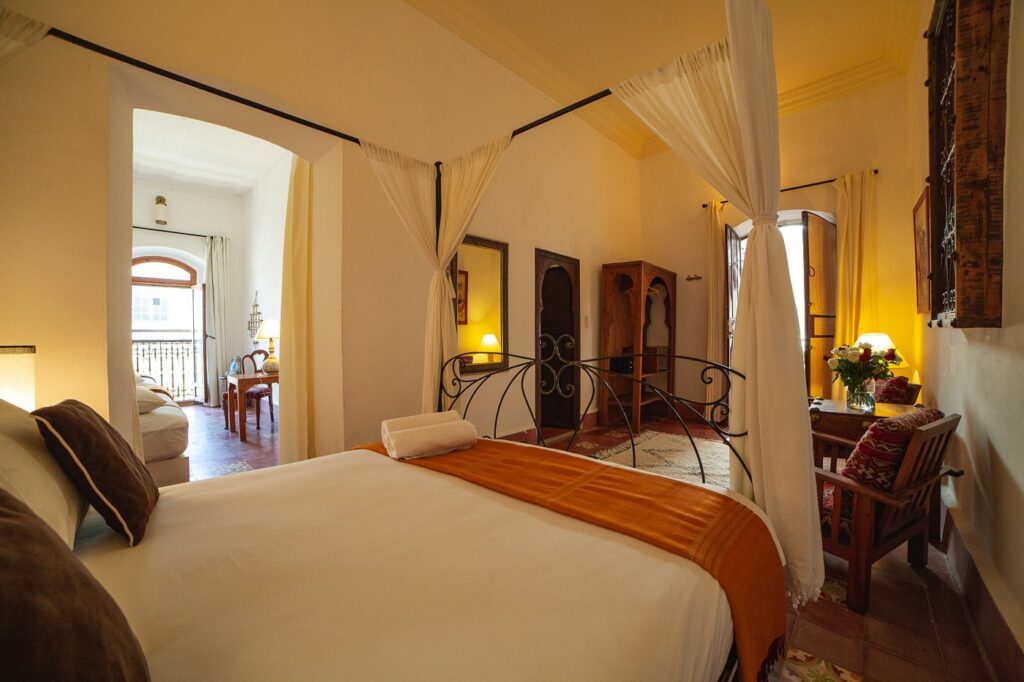 Experience the luxurious interiors and vibrant culture of Essaouira at Villa Garance, where you can enjoy a truly unique stay. Nestled within the ancient city walls, this Riad is decorated with Arabian, Berber, and Jewish influences and offers large windows that open onto the street below. Organic toiletries are provided for added convenience during your stay. Take in stunning views of the surrounding area from the peaceful rooftop terrace complete with seating areas and plenty of shade to escape the midday sun. Enjoy a delicious Moroccan breakfast every morning while taking in all that Essaouira has to offer from this charming Riad. With Villa Garance, you can be sure to have an unforgettable experience in one of Morocco's most breathtaking cities – a perfect opportunity for adventure seekers looking for something different!
10. Casa Lila & Spa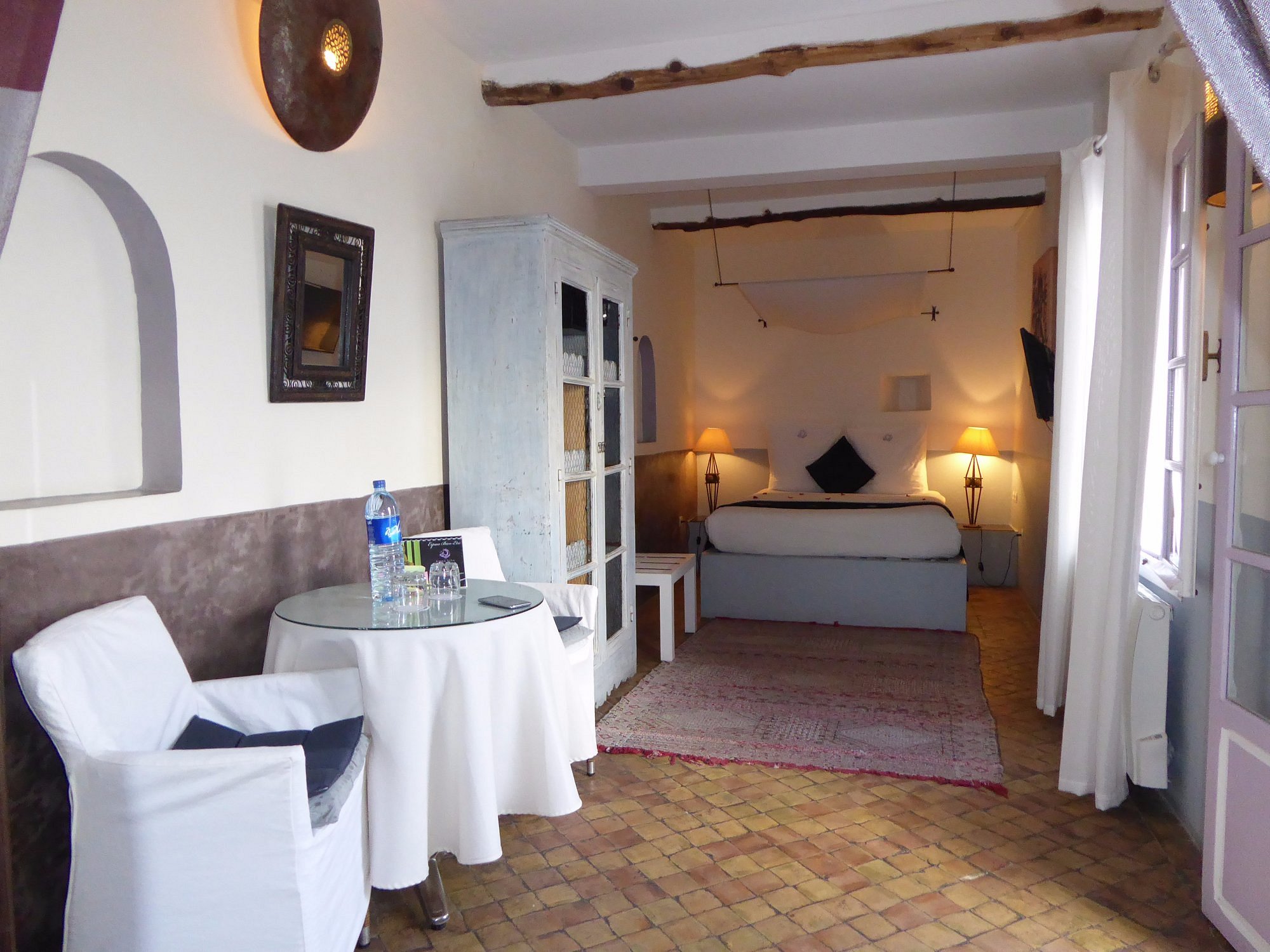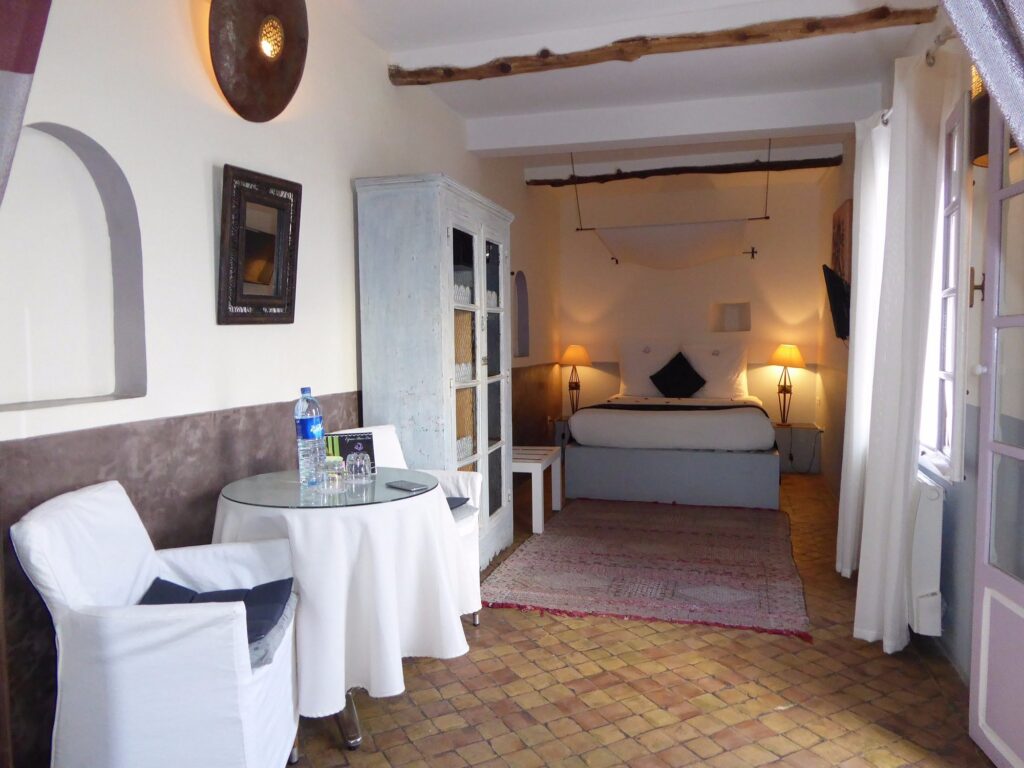 Spend a few nights in luxurious comfort at Casa Lila & Spa, located conveniently close to restaurants and shops in the heart of Essaouira. A wealthy spice merchant once owned this beautiful riad and has been transformed into a warm and inviting place to stay during your visit. The rooms are unique, colorful, and comfortable – you'll love the public areas too! Plus, there's an onsite spa and hammam for some extra pampering. With its central location, reasonable prices, and friendly staff who are always ready to help – Casa Lila & Spa is the perfect choice for those seeking an unforgettable experience in Essaouira. Make it even more special with a massage at the spa or time spent lounging on the rooftop terrace. For your next stay in this incredible city, consider making Casa Lila & Spa your home away from home. From here you can explore all that Essaouira has to offer as you take in its beauty and culture.
11. Lyon Mogador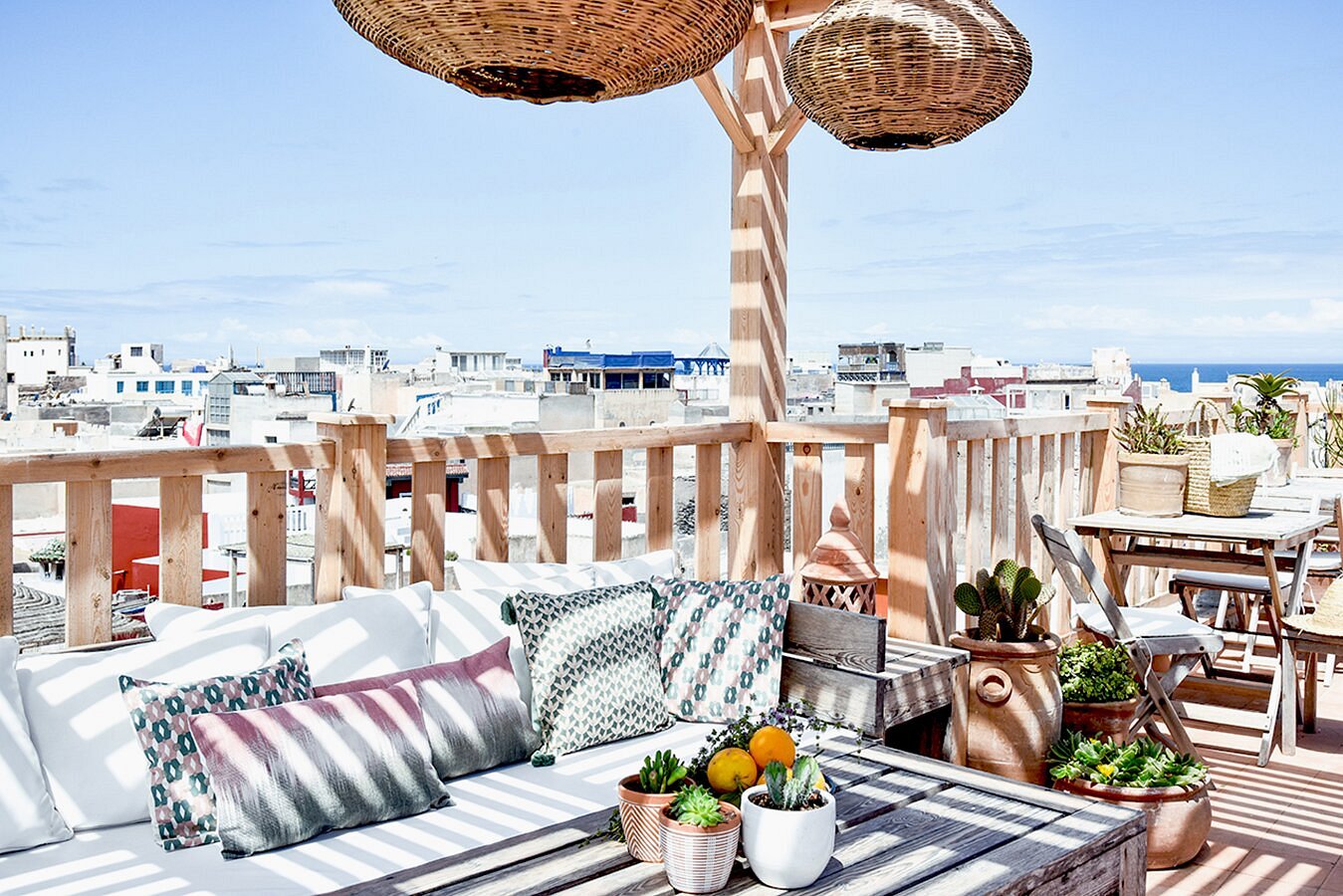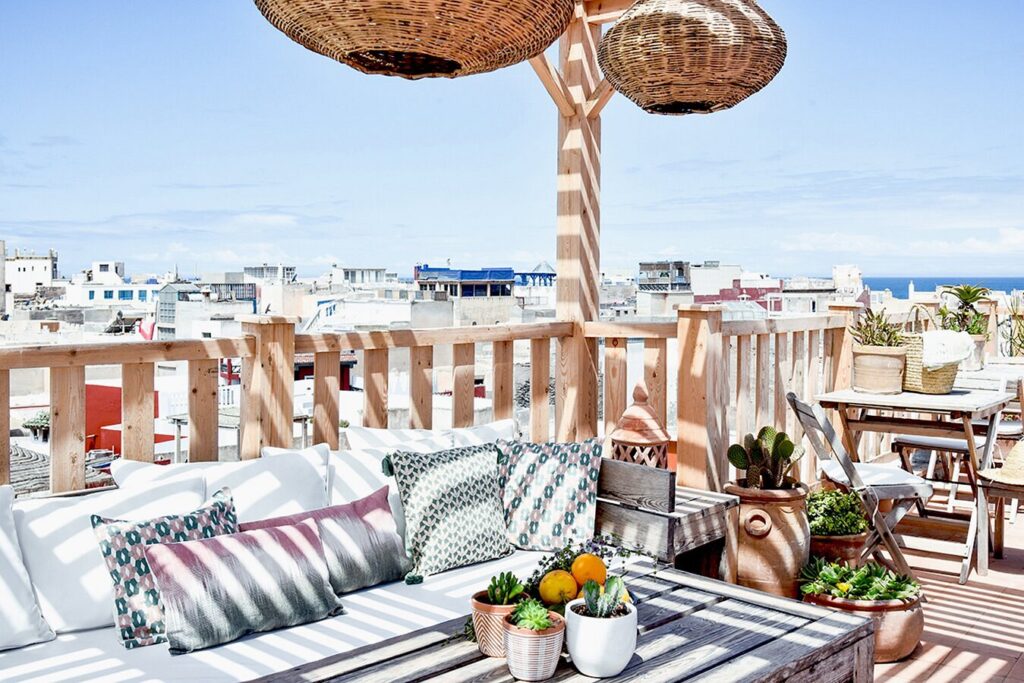 Discover the unique charm of Lyon Mogador, a boutique riad with lovingly-crafted decor and amazing views from its rooftop terrace. Unwind in one of the eleven guest rooms, each with its own individual touches that make them special. Embrace the intimate atmosphere of this family-run establishment:
Savour freshly prepared meals in the courtyard
Take in stunning panoramic views from the rooftop terrace
Enjoy complimentary mint tea on arrival
Experience all this and more at Lyon Mogador. Step into another world and immerse yourself in an unforgettable Moroccan getaway.
12. Riad Perle D'Eau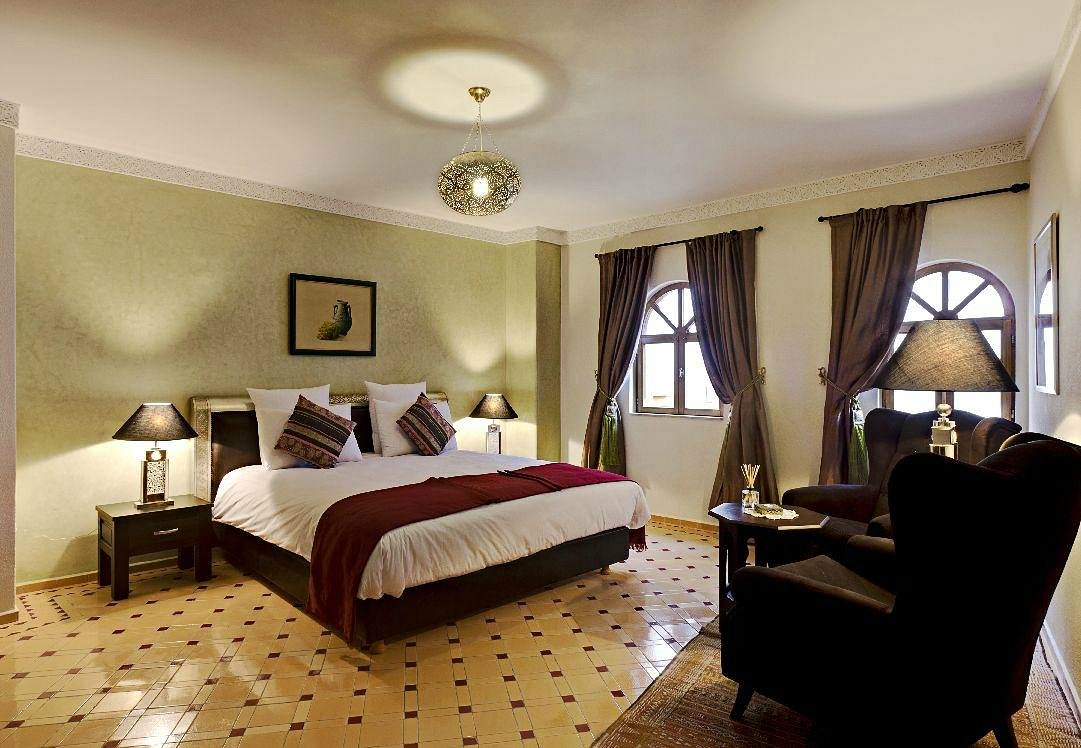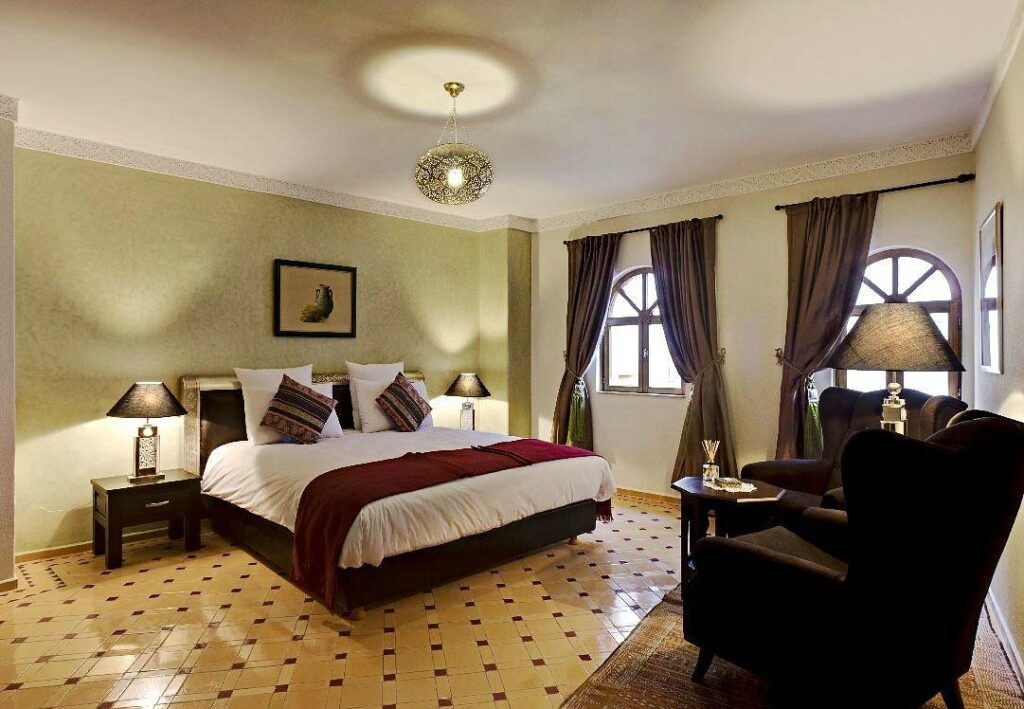 If you are looking for a luxurious and sophisticated stay in Essaouira, then Riad Perle d'Eau is the perfect choice. As soon as you walk into this 4-star riad, located on the grand medina walls overlooking the beach, you will be taken aback by its elegance. From the leather armchairs in the bedrooms to the embroidered bedding and dramatic views – everything has been thoughtfully put together to create an unforgettable experience for guests. The potted palms planted in the courtyard add a true Moroccan flair and Yassine, one of the friendly staff members, will be more than happy to show you around town. So why not book your stay at Riad Perle d'Eau and take advantage of all it has to offer?
The next stop on our tour of recommended riads in Essaouira is Les Terrasses d'Essaouira – a unique boutique hotel with stunning views across Essaouira Bay.
13. Les Terrasses d'Essaouira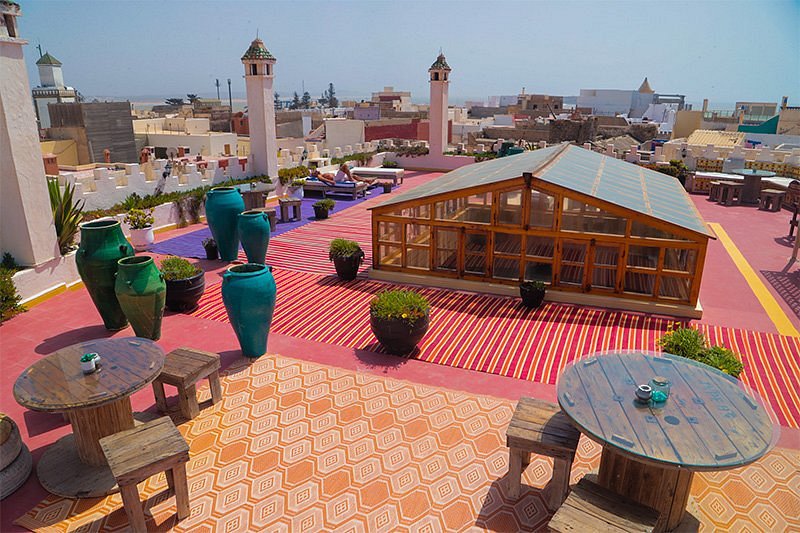 Tucked away in the heart of Essaouira's medina, Les Terrasses d'Essaouira is a unique boutique hotel offering breathtaking views across the bay. With its original wooden beams and wrought iron gates, this former Jewish trading riad offers visitors an adventure into days gone by. The three floors house five rooms perfect for families or solo travelers seeking a peaceful getaway. On the terrace, you can take in the stunning view while relaxing in a jacuzzi or lounging with a good book. Here are some more reasons why Les Terrasses d'Essaouira should be one of your top choices:
Breakfast is served every morning on a sun-drenched terrace with gorgeous views of the city and sea
A variety of activities including surfing, yoga classes, and camel rides can be arranged through the riad
Traditional Moroccan cuisine is served for dinner upon request
The manager Sana will welcome you warmly and help make your stay truly special
Les Terrasses d'Essaouira exudes old-world charm combined with modern amenities to make it an unforgettable experience that will leave you wanting more. From here, it's only natural to explore another recommended riad – Riad Inna!
14. Riad Inna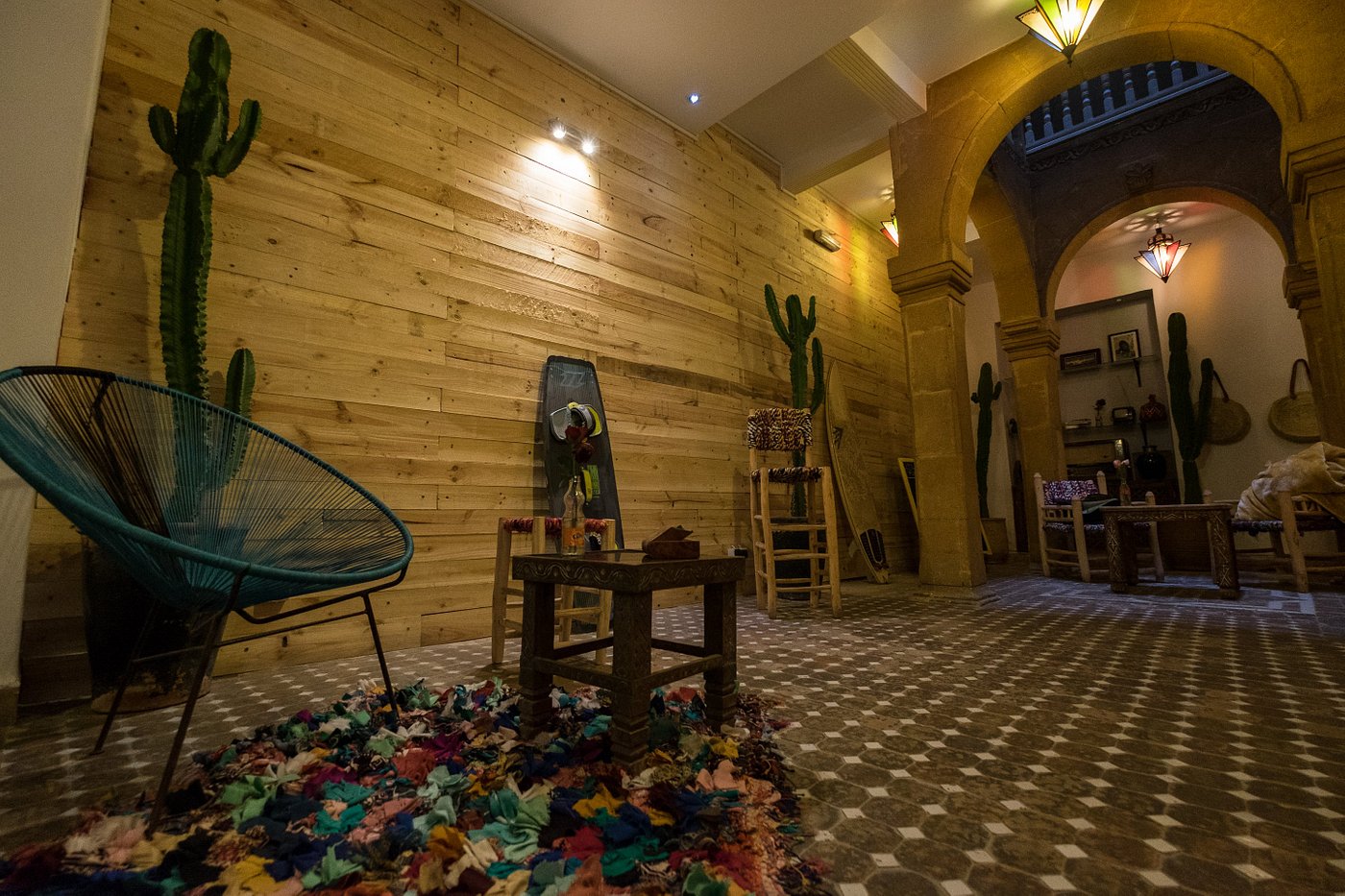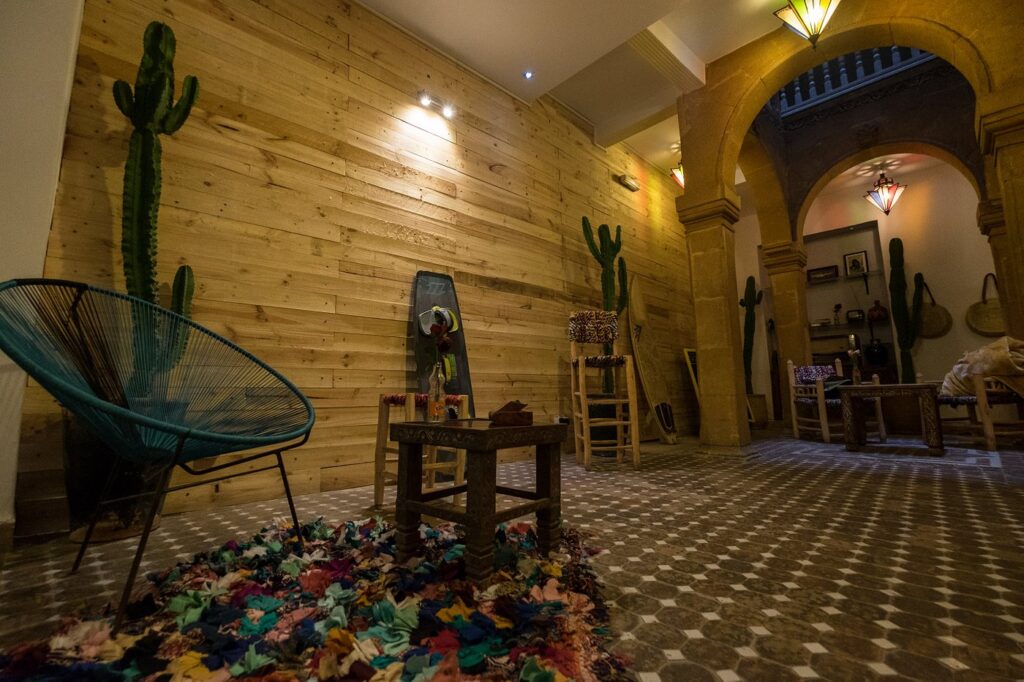 Riad Inna is a family-run gem in the heart of Essaouira's medina, boasting beautiful rooms, watersports, and more. With its location just minutes away from the beach, you won't have to go far to enjoy some of Morocco's best activities. The ten rooms are bright and airy with local art adorning the walls, giving off a beachy vibe that will make you feel right at home. Plus, if you're into watersports there are plenty of opportunities here – kite surfing and longboard lessons can be booked right from the riad! To top it all off, there's also an amazing rooftop terrace where you can take in views over the medina as you enjoy breakfast or drinks while people-watching. Riad Inna is definitely worth checking out for your next stay in Essaouira. Next up we'll explore Chill Art Hostel – another great place to stay in Morocco!
15. Chill Art Hostel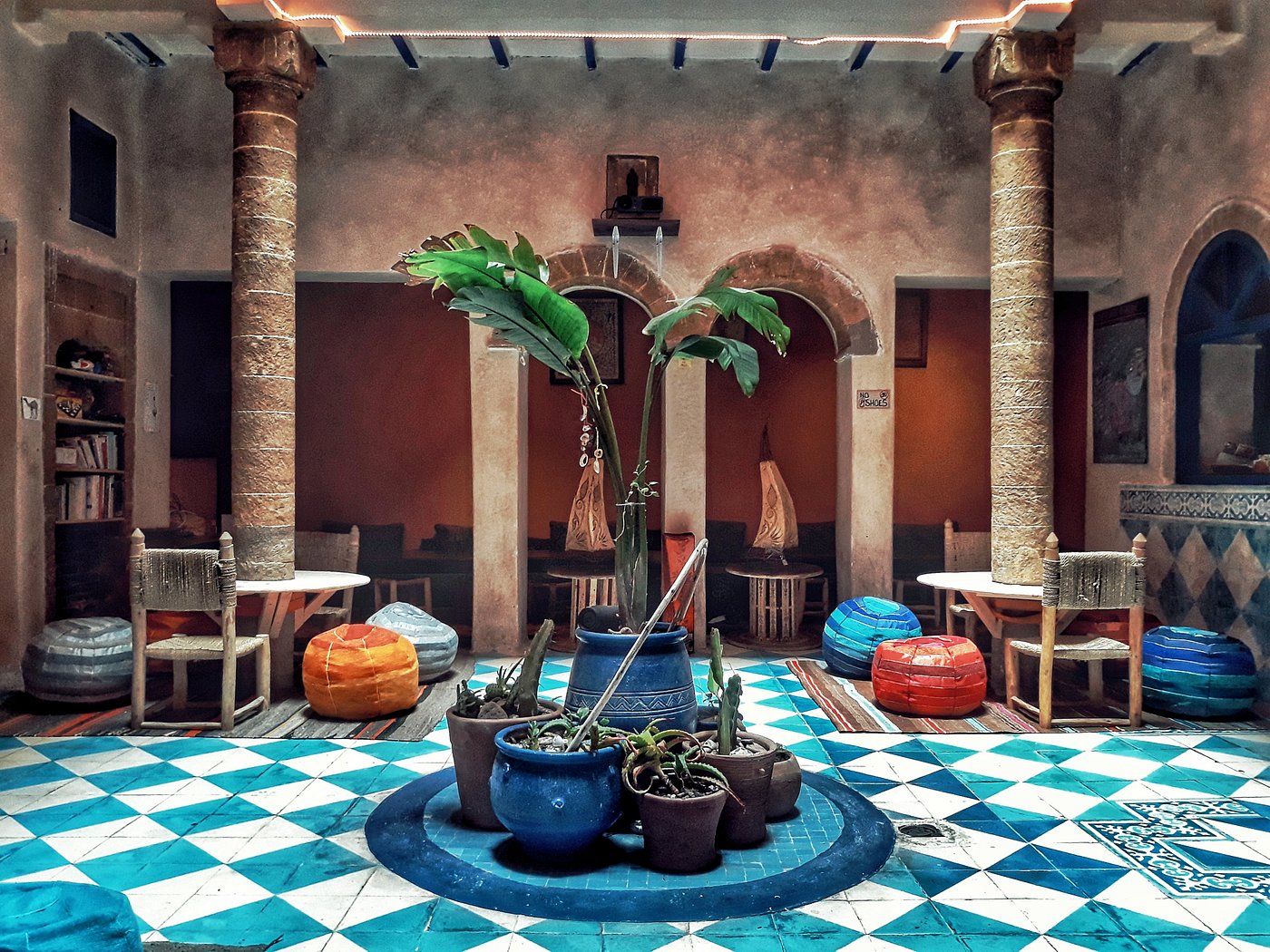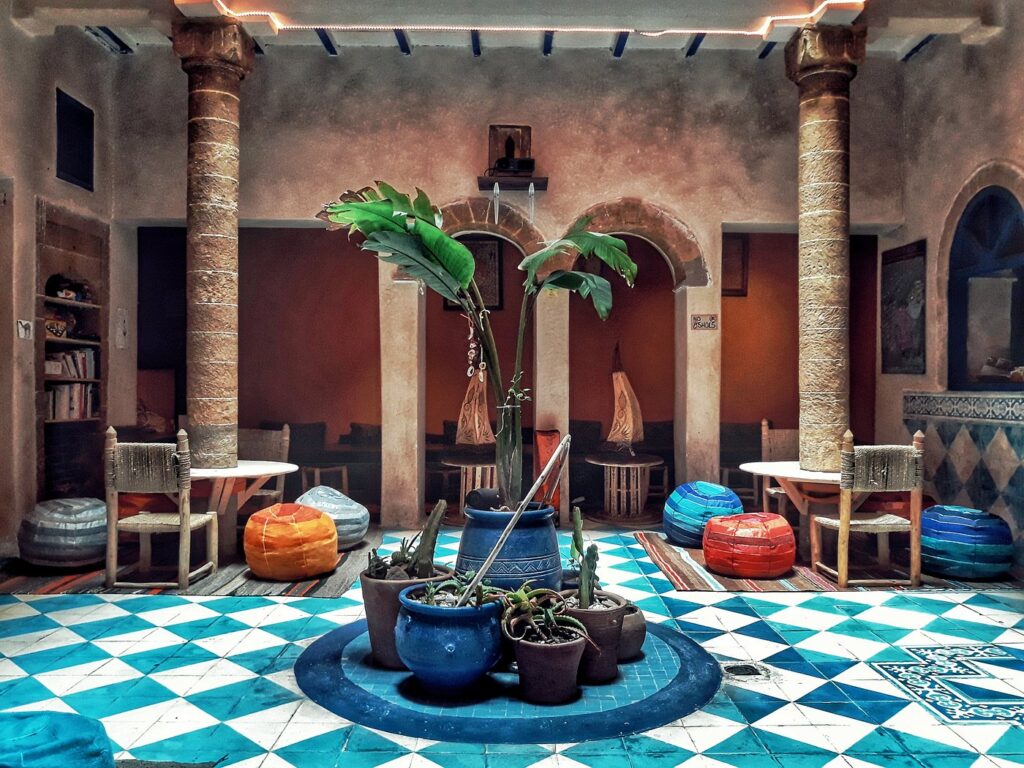 Ready for something a little different? Then Chill Art Hostel is the perfect spot! This funky riad provides a budget-friendly option for travelers looking to experience all of the traditional Moroccan charms without breaking the bank. You'll find brightly painted street art on the walls as you walk down the alleyway, and once inside, you'll be welcomed with cool vibes and fantastic views of the medina.
The owners are French and they travel back and forth, so if they're not here you'll be in good hands with Nadia, who manages this amazing hostel. Here you can choose between shared dorms or private rooms; there's even an apartment-style room if you travel with family. So don't worry – children are welcome too! Get ready to have some fun while exploring Essaouira at Chill Art Hostel.
16. Baladin Riad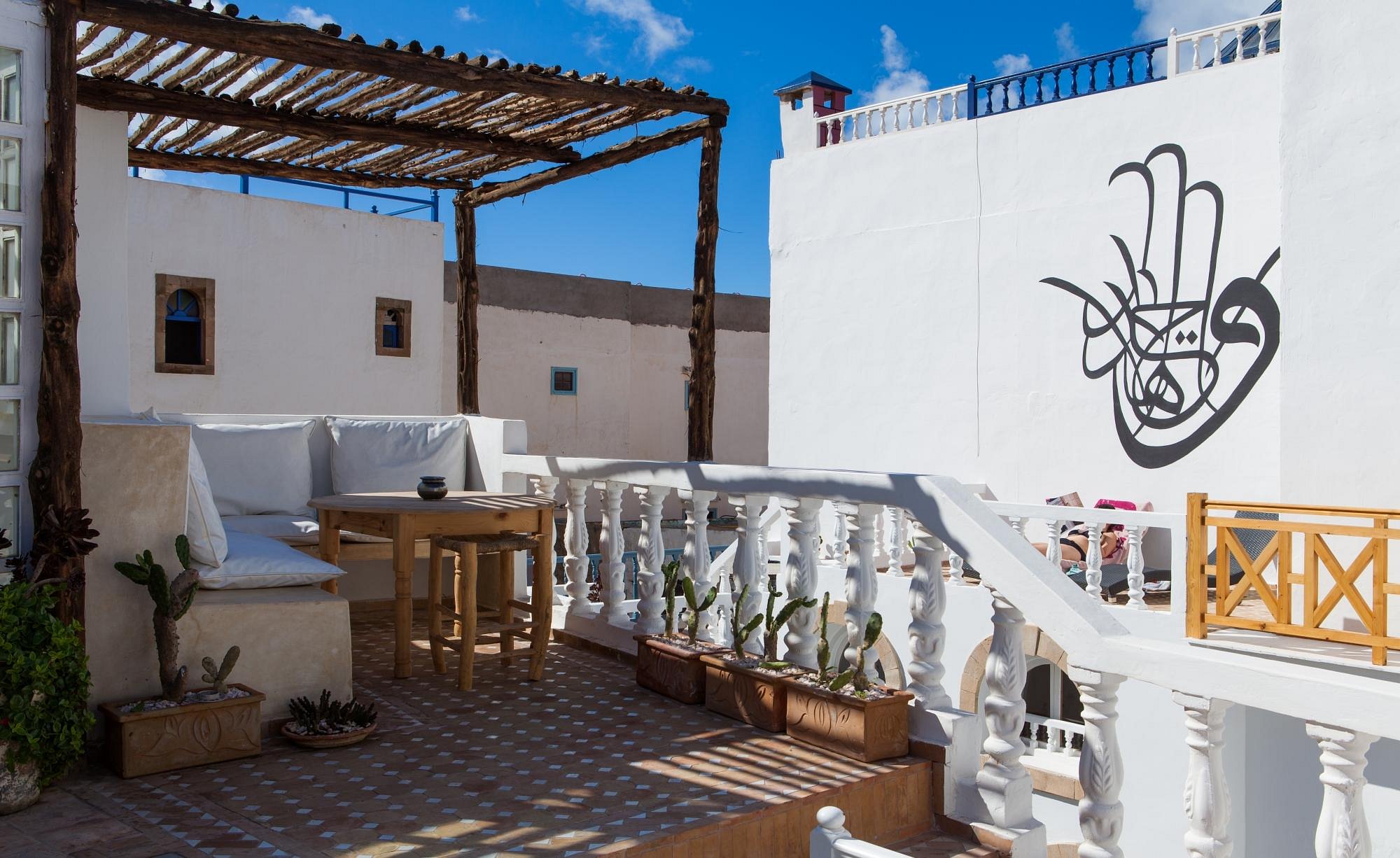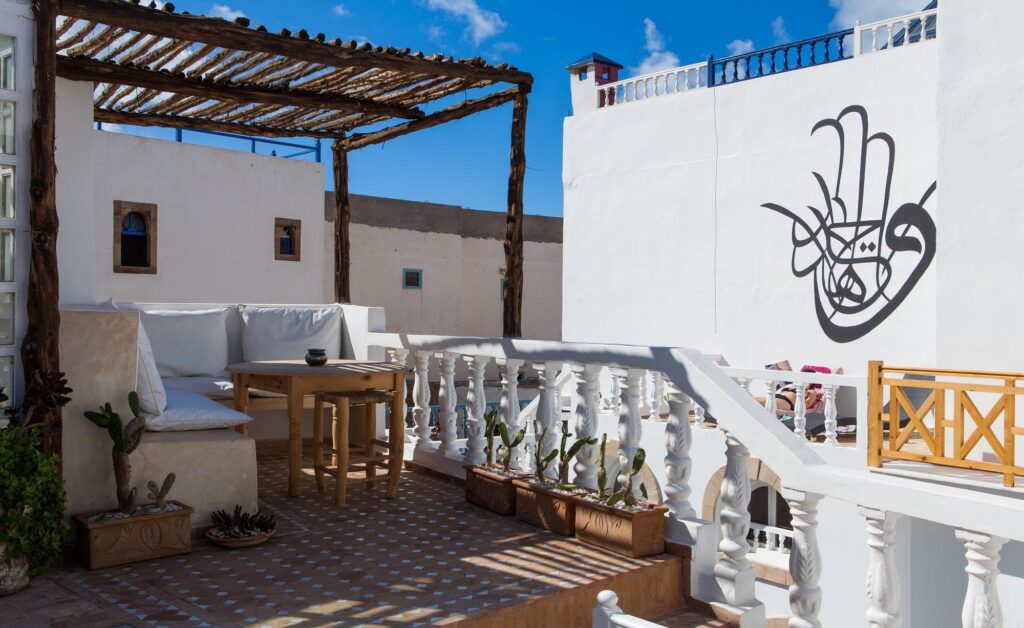 Experience Baladin Riad for a truly unique Moroccan experience; with four-poster beds, draped fabrics, and exposed rafters, you'll feel like you've been transported to Bali! The rooms are small but cozy, and the bath is conveniently located in the corner. As you climb up the stairs towards the terrace, don't forget to check out the massage room which offers a beautiful view of one of the courtyard's riads. On top of that, families can comfortably stay together as they can accommodate up to 10 guests. Whether it's a romantic getaway or an adventure with friends and family, Baladin Riad will make your stay unforgettable!
Frequently Asked Questions
What transportation options are available to get to each of the riads?
You have many options for getting to your destination. Driving, taxi, bus, or train are all viable choices. For a more adventurous experience, rent a scooter or bicycle and explore the local area. No matter what you choose, you'll have freedom and an unforgettable journey!
What is the cost per night for each of the riads?
Experience a carefree stay in Essaouira, with nightly rates ranging from affordable to luxurious. Enjoy the freedom of discovering your perfect getaway!
Are any of the riads pet-friendly?
Are you looking for pet-friendly accommodation? Many riads welcome furry friends, so you can bring your pet along on your adventure!
Do any of the riads offer meal packages?
Do you want a meal package while exploring Essaouira? Many of the riads offer them – just check out their websites for more information. Let yourself be pampered with delicious food and an unforgettable experience!
What amenities are provided by each of the riads?
Discover what amenities each riad provides! From swimming pools and spas to restaurants and entertainment, you'll find something to suit your needs. Enjoy the freedom to explore Essaouira in comfort & style.
Conclusion
Ready to explore the best 16 riads in Essaouira? From Villa Quieta to Baladin Riad, these unique places offer a blend of comfort and local charm that will make your stay unforgettable. Whether you're looking for an intimate getaway or a place with plenty of activities, there's something for everyone! So don't wait any longer – start planning your trip and experience all that Essaouira has to offer! You won't regret it!