Casablanca is home to some of the world's most spectacular beaches. From beautiful white sand and turquoise waters to rolling waves and crystal clear skies, this city by the sea has something for everyone. Spend a day lounging in the sun, take a dip in the refreshing ocean waters, or explore all that Casablanca's shorelines have to offer. Whether you're looking for an escape from reality or a place to relax and unwind, Casablanca's beaches are sure to bring about an unparalleled experience. For those who crave freedom, these stunning stretches of sand will surely provide it!
Beaches in Casablanca
Casablanca is a city on the Atlantic coast of Morocco and is known for its beautiful beaches. Lalla Maryem Beach, Ain Diab Beach, and the Corniche are all popular spots with locals and visitors alike, while Mriziga Beach offers a secluded spot away from the hustle and bustle of the city. All these beaches offer an opportunity to experience Casablanca's stunning shoreline while soaking up some sun.
1. Lalla Maryem Beach
Located just outside of the city is Lalla Maryem Beach, a popular destination for tourists and locals alike. This beach offers breathtaking views of Casablanca's skyline and the Atlantic Ocean. With its white sands and crystal clear waters, visitors can enjoy a range of activities such as swimming, sunbathing, snorkeling, and boating. Here are just a few of the experiences available on the beach:
A chance to relax in tranquil surroundings with stunning views
Variety of water sports such as surfing, kayaking, and paddle boarding
Enjoyable fishing trips that offer an opportunity to catch different kinds of fishes
The area also has great restaurants where you can sample Moroccan cuisine or simply enjoy a cold drink while watching the sunset over Casablanca. Overall, Lalla Maryem Beach is one of the best beaches in and near Casablanca to visit for those looking for a unique experience with both relaxation and adventure.
2. Ain Diab Beach
Ain Diab Beach, located along Casablanca's famed corniche, boasts one of the longest coastlines in Africa with more than 10 kilometers of stunning shoreline. This beach is a popular destination for locals and tourists alike who come to take in the beauty of the ocean and its surroundings. The area has plenty of restaurants, bars, and cafes that offer a variety of food options as well as activities such as surfing and sailing. For those looking for some peace and quiet, there are also plenty of secluded spots perfect for relaxing on the sand or taking a dip in crystal-clear waters. Ain Diab Beach provides an idyllic escape from city life while still providing plenty of entertainment for visitors. With its beautiful views, vibrant atmosphere, and wealth of activities, it's no wonder why this beach is so beloved by all who visit it.
3. Mriziga Beach
Mriziga Beach, situated just south of Ain Diab Beach along the iconic Casablanca corniche, is a popular spot for sunbathers and beachgoers alike. This picturesque beach provides an ideal location to take in the sunshine while relaxing in peaceful serenity. The golden sand meets the gentle waves of the Atlantic Ocean, creating a tranquil atmosphere that encourages visitors to escape from their daily routines. Visitors can relax on lounge chairs or wander among the vendors selling snacks and souvenirs. With its crystal-clear waters and safe swimming areas, Mriziga Beach is a great spot for families who wish to cool off during hot summer days. There are also shallow areas perfect for wading or playing games with children. Additionally, umbrellas are available for rent if needed, allowing visitors to enjoy some shade while they bask in the beauty of this stunning beach destination.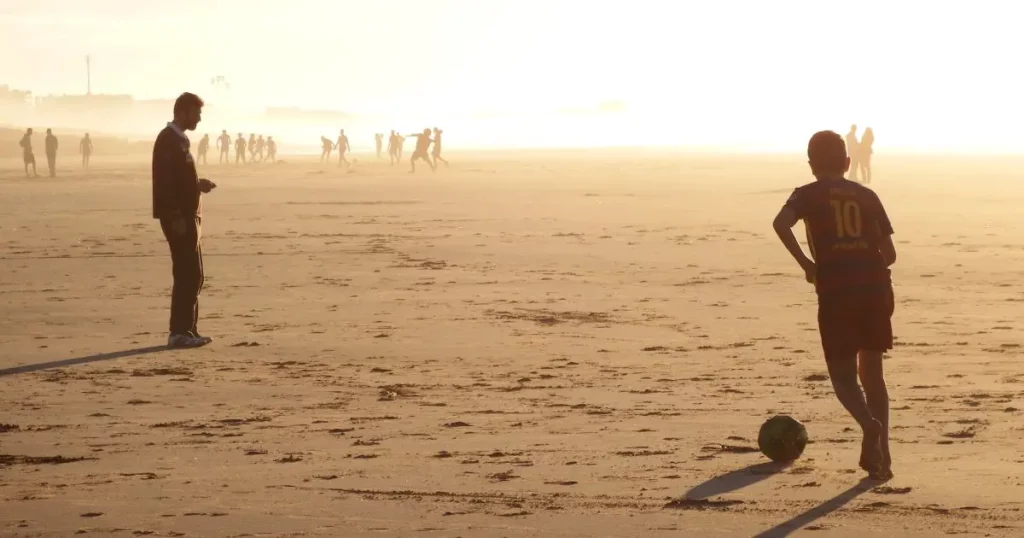 Beaches near Casablanca
The beaches near Casablanca offer a diverse range of experiences for those looking to explore this part of Morocco. From the popular tourist destination Ain Sebaa and Sidi Bernousi to Gran Zenata Beach, Dar Bouazza Beach, Sidi Rahal Beach, and Mohammedia Beach, there are plenty of options for beachgoers to choose from. Each beach presents its own unique features that can be enjoyed by travelers seeking sun, sand, and surf. With so many options available in the area around Casablanca, it's easy to find a perfect spot for relaxation or adventure.
1. Ain Sebaa and Sidi Bernousi
Situated along the Casablanca coastline, Ain Sebaa and Sidi Bernousi offer visitors a variety of beach-related activities, from sunbathing to swimming. For those seeking a peaceful oasis, the two beaches offer an idyllic setting for relaxation; one visitor described the scenery as 'like being lost in paradise.' At these spots, you can find:
An incredible view of the Atlantic Ocean
Soft white sand that's perfect for lounging in the sun
Restaurants and cafes nearby offering traditional Moroccan cuisine
An array of leisurely activities like fishing and kitesurfing
You don't have to be an experienced traveler to enjoy the beauty of Ain Sebaa and Sidi Bernousi; they are ideal locations for anyone looking for an escape from their hectic day-to-day lives. With its tranquil atmosphere and stunning views, it is no wonder why these two beaches have become so popular over time – a perfect destination to relax and unwind at any time of the year!
2. Gran Zenata Beach
Gran Zenata Beach is another popular destination along the Casablanca coastline, offering visitors a variety of activities and tranquil scenery. Located about 45 minutes from the city center, Gran Zenata Beach is renowned for its calm waters and pleasant atmosphere. It is an ideal spot for snorkeling, swimming, windsurfing, and other aquatic activities. The beach also features a long promenade that gives visitors a chance to take a leisurely stroll while admiring the views of the ocean. There are plenty of restaurants nearby serving fresh seafood dishes as well as other local specialties. Visitors can also find several souvenir shops situated near the beach where they can purchase items like handmade pottery or traditional carpets. Gran Zenata Beach is truly an idyllic destination for those who wish to experience peaceful days by the sea in Casablanca.
3. Dar Bouazza Beach
Dar Bouazza beach, just a short drive from the bustling city of Casablanca, is often likened to an oasis; its vast stretches of sand and crystal-clear waters provide a tranquil escape from the hustle and bustle. Visitors to Dar Bouazza Beach can expect to experience peaceful tranquility as they take in the stunning views. From here, one has the opportunity to relax in the sunshine or take part in various water sports activities – including surfing, windsurfing, and kitesurfing – all while taking in sweeping vistas of Morocco's Atlantic coastline. The nearby town also offers plenty of restaurants and cafes for visitors looking for refreshments.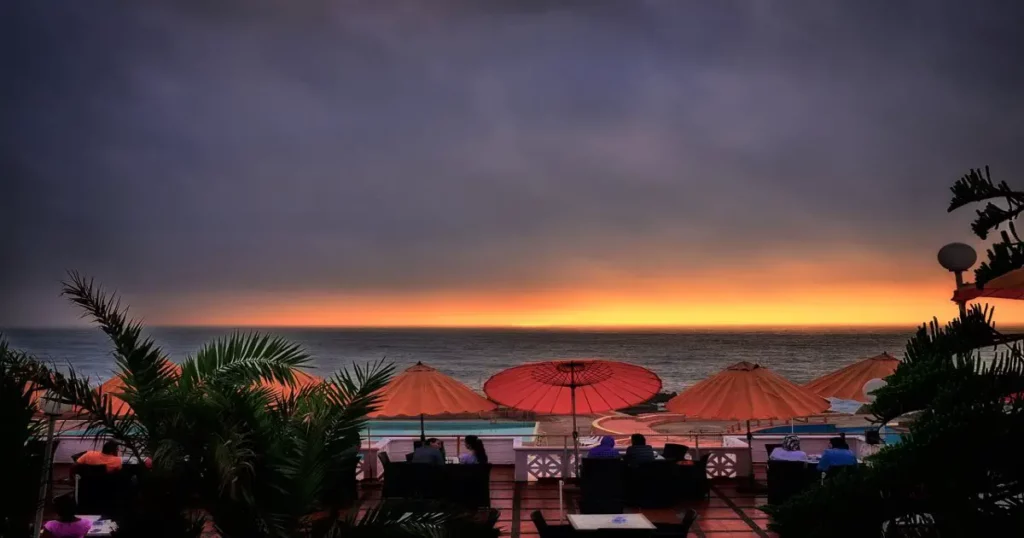 The beauty of Dar Bouazza Beach creates an atmosphere that encourages exploration and discovery. With a variety of activities available such as horseback riding along the shoreline or fishing off boats further out into the sea, adventure seekers will be sure to find something that piques their interest. Whether it's soaking up some sun on the beach or enjoying local cuisine at one of the many restaurants along this stretch of coast, Dar Bouazza Beach promises an unforgettable experience for those seeking respite from everyday life.
4. Sidi Rahal Beach
Offering a unique blend of both beach and coastal beauty, Sidi Rahal Beach is an ideal destination for those seeking a tranquil escape. Located on the northwest coast of Casablanca, this sandy beach offers stunning views of the Atlantic Ocean as well as plenty of opportunities for swimming, sunbathing, and exploring the nearby area. The wide expanse of white sand provides visitors with the perfect place to relax or enjoy activities such as kayaking and snorkeling. Visitors can also take part in various watersports such as fishing or windsurfing. In addition to its beautiful views, Sidi Rahal Beach also boasts several restaurants and cafes, allowing guests to enjoy some tasty local cuisine while taking in the wonderful sights. With its breathtaking scenery and laid-back atmosphere, Sidi Rahal Beach is sure to provide you with a truly memorable experience.
5. Mohammedia Beach
Situated along the coastline of Casablanca, Mohammedia Beach provides visitors with a stunning landscape and an array of activities to enjoy. The white sand beach has clear blue waters that are ideal for swimming, snorkeling, and diving. Visitors can explore the surrounding area on foot or by renting bicycles. There are also several restaurants located near the beach where visitors can enjoy some local cuisine while taking in the views of the nearby mountains. Additionally, there is a wide range of shops and cafes close to the beach that offer souvenirs and refreshments.
The beach also features many amenities such as showers and restrooms for convenience as well as designated areas for camping and bonfires which make it a great destination for weekend getaways. With its breathtaking scenery, crystal clear waters, activity options, and services, Mohammedia Beach offers something for every visitor seeking relaxation or adventure in Casablanca.
6. El Mansouria Beach
Nestled between the mountains and coastline of Casablanca, El Mansouria Beach is a picturesque oasis with a plethora of activities for visitors to savor. This beach provides an array of experiences that allow visitors to explore and enjoy the beauty of Morocco's coastal area.
At El Mansouria Beach, visitors can go swimming, sunbathe on the white sand beaches, or explore nearby caves. There are also many small shops located along the beachfront where visitors can pick up souvenirs and find refreshments. Additionally, there are several restaurants offering traditional Moroccan cuisine as well as international dishes. For those looking for adventure, there are plenty of opportunities to go hiking or biking in the surrounding hills or snorkeling in the waters offshore.
No matter what activity one chooses to pursue during their visit to El Mansouria Beach, they will be sure to have an unforgettable experience in this beautiful part of Morocco. The serene atmosphere creates a perfect backdrop for relaxation while also providing ample opportunity to explore all that this region has to offer. With its breathtaking views and diverse activities, El Mansouria Beach is sure to delight any traveler who visits it!
7. Bouznika Beach
Boasting a stunning landscape of mountainous terrain and pristine coastline, Bouznika Beach is an idyllic destination for beach-goers in Morocco. Located about 30 miles (53 km) south of Casablanca, this picturesque beach offers visitors the perfect opportunity to experience a Mediterranean paradise. From the towering palm trees lining its shoreline to the crystal blue waters that lap up against its golden sands, Bouznika Beach boasts some of the most breathtaking natural beauty in all of Morocco. The area surrounding Bouznika also offers plenty of opportunities for exploration and adventure. Visitors can take part in activities such as swimming, snorkeling, sailing or simply relaxing on the beach's serene shores. With its convenient location near Casablanca and abundance of attractions and activities nearby, Bouznika Beach is an ideal spot for those looking to get away from it all and enjoy a peaceful day by the sea.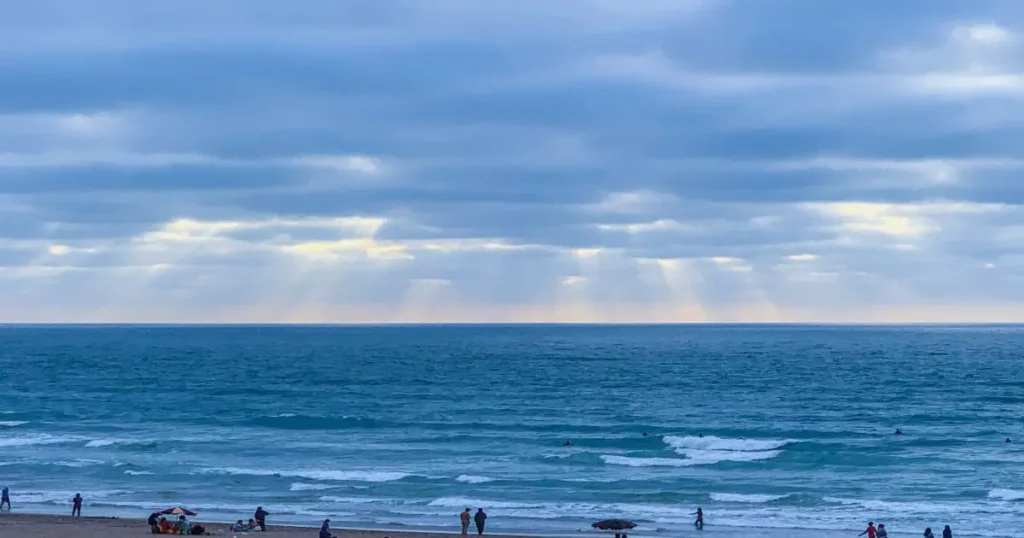 8. Skhirat Beach
Offering breathtaking views of the Mediterranean Sea, Skhirat Beach is a stunning destination for those seeking an unforgettable getaway in Morocco. With its sparkling blue waters and white sand, this beach provides a stunning contrast to its surrounding environment. The beach is accessible by public transport from Casablanca, making it convenient for city dwellers who wish to escape the hustle and bustle of urban life and enjoy some time at the shore.
Visitors can expect plenty of activities to keep them entertained such as swimming, snorkeling, sunbathing or simply relaxing with a good book on one of the many loungers available. There are also numerous cafes and restaurants located nearby offering traditional Moroccan fare as well as international dishes. For those looking for something more adventurous, there are boat trips that take visitors out to sea where they can observe dolphins and whales in their natural habitat. Whatever your preference, Skhirat Beach is sure to provide an enjoyable experience for all who visit it!
9. Temara Beach
The city of Casablanca features several beaches that provide a much-needed respite from the hustle and bustle of the urban environment. One such beach is Temara Beach, located about 78 km south of the city center. This beach is known for its stunning views and crystal-clear water, making it a popular spot among locals and visitors alike.
For those seeking to relax in the sun, there are plenty of activities available at Temara Beach. Visitors can take advantage of the many amenities such as loungers, umbrellas, kayaks, surfboards, and paddle boats. There are also a number of restaurants and cafes situated near the beach offering up delicious dishes to enjoy while taking in beautiful views of the ocean. Additionally, for those looking to explore further beyond the shoreline, there are several nature trails located nearby where visitors can appreciate local flora and fauna in their natural habitat:
Lounge in one of many comfortable chairs on offer
Enjoy fresh seafood from local restaurants
Take an adventurous hike through nearby nature trails
Is it safe to swim on Casablanca's beaches?
Visitors to Casablanca's beaches can enjoy the warm Mediterranean waters, though it is important to consider safety when swimming in these areas. The city of Casablanca has invested heavily in beach cleaning initiatives and beach patrols that help visitors have a safe experience when visiting. Although there are some environmental hazards such as sewage runoff and strong currents, overall the risk of swimming on Casablanca's beaches should be considered low. Nevertheless, it is still important for people to use common sense when entering the water and observe all posted signs regarding dangers or prohibited activities.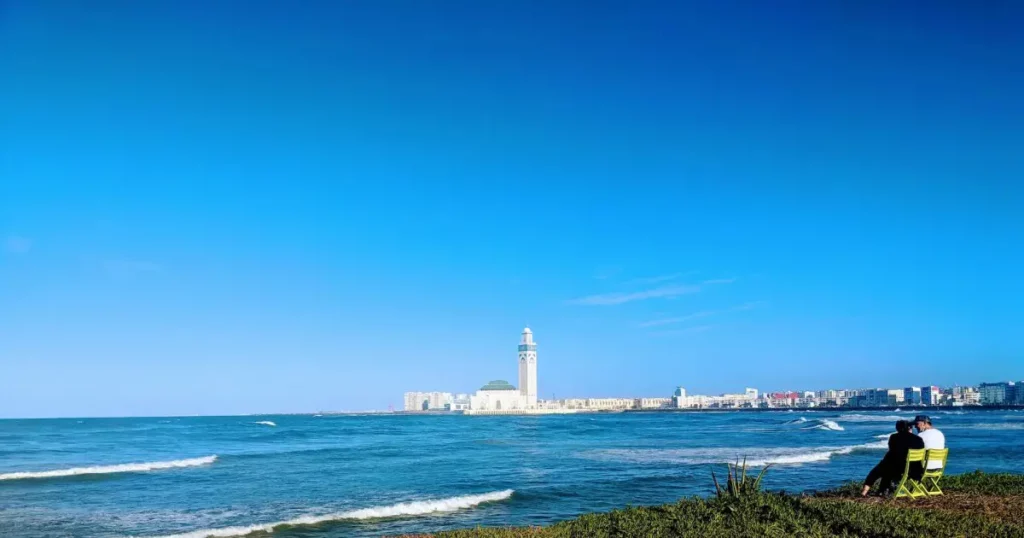 In addition, swimming at night or alone should be avoided due to the danger posed by rip currents and other potential hazards. It is also recommended that swimmers stay close to lifeguards if they are present on the beach so they can get help if needed. By taking these precautions, visitors can ensure a fun and safe experience while enjoying Casablanca's beautiful beaches.
What is the right outfit for swimming in Casablanca?
After considering the safety of swimming in Casablanca, it is important to consider what is necessary to make a successful and enjoyable swim. The right outfit for swimming on Casablanca's beaches should be chosen with care. It is important to remember that the sun can be very strong in this region, so it is best to protect oneself from its rays by wearing clothes that are light and comfortable. For example, a tank top and shorts or a one-piece bathing suit may be most appropriate. Additionally, it is wise to bring along sunscreen and sunglasses for extra protection against the sun's harmful UV rays. Furthermore, beach shoes should also be worn since rocks on the beach can cause painful cuts if stepped on barefoot. In conclusion, choosing an appropriate outfit for swimming on Casablaca's beaches needs careful consideration in order to ensure maximum comfort and protection during a swim there.
How to stay safe while going to the beaches of Casablanca
As the old adage goes, 'safety first', travelers should take precautions when planning a trip to the beaches of Casablanca. From researching local laws and regulations to familiarizing oneself with the area, being aware of one's surroundings is an important step in having a safe and enjoyable time at the beach. It is also important to be prepared for any potential emergency or unforeseen event that may occur during a visit by packing essentials like sunscreen, hats, water bottles, and other necessary items.
Additionally, it is essential to exercise due caution while swimming in open waters. Oftentimes, strong currents can form quickly along shorelines which can easily pull swimmers away from their intended destinations. Staying within designated areas and refraining from venturing into deeper waters can help reduce risks associated with swimming in open areas. Furthermore, it is advisable for all beachgoers to wear life jackets when near open water as an added safety measure.
Frequently Asked Questions
What is the best time of year to visit Casablanca's beaches?
Visiting Casablanca's beaches is ideal during the spring and summer months when temperatures are mild and the sun is shining. Visitors can expect clear blue skies, comfortable temperatures, and excellent beach conditions for swimming, surfing, and relaxing.
Are there any activities or water sports available on the beaches of Casablanca?
Glistening in the sun, Casablanca's beaches offer a myriad of activities and water sports – from paddleboarding to kayaking. With its azure waters and golden sands, visitors can experience an unforgettable day exploring the city's stunning coastline.
Are there any beachside restaurants or cafes in Casablanca?
Yes, there are beachside restaurants and cafes in Casablanca. Many offer local cuisine as well as international dishes, allowing visitors to experience the city's vibrant culinary culture while enjoying a stunning view of the ocean.
Are there any special events or festivals held at the beaches in Casablanca?
Casablanca's beaches host numerous cultural events and festivals throughout the year. From live music performances to traditional celebrations, these events provide an opportunity for visitors to experience local culture in a unique atmosphere.
Are there any notable landmarks or tourist attractions near the beaches of Casablanca?
The beaches near Casablanca boast a wealth of landmarks and tourist attractions. Notable spots include the iconic Hassan II Mosque, Ain Diab Corniche with its vibrant nightlife, Old Medina with its traditional architecture, and the historic Ville Nouvelle. These sites are sure to delight both locals and visitors alike.
Conclusion
The beaches of Casablanca provide a great opportunity for swimming, relaxation, and fun. With the right planning and preparation, it is possible to enjoy these beaches without compromising safety. It is important to select appropriate clothing that allows for easy movement in the water and protects against sunburns or other injuries. Additionally, it is important to be mindful of the dangers posed by strong currents and unpredictable weather conditions.
For example, a person visiting one of Casablanca's beaches should make sure they are aware of any warnings issued by beach staff regarding dangerous conditions before entering the water. By being aware of potential risks associated with swimming in Casablanca's waters and taking steps to mitigate them, visitors can ensure a safe and enjoyable experience at one of Morocco's most beautiful beach destinations.