Any forum will tell you that there are two spots in Morocco where you can genuinely spend a night in the desert: the dunes of Erg Chebbi and the dunes of Erg Chigaga desert, both of which require an 8-10-hour journey in a car from Marrakech. The basic answer is that it depends on your interests and travel style.
Erg Chigaga has fewer visitors than Erg Chebbi because it is more difficult to reach. After arriving in M'hamid, the 60-kilometer trip to the Chigaga Dunes requires a 4X4 and a professional experienced driver because the route is not sealed and is less traveled, making it wilder. Chigaga dunes are for tourists seeking an isolated, primitive, private, and one-of-a-kind experience. Driving from Mhamid, you will pass through the massive dried-up Lake Iriki in the Iriki National Park, providing a spectacular vista and panorama.
Erg Chigaga: what it has to provide and where you can find it.
The Sahara is the world's biggest scorching desert, with a diverse range of landforms. Ergs, or sand deserts, are one of its most well-known geographical characteristics. Erg Chebbi and Erg Chigaga are two of the largest in the Moroccan Sahara.
Erg Chigaga seems to have a larger surface area but lower dunes (62 meters (200 feet) vs. 150 meters (500 feet)). However, because the dunes gradually rise in height, the difference in altitude is barely discernible until you compare panoramic views of different locations.
The biggest distinction is easily accessible thus the amount of tourist traffic—due to the distance from the closest town: Merzouga is only a few meters away in the case of Erg Chebbi; M'Hamid is 50 km (30 miles) away in the case of Erg Chigaga, and the access road is unpaved, so only a 4WD can reach this area, and tour operators rarely consider it.
Throughout the journey.
Places are as significant in Morocco as the routes that lead to them. When the itineraries from Marrakech to both ergs are compared, they share the same path until they reach Ouarzazate, traveling over the Tizi n'Tichka pass and the ksar of Ait Ben Haddou.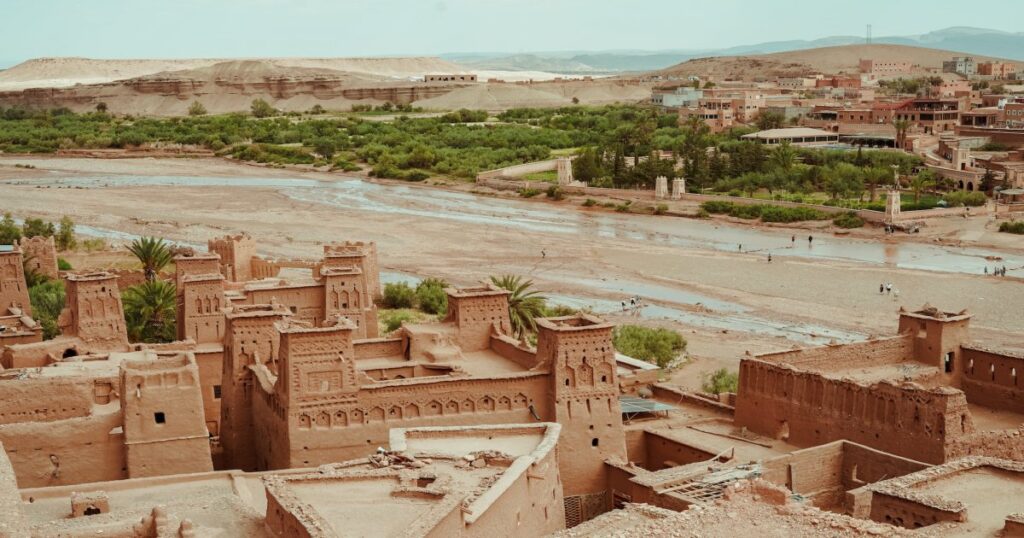 The trail splits here, and while both ways take roughly the same amount of time, the scenery is vastly different. Throughout the trek to Erg Chebbi, there are kasbahs and rocky scenery sprinkled with palm trees and areas of vegetation. After the midway mark, the road to Erg Chigaga alters as the scenery gets increasingly flat and parched.
When you approach Erb Chebbi, the road ends in a striking contrast of scenery, but the path to Erg Chigaga gradually and quietly morphs into the dune terrain.
Upon arrival at Erg Chigaga.
The greatest difference is most likely the distance from civilization. The Erg Chebbi Dunes are a half-hour camel ride or walk from Merzouga.
The journey to Erg Chigaga is pretty unique. We still have a two- or three-hour travel ahead of us once we leave M'Hamid behind. It has the sense of a classic film in three acts:
The first act, the exposition, takes us through a vast plain dotted with dark stones and hills known as the black desert.
We traverse mounds of shrubs with sand so fine that the smallest breeze lifts it into a ghostly veil that fills the air in the second, rising movement.
In the third act, the finale, we are greeted by a welcoming committee of toxic plants at the erg.
It's a voyage that takes patience, but it's also highly rewarding since you can savor the anticipation of gradually anticipating the goal.
Things to do in Erg Chigaga.
The region's unique terrain and cultural legacy provide the park with significant ecotourism potential, which will serve as a lever for local economic growth.
4WD desert tour:
4×4 trail to Erg Chegaga 3bid lya's largest sand dunes, and visiting the sacred oasis forum laaleg with changing scenery and terrain. Visiting a Nomad family and learning about their way of life, tasting the sand bread that this region is famed for, and then continuing the trip to the middle of Lake Iriki, which is ideal for offroad driving and is the route for many rallies.
Berber camping: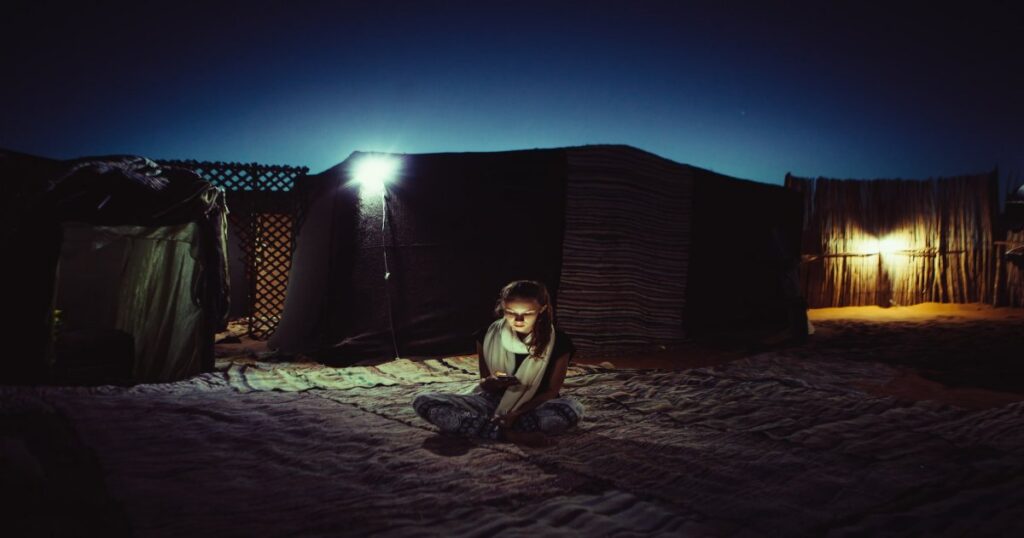 Camping in the desert is an entirely unique experience for outdoor enthusiasts, with its otherworldly vistas, fauna, and stars (which are mind-boggling on a clear night!). There are various ergs (erg lmhazil, erg lghoul, 3bid lya…) in Lake Iriki National Park where you may locate a variety of desert camps ranging from ordinary to luxurious.
Walk through the dunes:
Experience the tranquillity of the Sahara desert by walking through the sand dunes, getting up early to see the dawn, and staying late to see the sunset.
Attractions to visit nearby.
The sensation of being miles away from any remnant of civilization should be enough motivation to do this trip, but you can always check out adjacent points of interest, either by adjusting your route to visit them or by utilizing the erg as your starting point and exploring surrounding locations of interest. Here are a few examples of such locations:
Lake Iriki.
With a deceptive name, this vast petrified mud plain, which formerly held the waters of the Draa River, has remained dry for more than 20 years. It's worth stopping by on the way back. The only traces of life are false landscapes in the form of mirages or, on rare occasions during the wet season, little lakes that attract local birds.
M'Hamid.
Despite being generally renowned for being the nearest town, this historic caravan crossing is well worth a visit, owing to its mud construction. The ksars in advanced decay on the outskirts of town are also notable.
Tamegroute.
It is widely recognized for its distinctive green ceramics and was formerly a center of education and religion. Probably the most recommended adjacent city, with a library with over 4,000 manuscripts, an active pilgrimage site, and an underground kasbah designed to endure the extreme heat where hundreds of families still reside.
Oum Laalag's Oasis.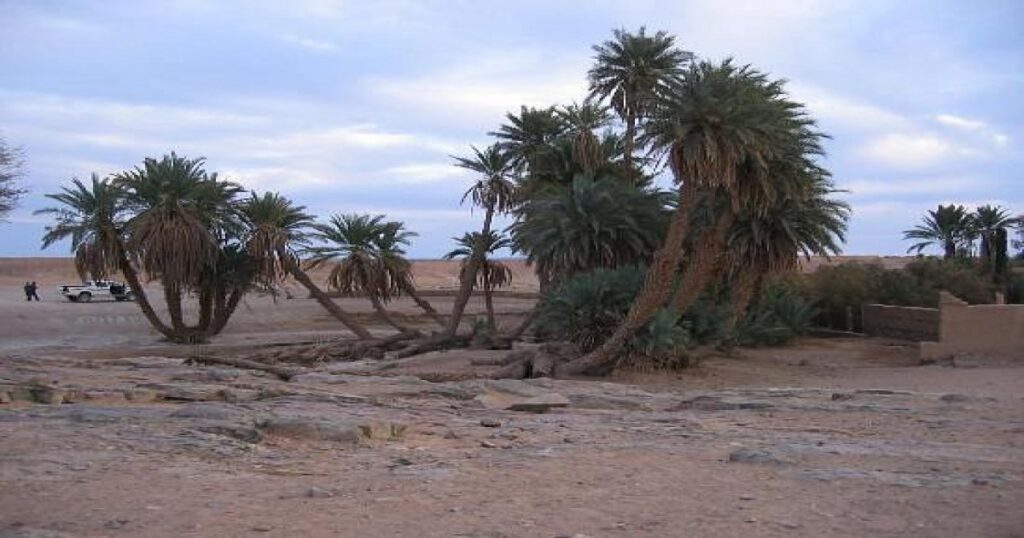 A few kilometers from Erg Chigaga lies a 15-hectare oasis encircled by an adobe wall, where water flows and palm trees flourish, giving it a hallowed aura owing to its remarkable proximity to the desert.
Taznakht.
For those who can't leave without purchasing a keepsake, this little village is the country's leading manufacturer of Berber carpets. A trip to one of the cooperatives here, along with some patience and negotiating, will let you bypass the middleman.
At this point, the choice is simple: Erg Chebbi or Erg Chigaga? There is no correct answer; either option is a sensible choice, and the selection will be based on what you want to get out of your vacation.
The ideal choice is to take advantage of a first trip to Marrakech to explore Erg Chebbi, and then arrange a second trip with additional desert scenery, finishing with Erg Chigaga. This is the alternative for individuals who fall in love with Morocco's distinctive beauty, and it may be the only option that is fair to both ergs.
Hotels and camps in Erg Chigaga: